This post may contain affiliate links. For more information, please see my Disclosure and Disclaimer page.
I live in New York City, but space comes at a premium no matter where you live! Most young adults in New York live with roommates or, if they are very lucky, in tiny one-bedroom or studio apartments. Living in a small space with a dog — whether in a city or a more rural area — presents its own series of challenges, but there are ways to make it easier. Keep reading for some tips I've gathered during my experience living in a small apartment with a dog.
9 Essential Tips for Surviving a Small Apartment With A Dog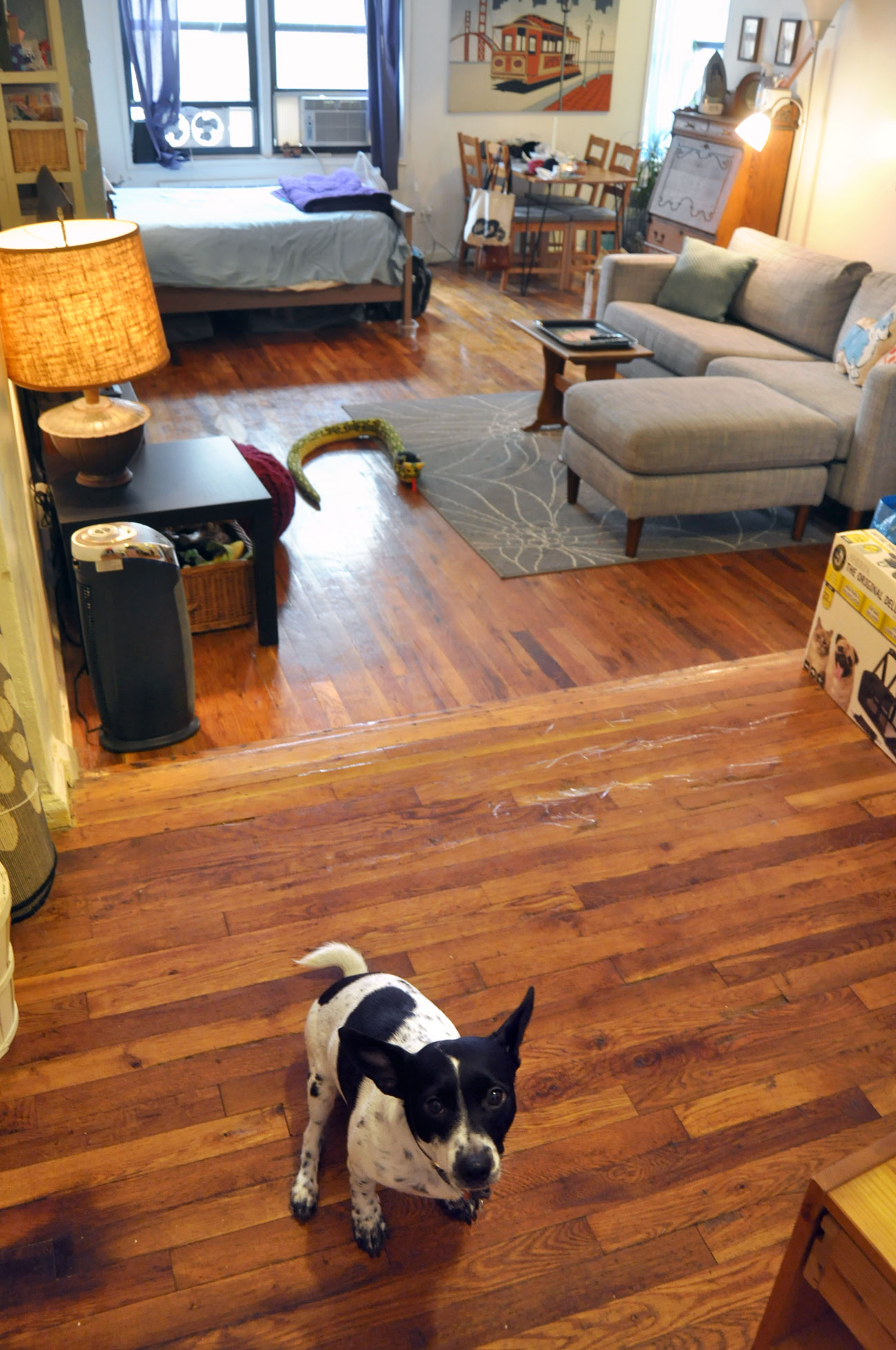 First, let me give you a virtual tour of my apartment, a studio that's about 440 square feet. I was extremely lucky to find it at a price that I could squeeze into my budget. Extremely lucky.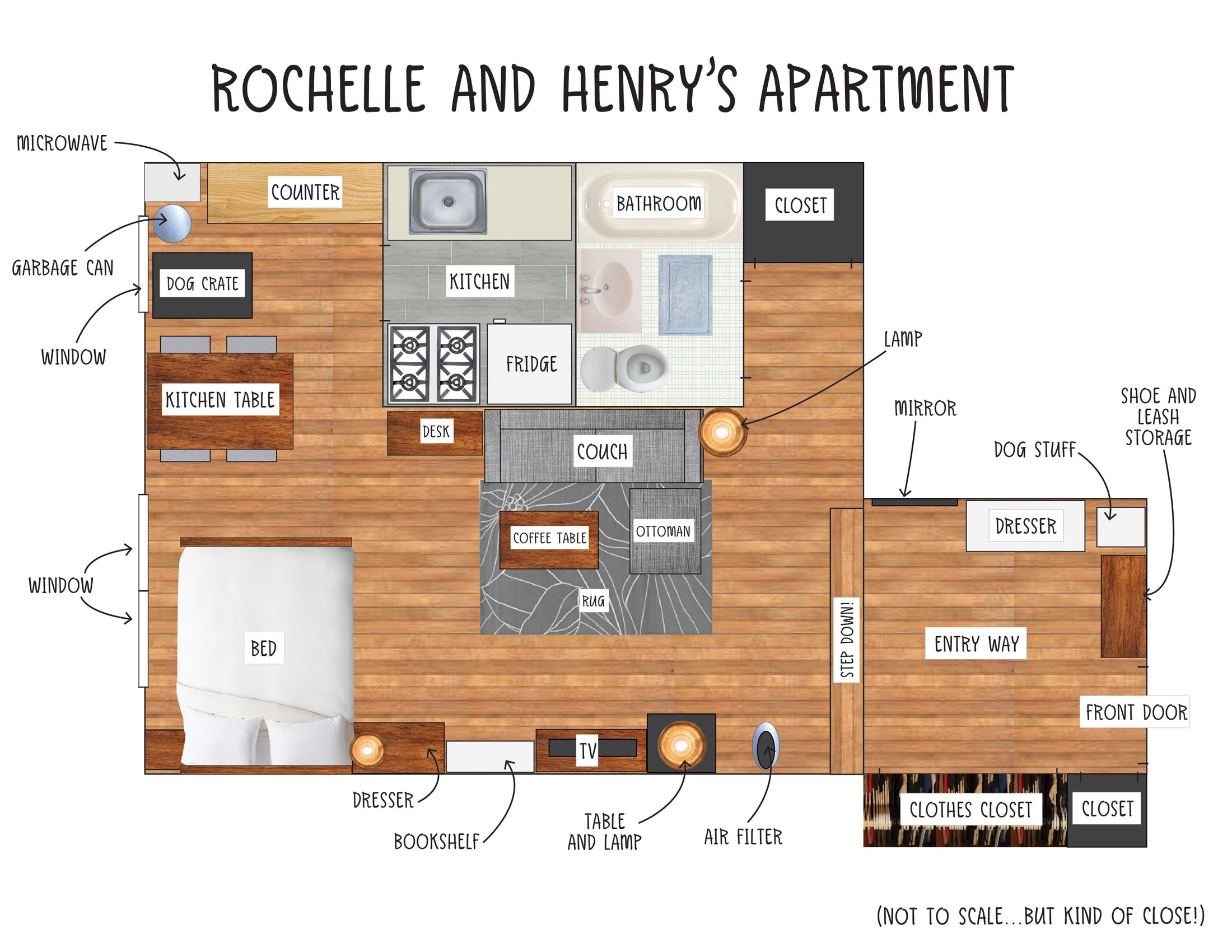 There are perks to sharing a small apartment with a dog: Henry can see me wherever I am from his favorite perch on my bed, and I can keep an eye on him to avoid trouble. That being said, it's hard to find personal space and we have a little bit of a barking issue. These are the ways I've learned to deal with these issues and more:
1.) Have dedicated areas for dog items 
Dedicated areas for dog items are essential if you want to share a small apartment with a dog and maintain the appearance that a human lives there as well. Henry has accumulated treats, toys, sweaters, harnesses, and more, and I have a couple of locations where I keep these items organized and contained.
ORGANIZED STORAGE
I purchased this organizational tower for $5 from a garage sale the summer before I went to college and it has followed me from dorm to dorm and from apartment to apartment. It now lives in a corner near my front door and I keep Henry's towels, sweaters, accessories, and gear in it.
TOY BASKET
Growing up, my family dog Tux always had a toy basket in the living room. He would go to it and choose a new toy whenever the urge struck him, and my mom would gather them every few days and return them to the basket. I carried this tactic to my adult life, and Henry has his own toy basket under one of my side tables. 
He doesn't take many toys from it, but he did once bury a Kong in it and left me wondering where it was for months. 
Did I mention it had some wet food stuffed in it from his breakfast? Yup, that was fun.
I found this particular basket at a garage sale for $5 when I was in high school – that price included dozens of vintage sewing patterns as well! I think you can tell by now that I love garage sales.
FOOD STORAGE
Lastly, I keep Henry's food and treats in containers on top of the fridge. A month or so into Henry's adoption, I discovered that my building's mice apparently have a taste for Merrick Dental Bones. Since then, I keep all food and treats in these rodent-proof containers that also organize. I purchased these containers at a discount store near my office, but you can find similar ones at Amazon or any home good store. 
2.) Use a exercise pen to keep your dog from barking at the door
Henry is a BARKER. A Capital B-A-R-K-E-R barker. I deal with this in a few ways when I'm home – training, time-outs, a citronella-spraying collar at times – but I can't work with him when I'm not home. Our hallway is especially amplifying, and our front door does little to block sound. Because I don't have a separate room to close him in when I'm not home, I use an exercise pen to confine him and his bed to a section of the apartment that is as far away from the front door as possible. Exercise pens can be pricey, so check Craigslist (I bought mine for $30 from a fellow in Hell's Kitchen).
3.) Use puzzle toys to tire your dog out mentally
I helped Henry through several months of heartworm treatment when I first adopted him. Part of the treatment involved keeping him as calm as possible. I found myself with a neurotic, hyper two-year-old terrier mix and instructions not to exercise him. What the heck was I supposed to do? The solution: puzzle toys, which tire dogs out mentally instead of physically. These toys are also helpful for a person sharing a small apartment with a dog who may not have a backyard to play in. 
My favorite is the Omega Paw Tricky Treat Ball (read my review here), but Henry also has a few Kong Genius toys and a wooden puzzle with sliding doors. Another great way to mentally stimulate you dog is by giving it a Kong that is stuffed with wet food or peanut butter and frozen. When I leave for work, I leave Henry with his Tricky Treat Ball full of kibble and one of these frozen Kongs. Working on both of these toys tires him out so much that he takes a nap as soon as he is done. (I know this because I set up a camera a few times, but more on that in a bit!)
4.) Use items that are both functional and decorative 
I collect vintage kitchen items and love that I can cook with as well as display them. I take a similar approach with Henry items. Do you see that glass chicken on my counter?
Open it and you'll find dog treats! It looks adorable on my counter while keeping some of Henry's treats in an easy-to-grab location. It's dual-propose! I also keep his Whimzee chews in the jar next to the chicken, which is much more attractive and space-efficient than the original packaging.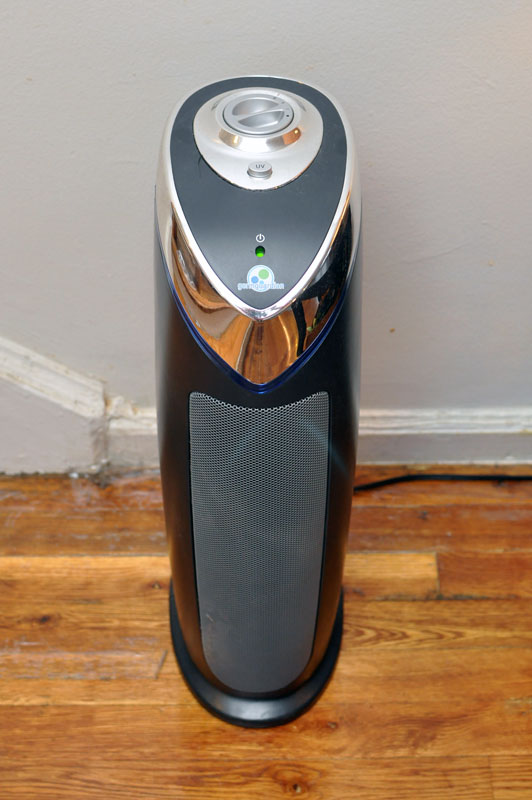 5.) Buy an air filter
Henry sheds. A lot. That means there is a lot of dander and fluff floating around my tiny apartment at any given time. Add in the fact that my neighbors sometimes smoke and I knew I should splurge on a good air filter. I purchased THIS ONE from Amazon, and have noticed that it has a big effect on my air quality. Plus, the subtle hum blocks out a little bit of hallways noise and prevents barking! While it can be an expensive purchase, I think an air filter is a good buy for anyone who shares a small apartment with a dog.
6.) Encourage playtime on your bed
I was absolutely thrilled to find an apartment with hardwood floors. The one downside is that they definitely contribute to sound transmission. I'm sure a running dog sounds like a herd of heavy-hoofed cattle to my downstairs neighbors, so I encourage Henry to play on my bed when possible. We do sometimes play fetch across the entire apartment, but encouraging playtime on the bed cuts back on potential annoyance.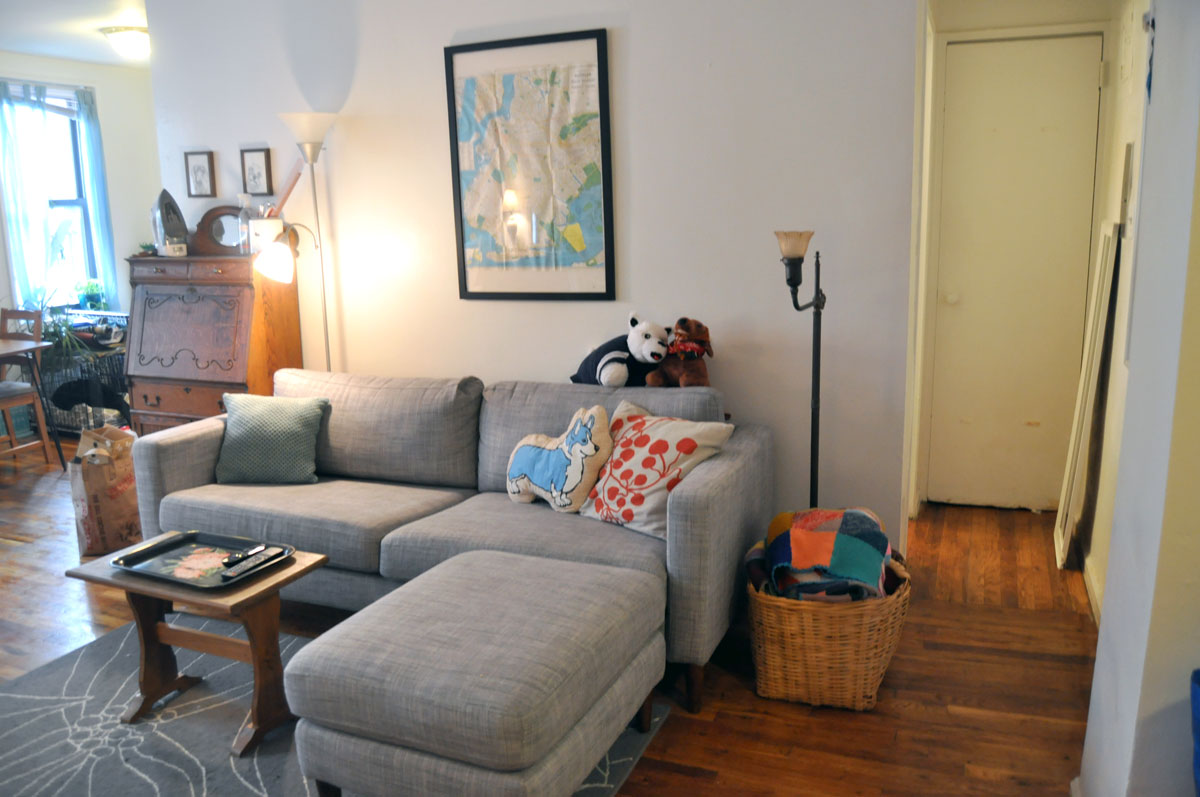 7.) Maintain dog-free areas 
This is one of the harder parts about sharing a small apartment with a dog: personal space! I often work on my computer while sitting on my bed. Rather, I should say that I TRY to work on my computer: Henry will inevitably try to wedge himself into my lap and chase the cursor on my screen (I'm not joking!), making it impossible to be productive. The kitchen table isn't comfortable for long periods of time, so I instituted a "No Dogs on the Couch" rule. Sure, Henry will whine and beg to come up, but it's essential to have an area in my small apartment that's dog-free. (I won't lie: I break this rule sometimes often all the time.)
8.) Use a sheet as a bed cover 
Right before I adopted Henry, I was planning to treat myself to a new duvet cover to celebrate my new apartment. Then I adopted Henry and I was SO GLAD I didn't waste my money. If Henry comes in from a muddy walk or exits a bath, his first destination is always my bed. He rolls around on it and digs imaginary holes. A new duvet cover could have gone to you-know-what within a week. Instead, I use an old sheet to cover the bed. It's easy to wash and takes abuse relatively well. Plus, it's easy and cheap to switch out if I get tired of the color or pattern.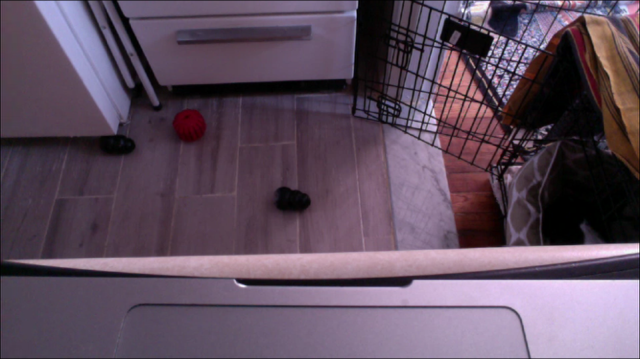 9.) Camera Apps
There are so many dog and baby cameras on the markets and, as tempted as I am at times, I know there are cheaper options. If you have a Mac or iPad and iPhone, don't waste money on a fancy camera if you want to keep an eye on your dog during the day: simply purchase iCam Pro (I spent $10) from the App Store. You can use a Apple device at home for a camera (I used my computer, but I believe you can use an iPad or or old iPhone as well) and you will receive notifications when there is motion or sound. There are other iOS apps available and, while I am not intimately familiar with Android, I am sure there are similar options. 
Did you know? 
New York law states that if you keep a pet "openly and notoriously" for three months from when the landlord or an agent of the landlord is made aware – and the pet isn't a nuisance or safety issue – any "no pets" aspect of your lease is voided. Cool, right? Learn more here (PDF alert) (and consult a lawyer, of course, because I am certainly not a legal expert).
Living in a small apartment with a dog doesn't have to be stressful or difficult! There are plenty of ways to make it an easy and fun experience for both of you.
Do you live in a small apartment with a dog? Do you find it challenging? Do you have any other tips? Please share in the comments!