The Broke Dog received a bObi Pet in exchange for this review. All opinions are honest and my own. This post also contains An affiliate link. 
No time to clean? bObi Pet by bObsweep might be the answer! Henry and I had the chance to test this robotic vacuum on our shed-encrusted apartment floor. Did we like her? Heck yes! 
Save Me From This Sea of Dog Hair!
I'm a busy gal. Between the blog, my bow tie business, my full time job, and caring for Henry, I rarely have time to clean. I'm sure more than a few of you can relate! Sometimes walking through my apartment feels like wading through a pool of dog hair and dirt. I live in a studio, so all of our collective grime is concentrated in one place.
I can't tell you how many times I almost googled "apartment cleaning to save my sanity in brooklyn new york." Then I would think of the inconvenience of letting another human into my home and the recurring expense required to keep things in shape despite Mr. Shedsalot. Ugh.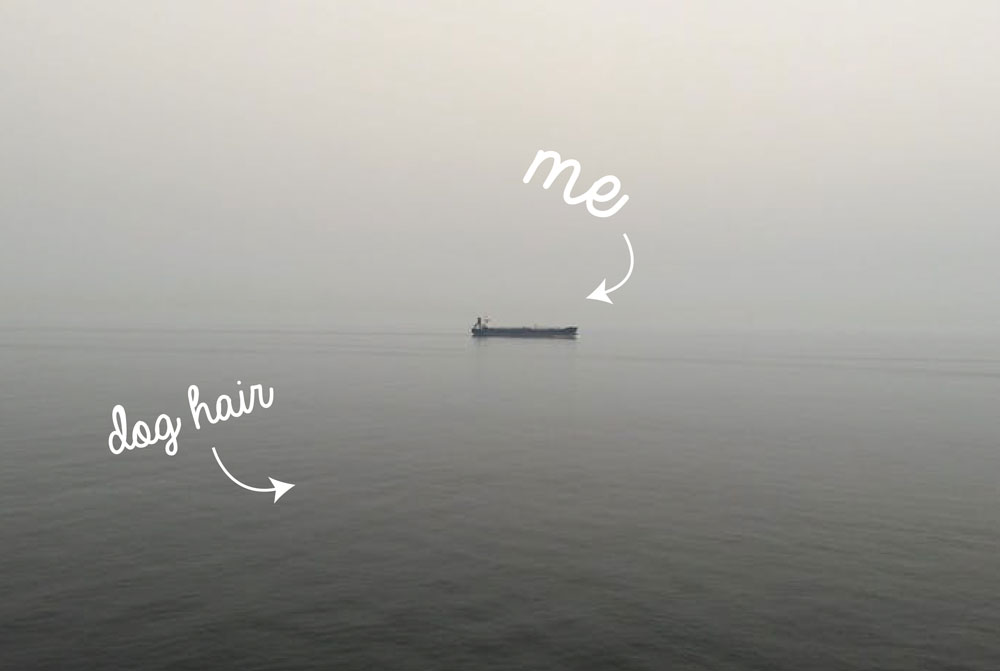 What is bObi Pet?
When I had the opportunity to try bObi Pet by bObsweep, I wondered if I had the answer to my woes.
bObi Pet is a robotic vacuum who is specifically designed to tackle the modern day pet owner's cleaning struggles. She vacuums, she mops, and she even filters air with her HEPA filter! Best of all, she can do it without requiring you to lift a finger. She even docks back into her charging station by herself!
Magic? Maybe.
This is what happens when you put a GoPro on bObi:
bObi had a grand ol' time exploring my apartment, squeezing into crevices and exploring under my couch. She's absolutely fabulous, and quite diligent.
Still, the number one question I get from folks about bObi is, "But does it actually work?"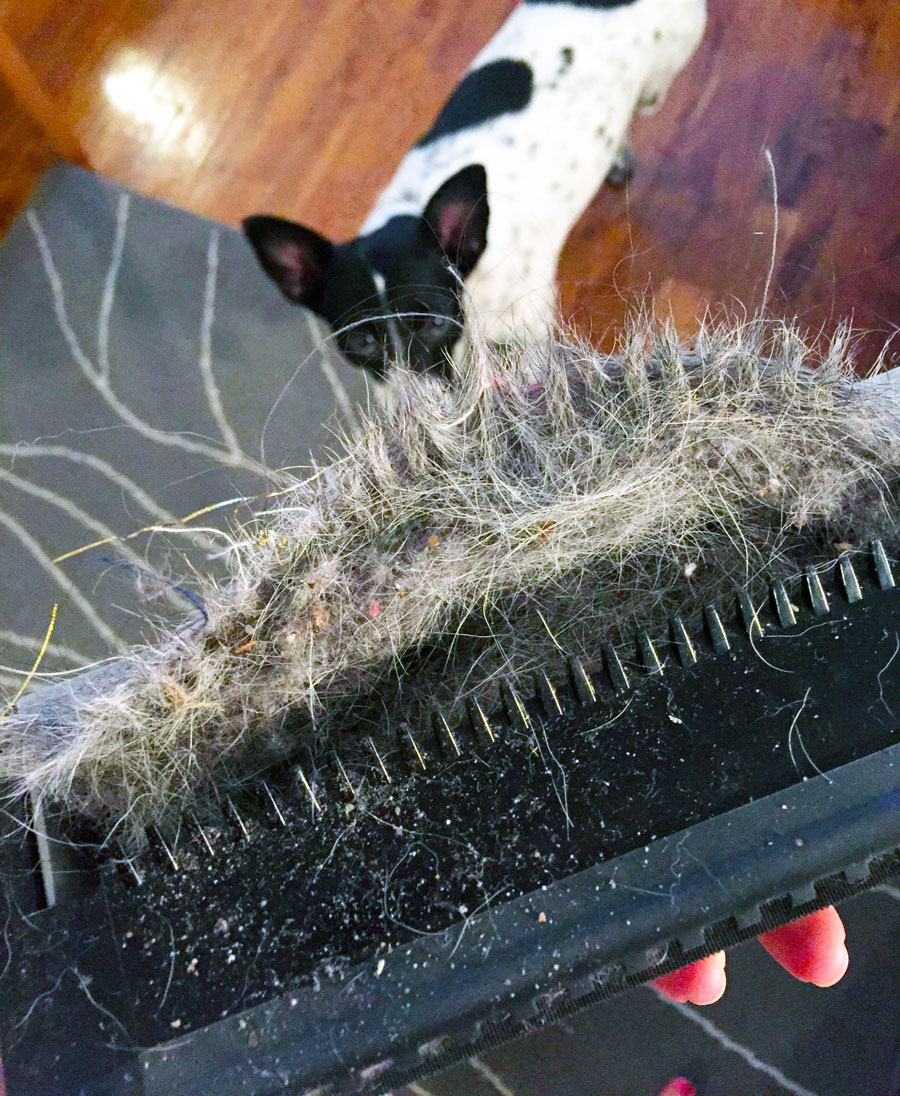 The answer: YES! I let her run two quick test runs around the apartment on two separate days. After the second, I opened up the dustbin and gasped at the amount of hair. bObi did an amazing job! Even my rug, which usually requires a "brushing" with Henry's brush before I run a vacuum over it, emerged pretty clean (sans brushing).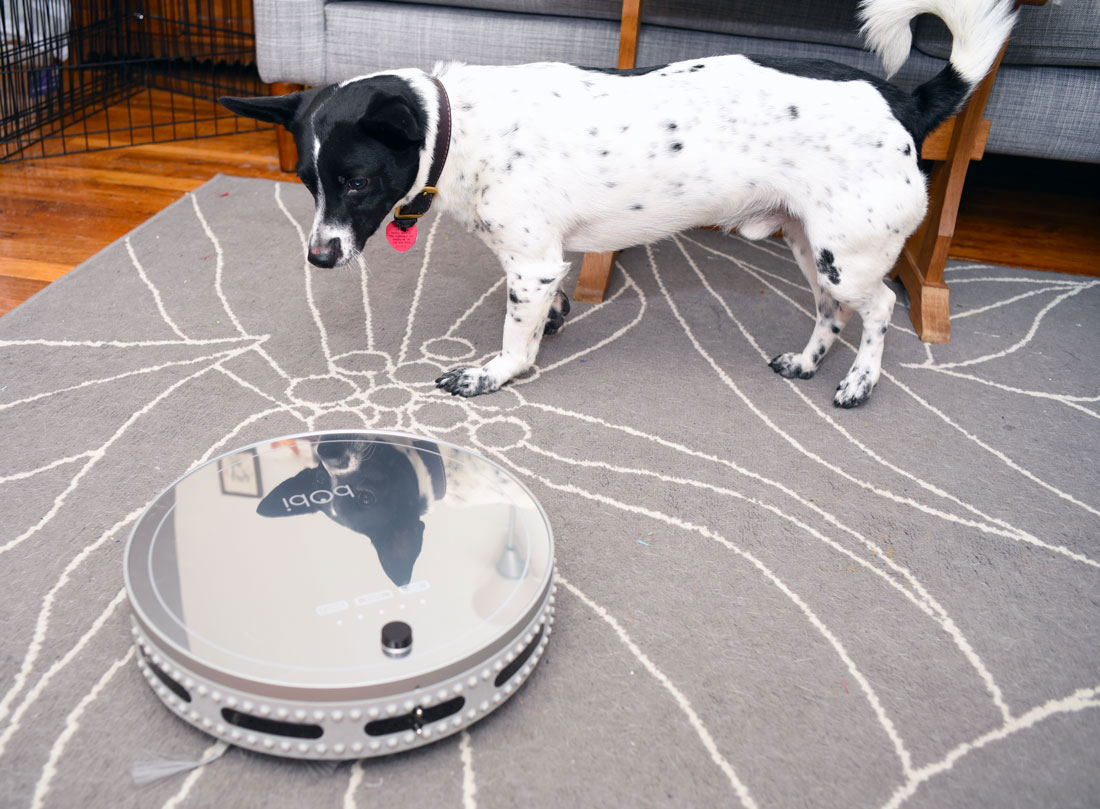 Plus, she's pretty quiet! I live in an apartment building with the thinnest, most echoey and amplifying walls and ceilings I've ever experienced. I was worried that bObi would anger my downstairs neighbors. Did she? Nope! She rolls smoothly and only emits a (somewhat loud but) reasonable hum.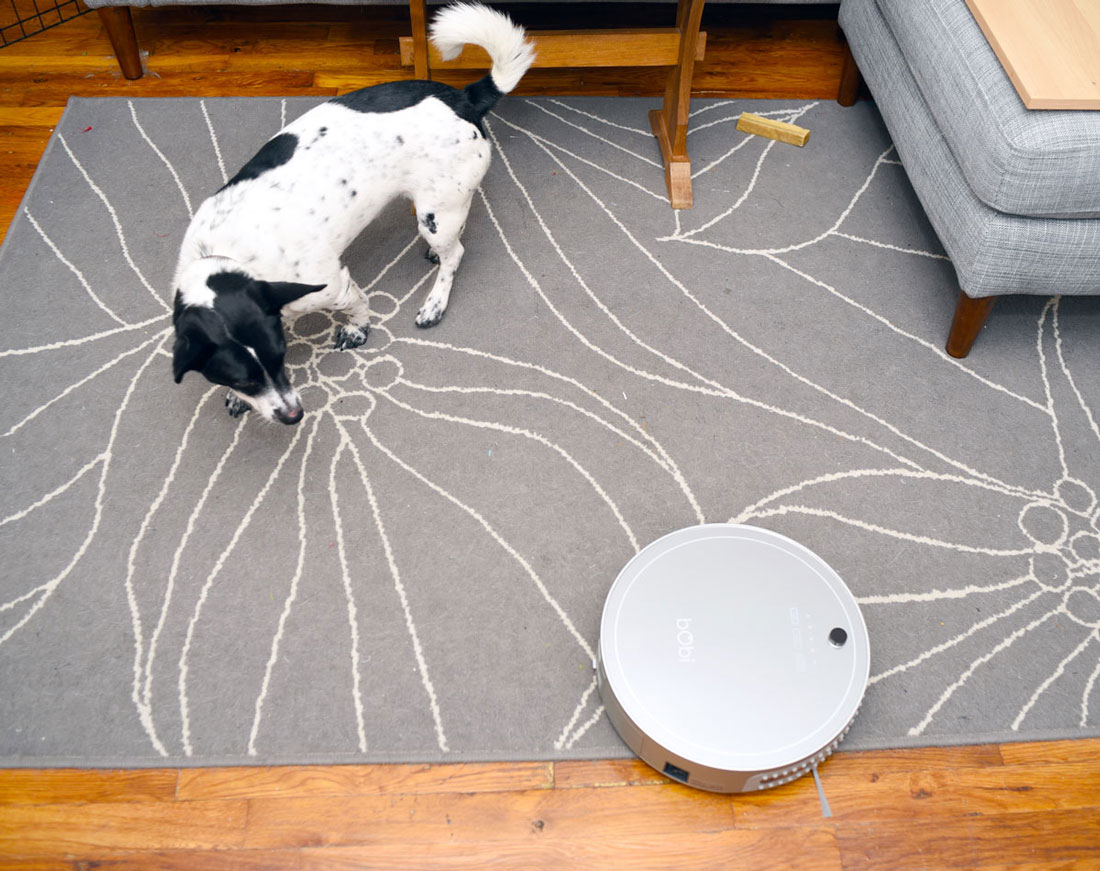 A Few Pro Tips
We're bObi converts over at Casa Henry now, and we've picked up a few tips:
If you see your kitchen chairs moving, don't worry: they are not possessed. I learned that bObi is simply so strong that she can move small furniture pieces out of her way. She needs to get the best clean!
If your pup likes to bark at bObi, utilize a little positive reinforcement training. We used a clicker, but you don't have to. When bObi is cleaning, praise your dog (or click the clicker) when he isn't barking at her and give him a treat. Eventually, he'll learn that he gets snacks when he isn't barking! You might need to repeat this a few times.
Clear the floor of major debris before letting bObi get to work. Yes, it's hilarious when she accidentally picks up a piece of bubble wrap and creates an explosion of pops as she tries to suck it up, but it isn't safe for her.
You can set bObi to run automatically on certain days and at certain times. Talk about easy! I haven't tried this yet, because I still want to monitor Henry's interaction with bObi. Plus, if I set her to run automatically while I'm home, I'm sure it'll shake me up when she starts moving out of nowhere!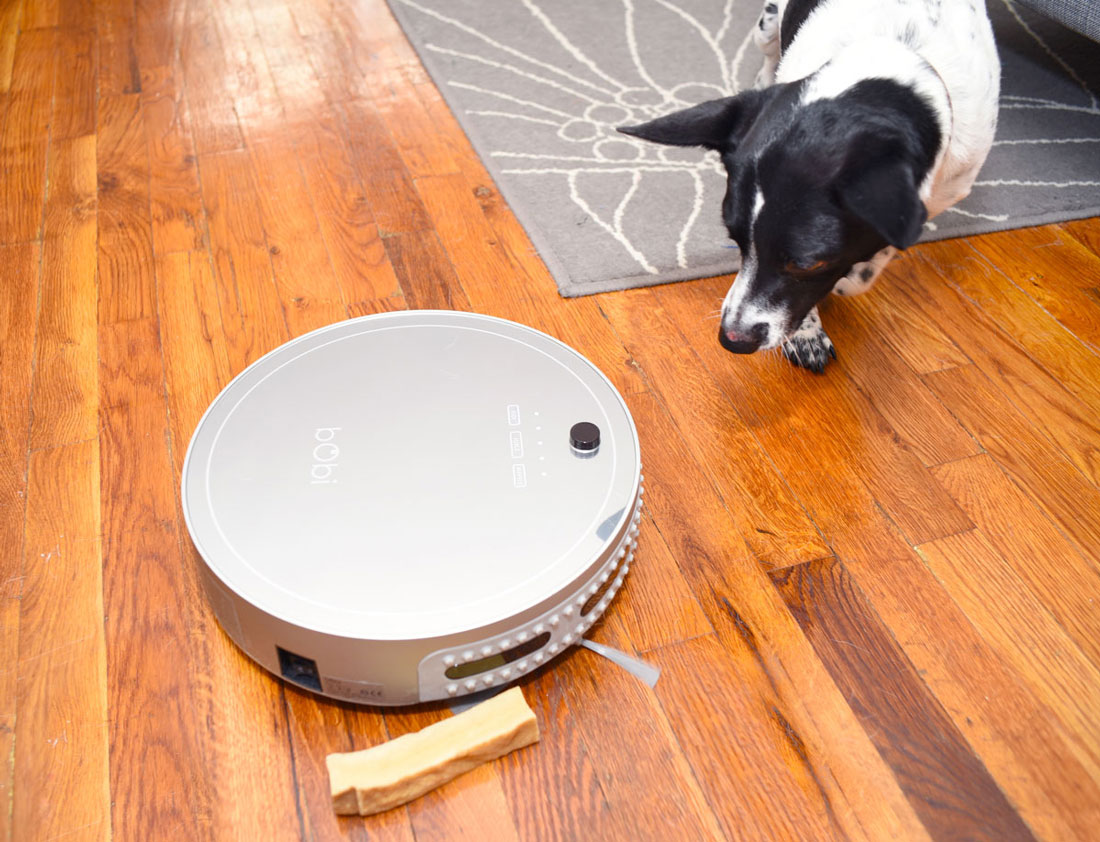 bObi Pet is best for:
The modern-day dog owner who is swimming in dog hair and grime but is just too busy to have a regular cleaning schedule. Her "set it and forget it" automatic cleaning feature is perfect for folks with brains like mine that are too jam-packed to remember to do chores. Does bObi have a dishwashing option, too?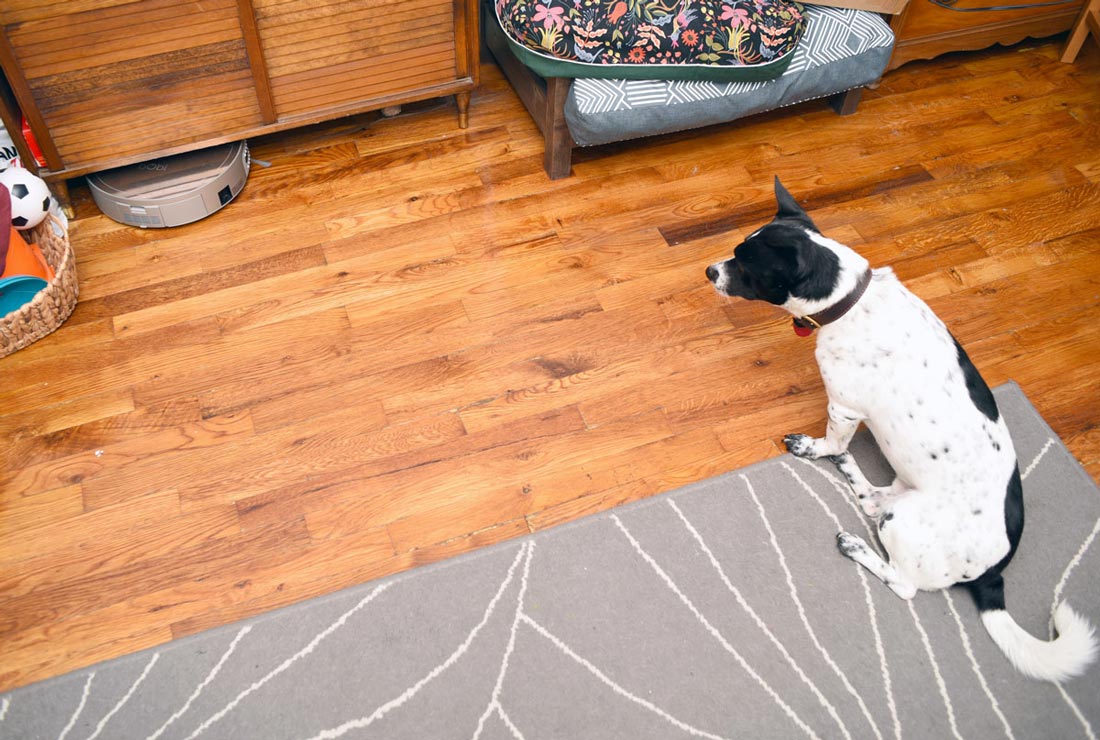 How Much Does She Cost?
bObi Pet, as an advanced piece of technology, doesn't run cheap. The cheapest price I've seen is on Amazon, then higher ($329) at Groupon and Wayfair. You can also buy her at the bObsweep website. I've seen a few used on eBay, as well.
Expensive? Sure – but think about how much it'll cost to hire someone to clean for you and about the toll on your sanity. This isn't a small purchase, but it may be the right option for you.
Want to Learn More? Check Out Her Fancy Video!