Disclosure: The Trick or Treat Hop Giveaway is sponsored by CleverPet, Honest Kitchen, Planet Dog, and Health Extension. Each blogger also paid to participate to fund the grand prize.
We're so excited to join nineteen other bloggers for the 2017 Trick or Treat Blog Hop Giveaway! This is your chance to learn twenty new tricks while entering to win some fabulous prizes. We're going to walk you through an old classic: how to teach your dog to jump through a hoop! It's a handy trick for some Halloween costumes, too — just wait until you see Henry's!
How To Teach Your Dog To Jump Through A Hoop
For this trick, you will need one hula hoop and lots of yummy treats! Make sure the treats are cut into tiny pieces — your pup only needs a little taste.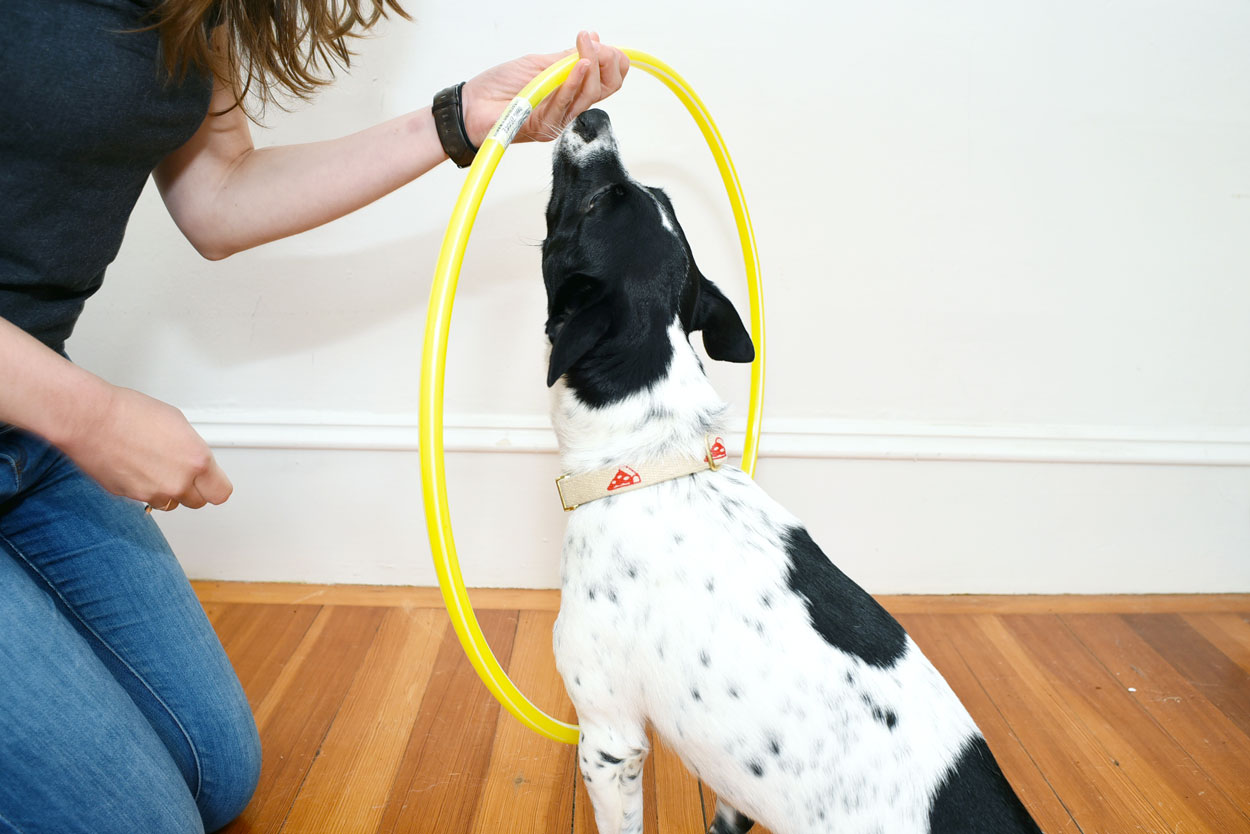 1.) Acclimate Your Dog To The Hoop
A hoop might be a little scary to a dog at first! Let him sniff it, walk around it, and, heck, even lick it. Consider leaving it laying on the floor in a room that your dog frequents so he can get used to having it around.
2.) First Steps
With one edge of the hoop on the ground, lead your dog through using a treat. He might try to go around instead of through — if that happens, don't scold him. Simply try again until he gets it. Once he does, give him a treat and lots of praise! Once your dog gets the hang of it, start pairing the act with a command; we use "hup HUP," but you can use anything that works for you.
3.) Raise The Hoop
Once your pup has mastered the previous step and is consistently walking through the hoop on command, raise the hoop off the ground a tiny bit — perhaps an inch or so — and use the command again. You may need to lead him through with a treat if he has a little trouble.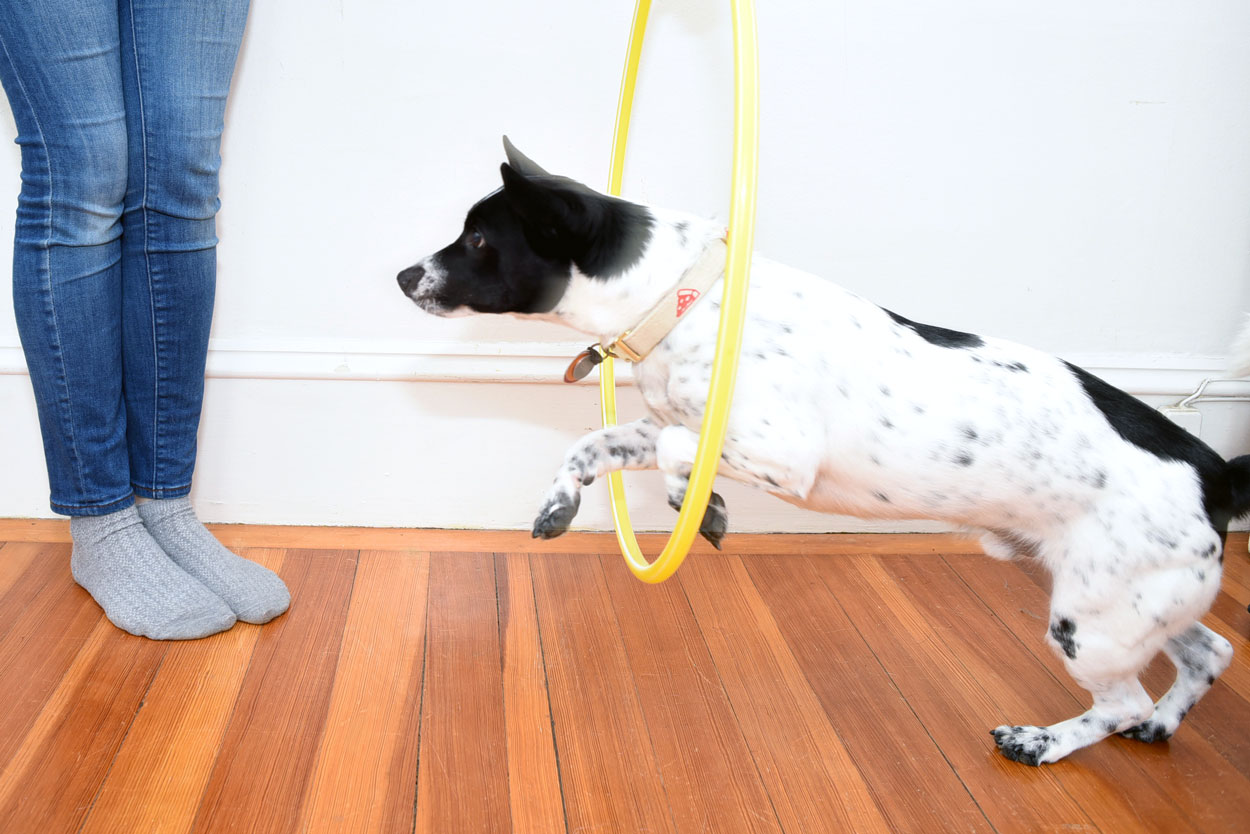 4.) Keep Raising!
Gradually raise the hoop higher and higher until you've reached a good height. Don't force your pup — if it seems like he can't or doesn't want to go higher, you've reached the limit.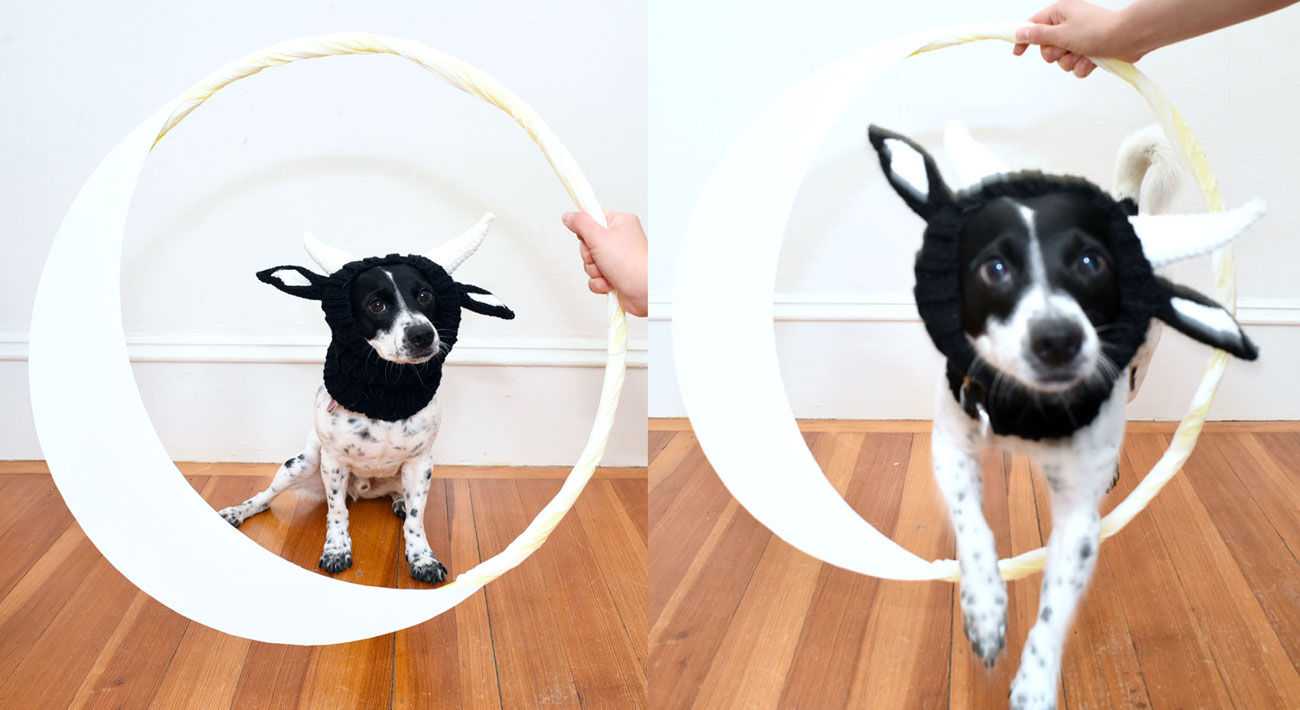 5.) Easy peasy!
Congrats — you have a circus dog! Or, in Henry's case, the Cow Jumping Over the Moon. (It's hard to take photos of such an agile and mythical creature.)
TIPS!
• Just like humans' brains can get tired learning new things (like algebra) for long stretches, dogs' brains can get tired too. Training often works best in ten-minutes chunks.
• Always end each session on a good note! If your pup is having a really hard time learning to jump through a hoop, at least finish the session practicing a trick they know really well. Make sure to reward and use lots of praise!
• We recommend using positive reinforcement! That means reward your pup when he does something right, but don't make a fuss or react if he does something wrong or doesn't understand the trick. It keeps things upbeat and makes training more fun for both of you!
Enter To Win!
Now that we've learned the trick, it's time for the treats!
Up For Grabs: OVER $850 worth of prizes!
GRAND PRIZE:
$300 Gift Card to PetSmart
SECOND PRIZE:
CleverPet Hub
$299 VALUE – SPONSORED BY CLEVERPET
THIRD PRIZE:
Golden Milk, Eggnog, Pumpkin Spice Latte, Cuddles, and Smooches$68 VALUE – SPONSORED BY THE HONEST KITCHEN
FOURTH PRIZE:
Halloween Trick Ball, Halloween Treat Ball, and Maple Leaf Nook
$50 VALUE – SPONSORED BY PLANET DOG
FIFTH PRIZE:
Duck & Yogurt Bully Puffs, Chicken & Cheddar Bully Puffs, Lamb & Peanut Butter Bully Puffs, Bacon & Liver Bully Puffs, and Bacon Chips (1 Bag Each)
$40 VALUE – SPONSORED BY HEALTH EXTENSION
PLUS: follow all bloggers on Instagram for a chance to win a SPECIAL SOCIAL MEDIA PRIZE!
$100 Gift Card to PetSmart
WHERE TO ENTER
Visit and enter on each blog to increase your chances of winning!
Learn to Crawl by Kol's Notes
Learn to Calmly Ride in Elevators by Beagles & Bargains
Learn to Not Freak Out When a Doorbell Rings by A Dog Walks into a Bar
Learn to Ring a Bell by ChiPets
Learn to be "Sassy" by Dog Mom Days
Learn to Take a Bow by Fetch for Me, Human
Learn "Beg", "Which Hand", and Indoor Exercise Trick Sets by Fidose of Reality
Learn to Stand on Your Hind Legs by Heart Like A Dog
Learn to Kiss by It's Dog or Nothing
Learn to Touch by Life With Beagle
Learn to Pick It Up or Take It by My Dog Likes
Learn to Crawl Through a Tight Tunnel by My GBGV Life
Learn to Shake Paws (for Dogs Who Don't Like Their Paws Touched!) by Sarcastic Dog
Learn Puppy Push Ups by Spencer the Goldendoodle
Learn Two Dog Tricks by Tails from the Road
Learn "Paw" and "Shake Paw" by Talent Hounds
Learn to Cover Your Eyes by Tenacious Little Terrier
Learn to Spin by The Daily Pip
Learn to Open Doors by Wag 'n Woof Pets
Giveaway Widget
Enter using the giveaway widget below! Good luck!
2017 Trick or Treat Giveaway Hop – The Broke Dog