Disclosure: I am a Subaru Ambassador and am compensated in some form for this role, but this post and giveaway have not been directly sponsored by Subaru. This post also contains an affiliate link.
In honor of our anniversary of Subaru ownership, we're giving away a prize pack to one lucky winner. Check it out and learn why we love Subaru!
Time for a Subaru Giveaway!
A year ago today, on September 4, 2017, a new addition joined our family: our 2017 Subaru Impreza, affectionately called Steven.
In that time, we've had eleven thousand miles of adventures. We've navigated New England snow storms, climbed impossibly steep Providence hills, and carted ridiculous amounts of seltzer home from Market Basket. I've even become a Subaru Ambassador!
To help celebrate our one year anniversary, The Broke Dog is giving away a Subaru prize pack to one lucky winner!
Why We Love Subaru!
There are so many reasons why we love this car brand, but here are just a few:
Subaru partners with the ASPCA
Since 2008, Subaru has donated nearly $22 million dollars to the American Society for the Prevention of Cruelty to Animals and has helped support over 1,500 adoption events. Their actions have helped over 50,000 animals nationwide! My local dealer sponsors adoption events, and the owner even helps cover adoption fees so that more dogs can find forever homes.
Subarus are Safe
Did you know that Subaru is Kelly Blue Book's most trusted car brand for 2018? Knowing that Subaru is a leader in safety made my car buying process easy. I need to make sure Henry gets safely from place to place!
Subaru Cares About Pet Safety
Subaru sponsored two studies conducted by the Center for Pet Safety, a registered 501(c)(3) non-profit research and advocacy organization dedicated to companion animal and consumer safety. These studies conducted crash tests with commonly used pet safety products in order to find the safest options for your pets. Click here to learn about the top performers, including the Sleepypod Clickit Sport, which is what we use!
Subaru Loves the Earth
Subaru has been a leader in minimizing manufacturing waste. In 2014, Subaru of Indiana became the first manufacturing facility in the United States to reach zero-landfill status. Manufacturing waste is either recycled or turned into electricity. That's just one way Subaru helps our planet — Subaru even partners with the National Parks and urban farming initiatives.
I could go on — there are just so many reasons to love Subaru! Can you tell I'm a convert?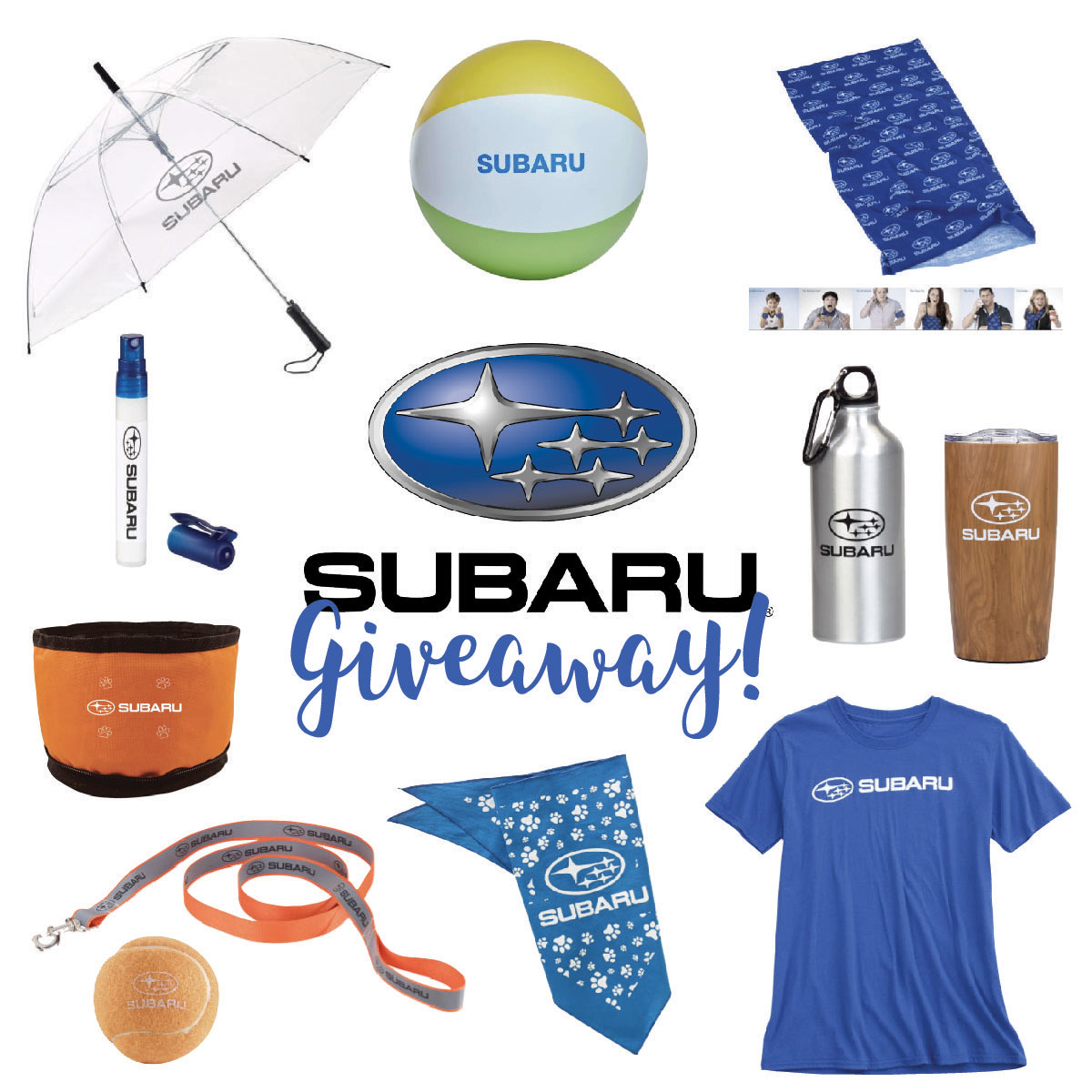 So, What Can You Win?
The prize pack includes (subject to availability):
46″ Clear Umbrella with Logo
10ml Deet-Free Insect Repellant Bug Spray
20oz. Double Wall/Vacuum-Insulated Woodtone Tumbler
20oz. Subaru Aluminum Bike Water Bottle
24" Subaru Beach Ball
Subaru Fandana
Subaru Logo Tee in size of your choice
Zipper Pet Portable Bowl
72″ Reflective Dog Leash
Subaru Tennis Ball
Royal Blue Dog Bandana with Subaru Logo
RULES
No purchase necessary. Giveaway is open to US residents with a valid United States address, age 18 and older, except where prohibited by law. Giveaway will run from September 4, 2018 at 12AM EST and ends September 11, 2018 at 12 AM EST. One (1) winner will be randomly selected and notified via email. Prize items are subject to availability and may be substituted for a prize of equal or greater value if an item is unavailable. Winner will have 48 hours to claim their prize; failure to do so will result in forfeiture of the prize. Twitter, Instagram, Facebook, and Pinterest do not sponsor, administer, or endorse this promotion. Participants must read and agree to Rafflecopter's Privacy Policy before entering and participating in this promotion. 
Use the Widget Below to Enter!