Do you work? Yup, I thought so. We all need to support ourselves! I happen to love my job, but that doesn't mean Henry appreciates that I leave the house for hours at a time. We tried the CleverPet, a smart device that acts like a doggie game console, to see if it would help. Did it? Check out our CleverPet review!
Disclosure: We received a CleverPet Hub free of charge in exchange for an honest review. The following review is my personal opinion, and may not reflect that of CleverPet or any other individual. This post also contains Affiliate linkS, meaning that we will earn a small commission from purchases made through these links.
Our CleverPet Review
Despite crooning "Don't worry, sweetie! I'll be back! I need to go to work so I can buy you a car, and a yard, and all the food and treats your heart desires," Henry would still whine and pace when I left in the morning.
I felt terrible. Here was my smart pup, who relishes puzzles and trick training, cooped up alone. I left Kongs stuffed with frozen food and switched on the radio before I left, but those would only placate him for so long. Because a second dog is not in the cards at the moment, I knew I needed to do something, but daily dog walkers or day care were simply not in my budget.
Enter CleverPet. The CleverPet Hub is a smart device that syncs over your WiFi to an app on your phone. Designed by neuroscientists who love animals, it engages and rewards your dog using a series of "challenges".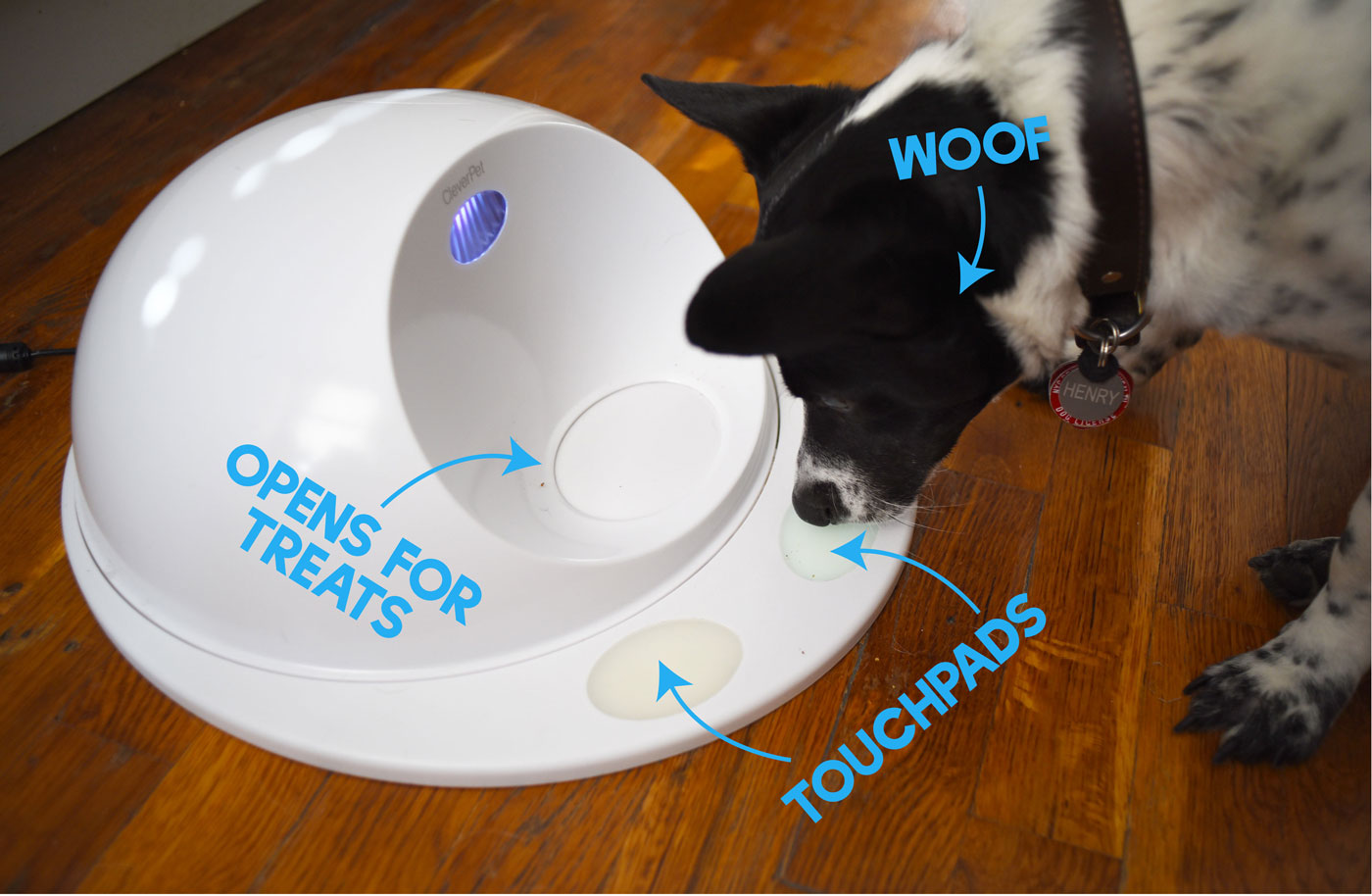 How does it work? Each CleverPet Hub has three touch pads at the front of the device that light up in different patterns depending on the challenge. When your dog completes the challenge successfully, a tray swivels out to reveal a treat or kibble that your dog can eat. The challenges range from easy at first (touch any of the pads!) to complicated, Simon-like tasks.
Would Henry take to this newfangled contraption? Would he love it so much that he would count down the hours until I finally left in the morning so he could get to his own "work"? I was eager to find out.
First, for an additional introduction to the CleverPet, check out their video:
Setting Up The CleverPet
The CleverPet Hub was easy to set up with very clear and concise instructions. These directions not only taught me how to make the Hub start up, but also walked me through the different parts. Stickers on the device coordinated with instructions on the start-up guide — it doesn't get any easier than than!
Plus, knowing the parts helped immensely when I needed to troubleshoot a few weeks later: instead of calling customer service and sobbing into the phone in confusion while Henry rolled his eyes, I confidently referred back to the initial setup and figured out the solution on my own.
The First Few Days
It took about three days for Henry to really catch on. At first, I tried to teach him by pointing and gesturing towards the lit touch pad, but discovered that he learned more quickly when he figured it out on his own. The whole scenario reminded me of my seventh-grade troubles with algebra homework: no matter how many times my dad would try to explain it to me, I just couldn't grasp it until it miraculously clicked.
Once he figured it out, he blew through six levels in less than a week.  He's been stuck on Challenge 7 for a little while, but I know he's close to moving on!  In the meantime, it's adorable to see him try each touchpad and even tilt his head quizzically when he hear the "wrong" noise as if to say, "But I totally had that!"
PRO TIP: Use smelly, extra-delicious treats instead of kibble while your dog is learning the ropes. It's extra incentive! Be sure to use treats that won't crumble — I found that Zuke's Mini Naturals work perfectly.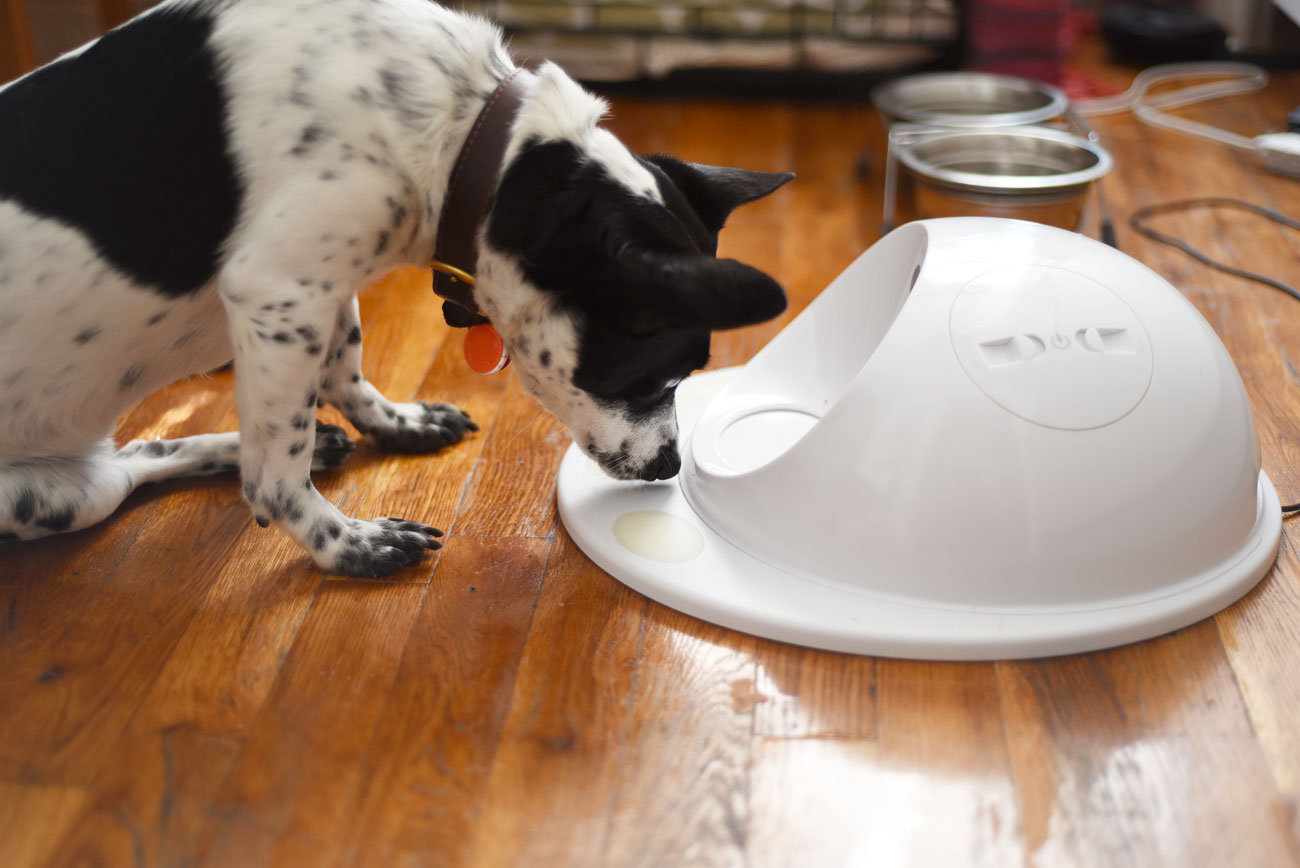 Cost
As such an advanced piece of technology, the CleverPet isn't cheap – one will run you $299. If you think about the costs of dog walkers and daycare, however, it's a positive bargain! Consider your individual needs, but it may be totally worth the investment to keep your pup happy and occupied.
(Disclaimer: Of course, the CleverPet is not a substitute for a dog walker or daycare if you're truly out of the house for long hours. It can be an excellent tool, but please attend to your dog's needs).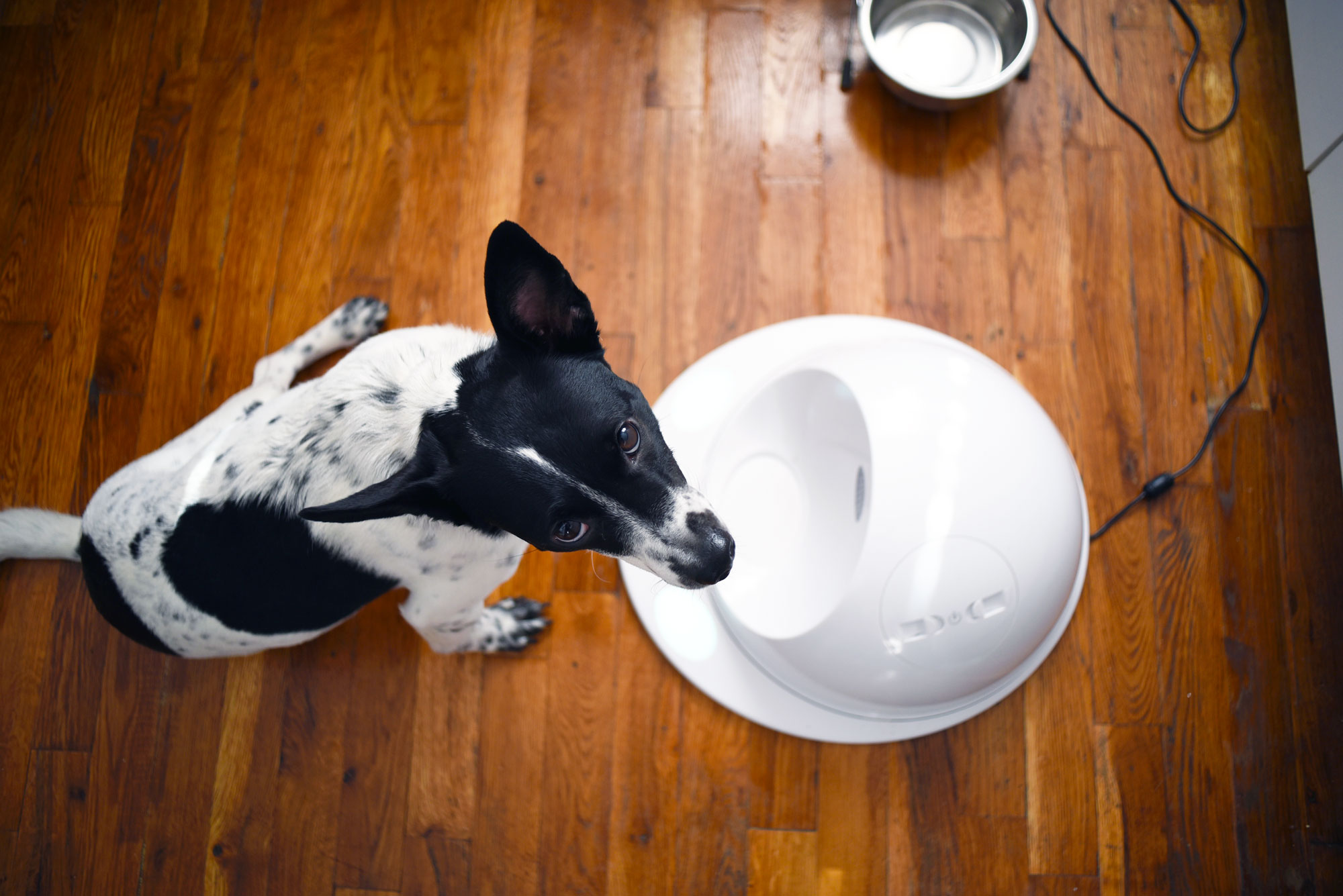 Five Things We Love About The CleverPet
1.) It automatically adjusts to your dog's abilities
Once your dog masters a Challenge, the Hub will move to the next level. (If the new level proves to be too difficult, you can set it back.) Gone are the days of purchasing a brand new puzzle toy each time your dog learns the trick two minutes after unwrapping it: the CleverPet's challenges morph and evolve based on your dog's skills.
2.) The App Rocks
The CleverPet app has built-in analytics so you can learn more about your pup's play and learning habits. It also gives you starts regarding how many times he's played that day and how many kibbles he's eaten.
3.) Engagement Guarantee!
The CleverPet comes with an engagement guarantee: If your dog doesn't engage with the toy after thirty days, CleverPet will give you a full refund.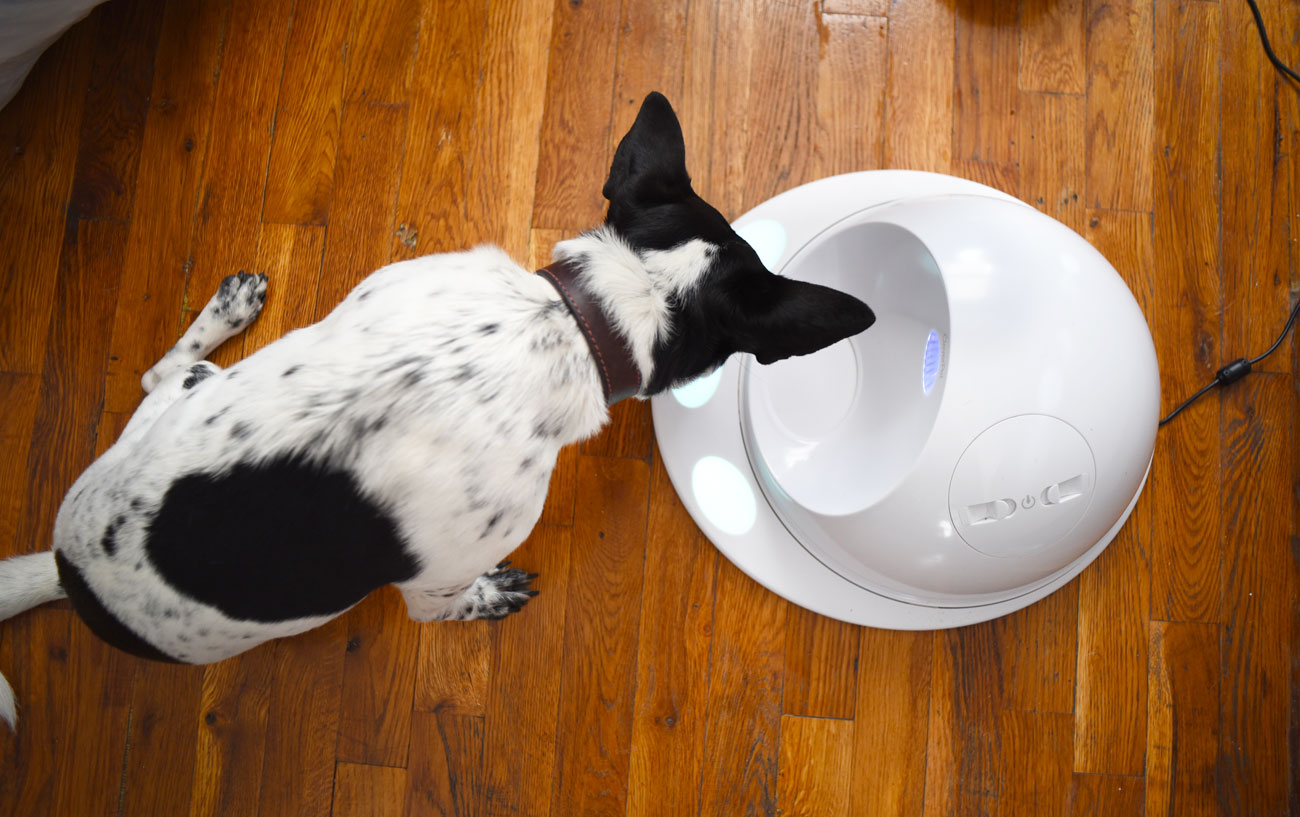 4.) Less Guilt
I feel absolutely, positively terrible when I leave Henry at home or when I need to spend my evenings working on the blog or my Etsy shop. Although Henry seems content to snooze by my side (and I know he's better off than he was in the pound), I can't help but feel bad that I don't spend every free moment playing with him. The CleverPet is the perfect solution: while I'm working, Henry trots over the kitchen and starts activating the touch pads when he feels like playing. When he wants a break, he takes a nap. It's in his hands (er…paws?) and he has options!
5.) The CleverPet Actually Made Henry Smarter
The first week we had the CleverPet, Henry escaped his pen six times. SIX TIMES. This is a dog who had never attempted an escape before. I'm thoroughly convinced that the CleverPet activated some crazy, underutilized problem-solving skills in his little terrier brain. Mind you, I actually reinforced the pen each day with some added security feature — and, each day, he foiled my attempts. I eventually had to reconfigure the pen setup so he now has access to half of the apartment instead of half a room (we live in a studio), including the bed — which I'm pretty sure was his intention all along.
We've also been working on Henry's Intermediate Trick Dog title, and I noticed that he has been learning new tricks much more quickly. Roll a soccer ball? Took him two minutes to learn. Put his paws up on my arm? Probably four tries. I'm amazed — he's always been a smart boy, but after using the CleverPet, he seemed to catch on immediately.
Here's a little footage of Henry kicking butt at Challenge 7:
Did The CleverPet Solve Our Problem?
After weeks checking the CleverPet app for progress and stalking my doggie cam, I discovered one thing: it turns out Henry just likes to nap all day! As soon as I get home from work, he runs over to the CleverPet to play. He loves the device, and he knows he has it as an option, but he just plain likes to snooze. (Can't say I don't relate at least a little bit!)
The CleverPet didn't end up solving the problem I had in mind (at no fault of its own!), but it's been an excellent tool in our household and has improved Henry's mind and mood. Although the cost might be prohibitive for some, it is much more affordable than day care or dog walkers and, in our opinion, is absolutely worth it.
Where Can I Buy The CleverPet?
You can order from CleverPet's website or from Amazon!
For more information, check out CleverPet's Facebook, Twitter, Instagram, and YouTube channel.