Looking for a way to include your pup in your wedding or simply express your canine love to your guests? These DIY dog wedding cake toppers are affordable, fun, and relatively easy to make!
Disclosure and disclaimer: This post contains affiliate links, which means I might earn a small commission if you purchase something after clicking on it. This does not affect your pricing at all! This project involves putting things on food. Do not eat the part of the cake that touches this project, and exercise smart food safety measures. I make no claim that the materials used in this tutorial are fully nontoxic and caution should be used.
DIY Dog Wedding Cake Toppers
Don't be intimidated — these dog wedding cake toppers are pretty straightforward! They can also be adapted for any holiday or to any plastic figurine. Of course, same-sex couples can use either two brides or two grooms — mix and match however you like!
You Will Need
• Two Dog Figures. I purchased this set from Amazon (click for link) and plan to use the other figure for future projects!
• Paint in Your Color Choice. Our wedding is going to have a lot of copper in it and, even though these toppers were more of a blog activity, I decided to stick with the theme. I started with the paint pictured but I also HIGHLY recommend this paint (click for link), which I have used for several projects.
• White Acrylic Paint. This will be used to prime the figures.
• Sealant or Varnish. Use nontoxic if you can find it. I'm honestly not sure if the kind I bought is nontoxic, but I am not going to be eating the parts of the cake that will touch this project and I recommend you do the same.
• Black Satin Ribbon, 5/8″ Wide. You will only need a foot or so, but it never hurts to have a little extra.
• Tulle, about 3-4″ Square (I literally used some trimmed from my wedding dress!)
•  Small Pearl Beads (or Other Decorative Element Like Rhinestones)
• A Paintbrush or Two
• A Glue Gun and Glue. I prefer my handy dandy low-heat glue gun because I'm not the neatest crafter and I tend to burn myself!
• Needle and Thread. Ideally both black and white thread.

1.) Prime the Figures
Paint each dog figure with your white paint. This step ensures that no spots or markings will show through the final paint coat. Try to apply as thin a layer as possible while still getting ample coverage. Let the paint dry completely before going on to the next step.
2.) Paint the Figures
Paint each figure in your chosen color. You will most likely need to do a few layers — the image above shows my figures after the first coat. Make sure each layer dries completely before painting the next.
Pro Tip: It helps to work in thin layers rather than globbing on a ton of painting and trying to cover it entirely in one go. This ensures that the paint will dry evenly and quickly, as well as preserve as much of the original fur texture as possible.
Alternatively, you can also use spray paint. I decided not to since containing my mess to a 2×1-foot indoor area is more my jam, but I'm sure it would work really well!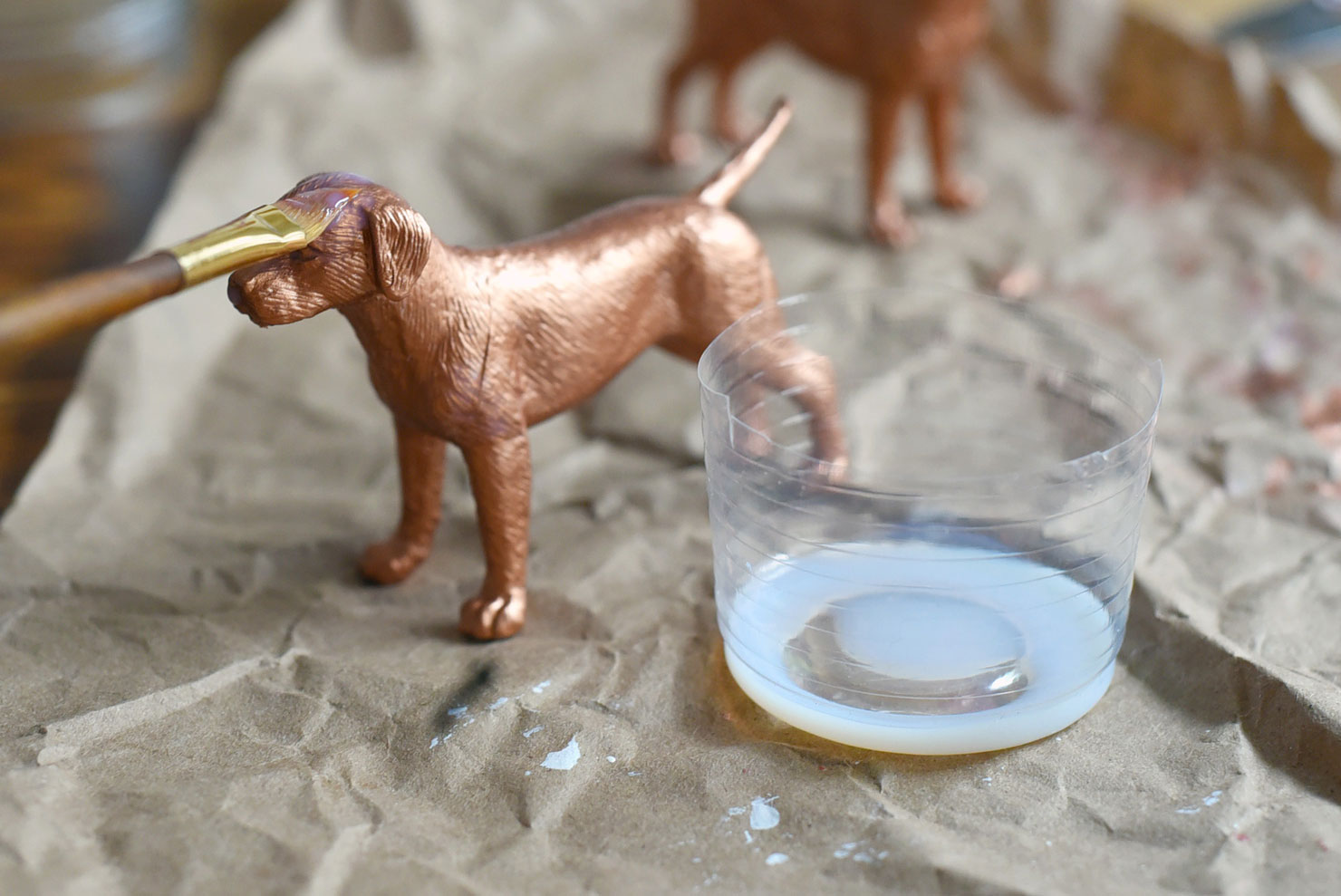 3.) Seal the Figures
Sealing your figures will make them more resistant and will prevent paint chipping — as well as creating a layer between your food and the paint. Using a paintbrush, coat the entire figure with the sealant. Can you guess what I'm about to say about how thick a layer you should do? That's right: not too thick, and don't be afraid to do a couple of layers.
4.) Make the Veil
I hate to say it, but the easy part is over. The good news is that the hard part is also more fun! Feel free to do this step or the next step while you wait for your paint to dry between layers.
First: Cut a piece of tulle about 3″ square and fold it in half. Thread your needle, and weave wide stitches just under the crease for the entire length of the fold.
Second: Gently pull! This will bunch the tulle into a neat point. I then stitched this point a few times to hold it in place, but you can also use a little glue. Tie off your thread.
Third: Make sure your figure is completely dry. Take your hot glue gun and squirt a line (or relatively near blob) across the top back of the head. Attach the tulle here and let it set.
Fourth: Make another glue line directly in front of the glued tulle and line up your pearl beads in the glue before it dries.
TA-DA! You have a beautiful blushing bride dog!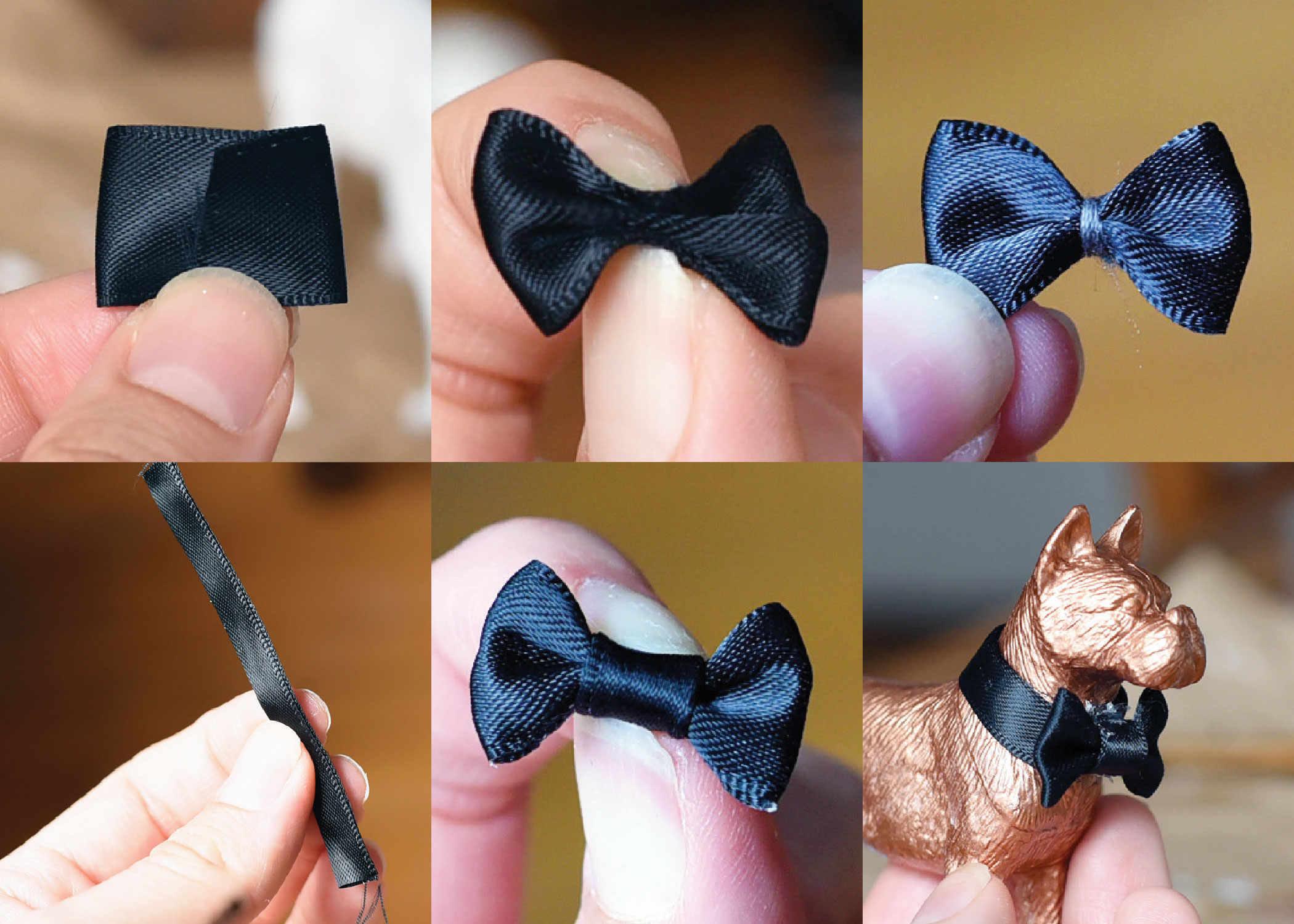 5.) Make the Bow Tie
Time for the groom! He will be wearing a spiffy little bow tie.
First: Cut a piece of the ribbon about 2″ long. Fold it over on itself so that the ends overlap about an eighth or a quarter of an inch.
Second: Do your best to fold it into a bow tie. I say "do your best" because this step can be TRICKY. I believe in you!
Third: Secure the folded bow shape by looping around the center with your needle and black thread or with a little glue. I recommend the needle and thread route because it's less messy.
Fourth: You will need to make a neckband and a center band for the bow  — let's start with the center band. Cut a length of ribbon a couple of inches long, then glue it in half lengthwise. Don't use so much glue that it becomes too stiff to bend — just a thin line will do.
Fifth: Wrap this piece of ribbon around the center of the bow and use glue to secure it.
Sixth: Repeat step four with a length of ribbon that is long enough to go around the dog's neck, then glue it in place around once all paint is dry. Glue the bow tie on top of the neckband under the figure's chin.
YOU DID IT! You have a dapper groom dog!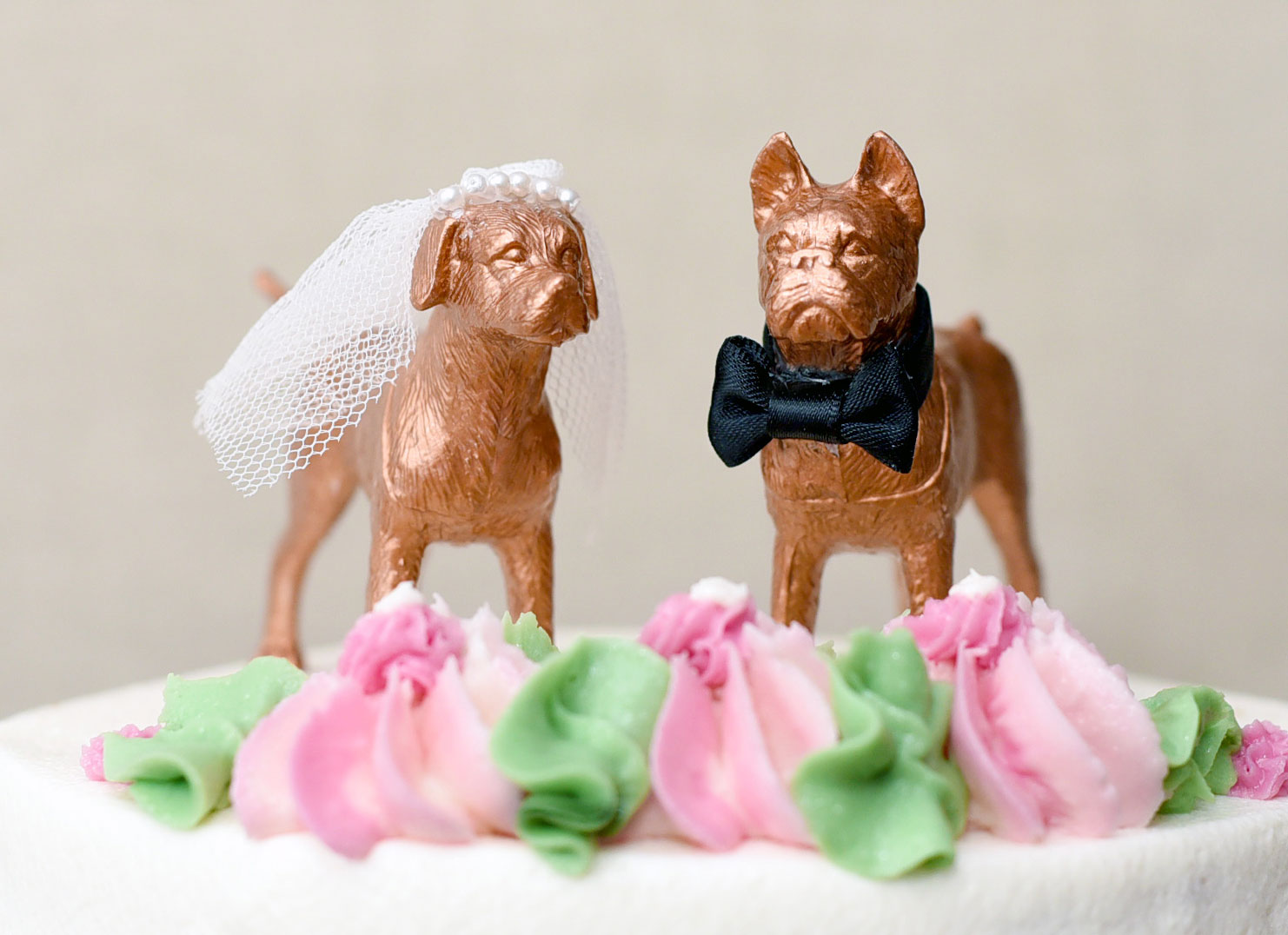 6.) Put those Pups on the Cake!
Put your dog wedding cake toppers on the cake and have the BEST DAY EVER!
Tell Us What You Think!
Would you use dog wedding cake toppers? Are there other ways you're including your dog in your big day? Let us know in the comments!
If you complete this project, tag us on social media! I absolutely LOVE seeing my readers' finished projects.