Looking for an inexpensive, simple, and fun way to give your tree a little extra canine holiday cheer? These free DIY printable dog Christmas tree ornaments are easy-peasy and require little more than a printer, shrink film, and an oven!
Disclosure: This post contains affiliate links, which means we make a wee commission if you make a purchase after clicking through them. It doesn't change the price — it's just a "thank you!" from the brand for the referral!
DIY Dog Christmas Tree Ornaments
You may or may not know that I fall under the "Crazy Dog Mom" category. Just in case the fact that I have a blog dedicated solely to my canine pal, Henry, doesn't drive it home, please refer to Exhibit A from The Broke Dog's Facebook page:
Yes, that's right: I bought Henry his own Christmas tree. Henry's dad and I were at a local Christmas tree farm (called Henry's Tree Farm, by the way) to find our own tree and discovered a stack of small trees near the exit. Turns out these mini trees had a discounted price per foot — so, of course, we left with one in our car's trunk.
When we got home, I knew I couldn't just put regular ornaments on this canine tree. No, Henry's tree needed to reflect his interests, hobbies, and passions. That leads us here!
A Note on the Artwork
The artwork on these ornaments was purchased from four separate (and super talented!) Etsy sellers: Heartland Graphics Company, Autumn Breeze Design, Paper Sphinx, and Digital Artsi. I combined different elements to create the images you see in the PDF and photos.
You will need:
• 1 Pack printable shrink film (I use this brand from Amazon and have had great luck!). Be sure to buy the inkjet version if you have an inkjet printer!
• 1/8″ ribbon for hanging (I often find $1 spools at the dollar store or craft store that are perfect for this)
• Mod Podge (optional) and brush for sealing
• Scissors for cutting
• An oven, cookie sheet, parchment paper, and oven mitt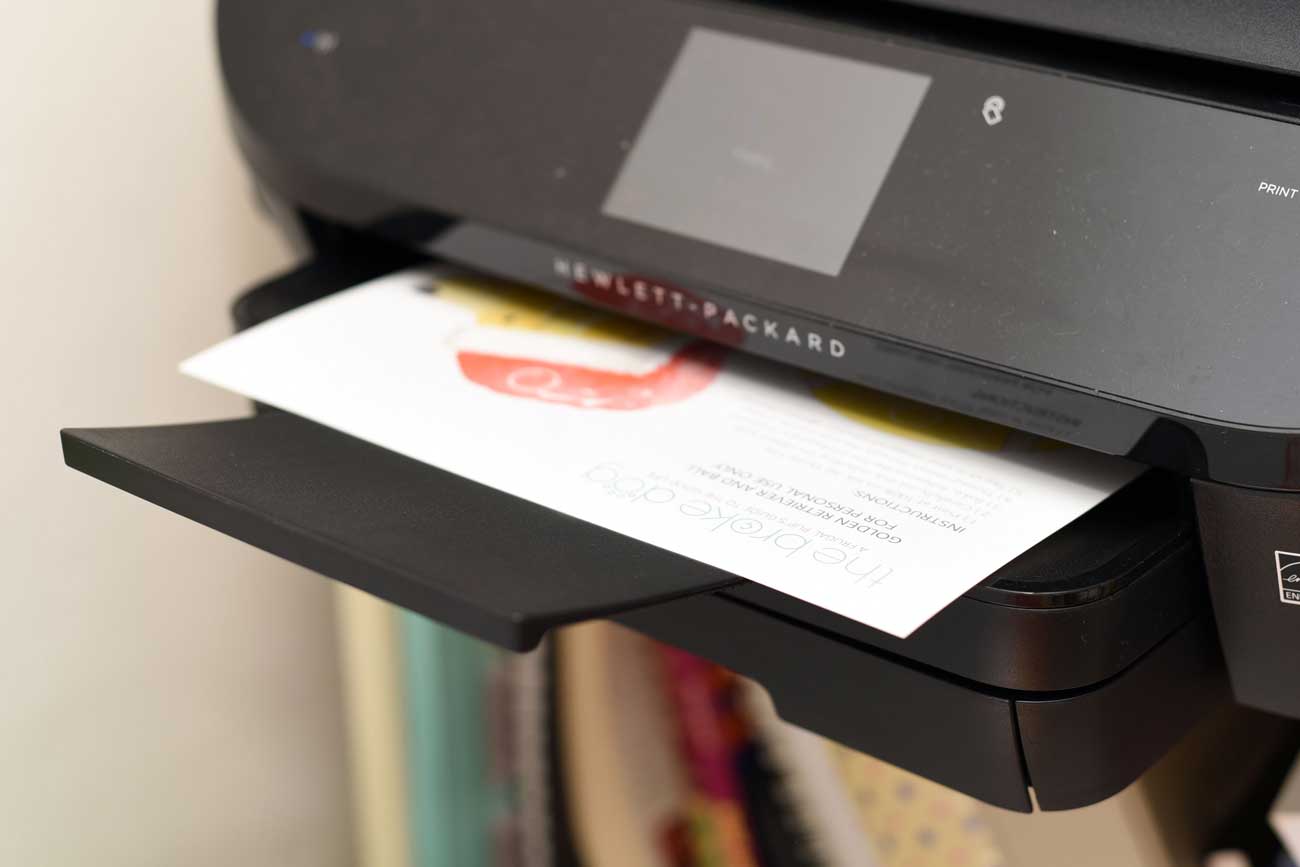 1.) Print the PDF
To access the PDF, CLICK HERE and enter your email address. We'll then send you an email with a link to download the file.
Following the directions on your shrink film package, print as many of the PDF pages as you'd like and wait for them to dry.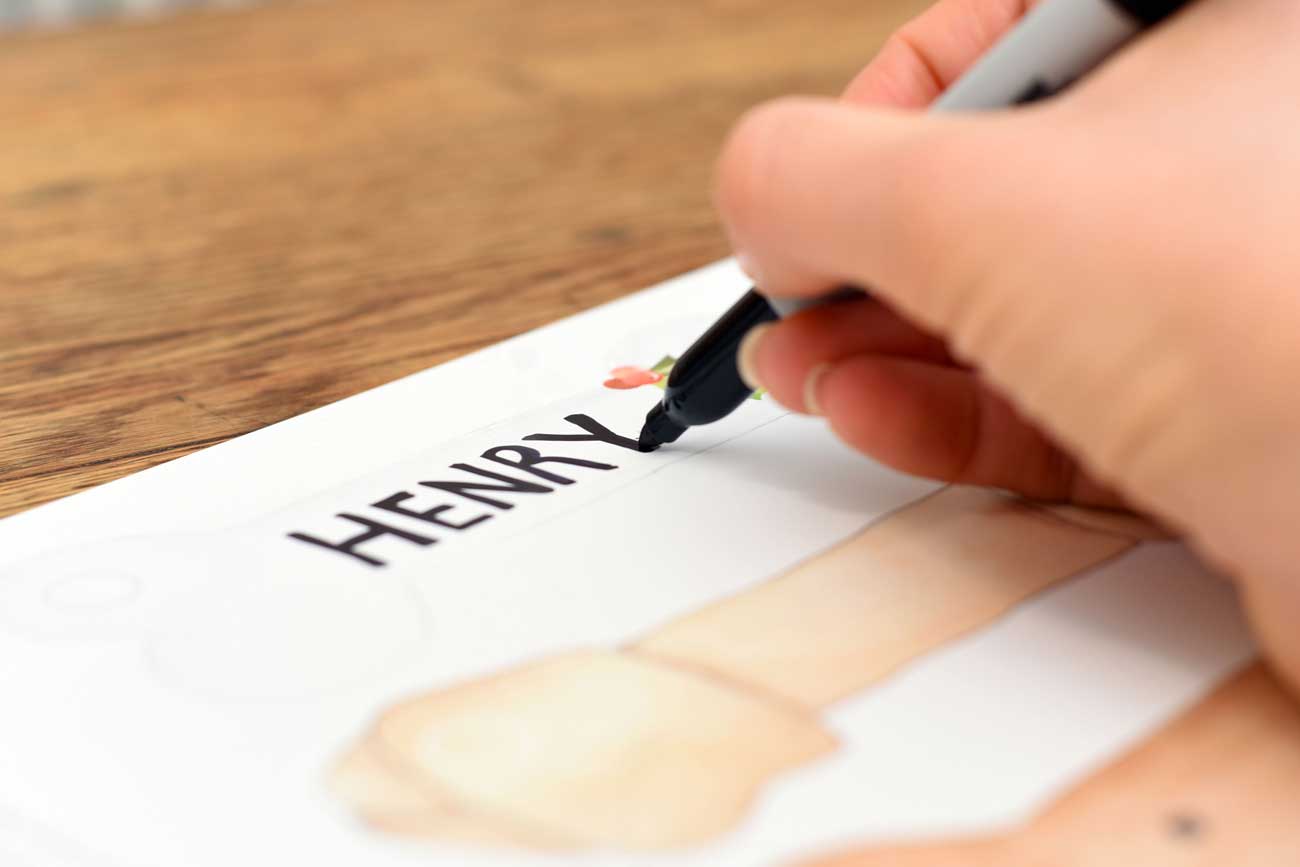 2.) Personalize
If you want to personalize any of the ornaments (we suggest writing your dog's name on the white bone and/or the food bowl), now is the time! Remember that the ornaments will shrink to about 20% of their original size, so don't hesitate to write it large.
3.) Cut it out!
Cut out each design along the border — but be sure not to cut any pieces too thin. When in doubt, leave extra white space. It will shrink so much that it will hardly be noticeable.
Ready? Time to bake!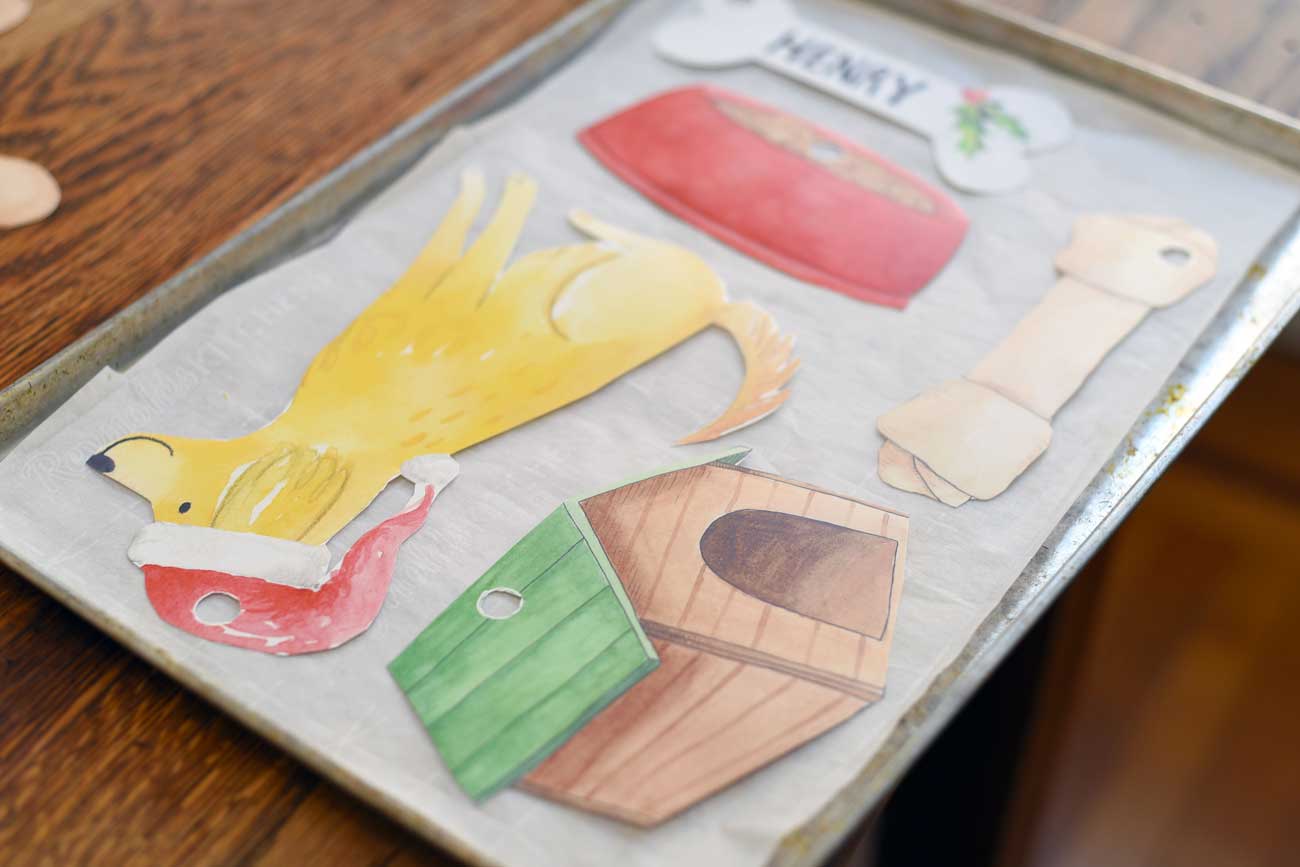 4.) Prep for Baking
Following the directions on the shrink film package, prep your baking sheet. Mine suggested laying down parchment paper or cardboard before placing the shrink film. Make sure there is enough room around each and, if your package suggests it, cover them with a parchment paper sheet.
5.) Bake!
Bake for the suggested time, taking all necessary and proper safety precautions. Be alert when you remove the sheet from the oven — this is your only time to flatten any of the ornaments that need it. Consult your shrink film package, but mine suggested using a spatula to press onto the parchment paper to flatten the shape below. Do NOT touch the film with your bare hands (it'll be hot!) and do not use a spatula without a parchment paper barrier (food safety, yo!).
6.) Let Cool and Seal
Let each ornament cool completely. If desired, paint a Mod Podge layer on each one. Careful — Mod Podge can make the ink run, so use a clean brush with each color if possible. Let dry.
7.) Tie the Ribbon
Cut ribbon to your desired length, thread through the hole, and tie a loop!
8.) Hang them up!
You did it — they look great! Wasn't that easy? Enjoy!
Did you make your own ornaments? Let us know!
We love seeing what our followers create!