Disclaimer: We are no monthly reviewers and affiliates for Pooch Perks, but we would never recommend something we didn't love! Use code BROKEDOGBLOG for 10% off!
It's February and love is in the air! Valentine's Day is a special day for Henry and I because it is the anniversary of when we met (His actual adoption day is February 15 — I thought about it for a night and went back the next morning to be first in line. Looking back, there was never any question in my mind – but it was a big decision!) As a result, I'm a big fan of Valentine's-themed dog products. Pooch Perks graciously sent us their February Box to check out, and it was CHOCK FULL of Valentine's Day goodies!
Want to feel the love? Keep reading to see what we received!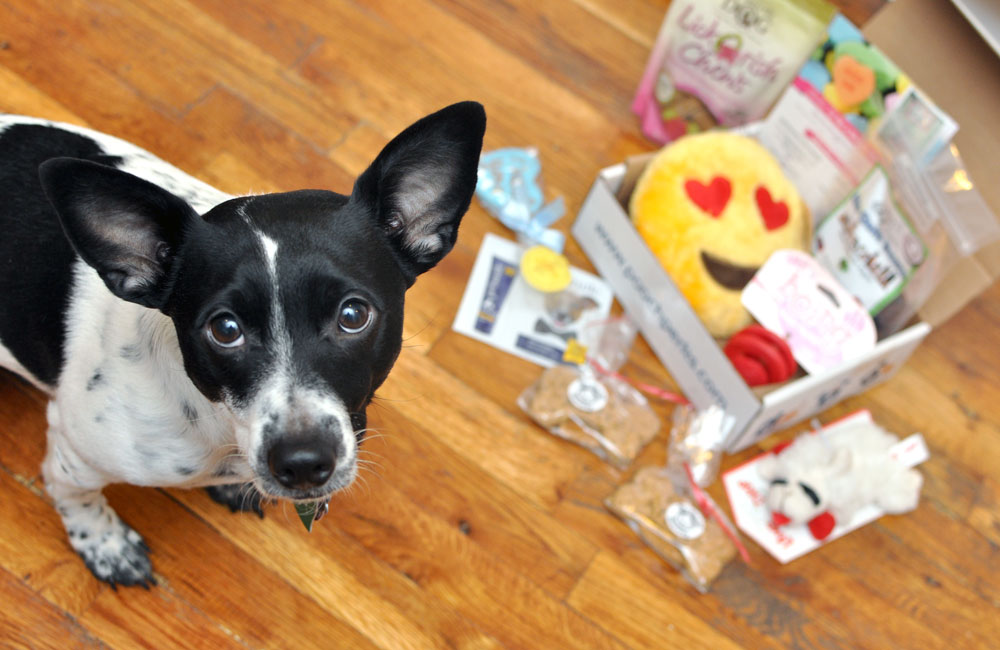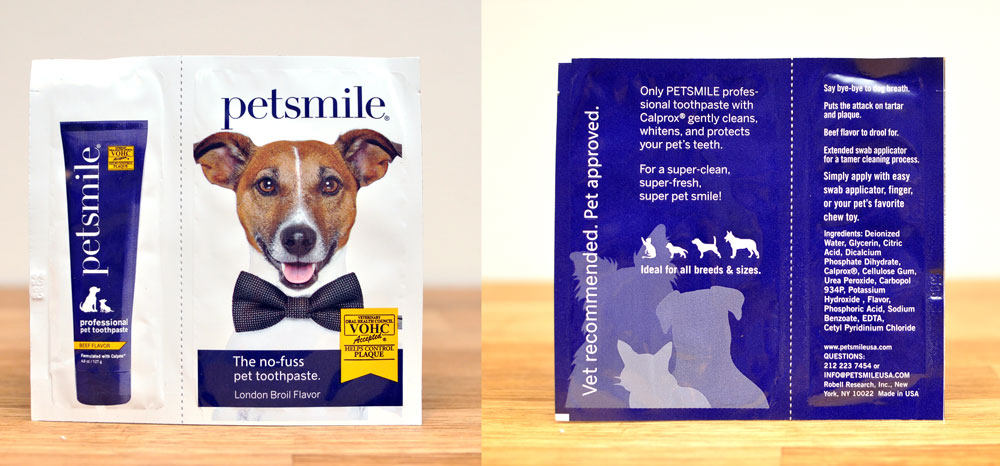 Sample of PetSmile toothpaste (London Broil flavor)
Henry, like many dogs, does not enjoy having his teeth brushed. He doesn't like having a finger or strange object in his mouth (odd, considering the weird trash he always picks up off the sidewalk!) but always enjoys tasting the toothpaste itself. Often, dog toothpaste comes in generic flavors like "Chicken" or "Peanut Butter," but this PetSmile sample is London Broil flavor! That alone is enough for me to consider buying their product – plus, Henry begged for more after I brushed his teeth with it!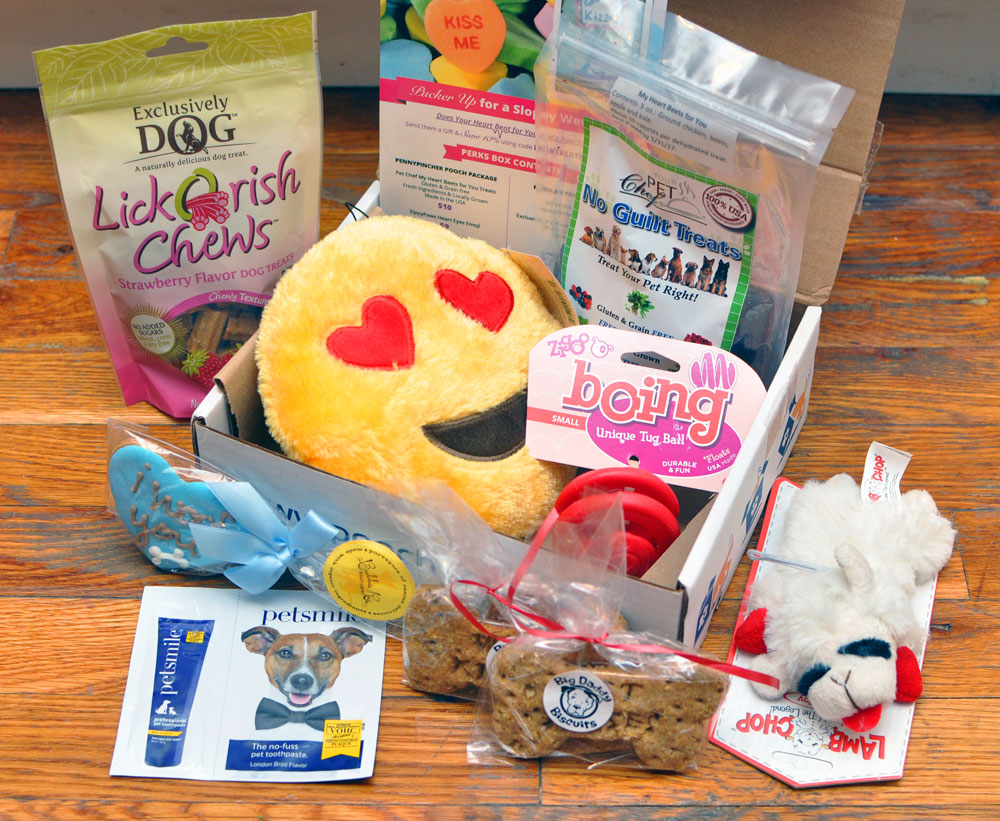 ZippyPaws Heart Eyes Emoji Toy
I've been secretly coveting ZippyPaws's emoji toys for a while, so I was thrilled to find one in Henry's Pooch Perks box. Plus, every time he brings it to me for playtime, he'll be expressing how much he loves me! (That's how it works, right?)
MultiPet Lamb Chop Squeaker Toy
LAMB CHOP! I have so many fond Lamb Chop memories from my childhood and literally squealed when I pulled this toy out of the box. I almost feel bad giving it to Henry (NO! DON'T KILL LAMB CHOP!), but thankfully he is only minimally destructive with his toys.
Zigoo Boing Tug Toy
I've never seen a toy like this before! Henry loves tugging as well as chasing, so this combination will surely make him go nuts! I love that it floats, too. Before taking the photos for this post, my boyfriend kept bugging me to take it out of its packaging so he Henry could play with it.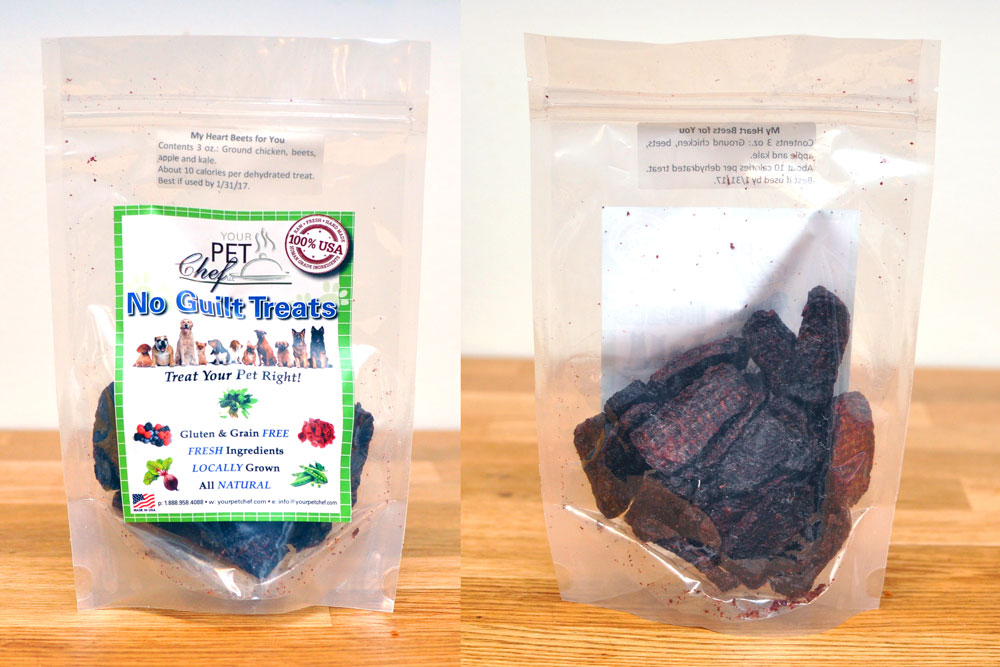 Pet Chef My Heart Beets For You Treats
I'm a sucker for a good pun and have a particular fondness for beets, so this Pet Chef flavor instantly leapt out at me. It sounds like it's a a healthy treat and Henry went crazy for it!
Exclusively Dog Strawberry LickOrish Chews
What a cute idea! I can't remember ever seeing a strawberry-flavored dog treat or one inspired by licorice. Henry seemed a little confused at first, but then eagerly begged for a second taste.
2 Packs of Big Daddy Biscuits Wet Kisses Treats
These are adorable and look delicious! They remind me of baking cookies for elementary school Valentine's Day parties. The heart shapes and bone shapes are cute, too.
Bubba Rose I Woof You Treat
Wow – what a beautiful treat! If Henry had a crush on a lady dog, I'm sure he could win her over with one of these! THIS treat reminds me of going to the local bakery with my mom as a child and and buying cookies piped with smiley faces. The memories!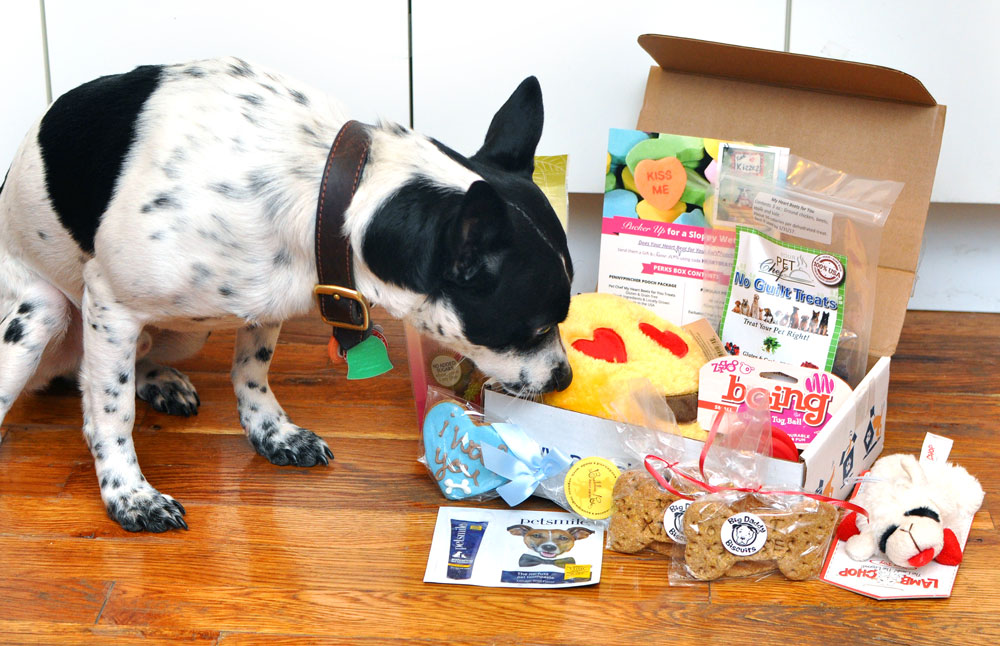 This Pooch Perks box is FULL of great products that I've never seen before! According to the handy guide that came in the box, Pooch Perks sent me the "Pampered Pooch" upgrade, and there are different levels to select from such as the "Patriotic Pooch" (comes with products that are all made in the USA) and "Treats Box" (all treats!) options. Plus, a portion of each purchase is donated to rescue organizations listed here.
The Takeaway
Thoughts: Pooch Perks is a great dog subscription service that surprises your dog with a wide variety of interesting products while helping you save money.
Price: $20-50, depending on plan purchased.
Buy It: At the Pooch Perks website. 10% discount using code BROKEDOGBLOG!
Learn about other dog subscription box services in our Dog Subscription Boxes: How to Save and Have Fun post!