Disclaimer: We are monthly reviewers and affiliates for Pooch Perks. We receive a free box each month and receive a small commission each time a plan is purchased through our links. We absolutely LOVE Pooch Perks and always give our honest opinions in all reviews!
Happy Cinco De Mayo! Even if you don't remember which event this day commemorates (the Mexican Army's victory over the French at the Battle of Puebla in 1862, for the record), you might be celebrating today with some strong drinks and delicious food. Well, thanks to Pooch Perks, you can include your dog in the fun! Check out this month's Pooch Perks unboxing to see how Henry will celebrate (as well as recover from) tonight!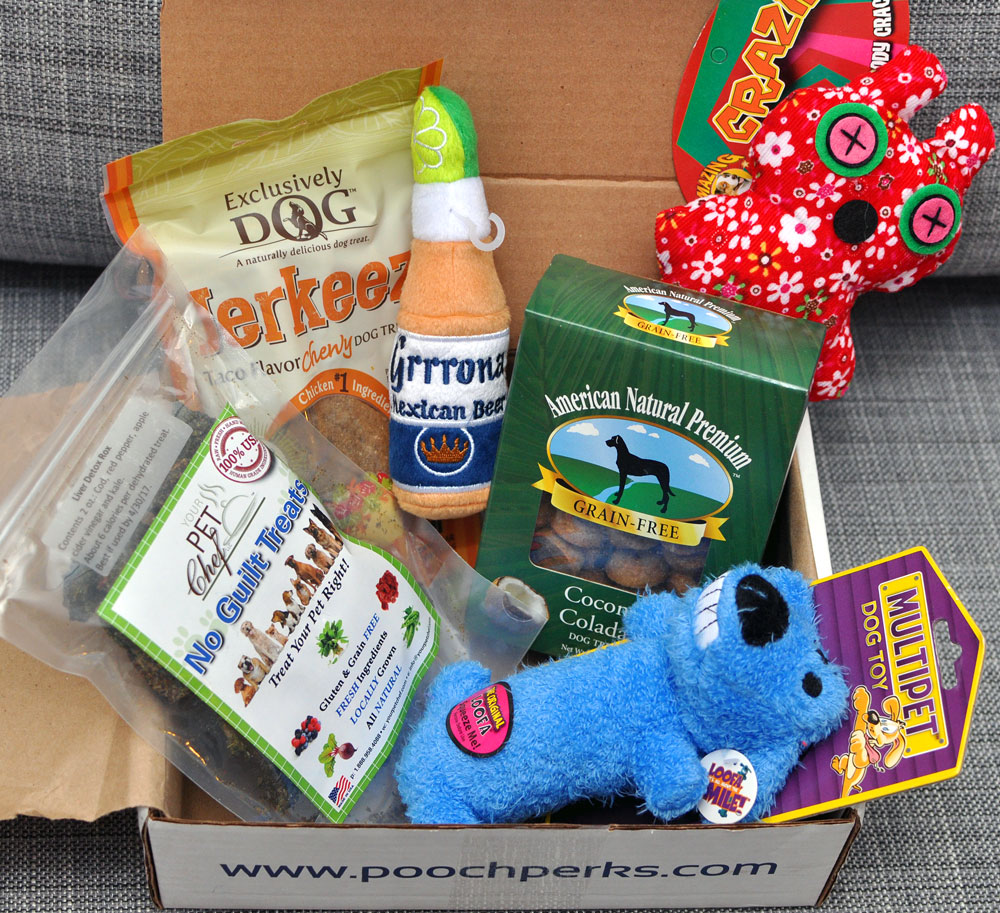 Pooch Perks Unboxing: May 2016

1.) Mexican Themed Handmade Bandana
This bandana was one of the first things I saw when I opened our box, and I'm pretty sure I squealed. There are DANCING CHILI PEPPERS on this banana! How can you resist? My one chagrin is that there is really only one holiday for Henry to wear this. Guess I'll have to plan some taco nights!

2.) Grrrona Beer Bottle by Haute Diggity Dawg
I think this is my favorite item in this month's box. Haute Diggity Dawg makes such clever and adorable toys (Henry loves their Starbarks toy) and this one cracked me up. It fits perfectly in the theme and I know it'll be a hit among my family and friends. It's punny, it's silly, and it has a LIME. Adorable. If only the box came with a real Corona for me! (I would have accepted a margarita as well.)

3.) Exclusively Dog Taco Flavor Jerkeez 
I've never heard of taco-flavored dog treats, and I don't think Henry has either – when I gave him a taste, he looked confused while he chewed. As soon as he finished chewing, he wagged his tail and started performing his "spin" trick in an attempt to get some more. These treats fit perfectly in the theme and chewy treats are always a huge hit in Henryland. Plus, I love that they're wheat, corn, and soy free and easy to break into small pieces for training!

4.) Pet Chef Liver Detox
The card that came with the box suggests that these treats will "help you detox after partying like a rockstar." It wasn't too long ago that I was a college student, and I certainly knew some people who would have benefitted from something like this! These treats are made in the USA from healthy ingredients like cod and kale. Henry adores the Pet Chef beet treats we received in our February Pooch Perks box, and these were a big hit with Henry as well!


5.) American Natural Premium Coconut Colada Dog Treats
These treats make me think of tropical breezes, blue waters, and fruity drinks that pack a punch. Plus, they're grain-free and contain one of Henry's favorite ingredients: PUMPKIN! When I offered him one to try, he ran off to his "You Can't See Me" Spot (Spoiler Alert: Yes, I can), chomped it into a dozen pieces, and licked every last crumb off the floor. I guess that's his equivalent of slurping up every last drop of a Pina Colada.
6.) Multipet Loofa Dog
This dog needs to introduce me to his orthodontist because that smile is FABULOUS! (I wrote that, and then realized that the had a tag on it that said "It's all about the SMILE!" Multipet, your marketing is officially successful.) Squeaky, furry, tossable – Henry is going to LOVE this.

7.) Amazing Pet Products Crazies Toy
This toy CRACKLES! Henry loves toys that both crackle and squeak; they drives his little terrier brain crazy in the best possible way. I love that this toy is also textured, and, because it's face isn't quite as cute as the Loofah dog's, I won't feel as bad if Henry tears it apart. (You know me – forming weird emotional attachments to Henry's toys.)
The Takeaway
Henry and I absolutely loved this Pooch Perks Pampered Pooch box! It was a great combination of accessories, crunchy treats, soft treats, and toys and almost all items fit the theme perfectly. Henry would have probably enjoyed a chew like a pig's ear or bully stick, but other than that, the selection was really great. Since Henry doesn't destroy toys, we probably could have used one fewer stuffed toy – but that just means he'll be able to enjoy this box even longer! Pooch Perks is available in plans that start at $20 a month, making this an affordable and fun way to save some (refried) beans!
Use our code  BROKEDOGBLOG to take 10% off any time.  Click here to order!
Now, go forth and party! Just be careful not to end up like Hangover Henry: