The January 2016 BarkBox is groovy! No, really: that's this month's theme! Henry received a selection of "far-out" goodies in this month's box and is really feeling the love. Want to find out what Henry received? Keep reading!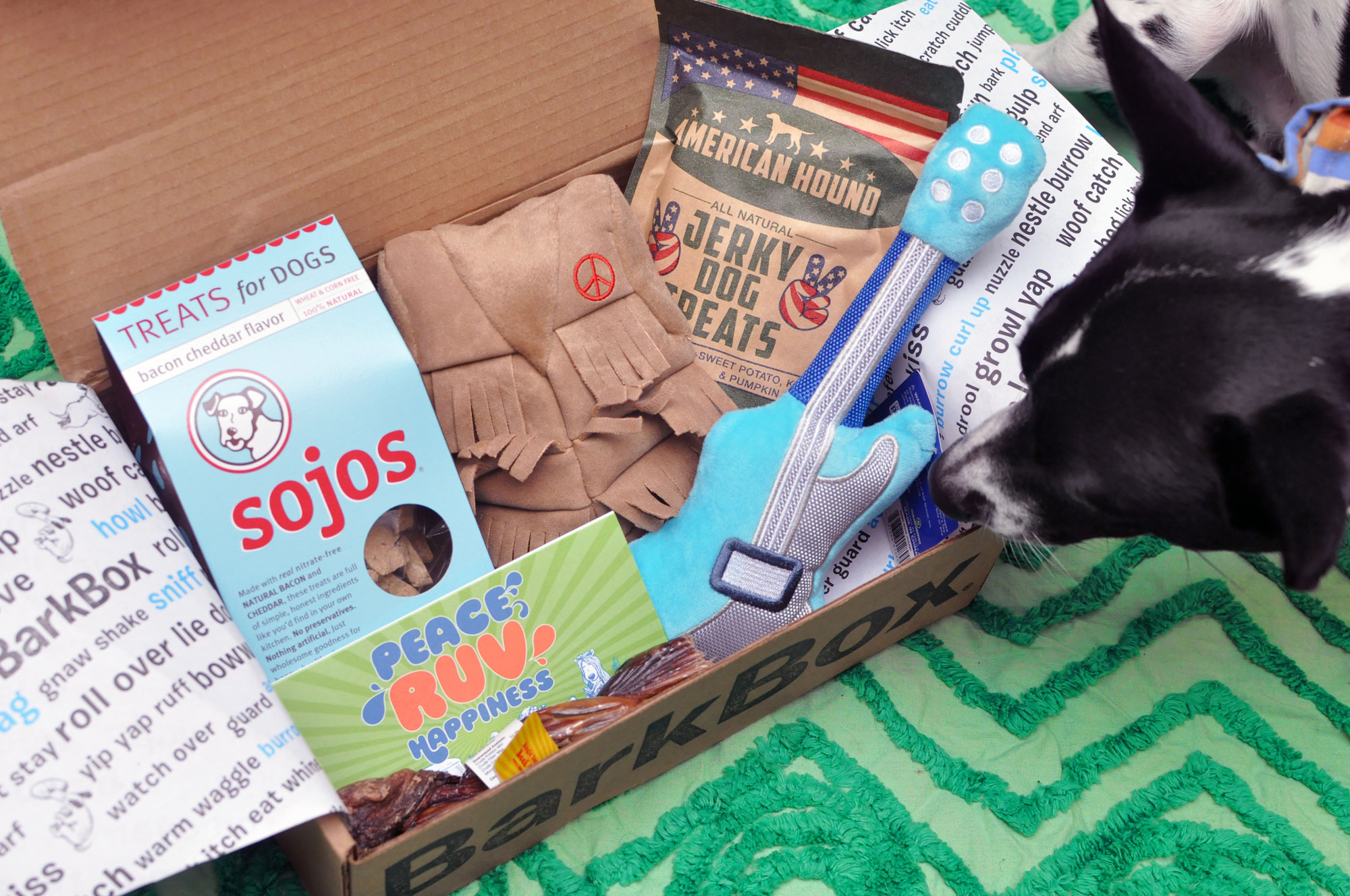 Henry's January 2016 BarkBox
Henry's hasn't tried every item from his January BarkBox yet — I like to space things out. That being said, here are my thoughts so far on his goodies:

1.) Top Dog Beefy Braids
BarkBox usually includes two toys, two types of treats, and one chew in each box. Henry usually enjoys the chews the most! He loves bully sticks, so I know he'll go wild for this Beefy Braid. I also hadn't heard about this company before this BarkBox, so I love that he'll get to try something new. 

2.) Dog Treat Factory Chicken Jerky
I love receiving softer treats in Henry's boxes because they're easy to cut into tiny pieces for training. Bonus that this Chicken Jerky looks like it'll taste delicious! This is another company I hadn't heard of before this month's box. 

3.) Sojos Bacon Cheddar Treats
I've heard of Sojos – and I've heard good things! I'm pretty sure Henry is going to love these! 

4.) Hard Rock Hound Plush Guitar by R2P Pet
This is adorable! I put it aside so I can give it to Henry in a few days. I can't wait to see what he thinks of it!

5.) Hippie Fringe Vest Dog Toy by Loopies
I won't lie – this toy cracks me up. I don't think I would ever think to make a dog toy inspired by a fringed vest. However, Henry is OBSESSED! This is his new go-to toy: he chases it, he squeaks it, he tosses it around, and he tries to bury it. A great toy in Henry's book!
Overall, I don't feel that Henry's box really fit the "groovy" theme as well as some of the boxes that other subscribers received. If you look at BarkShop's "Shop the Box" collection, you'll see that some of the other boxes came with peace sign rope toys, adorable plush VW bus toys, Peas and Ruv treats, and even a plush Ozzie the Hippie. That being said, every item is high quality and I know Henry will relish each one. I can't complain – this box was free from a referral code – and part of the fun of subscription boxes is random chance! I know Henry doesn't care at all about the theme, and as long as he's happy, I am too. 
Does your pup get BarkBox? What did you think of this month's box? Let me know in the comments!
Learn about other dog subscription box services in our Dog Subscription Boxes: How to Save and Have Fun post!