It's the holiday season, and we all have shopping to do! Why not make it a little easier for yourself by purchasing The Dapper Dog Box for any furry friends on your list? Better yet, buy a subscription! Keep reading to learn more about this awesome company and to take a peek inside the December box!
Disclosure: We were compensated by The Dapper Dog Box to help spread the word about their December box. This post also contains affiliate links, which means we earn a small commission at no additional cost to you! 
The Dapper Dog Box Holiday Edition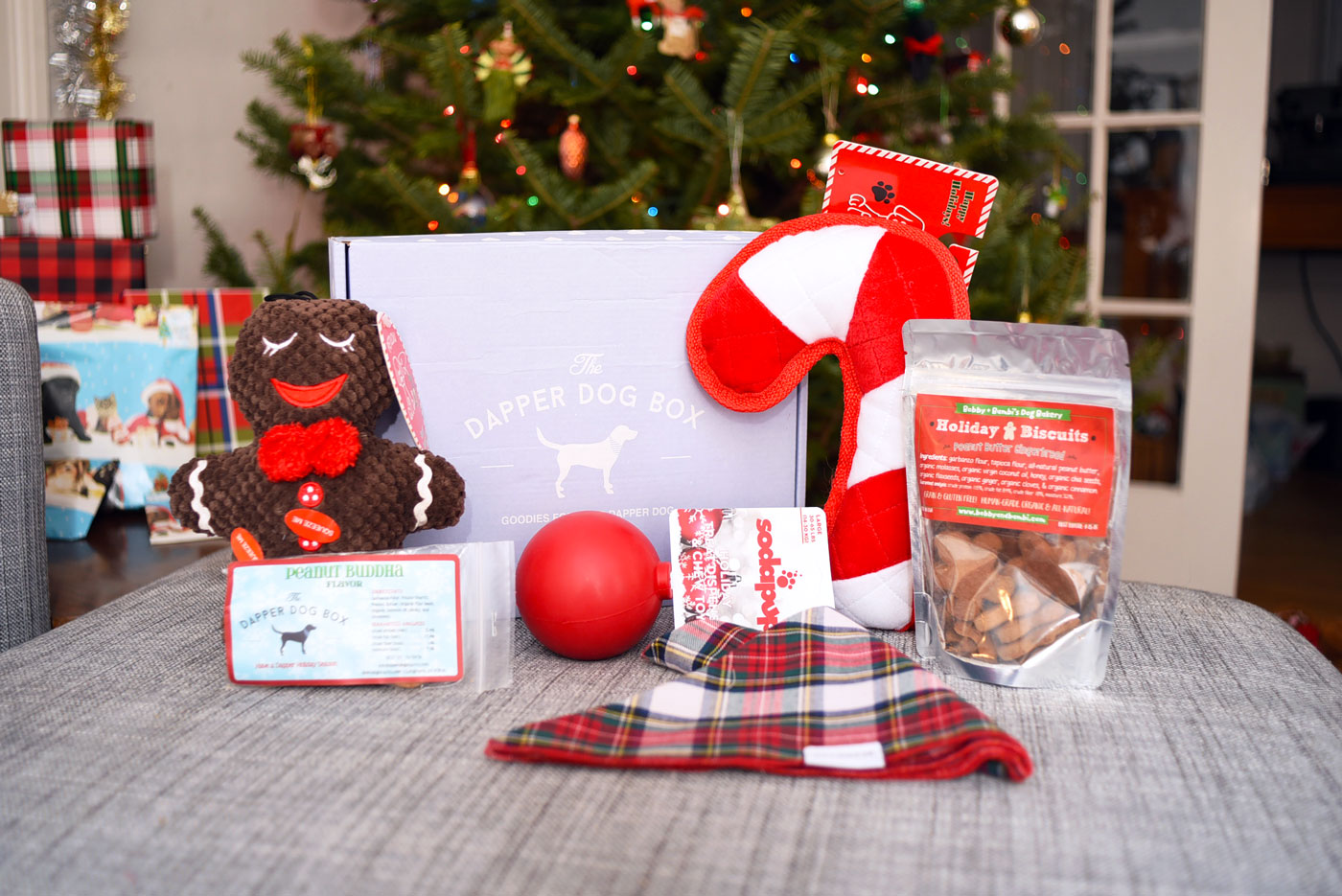 What Is The Dapper Dog Box?
Long-time readers might recognize The Dapper Dog Box from two posts we did last year: one was a Small Business Spotlight interview and one was a review of last year's December box. We also featured them in our 4 Gifts For Pets Giveaway post!
The Dapper Dog Box is a subscription service that delivers high-quality items to your pup on a monthly basis.  Each box generally includes two treats, two toys, and either a chew or accessory — a $60 value as low as $22 a month!
Treats in The Dapper Dog Box are always 100% all natural, made in the USA and organic or grain free, so you know your pup is getting the best. In addition, they will never contain any artificial preservatives or fillers and are always free of wheat, soy and corn. If your dog is a heavy chewer, extra small or extra large, or has allergies, The Dapper Dog Box will customize your shipment.
Finally, The Dapper Dog Box loves to support animal rescue! They have donated thousands of dollars to over 12 rescues including The Sato Project, Animal Hope & Wellness, Chews Life Dog Rescue, Queen's Best Corgi Rescue and more. This is a purchase you can feel good about!
What's In The Dapper Dog Box?
Petlou Candy Cane Toy
Nothing like a candy cane to get into the holiday spirit! This 10″ toy is sturdy, colorful, and features two squeakers for maximum fun. I have a feeling this boomerang-like shape is going to be fun to toss around the apartment, too! Henry is more of a shaker/tosser/squeaker than a chewer, so I think this toy is going to be "pupular" around here.
Bobby + Bambi's Dog Bakery Holiday Biscuits
What adorable little gingerbread men! Plus, to Henry's delight, these are actually peanut butter gingerbread. They're grain and gluten free, as well as human-grade, organic, and all-natural. Wow! In addition, their ingredients are real: garbanzo flour, tapioca flour, all-natural peanut butter, organic molasses, organic virgin coconut oil, honey, organic chia seeds, organic flaxseeds, organic ginger, organic cloves, and organic cinnamon. Festive and impressive!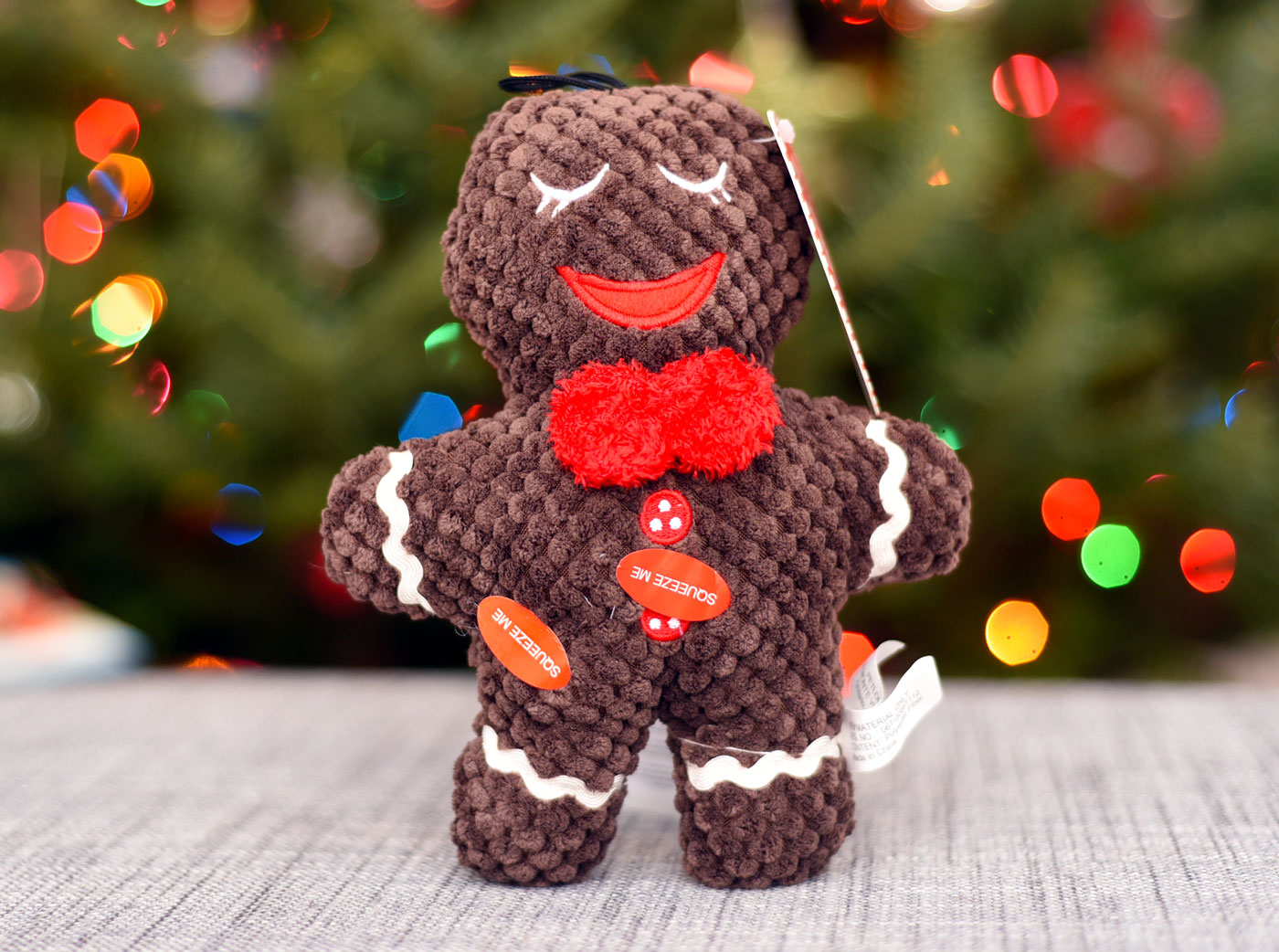 Petlou Gingerbread Man
This might turn out to be one of Henry's favorite new holiday toys! It's a perfect size — not too big, not too small — has a squeaker in the middle, and is such a fun nubby texture. Plus, who can resist a fuzzy bow tie?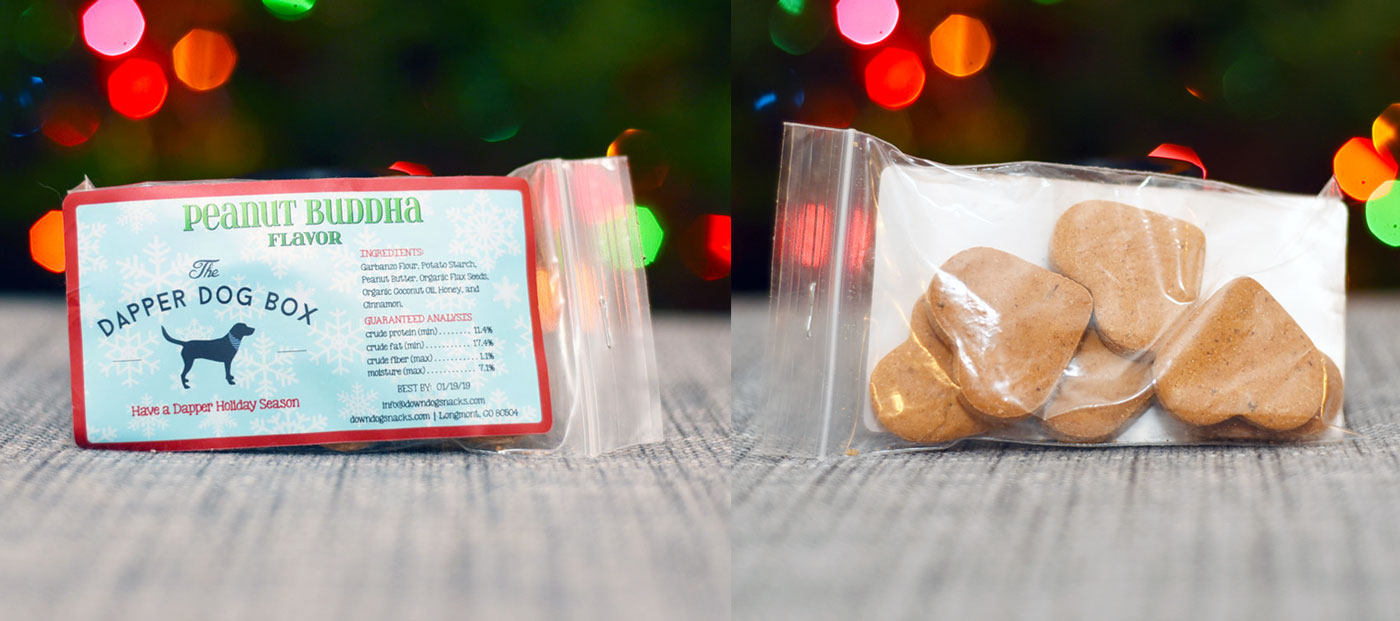 Peanut Buddha Treats from Down Dog Snacks
What a lovely little treat package! We've tried Down Dog Snacks before, and Henry has loved their fun flavors and heart shapes. This little packet is the perfect size for my little guy, and will certainly help make the holiday more special. Like the Bobby + Bambi biscuits, these treats are made from only real ingredients — garbanzo flour, potato starch, peanut butter, organic flax seeds, organic coconut oil, honey, and cinnamon. That's it! Nothing sketchy at all!

SodaPup Holiday Treat Dispenser & Chew Toy
How cute and festive is this SodaPup toy? It's such a perfect seasonal variation on the classic puzzle toy. Henry loves puzzle toys, so I know he's going to relish the chance to roll this around while I wrap presents. This SodaPup toy is made from high strength natural rubber, environmentally sustainable, and FDA-compliant.
Willowear Plaid Bandana
Doesn't Henry look so HANDSOME in that bandana? Plaid really suits him! We've received several Willowear bandanas in various boxes, and have been thrilled with the quality and fit every time. This is one is such a classic plaid, that I know will never go out of style. Plus, it looks a lot like a shirt I own — can you say matching outfits?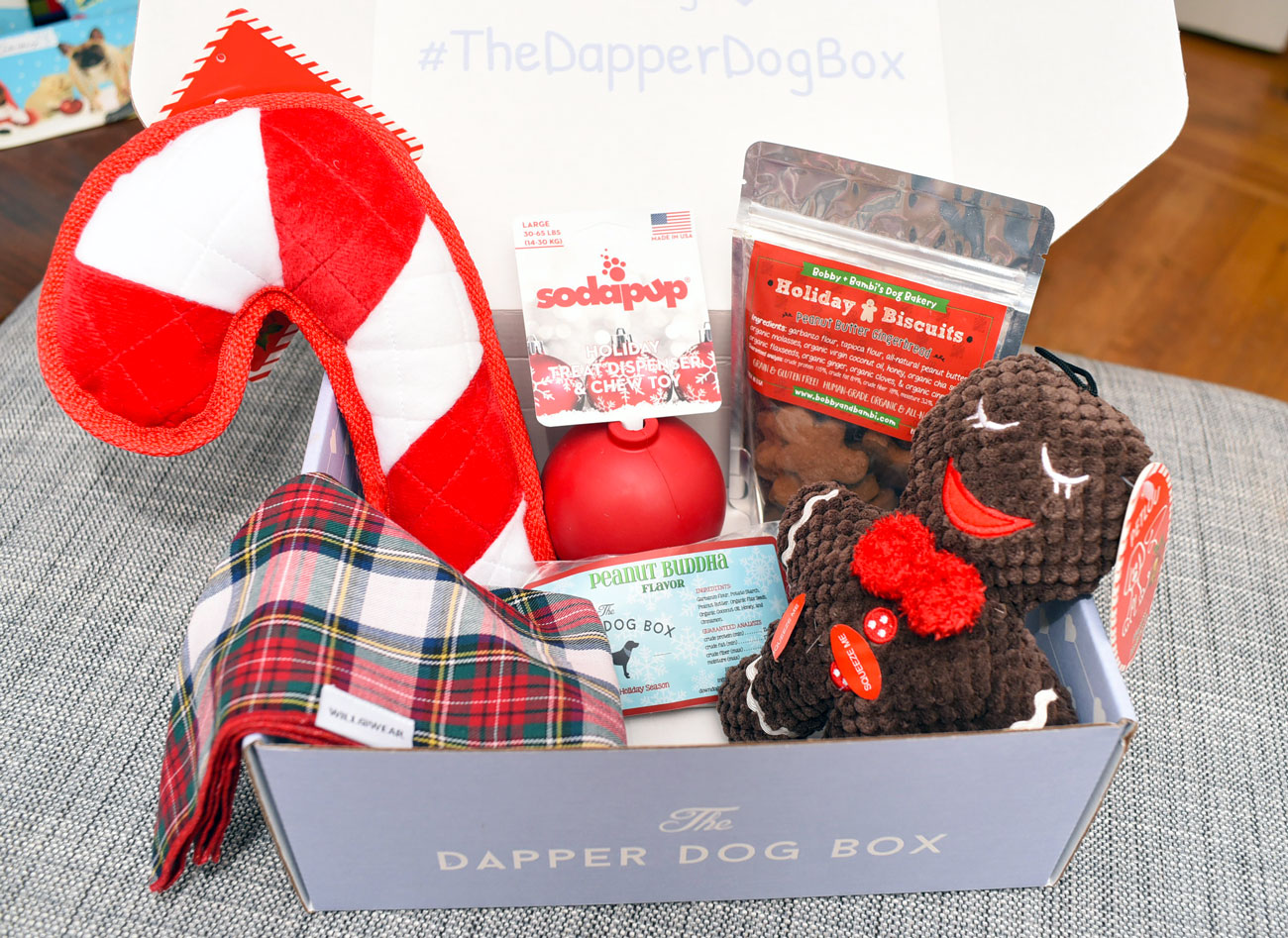 Buy Your Own!
The Dapper Dog Box is an excellent gift for the pup on your shopping list. Not only are you supporting one small business, you're supporting all of the businesses in the box! You can order a single month or keep their tails wagging for an entire year. Shipping is FREE in the United States, and only $4.99 to Canada! Click here to start shopping!