What is chewable, toss-able, durable, and made in the USA? The Jack For Joy!
Jack For Joy is a dog toy manufactured by Pressure Positive Co. They found us on Instagram and graciously offered to send Henry a toy to test out! Henry usually prefers toys that he can squeak or shake, and Jack For Joy isn't meant for either. What did he think? Read on to find out!
Henry Tests The Jack For Joy
Before I talk about Henry's interest in the Jack For Joy, let's talk about how beautiful it is! The Jack For Joy is made of SAN, a non-toxic plastic that is designed to be shatterproof and chip proof, and has four "arms" that make it easy to pick up with a doggie mouth. It is uniquely shaped and doesn't resemble any of Henry's other toys. There are four color options: Glacier Blue, Honey Amber, Mango, and Aquamarine. In addition: the shine is really beautiful! I know that's a silly attribute to comment on for a dog toy, but I was really struck by how nice it looked when I was photographing it against my wood countertop. What can I say? I like a little shine! Also, the Jack For Joy is made in the USA – a big plus in my book.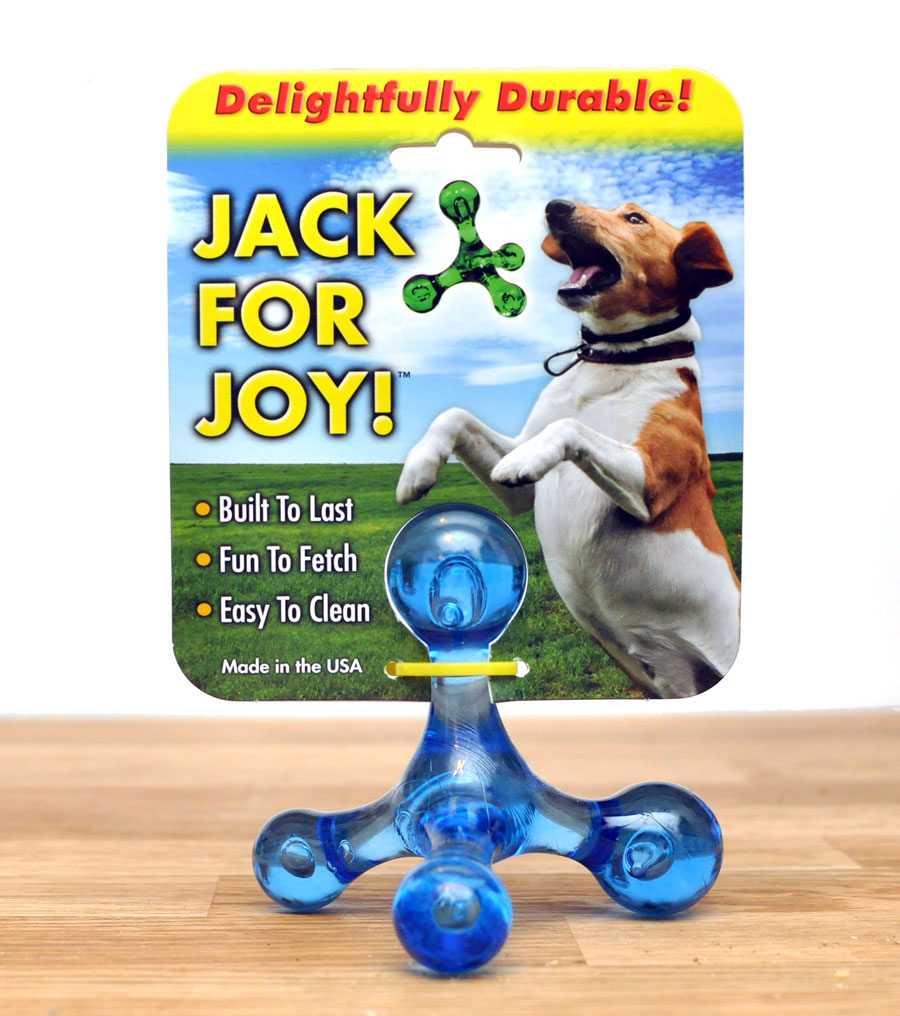 Of course, Henry doesn't care about the Jack For Joy's shine or where it was manufactured as long as it's fun to play with! The second he saw the Jack For Joy in my hand, he instantly entered begging mode. He knew it was for him! When I tossed it, he chased after it, picked it up, carried it to my bed, and began chewing on it. I was surprised: I expected him to return it to me for a little fetch game. It turns out, however, that each arm's end is perfect to chew on! I threw it a few more times and Henry excitedly scampered after it with each toss. 
This brings me to the Jack For Joy's one downside: it probably isn't the best choice if you have hardwood floors and downstairs neighbors. The firm plastic makes a jarring noise against any hard surface. I have both hardwood floors and downstairs neighbors, and I'll wager that they don't love the sound of a scampering dog or a hard toy. The solution? I simply limit Henry to to bed or couch while playing with the Jack For Joy! (Plus, it appears that chewing it, a quiet tactic, is his preferred activity.) Voila!
The Takeaway
The Jack For Joy is a unique toy for any dog that loves to carry, chase, or chew. It is reasonably priced and seems like it will endure hours of playtime! Henry is a big fan, and I know he'll enjoy his for years to come.
Price: $9.99
Buy It: JackForJoy.com
Social Media: Find Jack For Joy on Facebook, Instagram, and Twitter