This post about Sojos Complete contains affiliate links. For more information, please see my Disclosure and Disclaimer page. 
Have you been hearing about the benefits of a raw diet for dogs? I get a really great deal on Henry's grain-free kibble from my food coop (which he loves eating out of his Omega Paw Tricky Treat Ball) and I don't eat much meat myself (I call myself an "accidental vegetarian" because tofu and beans are just so much cheaper than quality meat in Brooklyn and are easier to prepare). I have been feeding Henry vegetables and canned pumpkin mixed with a little canned food while wishing there was an easy way for me to easily add more raw benefits. Enter Sojos Complete.
Sojos makes complete, balanced raw meals that are freeze-dried and ready to eat after a fifteen minute soak in water. In addition, Sojos Complete is relatively affordable (an 8-lb bag of Sojos rehydrates to 40-lbs of fresh, raw food) and safe (they claim their process eliminates the risk of food-borne pathogens). Sojos uses human grade ingredients and no genetically engineered ingredients, fillers, preservatives, or artificial colors. Another big plus is that, unlike dog food companies that add synthetic vitamins from China, Sojos uses natural vitamins and minerals and makes everything in the USA.
Henry and I received a box of goodies from Sojos a few weeks ago containing Sojos Complete Grain Free Turkey Recipe, Simply Lamb Grain Free Freeze-Dried Raw Dog Treats, Simply Wild Raw Venison Freeze-Dried Treats, and Good Dog Natural Crunchy Dog Treats in Apple Dumpling. Let's see what Henry thought!
Sojos Simply Lamb treats are made of, well, simply lamb. Each treat is a freeze-dried nugget of real meat. That's it! This freeze-drying process locks in natural enzymes, vitamins, and minerals. Each treat looks like a delicious chunk of meat— and that's what it is!
The health benefits are all well and good, but did Henry like the Simply Lamb treats? You bet! I can't even begin to describe his excitement. This is a dog who gets excited about chewed gum on the sidewalk (note: please don't let your dog eat gum), and his reaction to these treats was completely over the top. Sojos also makes Simply Turkey and Simply Beef treats, which I know he'll love to get his paws on.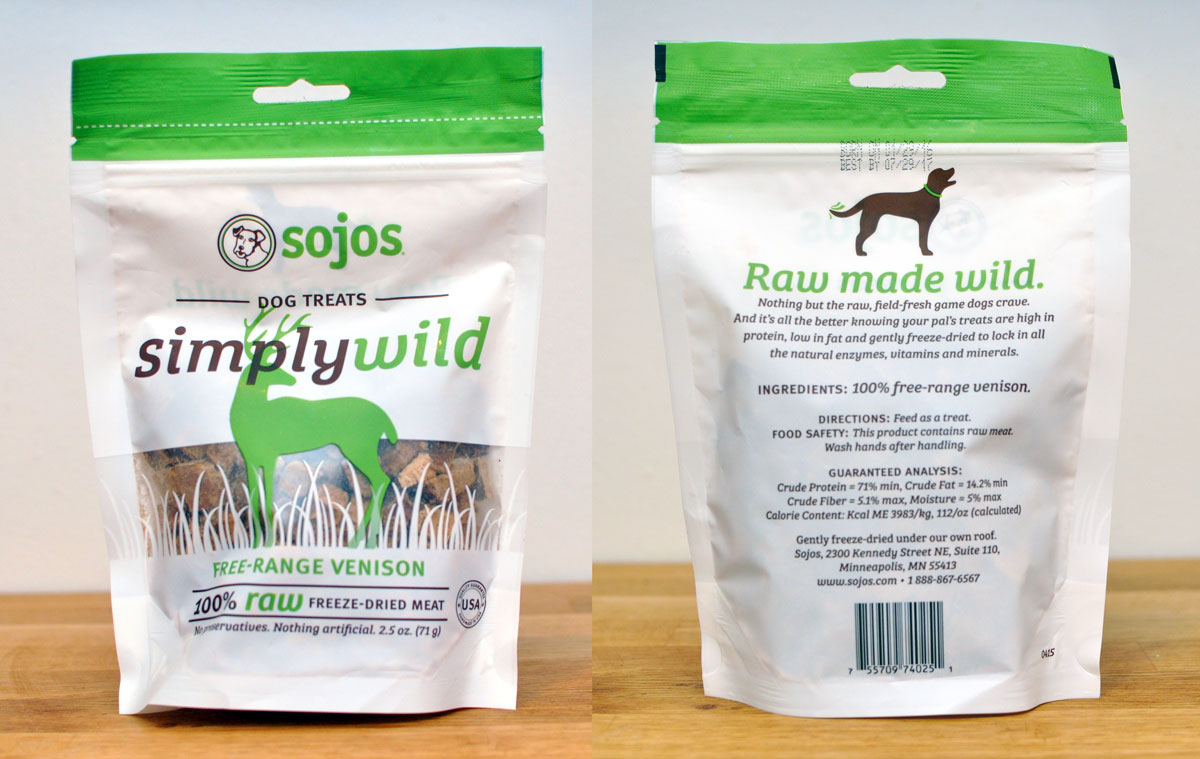 The Simply Wild Venison treats are made of 100% free-range venison, and Henry went just as wild (pun intended) for these as he did for the Simply Lamb treats. Again, these treats are just gorgeous chunks of freeze-dried meat. I feel weird calling meat chunks "gorgeous," but I am just so impressed but these natural, minimally-processed treats that I can really feel good about giving to Henry.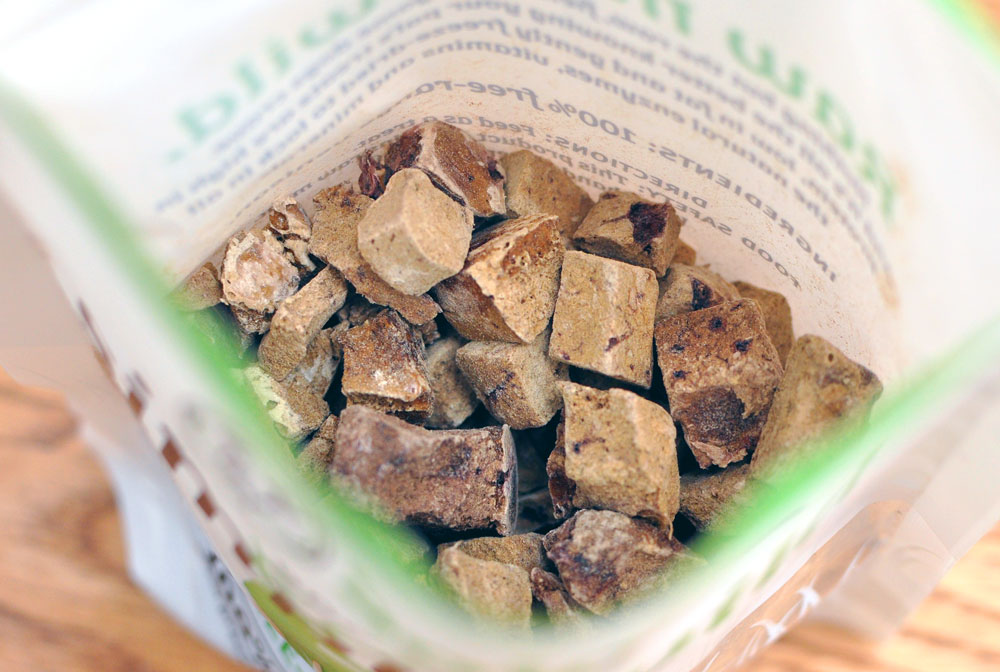 The Simply Wild treats are also available in Free-Range Boar and Wild-Caught Salmon flavors. I have a big fan on my hands, so we might have to try them all!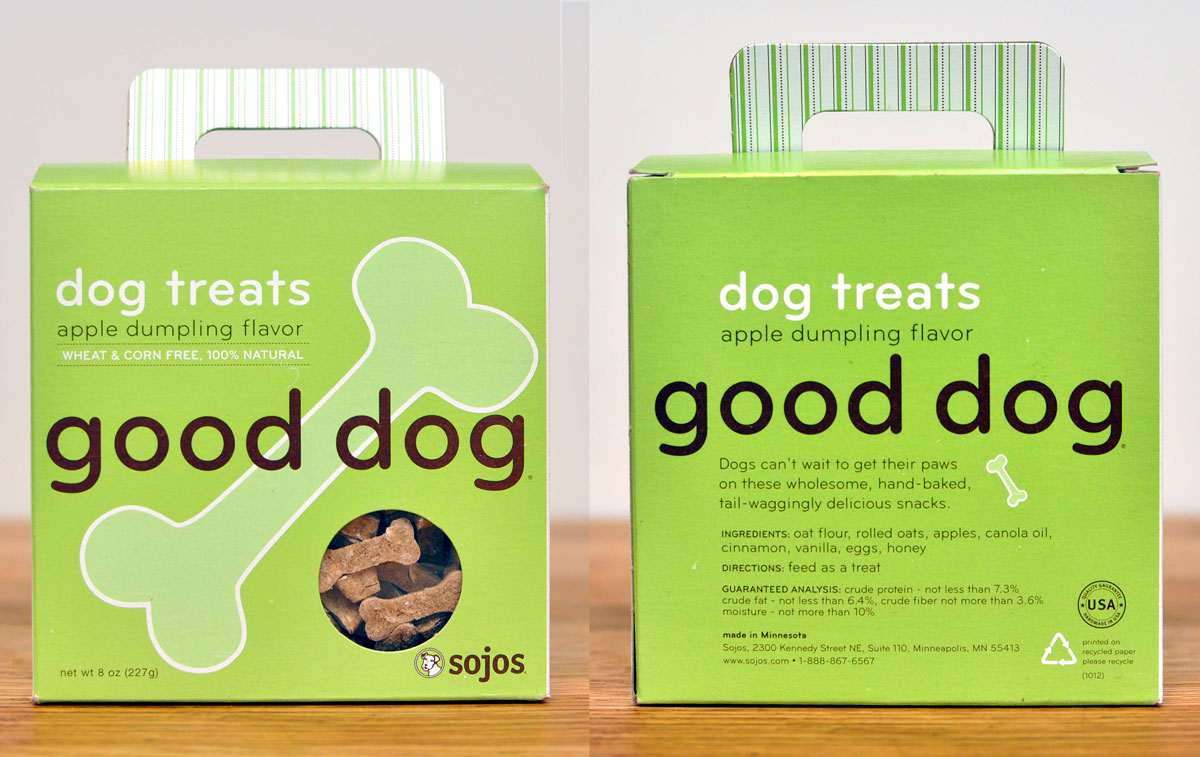 These Good Dog treats are adorable. Each tiny bone is half the length of my thumb and is easy to break up for training but small enough to feed as a treat. I think the photo below sums up Henry's reaction perfectly. He LOVED them! These little bone shapes are so adorable, and I love the unique flavor!
These treats also come in Chicken Pot Pie, Blueberry Cobbler, and Peanut Butter & Jelly flavors. Is it just me, or do those sound delicious?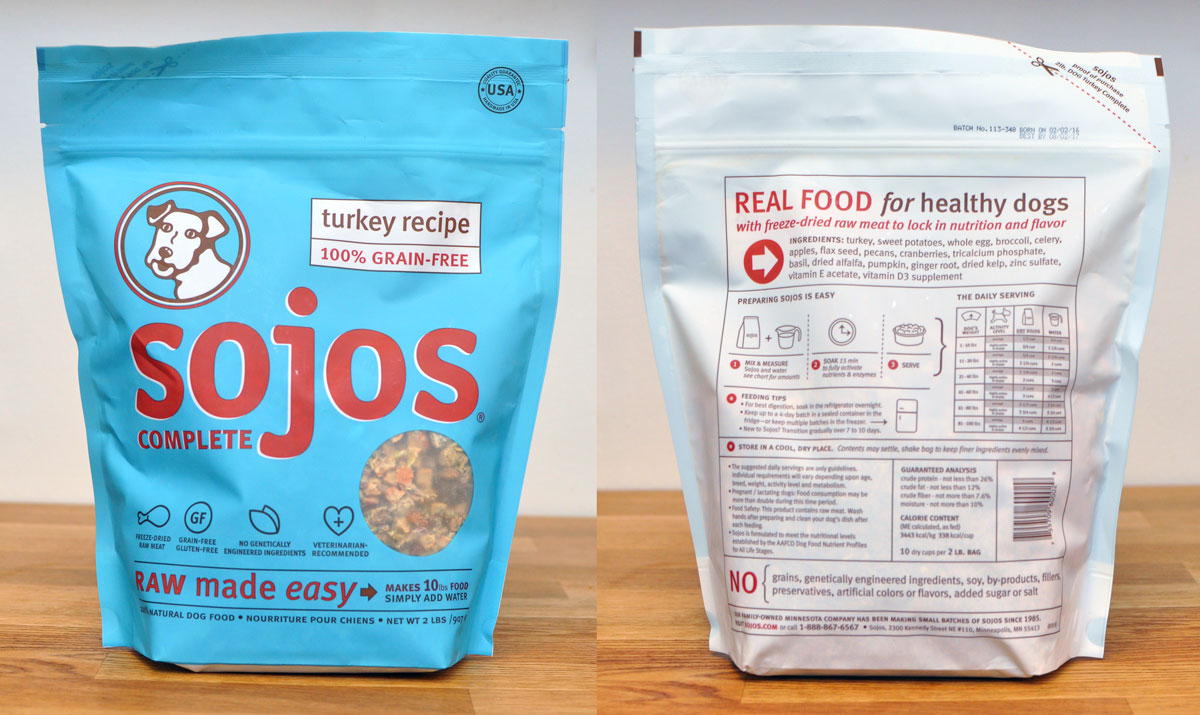 The most exciting part of our test run was the Sojos Complete Turkey Recipe Freeze-Dried food. Could this be the easy solution to my raw-feeding conundrum?
My Sojos Complete arrived in a 2lb bag. I'm a designer by trade, so I noticed the nice design and distinctive texture of the package. I loved the packaging, but how would the product fare?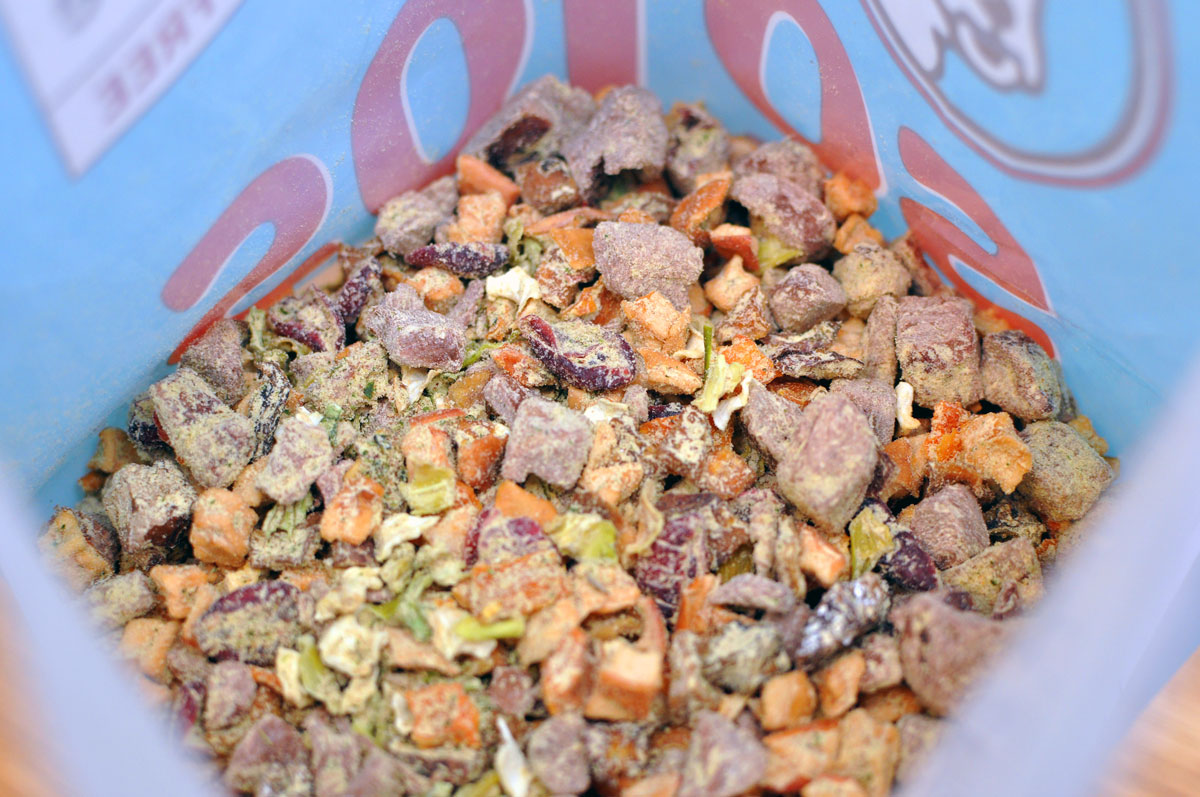 I unsealed the bag and peeked inside. The food looked good even without adding water! Instead of a sloppy pile of mush in a can or a kibble that resembles rodent poop, I could identify colorful cranberries, broccoli, and meat chunks.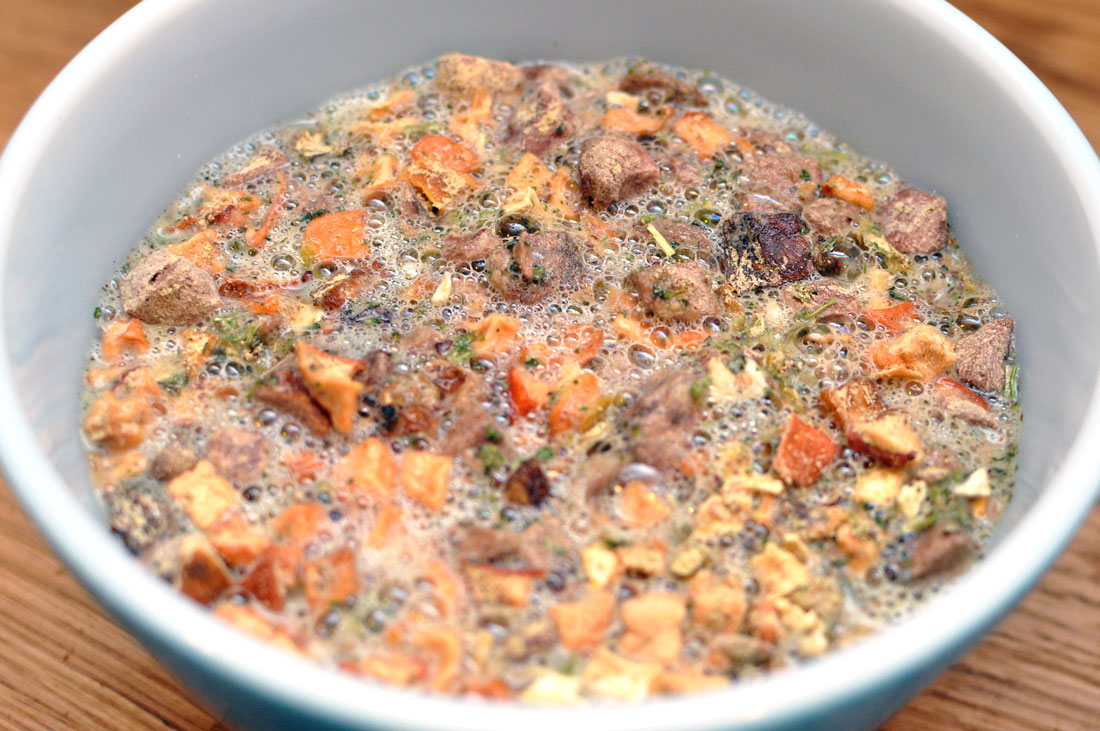 The preparation was simple: I started with 3/4 cup mix and 1 1/4 cup water (the daily amount recommended for a 21-lb dog like Henry). I gave the mixture a quick stir with a spoon and let it sit for the recommended fifteen minutes so that the nutrients and enzymes could activate. Meanwhile, Henry knew something delicious was on its way to his stomach and he eagerly begged the entire time.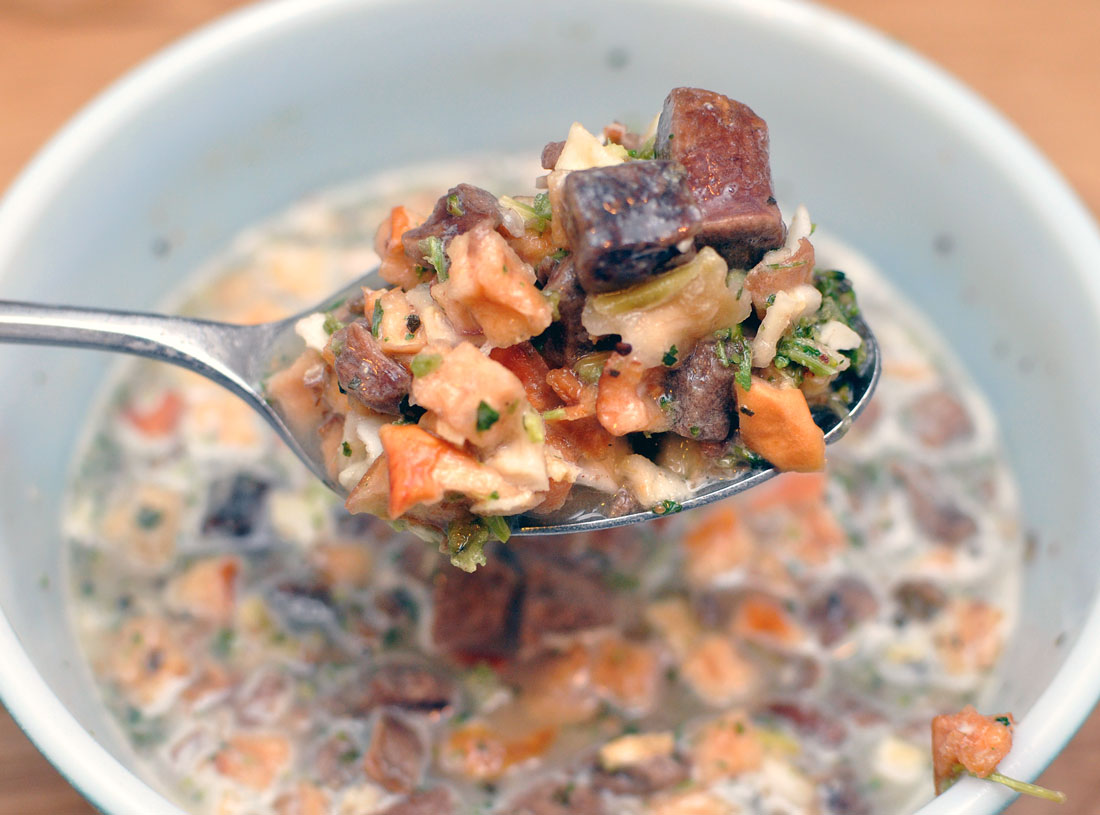 Is it just me, or does this look delicious? This is what the mixture looked like after fifteen minutes. It looks like real food! (Well, that's because it is real food). It also smelled good!  What a change from stinky, mushy cans that make my fridge reek.
I spooned some of the Sojos onto Henry's evening pumpkin allotment and placed the bowl on the floor. Henry immediately went to work, snarfing up each tiny bit and licking every millimeter of the bowl clean. The leftovers went in a sealed container in my fridge, ready to add to Henry's next meal.
After trying these products and learning more about Sojos, I am a big fan. I definitely plan to buy more of their Complete meals to supplement Henry's kibble. It's affordable, easy to prepare, and perfectly balanced. Feeding Henry exclusively with Sojos Complete doesn't exactly fit into my current budget, but it's priced well enough that using it to supplement Henry's kibble will cost me about as much as the canned food that I am currently buying. The canned food, however, isn't bursting with the enzymes and natural vitamins and minerals that the Sojos is, making the Sojos a better deal.
Do you feed your dog a raw diet? Do you use freeze-dried food mixes or make it yourself? Let me know in the comments!
Head over to the Sojos website to learn more about their Complete dog foods, grain free dog food mixes, treats, and more!