Disclaimer: We were compensated in some form for this post. All opinions in the interview are The Dapper Dog Box's. This post also contains affiliate links, which means we make a small percentage if you purchase through one.
The Dapper Dog Box is a new subscription box service that strives to bring high-quality dog products right to your door! The owner, Kerrie, started the company when she discovered that her own pup needs a special diet. We interview Kerrie and show you what's in this month's box! PLUS: Save 20% on your first order with code HENRY!
Spotlight on The Dapper Dog Box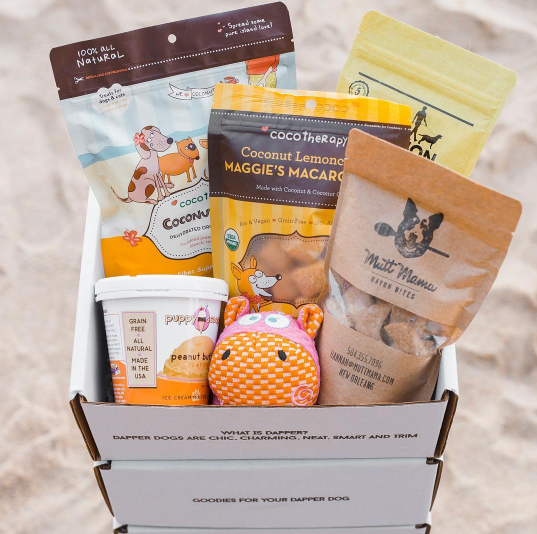 Where are you located?
We just moved to southern California but we are from Boston originally.
How long have you been in business?
We just launched our website and online shop in June, but I started the process of opening the business after the new year.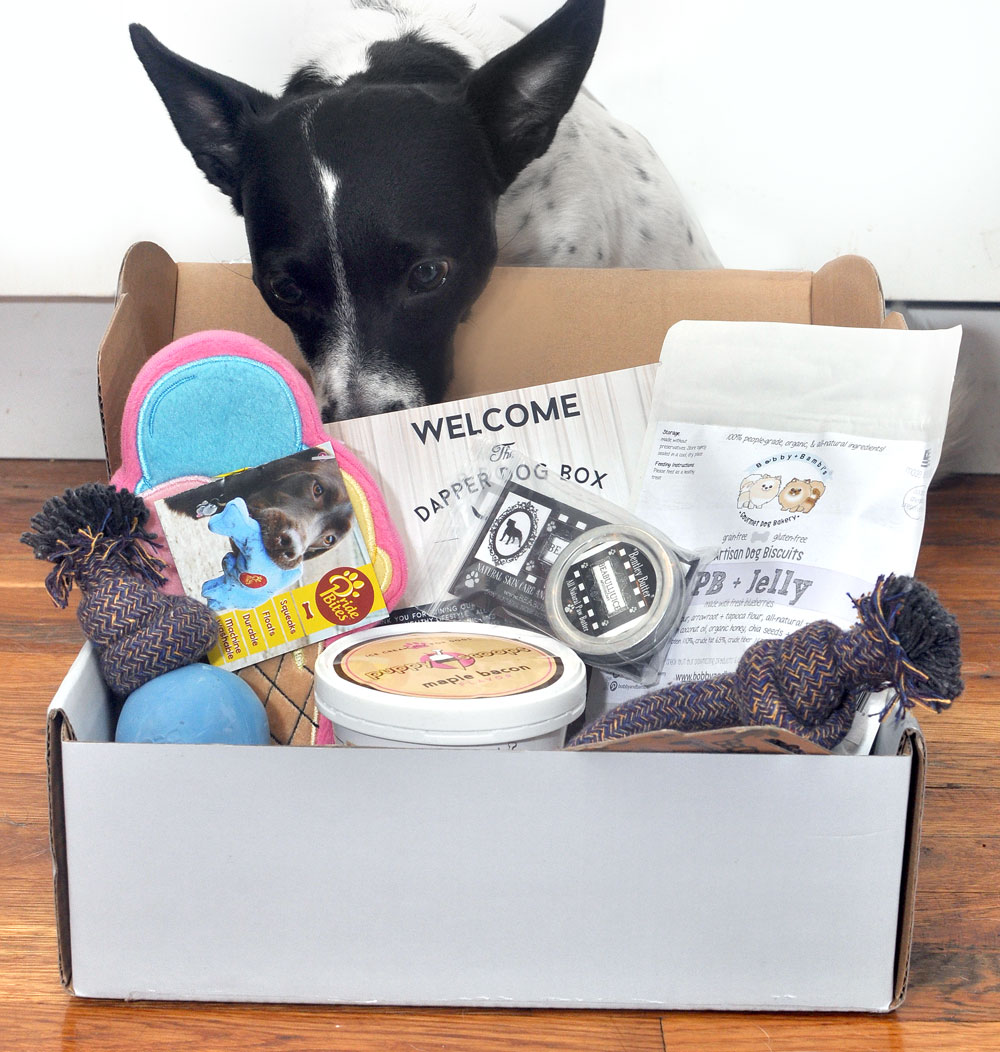 How would you describe your business?
The Dapper Dog Box provides monthly boxes full of high quality items that your dogs will love. We also provide pet parents a service of convenience. Everyone is busy and no one wants to scour through hundreds of sites trying to find products! We do it for you. You get everything in a pretty package sent to your door and you get amazing goodies for a great price. We are all about all-natural and organic treats that don't have preservatives and fillers and also offer a complete grain free option for pups with allergies.
We are different than many of the other dog subscription services out there because we personalize based on the dog's size and chewing styles. If your dog is a heavy chewer, you will get a more durable toy. We also are a strong advocate for small business and artisan shops and that is where the bulk of our products will be coming from.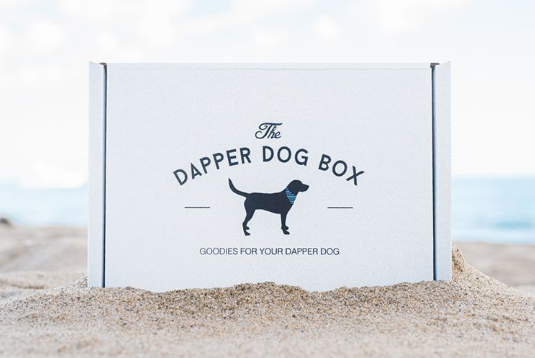 What kind of items do you sell?
Organic, all-natural and grain free treats, durable and fun toys, and occasionally grooming products like paw and nose balm or accessories like bandanas. All products are super high quality and come from companies who care about pets and also commit to giving back to animal rescues as well. We will provide everything from sturdy balls, to rope toys,  to interactive toys, quality plush and other fun goodies.
Do you have any new or exciting items that you would like to highlight?
This is one of my favorite dog toys and one that is featured in our August doggie box: Beco Ball on a Rope Toy. This durable toy is not only great for heavy chewers but its also eco friendly and 100% all natural. It is made from a rice husk rubber and cotton. This makes this toy 100% nontoxic, eco-friendly and completely safe for the most enthusiastic dogs. The price alone for this toy ranges from $10-$15, so t's a bargain for someone to purchase a Dapper Dog Box and get items like this that are very high quality.
Do you have any pets?
I have a 5 year old lab/border collie rescue pup named Asha. She is the muse behind the company and the reason I started it in the first place. She had a grain intolerance and I saw firsthand how organic and all natural grain free food and treats make such a difference in a dogs appearance and inner health. I wanted to provide people awesome products they can't find in their small town shops. Asha tastes and tries everything that goes into our dog boxes and if she doesn't like it, it wont be sent to you.
Tell us about the human(s) behind your business!
My name is Kerrie. As an avid dog lover I always wanted to start a business with dogs as the main focus. The day I rescued my dog, my life was forever changed. I  knew someday I would be able to combine my love of dogs with my background in marketing and sales.  I feel very fortunate to start a business that not only centers around dogs but also allows me the platform to give back. Each month we choose a different rescue or shelter and we donate $1 from each box to help dogs in need. This is probably the most important component of the company and one that I really want people to appreciate too.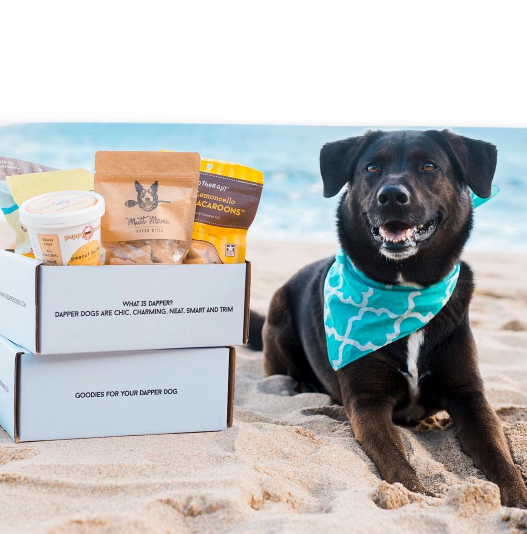 What else would you like readers to know?
We offer two plans at the moment, so for less than $1 a day you can treat your pup! Plans start as low as $22.99 per month.
We started the company as I saw a limitation in the current dog boxes out there. I saw a TON of cheap toys and a lot of treats that had far too many fillers and artificial ingredients for my liking and ended up donating 90% of stuff to neighbors and friends' dogs. I knew there could be a better option. I am so happy to be able to introduce new brands to people that they would likely never have found on their own. For example, the first box we sent out was The French Quarter theme and we featured three treats from two companies in New Orleans.
If you had one tip to share with a dog owner trying to care for and spoil his or her pet on a budget, what would it be?
You can still provide your pup with high quality items even if you are on a budget. Quality over quantity is my motto. A good quality toy will last a few weeks rather than a cheap toy that lasts 5 minutes.
So, what did Henry think?
Lucky Henry had a chance to try the Dapper Dog Box for himself! Here are our thoughts on each item: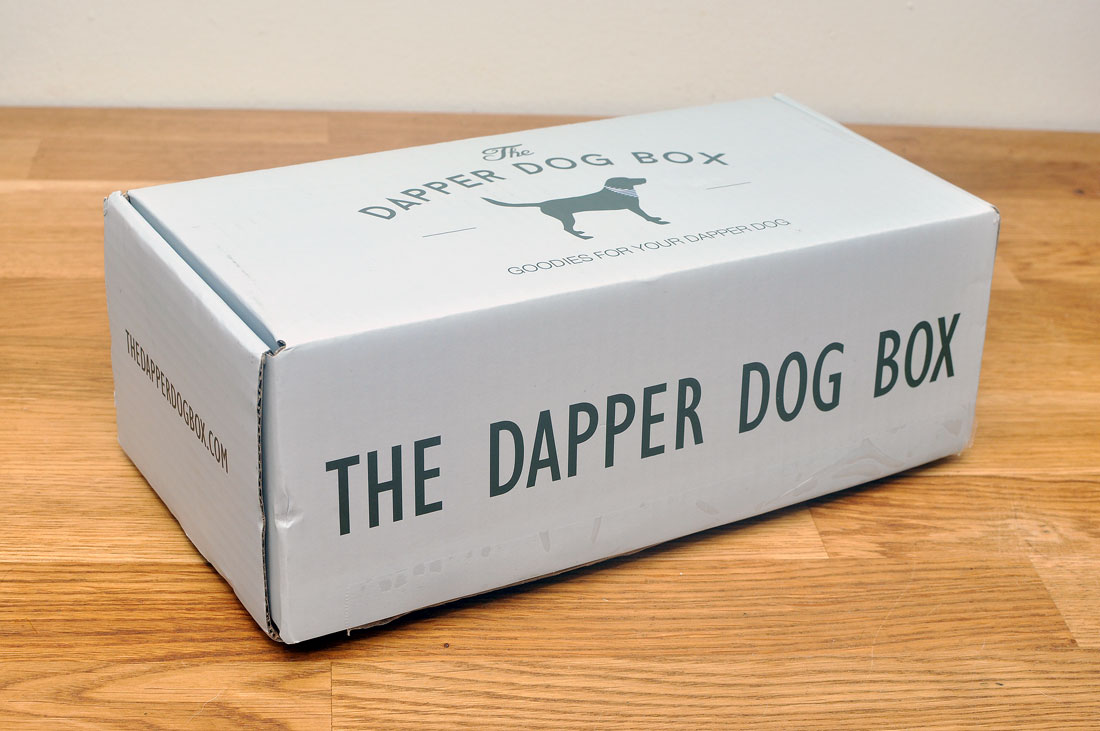 First off: The Box
This box is gorgeous, well-designed, and a longer shape than most dog subscription service boxes. It's sturdy, the printing is nice, and it is also immediately gift-able.
Beco Ball on a Rope
Not only is this one of Kerrie's favorite Dapper Dog Box items, it's also one of mine! It is non-toxic, eco-friendly, and, in addition, very strong. Henry literally stole it out of the box when I was looking away. Because it's a little hard on our hardwood floors, we'll be sticking to the bed with this one for my neighbor's sake. It's a large and heavy toy, but Henry adores tugging it with me and (I kid you not) holding it over the bed's edge and dropping it on the floor. I think he has it out for the neighbors!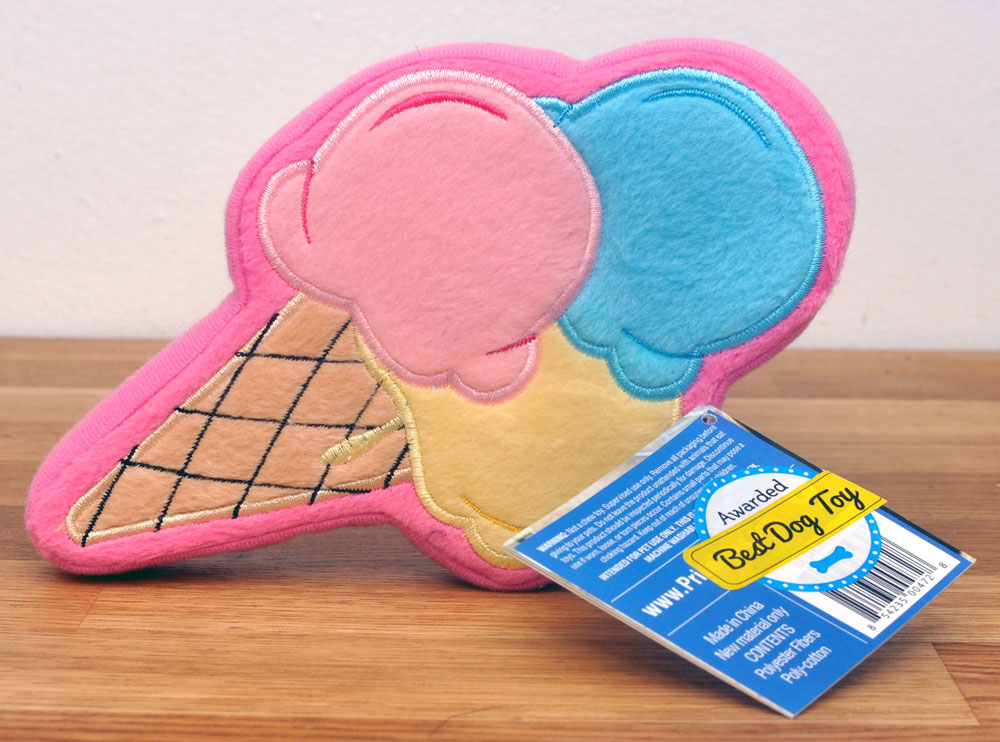 Pride Bites Ice Cream Toy
I love that this toy floats, is machine washable, and lends itself well to both indoor and outdoor play. Henry tends to prefer toys that have floppy appendages to flail about (Henry hasn't been able to shake this ancestral terrier trait), but he still snuck off with it before I even had a chance to remove the tag. I can't resist the adorable graphic and quality construction.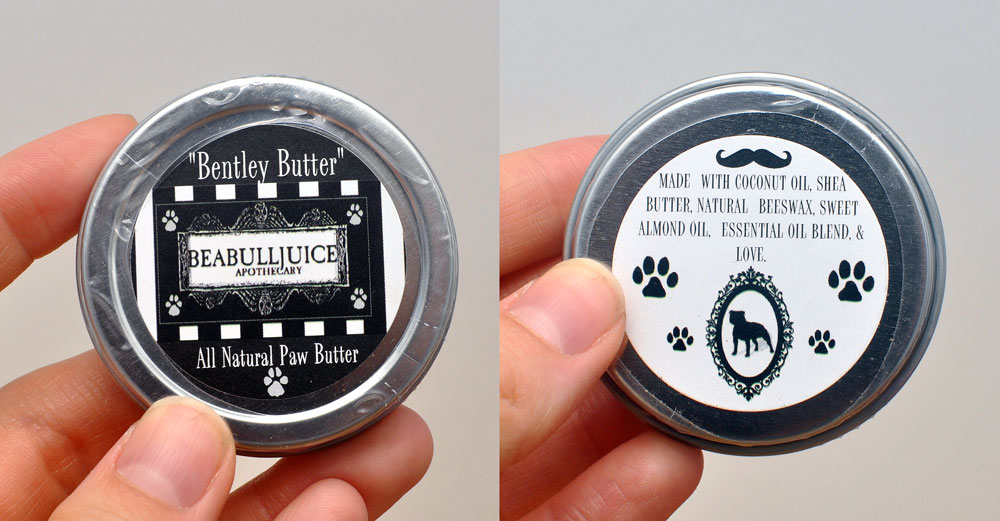 "Bentley Butter" Paw Butter by Beabulljuice Apothecary
First of all, let's talk about the adorable company name. Second of all, let's talk about the fact that one of the ingredients is LOVE. Third, please ponder the other ingredients for a second and try to find one that doesn't sound delightful! The company's store suggests trying their products on yourself, which I'm definitely going to do. Henry is very sensitive about anyone touching his paws, which we are working on, so I'll just have to show him how beneficial it is!
Bobby & Bambi's Artisan PB + Jelly Dog Biscuits
I'll put it this way: Henry taste-tested these treats earlier this evening, and now he's glued to my side on the couch. The bag is on the other side of my laptop, and every time is shifts and makes a noise, his head darts up expectantly. He LOVES these! I love that they're grain-, additive-, chemical-, and preservative-free and made with easily recognizable ingredients.
Puppy Scoops Maple Bacon Dog Ice Cream
Henry has tried this product before and absolutely loves it, so I'm excited to have a second carton! I have even made a short video, which I've embedded above. However, be careful about two things:
1.) "Evaporated Cane Juice" means SUGAR, so watch your dog's snacking.
2.) Your significant other or roommate may confuse this for human ice cream. My boyfriend made this mistake. Warn them now before it's too late!
The Takeaway
The Dapper Dog Box packs its boxes with high-quality goodies that your pup will love. Prices range from $22.99-$39.99 a month and each month's box is worth an average of $50. If you value high-quality toys, your dog is a heavy chewer, and/or you like the added convenience of a subscription service, consider giving The Dapper Dog Box a try.
Check out The Dapper Dog Box online, on Facebook, and on Instagram and save 20% on your first order with code HENRY!