Disclaimer: Henry and I are monthly reviewers for Pooch Perks and receive one Pampered Pooch Box each month in exchange for an honest review. We are also Pooch Perks affiliates and earn a small commission if a new plan is purchased via one of our links. We love Pooch Perks!
What's that unidentified object flying in the sky? Is it a plane? A rogue dog turd? No it's just this month's Pooch Perks Alien Invasion box! Check out this month's Pooch Perks Unboxing, and also score an exclusive discount!
Pooch Perks Unboxing: Alien Invasion
1.) Jolly Pets Flathead
This toy has so many perks – it squeaks, it crinkles, and it's very tug-able. It features two faces, one on each sides. I'm not sure why Jolly Pets chose to put the sad one with the "puppy dog eyes" facing forward — am I supposed to feel guilty for this inanimate toy that my dog will tear apart? It may be working. (Side note: I'm ridiculous.)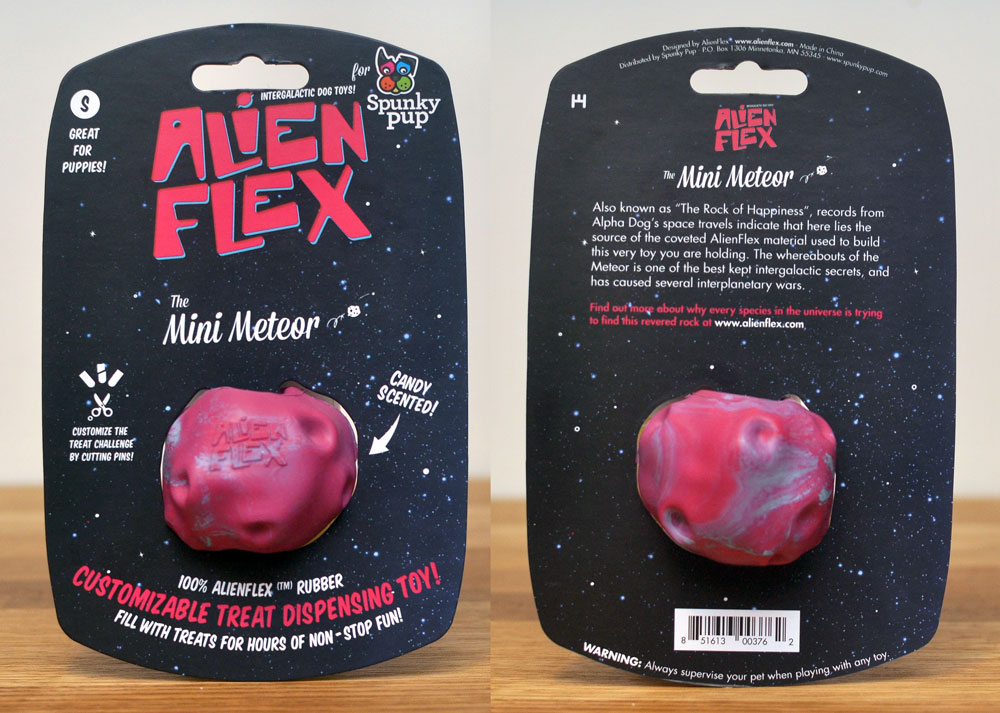 2.) Alien Flex for Spunky Pup Mini Meteor
Henry loves treat-dispensing toys, and this one is unlike any of his others because it is smaller with a tighter, adjustable opening. It's also candy-scented, which I can't say is a feature I've ever seen in a dog toy. I never knew about the Spunky Pup brand, but now I need to know more!
3.) The Real Meat Company Alien Invasion Treats 
We loved the Real Meat Company treats that Pooch Perks included in last month's box, but these fit this month's theme even more perfectly. These treats are, literally, LITTLE GREEN MEN! Henry immediately enters begging mode when I pick up the package, and I love that spinach is a prominent ingredient. Henry doesn't need me to convince him to eat his vegetables (or anything, for that matter), but I don't mind sneaking a little extra in.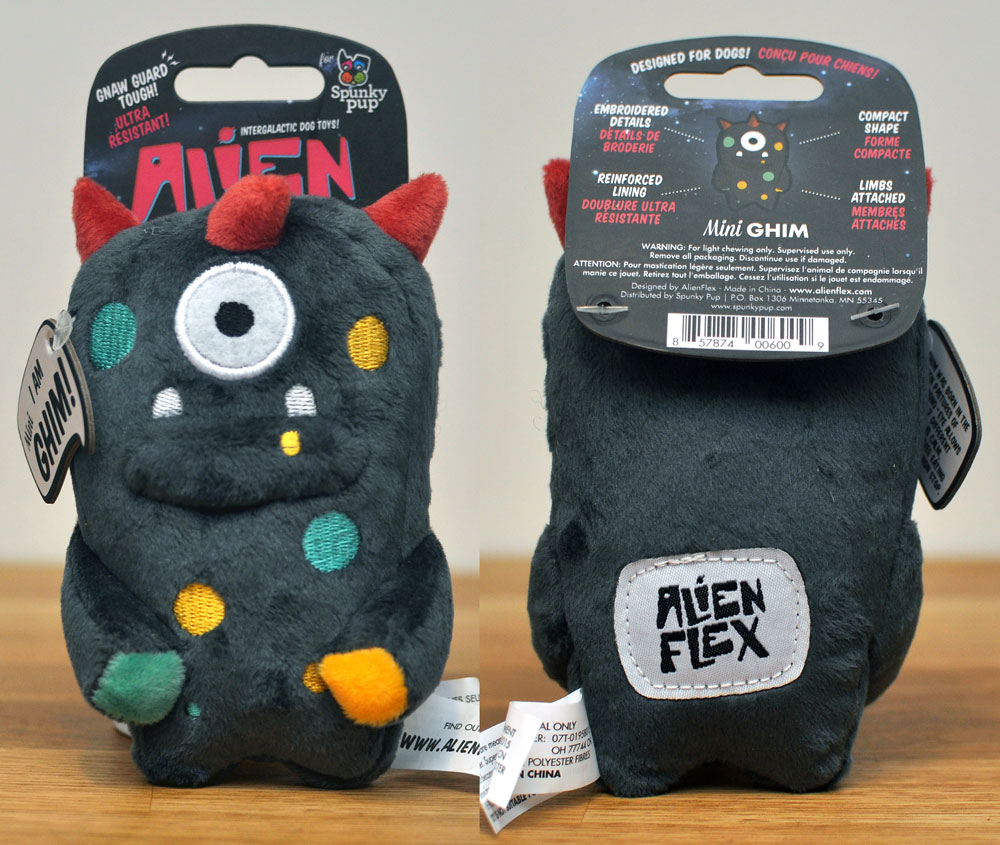 4.) Alien Flex for Spunky Pup Mini Ghim
I love Ghim! He's so cute and even comes with his own little story.
I think this is my favorite toy in the box: it's high-quality, the perfect size for Henry, and squeaks at a decibel that the neighbors probably appreciate. Spunky Pup makes Ghim in addition to the Mini Meteor, my other favorite toy in the box, so this company has a new fan!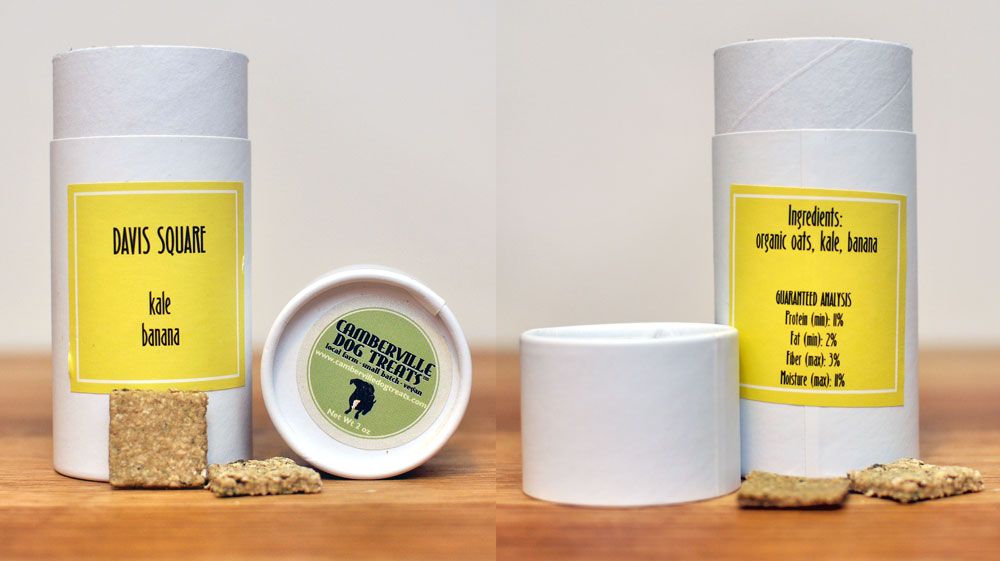 5.) Camberville Davis Square Dog Treats 
I first discovered this brand thanks to a PawPals With Annie box, and I give them two thumbs up! They're made in small batches in Cambridge, Massachusetts from local and vegan ingredients. The only three ingredients in this variety: organic oats, kale, and banana. THAT'S IT! Three ingredients! I took a taste, and let's just say that Henry might have to fight me for them. (But, really, I won't deny Henry this amazingness. I love him too much.) I also have a fondness for the Boston area, and my boyfriend once lived near Davis Square, so this is a true winner in my book.
6.) PetLou One Eyed Blue Monster
Another alien Henry can play with! This one has a loud squeaker, but it's a good size for his little mouth. The furry texture in a fun touch, too. It also looks like he wants to participate in Tongue Out Tuesday — what a cute face!
7.) Earth Friendly by Loyal Friend Poop Bags 
If you've read past subscription box reviews (such as my Pooch Paw Box Review and my TheDoggieBox.com Review), you know that I LOVE receiving poop bags in my dog boxes! Loyal Friend makes these from recycled material, so I adore them even more. Two thumbs and four paws up for including these!
8.) Exclusively Dog Carob and Vanilla Flavor Sandwich Cremes
These cookies are SO CUTE and look exactly like something I might eat. I find it interesting that Exclusively Dog makes them from kosher ingredients. Why not, I guess! We've had these cookies in a past box, and they even made an appearance at Henry's birthday celebration. 
The Takeaway
When I first learned that this month's Pooch Perks box had an Alien Invasion theme, I was a little disappointed because I have never really had much interest in science fiction. As it turns out, I really loved this month's box! I discovered new brands and gleefully reconnected with familiar ones, all while remaining thoroughly impressed with Pooch Perks's dedication to finding items of stellar quality. Ghim is already integrated into Henry's little toy family, I'm adding the Mini Meteor into the puzzle toy rotation, and Henry and I will just have to work out who gets the Camberville Dog Treats. Another OUT OF THIS WORLD box from Pooch Perks!
Remember, you can save 10% on your own Pooch Perks plan with code BROKEDOGBLOG! Click here to get started!
Click here to read more subscription box unboxing Posts and reviews!
We also made a little Pooch Perks unboxing video, which you can check out below!