This post is sponsored by Wellness® and the BlogPaws® Pet Influencer Network™.  I am being compensated to help share information about the Wellness® CORE® RawRev™ raw food dog food but The Broke Dog only shares information we feel is relevant to our readers. Neither Wellness or PetSmart are responsible for the content of this article. I am not a veterinarian or dog trainer. 
Does your dog like to swim? Will you be spending time by the water? Don't jump in until you've read our dog water safety tips!
Dog Water Safety Tips For A Fun Summer
1.) Remember that not all dogs are natural swimmers
Not all dogs enjoy swimming — and not all dogs know how! My first dog loved the water and my second dog tolerated it. Henry, on the other hand, is not a fan. Even if your dog instinctively starts paddling in water, he might not stay afloat. Assume that your pup has no swimming abilities or inclinations.
2.) Don't throw your dog into the water!
Your dog might not naturally like water at first — but you can almost guarantee he never will if you traumatize him. Give him a chance to ease in and experience the water at his own pace. It's easy to joke, "Oh, just throw him in! He'll get used to it!" Let this stay a joke, please!
3.) Buy a canine life jacket
Even the best swimmer can have issues, and it's better to be safe than sorry — especially if you plan to be near a dock or on a boat. Buy a life jacket that fits well and will hold your pup's weight. A handle is extra helpful! We bought one for trips on the boat, but because Henry has a tendency to lose his mind and bark at water fowl, I keep it on him on the dock as well.
4.) Never leave you dog alone near or in the water
Even if your dog would rather swim than run, accidents can happen. If your dog is a poor swimmer, is alone too long, or doesn't have an easy way to get out of the water, summer fun could turn to tragedy. Keep an eye on your pup or fence off any water bodies or pools. You can't enforce these dog water safety tips if you're not there!
5.) Teach your dog how to get out
If you show your dog an easy way to exit the pool 0r lake, he'll be able to get out independently if he's tired, in pain, or if he accidentally falls in. Don't wait until an emergency to do this — he might be too stressed to think straight. My parents' lake house doesn't have an easy way for Henry to get out (there is a wall at the water's edge), so I'm thinking about bringing a sturdy box that he can jump onto in a pinch.
6.) Have fresh water available for your dog
Hydration is important, especially in the summer months. Having a bowl of fresh water available will not only encourage him to drink, it'll keep him from drinking lake, pool, or ocean water. You don't know what kind of bacteria, algae, or chemicals are lurking in the waves!
7.) Protect your pup's paws!
Concrete and wooden docks can get hot! Consider using a product to keep you pup's paws from burning. Make sure there is a shady spot for your pup, too.

8.) Rinse off after
Be sure to thoroughly rinse your dog after a dip in the lake, pool, or ocean — this will wash off any skin irritants, algae, or chemicals that were in the water. Plus, fresh wet dog smell is better than dirty wet dog smell!
9.) Keep ears clean and dry
You don't want your pup to get an ear infection! Make sure their ears are clean and dry after each swim.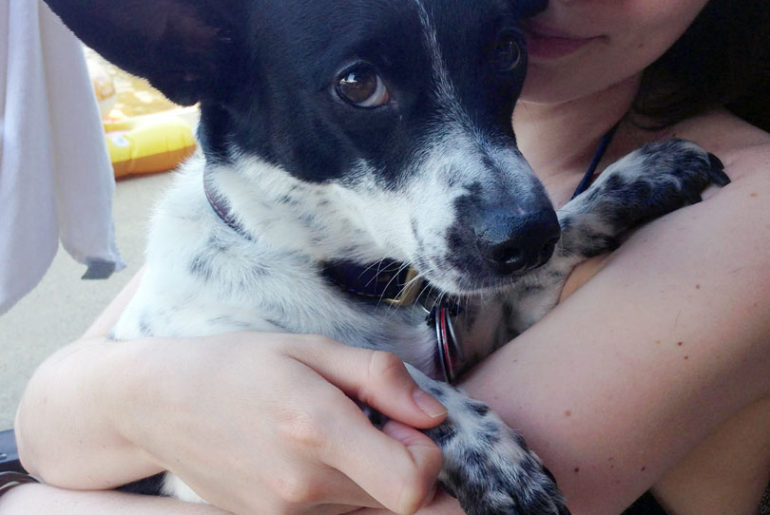 10.) Know first aid
It's good to know basic first aid and dog CPR if you're going to spend time on the water with your pup. Heck, it's a good thing to know in general! I was glad I knew a few basic things when Henry cut the back of his paw during an afternoon by the water. Now I'm tracking down a good CPR and first aid class I can take so that I can be prepared for any issues.
Wellness® CORE® RawRev™: Fuel For Summer Fun!
This post has been sponsored by Wellness®, who provides quality nutrition for your pet in the summer and year round! Wellness Core RawRev is specially formulated to make it both easy and safe to incorporate raw food into your dog's diet. High-protein, grain-free kibble is combined with 100% raw meat pieces to create a savory, nutrient-rich meal packed with everything your dog needs to thrive from the core. With our dog water safety tips and CORE RawRev's whole-body health formula, your pup could be unstoppable this summer! To learn more, read our first Wellness Core RawRev post! 

Join the Raw Revolution this summer! Visit Petsmart and Buy one get one 50% off 2-5lb bags
Visit Wellness on Instagram, Twitter, Facebook, and Pinterest.
Does your dog like to swim? Do you have any dog water safety tips to add? Tell us in the comments!
This is a sponsored conversation written by me on behalf of Wellness®. The opinions and text are all mine.
Comments submitted may be displayed on other websites owned by the sponsoring brand.
SaveSave
SaveSave
SaveSave