Disclamer: This post contains affiliate links.
Tydography sells gorgeous printable typographic dog posters for the stylish pup lover! Best of all, they're absolutely affordable! Check out our interview with Tydography's founder and designer, Lisa, and take 20% off your purchase this month only with code THEBROKEDOG.
Printable Typographic Dog Posters by Tydography
Where are you located? 
I live in Northern Michigan.
How long have you been in business?
I've been in business for just over a year now. I started Tydography and opened my Etsy shop in January of 2016.
How would you describe your business?
Tydography
 creates an array of
modern and stylish typography art prints for design-conscious dog lovers
that add a touch of fun and style to any living space, office, or gallery wall.
What kind of items do you sell?
I sell digital, typography art prints featuring a variety of inspirational and humorous dog quotes and sayings, perfect for any modern dog-loving home or office.
Selling digital art prints, aka printables, allows me to provide you with an easy way to style your space without breaking the bank because there's less involvement than selling physical prints. It's a win-win! My prints are super affordable, instantly downloadable, and available worldwide.
Do you have any new or exciting items that you would like to highlight?
I offer free custom sizes for my customers and am more than happy to create custom art prints. If you have a favorite dog quote that's not currently in my shop, just let me know, and I'd love to make a customized print for you!
Do you have any pets?
I have a 5 1/2-year-old, high-spirited German Shepherd Dog named Rufus.
He's incredibly smart and expressive, loves playing fetch and turns heads wherever he goes! He's the best family dog and a big part of the inspiration behind 
Tydography
.
Tell us about the humans behind your business!
Just me! I'm Lisa, the designer, and creator of 
Tydography
. I'm also a 30-something, happily married mom of two. I work at home as a freelance marketing coordinator, graphic designer, and run 
Tydography
 in my free time.
I've always been a dog lover (when I was 5, my best friend was my neighbor's Golden Retriever named Benji) and have a passion for graphic design.
 

Tydography

 allows me to combine two of my passions: dogs & design
.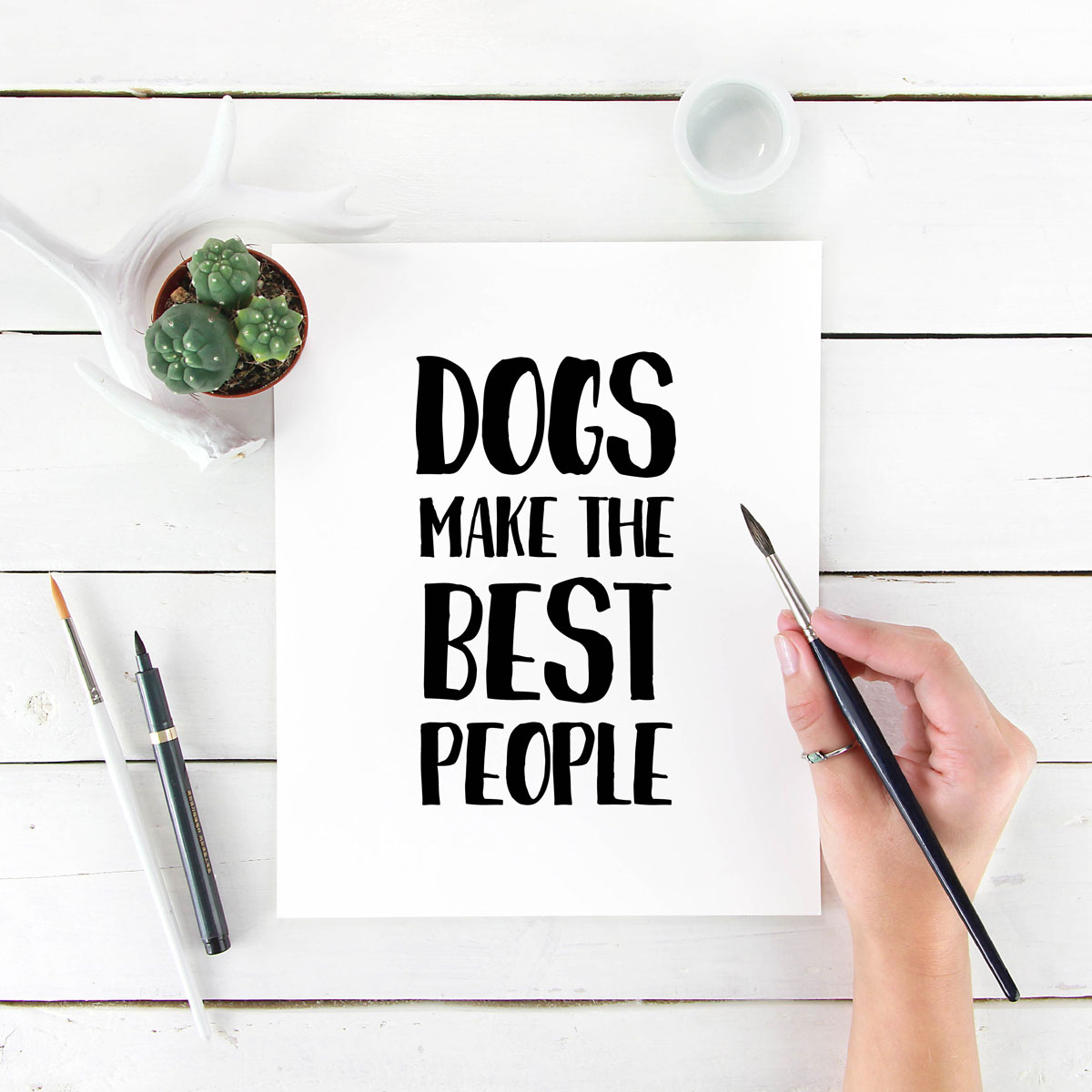 What else would you like readers to know?
Tydography
 is committed to giving back and helping to support animal adoption and rescue organizations. That's why I
donate 10% of each sale to local animal rescues
and promote adoptable dogs on my Instagram account.
If you had one tip to share with a dog owner trying to care for and spoil his or her pet on a budget, what would it be?
Make homemade dog shampoo! Not only will it save you money, but it also works really well! I think it's even more effective than store-bought since you control what goes in it: no gross, unpronounceable chemicals. It's cheaper for you and safer for your pet!
Here is my go-to DIY dog shampoo recipe:
1 C Natural Dish Soap (I use Seventh Generation)
1 C Apple Cider Vinegar
2 C Water
2 oz. Vegetable Glycerin
(OPTIONAL) 2-5 drops Therapeutic Grade Essential Oils* (Lemongrass and Lavender are two of my favorites, they're natural insect repellents!)
Add all of the ingredients to a jar or container and mix well. Apply liberally and scrub-a-dub-dub!
*Please note: It's important that you use therapeutic grade essential oils that are 100% safe for pets. If you're not sure, contact your vet before use, especially if your pet has any health issues or takes medications.
Find Tydography
Check out Typography on Etsy, Twitter, Instagram, and Pinterest!