This post may contain affiliate links.
In today's Small Business Spotlight, we interview Chelsea of The Pastel Pug, a whimsical Etsy shop hat focuses on wood burned and hand painted portraits of both humans and pets. I fell in love with her captivating dog portraits and had to share! PLUS: ENTER TO WIN A WATERCOLOR PRINT FROM THE PASTEL PUG AT THE END OF THE POST!
Spotlight On: The Pastel Pug
Where are you located? 
I am located in Tacoma, Washington.
How long have you been in business?
I'm coming up on my 1 year anniversary of my etsy shop opening!
How would you describe your business? 
I would describe my business as fun and whimsical.  I try to create something new everyday and have about a million quirky ideas for new pieces at any given time.
What kind of items do you sell? 
I sell unique wood burned art, jewelry, and prints. I also do a ton of custom orders of people, pets, and special requests.
Do you have any new or exciting items that you would like to highlight? 
My specialty is definitely painting pet portraits! I've received some of the best pet pictures from people and have so much fun bringing them to life. I especially love it when it's a silly picture like a cat looking annoyed or (like the one i'm working on now) of a dog at her birthday party.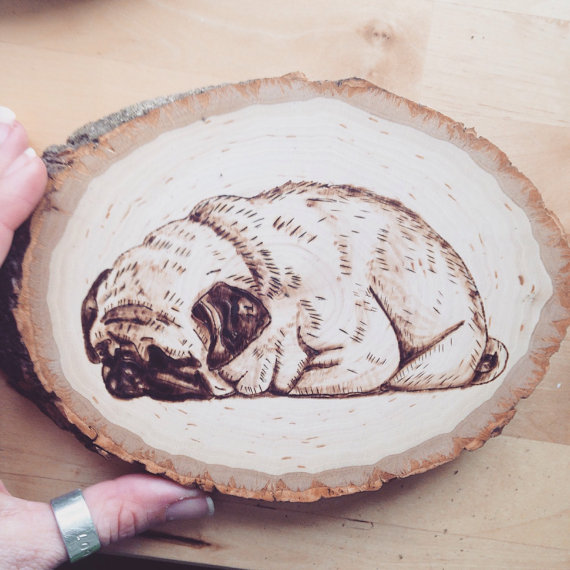 Do you have any pets? 
I do! I have 3 cats (Grim, Abba, and Stanley) and one very fat, constantly snoring, pug (Ross).
Tell us about the humans behind your business! 
It seems so small, but I  can finally say I LOVE WHAT I DO which is so huge for me.  I took a big leap of faith last year and quit my job to pursue my love of art. For the first time in a long time I look forward to going to "work".  My hands sometimes ache and I have an ongoing love-hate relationship with the post office, but it's all worth it when someone receives one of my paintings and love it.
What else would you like readers to know?
If you couldn't tell by my Shop name (The Pastel Pug) I'm an avid pug enthusiast and lover of all things PUG.  Since converting my hobby into a full-time business I've really focused on painting what I love and letting my passion for art speak for itself….which of course means tons of pugs.  Nothings better than having something  like my merpug painting ( Yes, that's a pug mermaid) be appreciated by others.
If you had one tip to share with a dog owner trying to care for and spoil his or her pet on a budget, what would it be?
Well I'm partial, but i'd have to say every spoiled pet needs to be immortalized in one of my wood burned portraits! I've painted each of my pets about a dozen times now.  I'd like to think they love seeing their portraits around the house and are starting to get big-heads about it, but they're not talking so I'll never know for sure! haha.
Aren't you in love? Check out The Pastel Pug on Etsy and Instagram and enter to win a 11×14″ watercolor print with a double mat frame below!