Disclaimer: Henry and I are monthly reviewers for Pooch Perks and receive a Pampered Pooch Box in exchange for our honest Pooch Perks Review. We are also affiliates and earn a small commission if you make a purchase through one of our links. We love Pooch Perks and only say what we really feel! 
Is your dog a world champion athlete? He or she will feel like one with this month's Pooch Perks box, which is perfect for your gold medal winner in training! Check out our Pooch Perks review and, of course, take 10% off your order with exclusive code BROKEDOGBLOG!
Pooch Perks Review and Unboxing: August 2016

Natural Twisted Dog by PetLou
This toy has so many fun textures! It also squeaks, is easy to tug, and is perfect for Henry's favorite activity: shaking his toys back and forth in the air, like he just don't care.
FouFit Cooling Bandana
I have been thinking about buying something like this for Henry, and am so thrilled that our Pooch Perks Box included one! I've already used it during a couple of heat waves in New York City this month. Plus, it's pretty stylish. Just wet it, squeeze the excess water out, and tie it around your dog's neck. Easy! I was surprised how long it stayed cool, and couldn't help wondering if they make a human version.
Mammoth Flossy Chews Toy 
The rope's fibers are supposed to help brush teeth and massage gums while you play, which is a great feature! Anything to prevent costly dental cleanings gets an A+ in my book. In addition, what dog doesn't like a tennis ball?
Dogs Love Kale Chicka' Treats
What Brooklyn dog's life is complete without kale? We've been meaning to try this brand for a while, and we're very excited to have the chance! These treats are preservative-free, include human grade chicken and blueberries, and are also low calorie – YUM!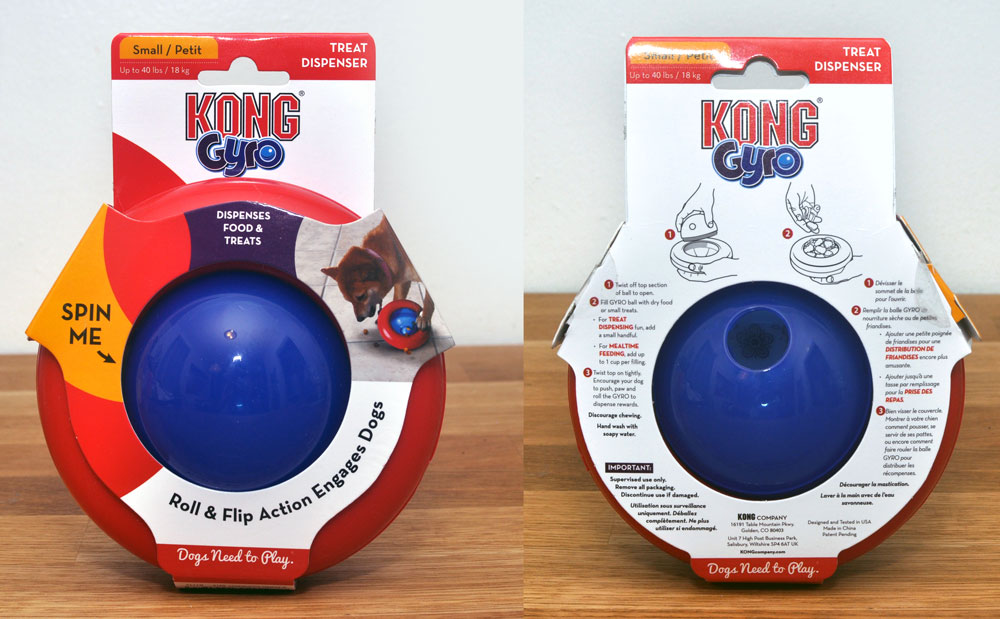 Kong Gyro
This is Henry's new favorite puzzle toy, and that's saying a lot!
He eats the dry part of every meal out of his Omega Paw Tricky Treat Ball (read our review), but gets even more excited about his new Kong Gyro. (This might be because it's a little less challenging, so he can eat his dinner more quickly.) I also like that it doesn't roll under the couch! Overall, we are both extremely pleased with this one. 
Bountiful Bison Boosters by Boo Boo's Best
We love dehydrated raw treats!  Well, Henry loves how they taste and I love the health benefits. We have been bringing these on our walks and he will pay rapt attention when I take one out. Bison products in general tend to be a little stinky (in my experience), and these aren't too bad but do pack a punch. Perhaps that's why they're so irresistible to Henry!
As usual, Henry and I make a lot of positive points in our Pooch Perks review! The treats were a huge hit and I know for a fact that the Kong Gyro and FouFit Bandana will be huge assets in our everyday life. Pooch Perks's themes are always adorable, and, of course, this month's is no exception.
Visit the Pooch Perks website, give it a try, and take 10% off with code BROKEDOGBLOG!