This post is brought to you by PetSafe® Brand, who provided us with a PetSafe Drinkwell® Sedona Pet Fountain
It's the summer! That means romps at the beach, dips in the pool, and boating at the lake with your furry friend.  Summer is the perfect time to have fun on the water, but have you thought about how important water is to your dog's health? July is Pet Hydration Month, and we've teamed up with PetSafe® Brand to help keep your pets happy and hydrated!
Pet Hydration MontH: An Ounce For Each Pound
You might be like me: you put a fresh bowl of water out each day, assuming that your pup will drink up when the mood strikes him. What if I told you that might not be enough? If your dog isn't getting the recommended daily one ounce of water per pound of body weight, he could be setting himself up for health problems.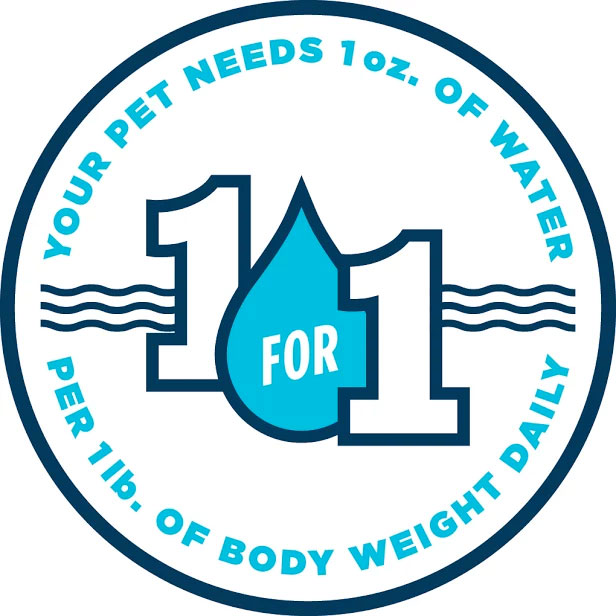 How Do I Know If My Pet Is Dehydrated?
Dogs are made of 80% water — a higher percentage than humans' 60%. Water helps your pup's body functions run smoothly, and dehydration can be very serious. Common symptoms include:
Vomiting and/or diarrhea
Lack of energy
Excessive and ongoing panting
Loss of appetite
Sunken, dry eyes
Dry and sticky gums
Loss of skin elasticity (when pulled or moved, the skin will not go back to its original place)
You can also ask good ol' Brian Pounders:
Benefits of Proper Hydration
We all know that staying hydrated is important for owners and pets, but what are some of benefits?
Flushing Toxins
Drinking water can help your dog's kidneys function at peak performance to help flush toxins from the body. This is especially important after sickness or surgery.
Urinary Health
Cats with low water intake may experience urinary tract infections, or even urinary stones and crystals that can cause urethral obstruction.
Energy Levels
Water helps convert fat to energy, giving your pet enough energy to romp and play.
Aids With Temperature Regulation
Proper hydration helps your pet maintain a normal body temperature — especially important in the summer months.
When Should I See a Veterinarian?
If you suspect that your dog might be dehydrated, bring him or her to your veterinarian immediately, where they can monitor the pet closely and administer IV fluids. To help pet parents learn more about how to administer a test to see if a pet is dehydrated, PetSafe brand has developed a how-to video:
How to Encourage Hydration
I know that, when left to his own devices, Henry doesn't drink his recommended 21oz a day. If your pet is similar, what can you do to make sure he gets the water he needs?
Here are some ideas:
Add water to his dry food
I do this every day in the summer! You can also add wet food to your pet's diet to sneak in some extra water, since wet food has much more moisture than dry food.
Flavor the Water
Try a little meat or vegetable broth to make the water more appetizing for your dog — just avoid sodium and ingredients like onion powder. You may be better off using a simple homemade bone broth.
You can also buy powdered food toppers, like the Flavors line by Basics Brands.
Make Sure The Water is Fresh and Clean
Henry won't drink from a communal dog dish or one that is extra dirty. Replace your pet's water frequently, and, in addition, be sure to clean to the dish. You can also buy one of the excellent drinking fountains from PetSafe Brand, which clean and filter the water to ensure optimum cleanliness and freshness.
We Love Our PetSafe Drinkwell® Sedona Pet Fountain!
The PetSafe Drinkwell® Sedona Pet Fountain is, to start, absolutely gorgeous. Its clean design and fresh color fit in perfectly among my mishmash of IKEA furnishings, Midcentury knickknacks, and antique heirloom dressers. My coworkers and I even joked about keeping one on my desk at work as a "zen fountain" (meaning: filled with wine).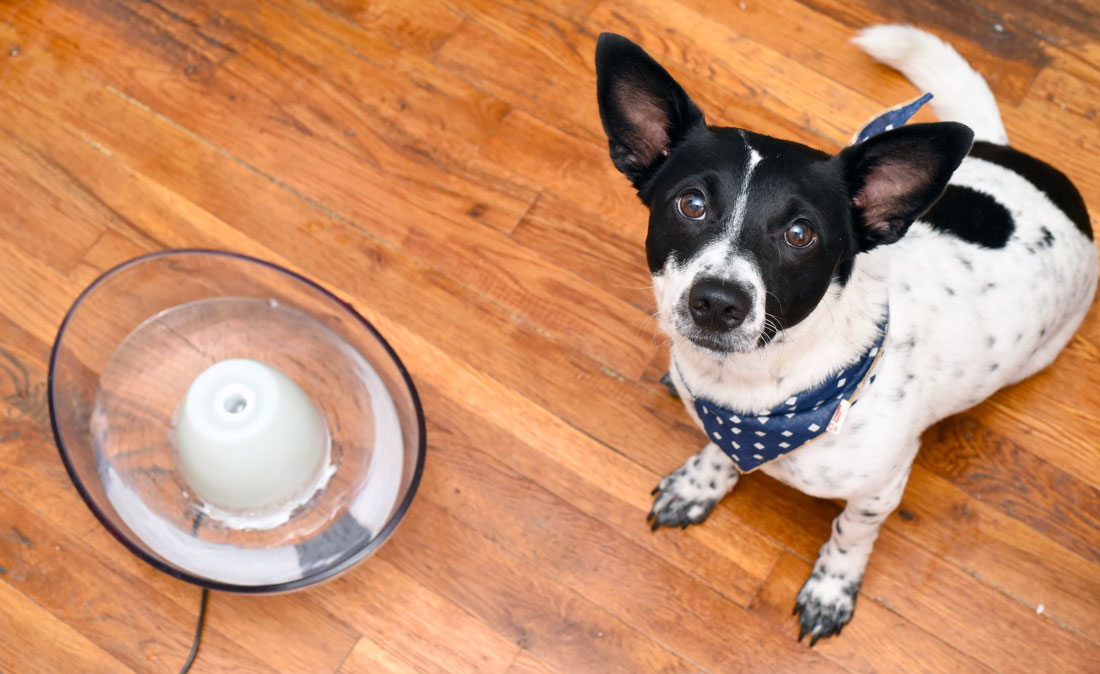 It's easy to clean (if I had a dishwasher, I could stick it in!), easy to maintain, and even filters water. Henry can be picky about his water — he prefers it to be as clean as possible — so, as a result, he'll probably drink more. It took a few days for Henry to adjust to the fact that his water can move, but he now happily laps from it.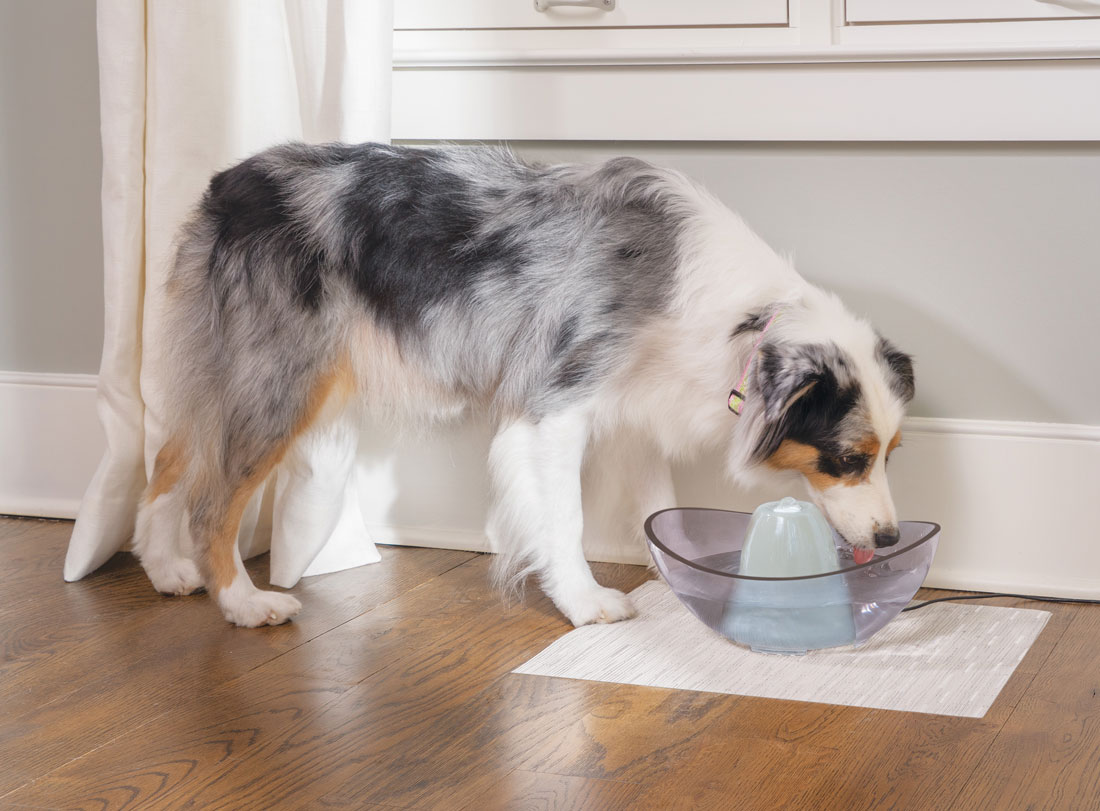 It also holds 100oz, so I won't have to refill it as often a dish. Plus — just a fun fact — it was featured on DIY Network's Blog Cabin Mountain Retreat 2015.
Learn More and Check Out PetSafe Brand
A big thank you to PetSafe Brand for promoting Pet Hydration Month! To learn more, and see PetSafe's offerings, check out their website, Facebook, Instagram, and Twitter.