Disclaimer: We have been compensated to write this review and produce the attached video. All opinions are my own and do nor reflect Basics' or any other company's or individual's opinions. For more information, see our Disclosure and Disclaimer page.
Is your dog a picky eater?
A few months ago, Henry started exhibiting signs of mild separation anxiety and stopped eating in the mornings. When
Basics
 reached out to me about their product, FLAVORS, I thought I might have found a solution.
Did it work? Keep reading to find out!
Flavors: HUMAN GRADE DOG FOOD TOPPERS
A couple of months ago, Henry decided to stop eating breakfast on my work days. It broke my heart! One night, I came home to find a roach family laying siege to that morning's untouched meal and knew I had to do something. (Especially when Henry ate the roach's leftovers. Yuck.) Basics reached out to me almost immediately after that, and I wondered if I had found my solution. 

FLAVORS is a line of powdered human grade dog food toppers. At first, I was skeptical – what the heck did they put in this powder? Then, I learned that each variety is made from limited, wholesome, REAL ingredients: no grains, no soy, no artificial flavors, no preservatives, no artificial colors, and nothing from outside the United States. They are also 100% human grade.
(Disclaimer: Although FLAVORS is made from human grade ingredients, it is not intended for human consumption.)
These powders are designed to be sprinkled on top of kibbles, dissolved into water as a broth, or used for flavoring for homemade dog treats. There are five varieties, each more delicious sounding than the last: White Cheddar, Peanut Butter, Chicken, Red Meat, and Ocean Fish. White Cheddar? Count me in!
Actually, as I was learning more about the company, I stumbled upon this commercial that I can relate to a little too closely:
Did Flavors Work For Henry?
Ok, these FLAVORS looked delicious to me – but would they end Henry's morning food strikes?
For the first few days, I simply sprinkled the powders on his kibble. The new additions piqued Henry's interest, but not enough to break the fast. I had one more trick up my sleeves.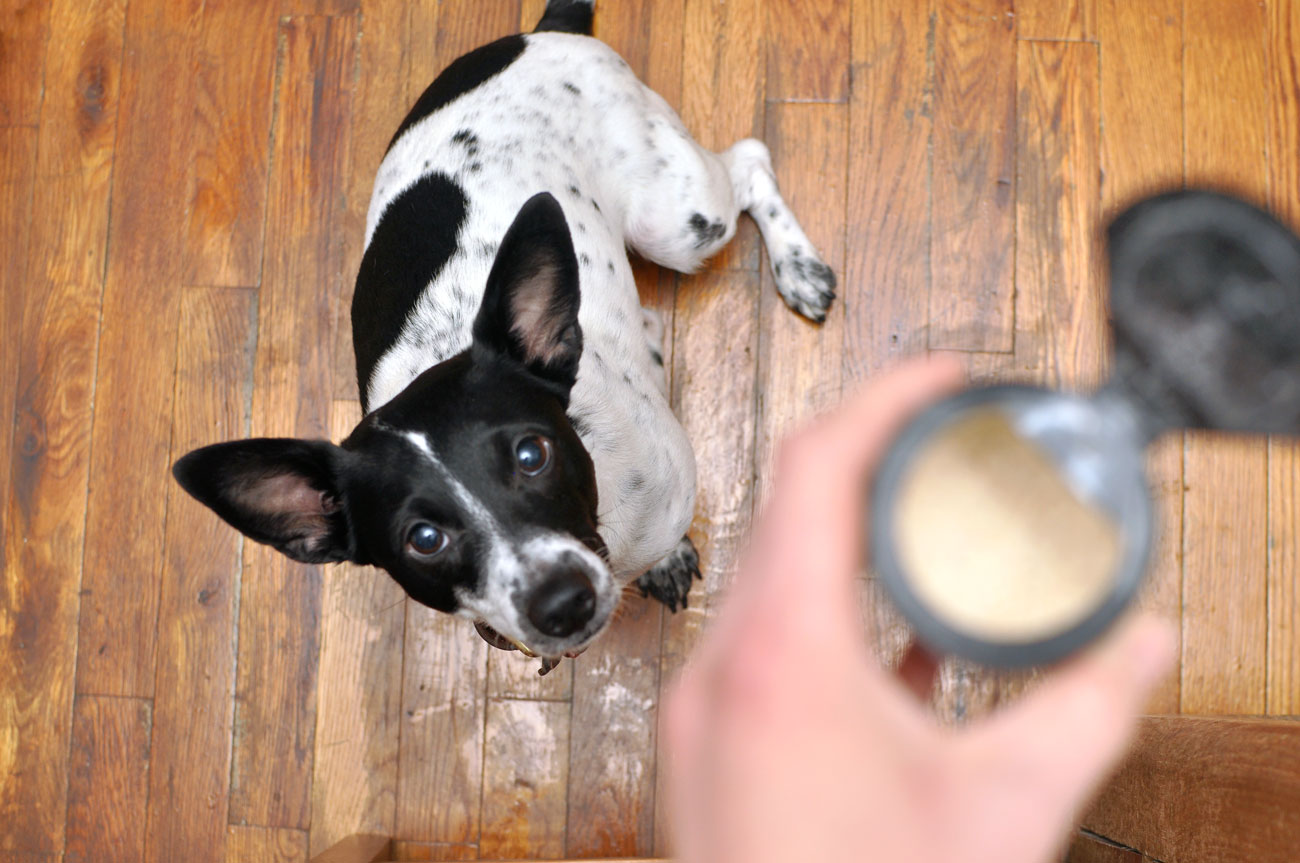 Next, I tried making broths with the powders. The FLAVORS folks suggest mixing the powder and water before pouring on your dog's food. In the interest of saving time in the mornings, I tried a different tactic: I simply sprinkled some powder on top of his breakfast, ran the bowl under some warm water for a second or two, then shook the bowl to combine.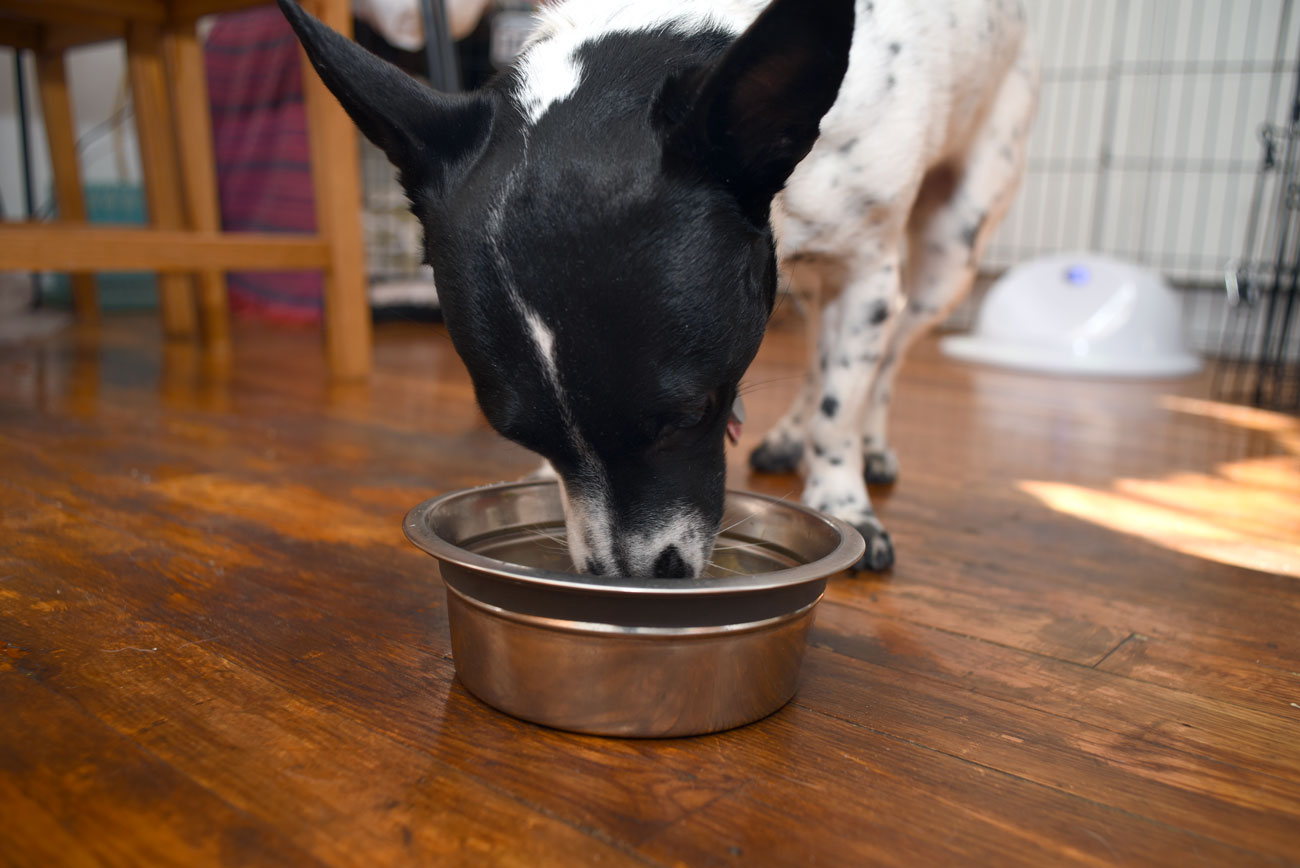 Henry.
Loved.
It.
Not only have Henry's morning hunger strikes ended, he actually wags his tail while watching me prepare his meal. What a delightful change from the sullen, dejected dog who used to watch me scoop his breakfast with a "Yeah, right, Lady," glare. I feel good knowing that he's eating more regularly and that the roaches lost their buffet. (YAY!)
Another plus? Our morning routine is just as simple with no additional mess. If I had tried adding canned or raw food to his breakfast, I would have to deal with a dirty spoon and wiping the counter. Just sprinkle, swish, and go!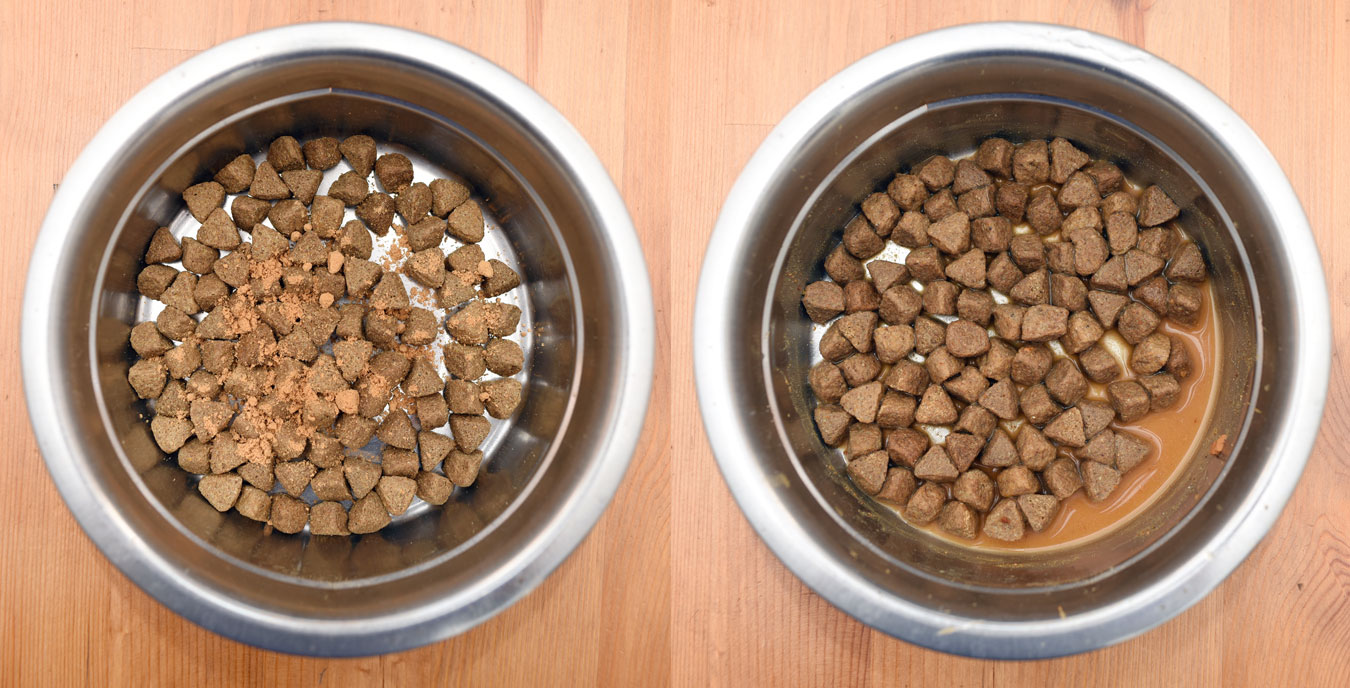 What We Love About FLAVORS HUMAN GRADE DOG FOOD TOPPERS:
1.) Delicious Varieties
FLAVORS is available in White Cheddar, Ocean Fish, Red Meat, Chicken, and Peanut Butter. No matter your dog's preferences or allergies, there is a yummy option!
2.) Simple, Healthy Ingredients
FLAVORS ingredients are human grade, grain and gluten free, and free of artificial colorings and flavors. The only preservative is rosemary extract, which keeps your FLAVORS shelf stable for up to a year. There is also no added salt or seasonings like in broth purchased at the grocery store.
To show you what I'm talking about, here are the ingredients for each variety:
Chicken: chicken, dehydrated chicken broth, potato starch, dehydrated sweet potato, rosemary extract
Red Meat:  beef, dehydrated beef broth, potato starch, dehydrated sweet potato
Peanut Butter: roasted peanuts, dehydrated sweet potato, potato starch
White Cheddar: white cheddar cheese, potato starch, dehydrated sweet potato
Ocean Fish: dehydrated Pacific cod, potato starch, dehydrated sweet potato, rosemary extract
SO SIMPLE!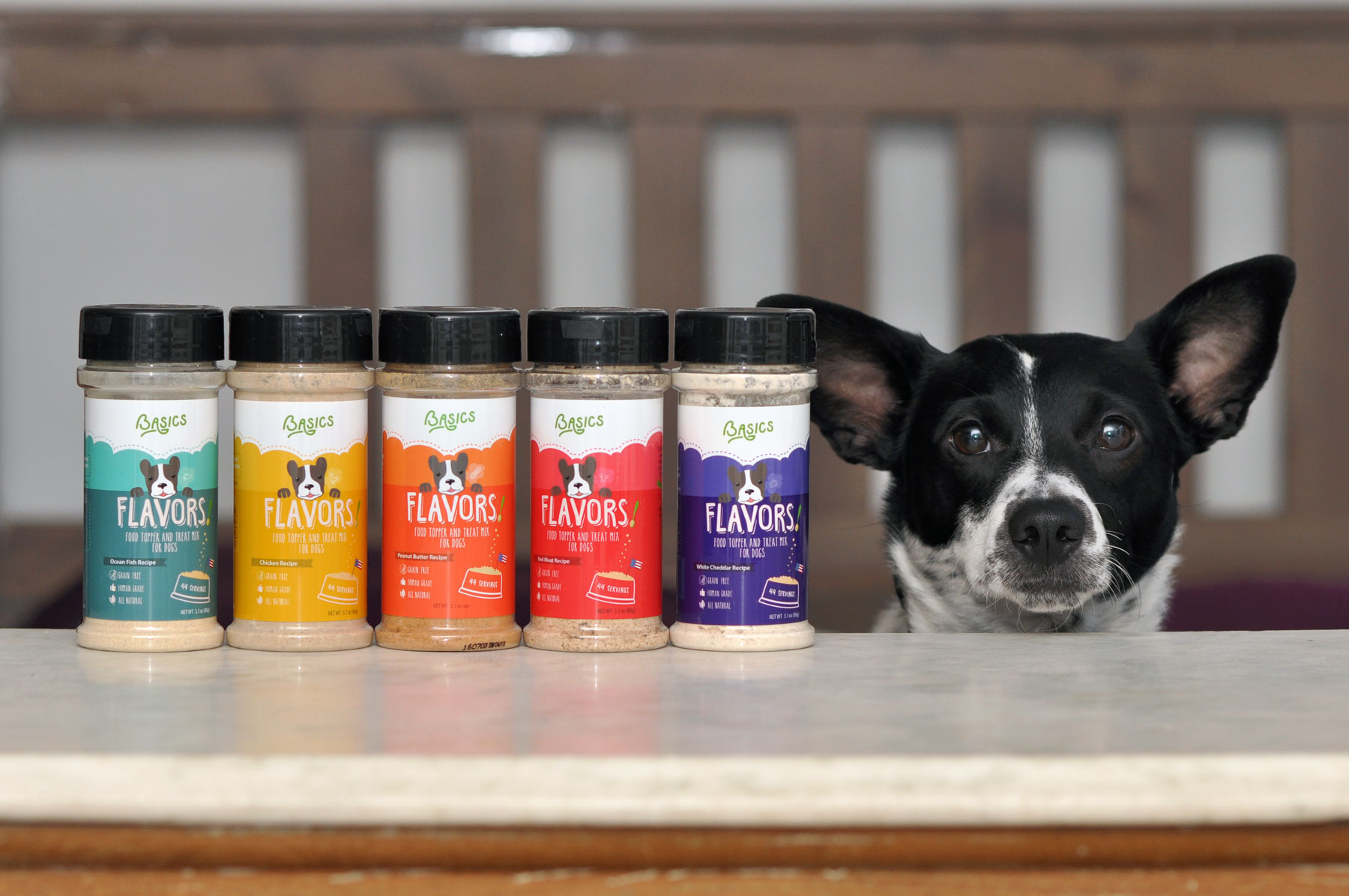 3.) Easy To Use
Just sprinkle on top or mix with water to form a broth. Little to no clean up!
4.) Affordable
FLAVORS costs $7.99 for a 3.1oz bottle, but you can get bulk discounts after only two bottles!
5.) 100% made in USA
Really! All ingredients are American born and raised. Even the packaging is made in the United States. The only exception is the the ocean fish have been wild caught in the Pacific Ocean – but, never fear, they have been brought in by American fisherman. How rare is it to find a product that is 100% made in America?
6.) 10% Goes to Animal Rescues
FLAVORS was inspired by Gracie, a rescue dog that came from Arkansas, just like Henry! Like Henry, she also had a hard time to her new city life in Atlanta. In honor of this sweetie, Basics donates 10% of profits to local rescues.
Check out the video we made to show just how much Henry loves Flavors!
Music: www.bensound.com
The Takeway
FLAVORS are healthy, limited-ingredient meal toppers that turned Henry's failing appetite around! They would be perfect for picky pups or sick dogs that need a little extra incentive to eat. They're made from wonderful stuff and are 100% made in the United States. Plus, Basics donates 10% of profits to local rescues. What's not to love? To learn more or a purchase for yourself, check out the Basics Brands website.
Enter to Win!
Enter to win one of three FLAVORS prize packs! Each prize pack contains two bottles of the winner's choice. Open to continental USA residents, ages 18+. Starts April 13, 2017 at 12AM EST and ends April 27, 2017 at 12AM EST. Prizes are provided by and fulfilled by Basics. No purchase necessary. Three (3) winners will be randomly selected by Rafflecopter and notified via email. The winners will have 48 hours to claim their prizes; failure to do so will result in forfeiture of the prize. Participants must read and agree to Raflercopters's Privacy Policy before entering and participating in this promotion. Twitter, Facebook, and Instagram do not sponsor, administer or endorse this promotion.