Poop: it's a daily reality for dog owners. We deal with so much poop that sometimes we run out of poop bags. What if I told you that there's a poop bag rolls subscription that not only ensures that you'll never be bagless, but also helps animal rescues? I'm talking about Gemma Rose Project, of course!
Disclosure: We have been compensated for this post, but we only share products we truly like and believe in. 
Gemma Rose Project Poop Bag Rolls
Almost a year ago, we introduced you to Gemma Rose Project, a New York-based business that sells high-quality, lightly scented poop bags that benefit animal rescues. At the time, they only offered tie bags — but they now also come in easy to use rolls!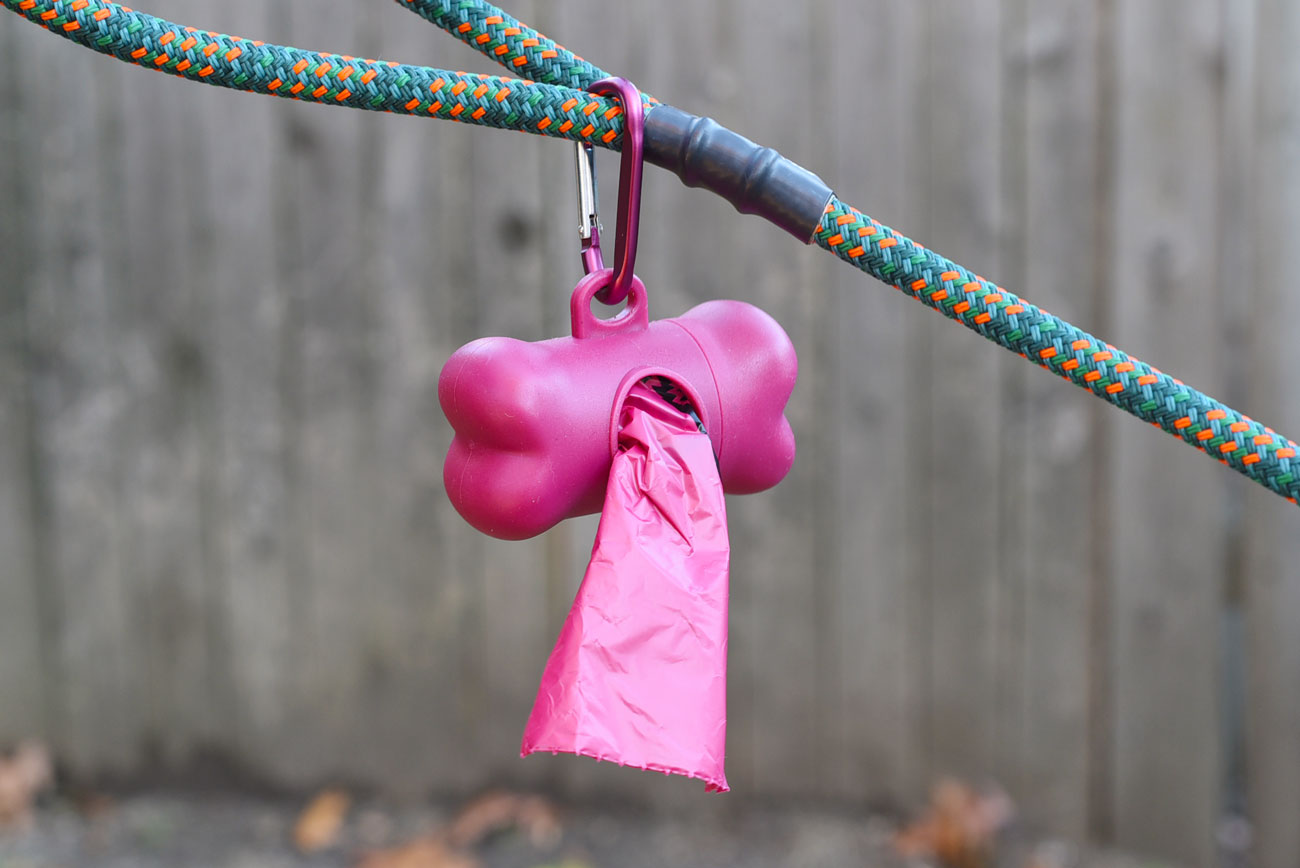 Never Run Out!
Once upon a time, I almost started a poop bag subscription service. By "almost started," I mean that I ran out of poop bags, decided it was a brilliant idea, and then did absolutely nothing to pursue it. (To be fair, I already have multiple businesses in addition to a full-time job. It wasn't going to happen.) Gemma Rose Project, however, has your back! Not only are their poop bags superior quality, you can sign up for a subscription service and never run out. Amazing!
You can choose how often you want to receive deliveries (every month, every other month, or every four months) and save $1 on shipping fees each time. Plus, committing to several boxes help set up recurring contributions to rescues. More on that in a bit!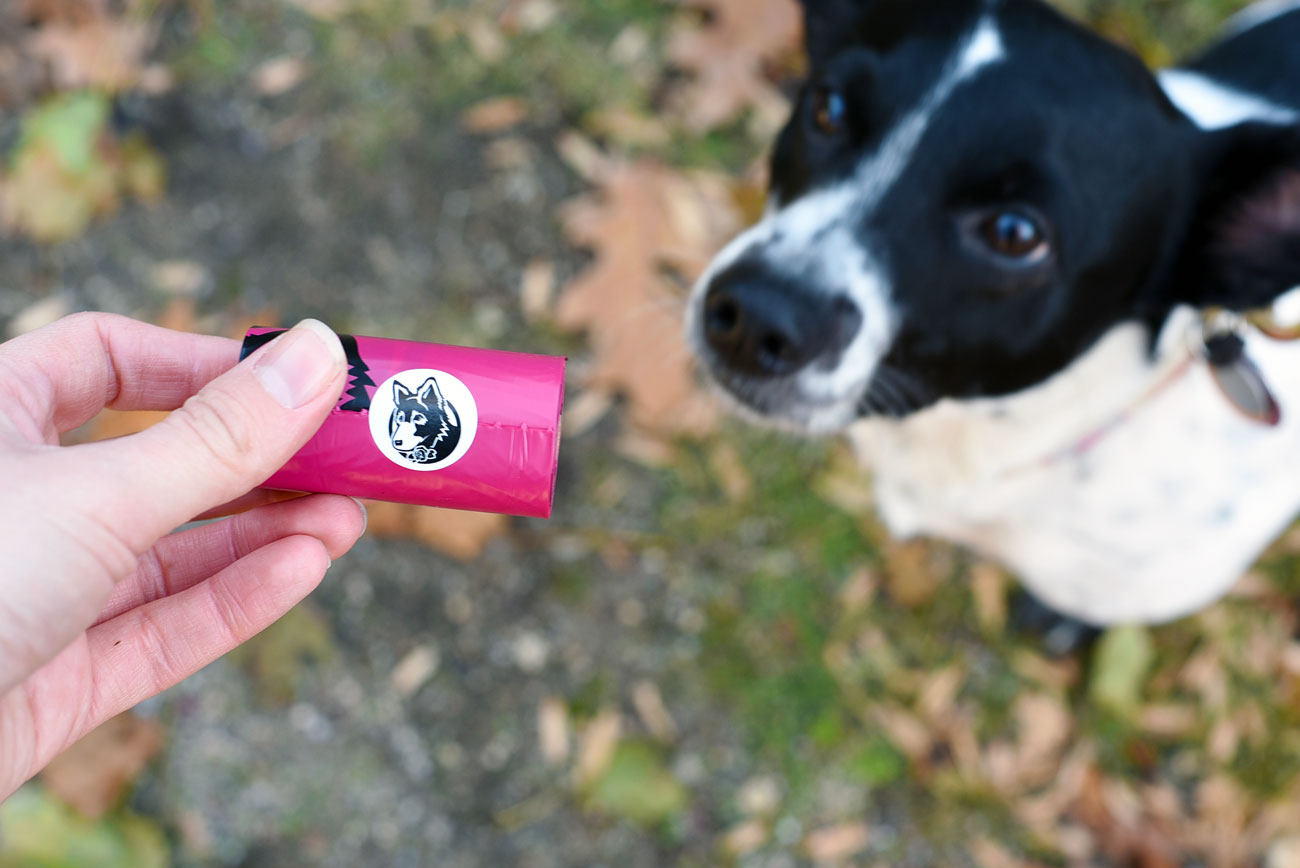 Superior Quality
These poop bags are great. I have tried many kinds of poop bags in my years as a Dog Mom, and these are fabulous. When I tested Gemma Rose Project's tie bags in January, I even filled one with water to test for leakage — not a drip, not a drop. The plastic is thick without being too bulky and is relatively easy to open. I do have to lick my fingers occasionally to get a good grip, but I've yet to find a rolled poop bag that didn't require this.
Each roll contains 15 bags and — get this — a recycled paper core. I LOVE THAT! I have a severe dislike of the plastic cores in most poop bag rolls. They're both wasteful and annoying. I feel so much better knowing that these cores are not only made from recycled material but can be recycled as well.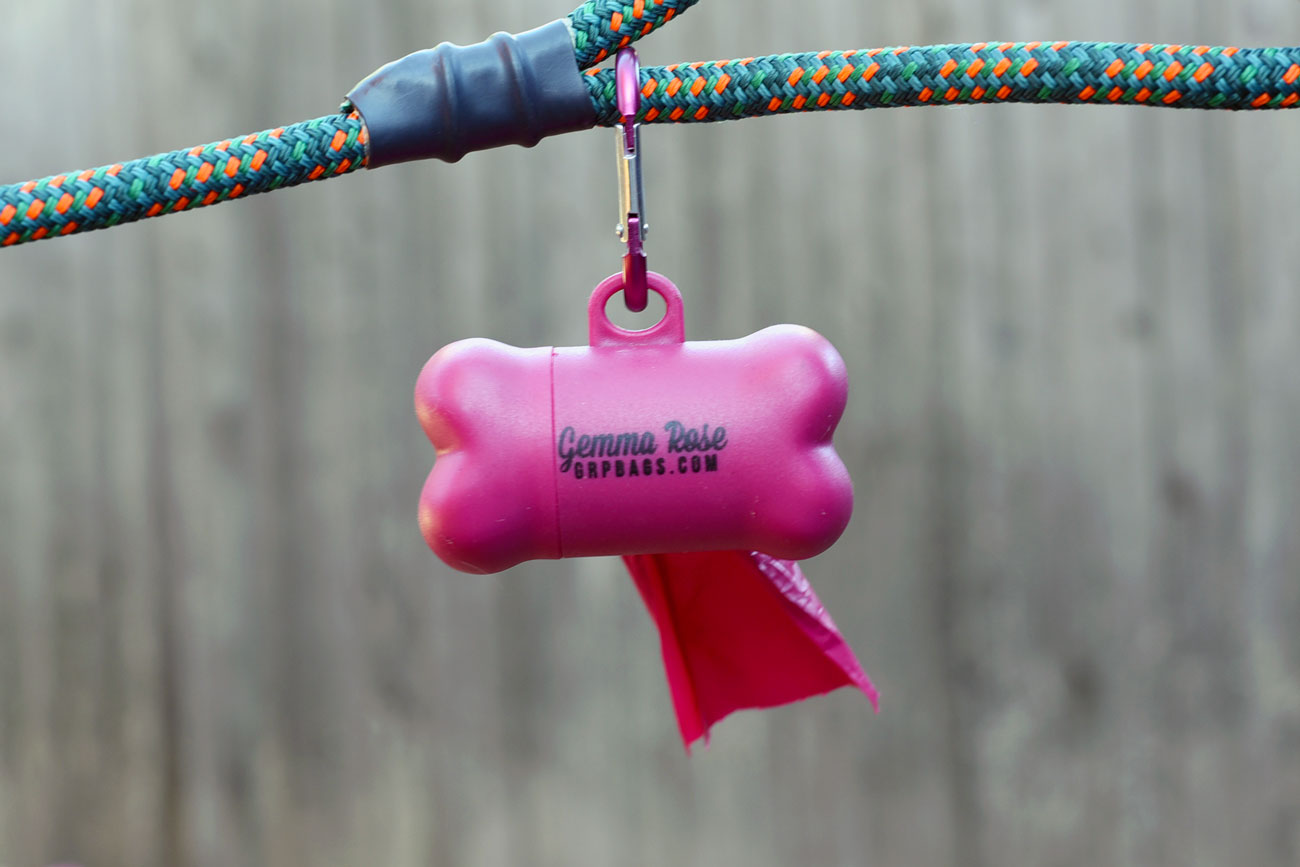 The rolls bags also have the same signature rose scent that the tie bags have — the perfect amount to mask the poop smell without being too overpowering.
Plus, Gemma Rose Project bags are made with EPI technology. This means that they will break down in the proper environment by way of oxo-biodegradation. I often feel guilty using plastic bags on a daily basis, but it's a necessity in the city. With Gemma Rose Project bags, I feel much better.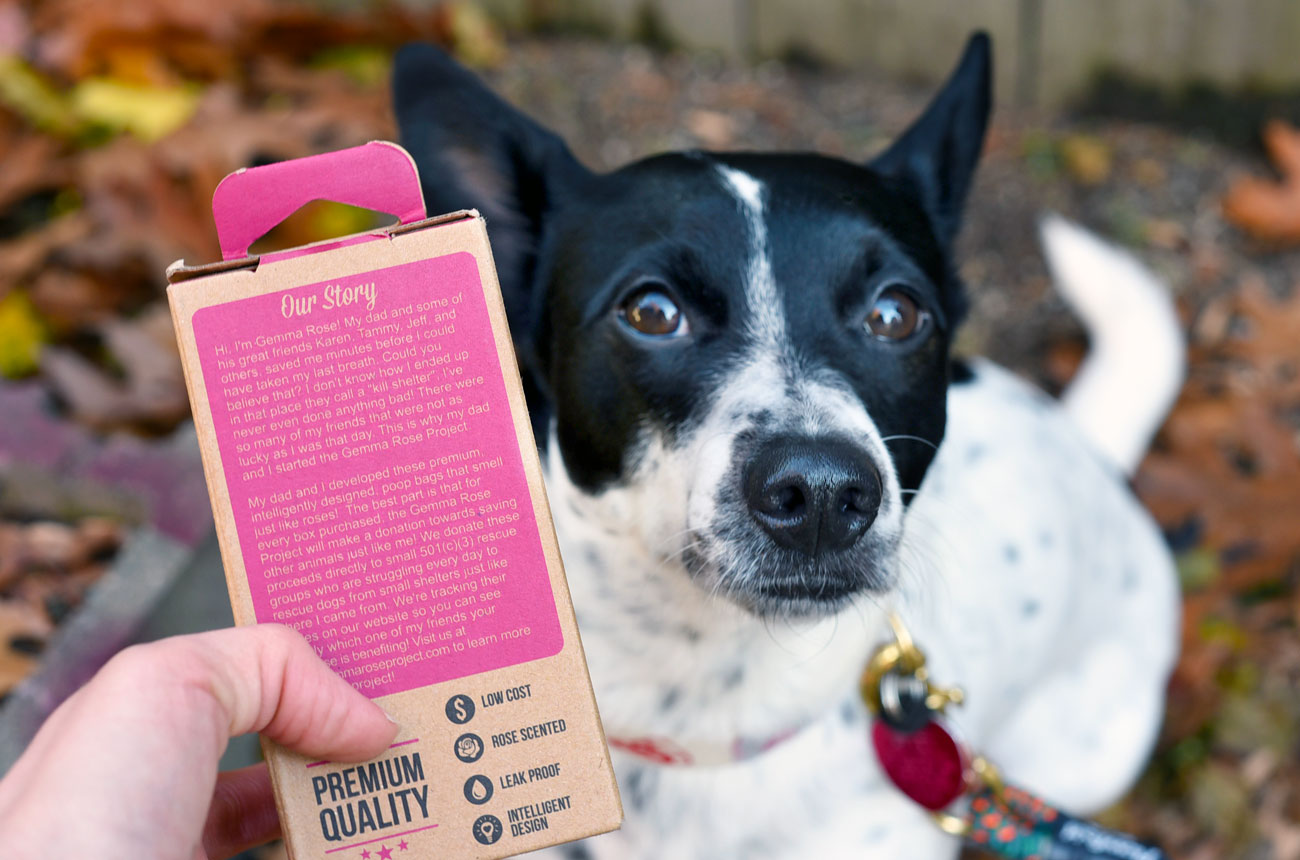 Funding For Rescues
Inspired by Gemma Rose, the founder's dog, Gemma Rose Project is committed to donating $1 per box sold to a deserving animal rescue organization. Each organization is vetted by Gemma Rose Project, and over $700 has been donated so far! Animal resuce is SO important to me, and I love that giving to deserving organizations is the driving force behind this businesses.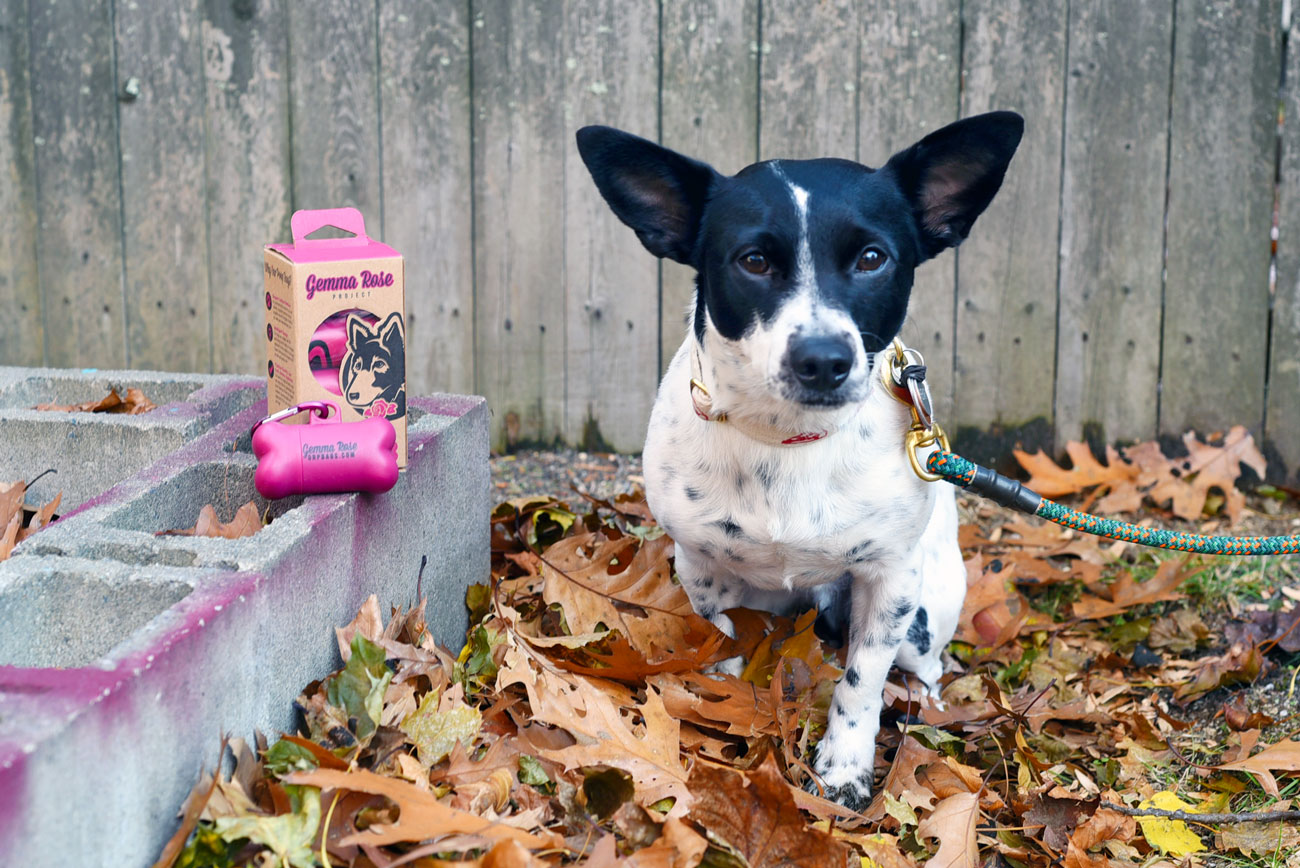 Learn More
To learn more Gemma Rose Project as a company, check out our post on their tie bags! You'll also learn why we love their mission and quality.
Order Your Own!
You can order your own Gemma Rose Project poop bags at their website. In addition, use code THEBROKEDOG for 10% off! These bags are the perfect gift for the dog owner in your life, and you could get a free high-quality bag dispenser if you sign up for a subscription!
CHECK OUT THE GEMMA ROSE PROJECT AT THEIR WEBSITE, ON FACEBOOK, AND ON INSTAGRAM!