We're teaming up with a slew of fabulous pet bloggers to bring you a huge giveaway in time for the holidays! What do Henry and I want for Christmas? Check it out and enter to win hundreds of dollars in prizes!
4 Gifts For Pet Giveaway Blog Hop
The 4 Gifts for Pet Giveaway Hop is sponsored by CleverPet. The opinions and ideas in this post are my own and are uninfluenced by any other person or business. The individual sponsors are responsible for their giveaway prizes including shipping. The gift cards have been provided by the participating bloggers. I have business relationships with the other featured businesses and have been compensated in some form at some point by each. This post contains affiliate links, which means I earn a small commission if you make a purchase using them.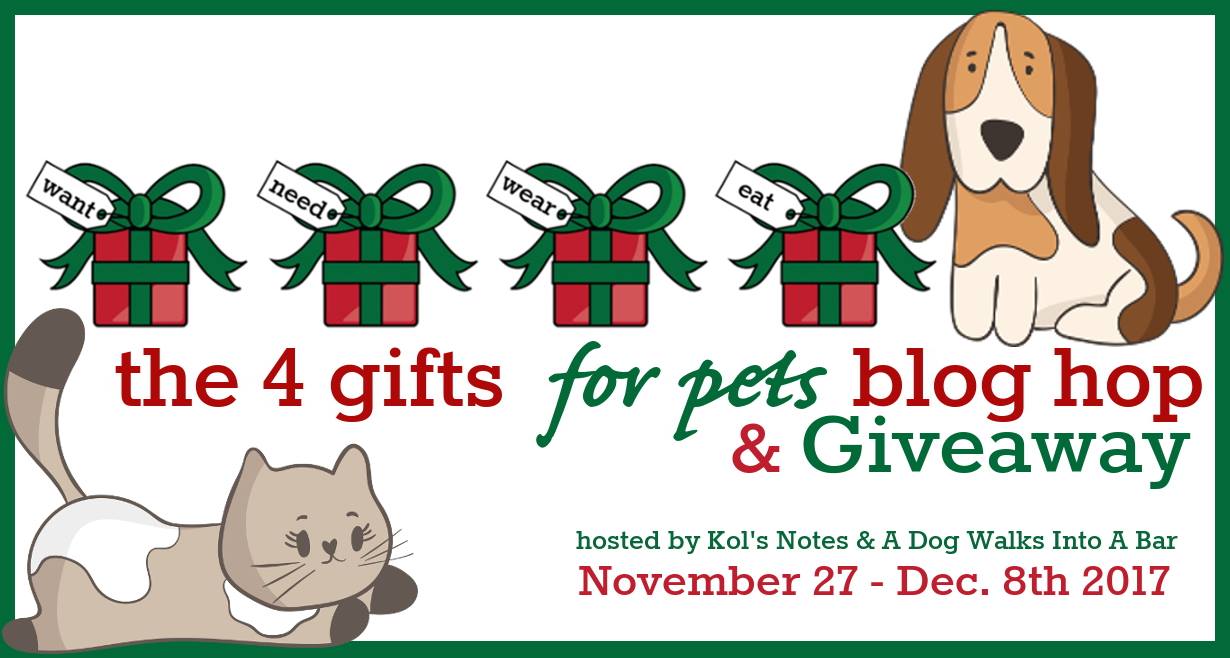 What is the 4 Gifts Concept?
This giveaway is inspired by the "4 Gifts" concept: you buy your child (or pet) one gift they WANT, one they NEED, one they can WEAR, and one they can READ (or in your pet's case, EAT).  It's a great way to keep your holiday budget on track or to ensure your child or pet doesn't accumulate too much stuff.  You can learn more here.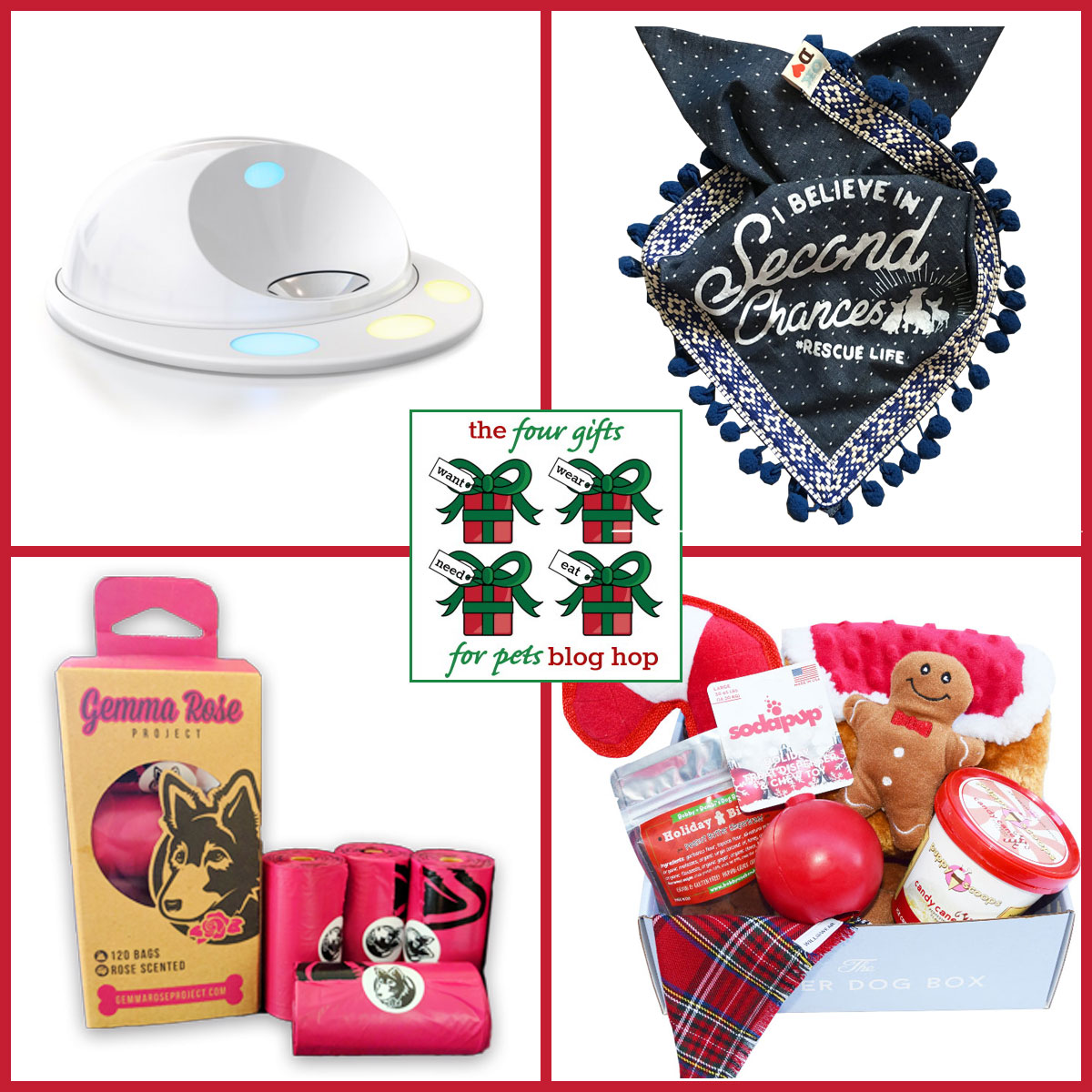 Our 4 Gifts
Henry and I are focusing on brands that give back to animal rescue, as well as one awesome high-tech toy.
We actually have one of these already  — and we love it! What we "want" is for all the other pups to have their own CleverPet Hubs! Check out the 5 Reasons We Love the CleverPet for our in-depth review and enter to win one below.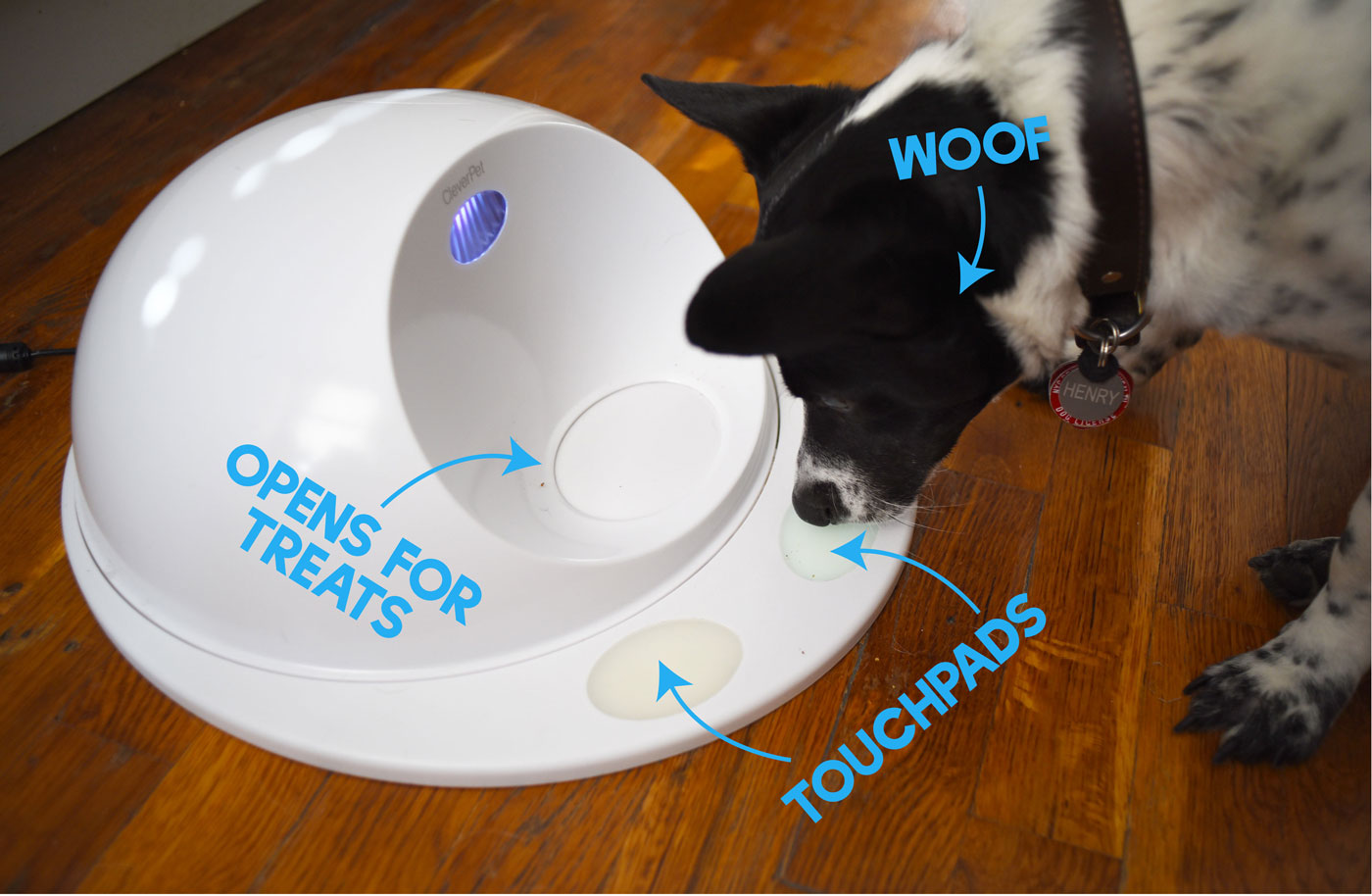 When I'm saying that I want everything at the Oki Doggy site, I'm not joking. Not only is every item insanely cute, 15% of all purchases goes to deserving dog rescue organizations. This adorable Second Chances Bandana is part of the "Wear L.O.V.E." collection, which mean that a whopping $5 from each one is donated! I'm in love!

You may have read our post about Gemma Rose Project Poop Bags earlier this year. These poop bags are super well-made, available in a subscription service, and now come in roll form! Most importantly, the "project" behind "Gemma Rose Project" is to create a sustainable source of funding for dog rescue by donating a portion of each sale — what's not to love? A full review of the new roll bags is coming soon, but you can order both types NOW at the Gemma Rose Project website.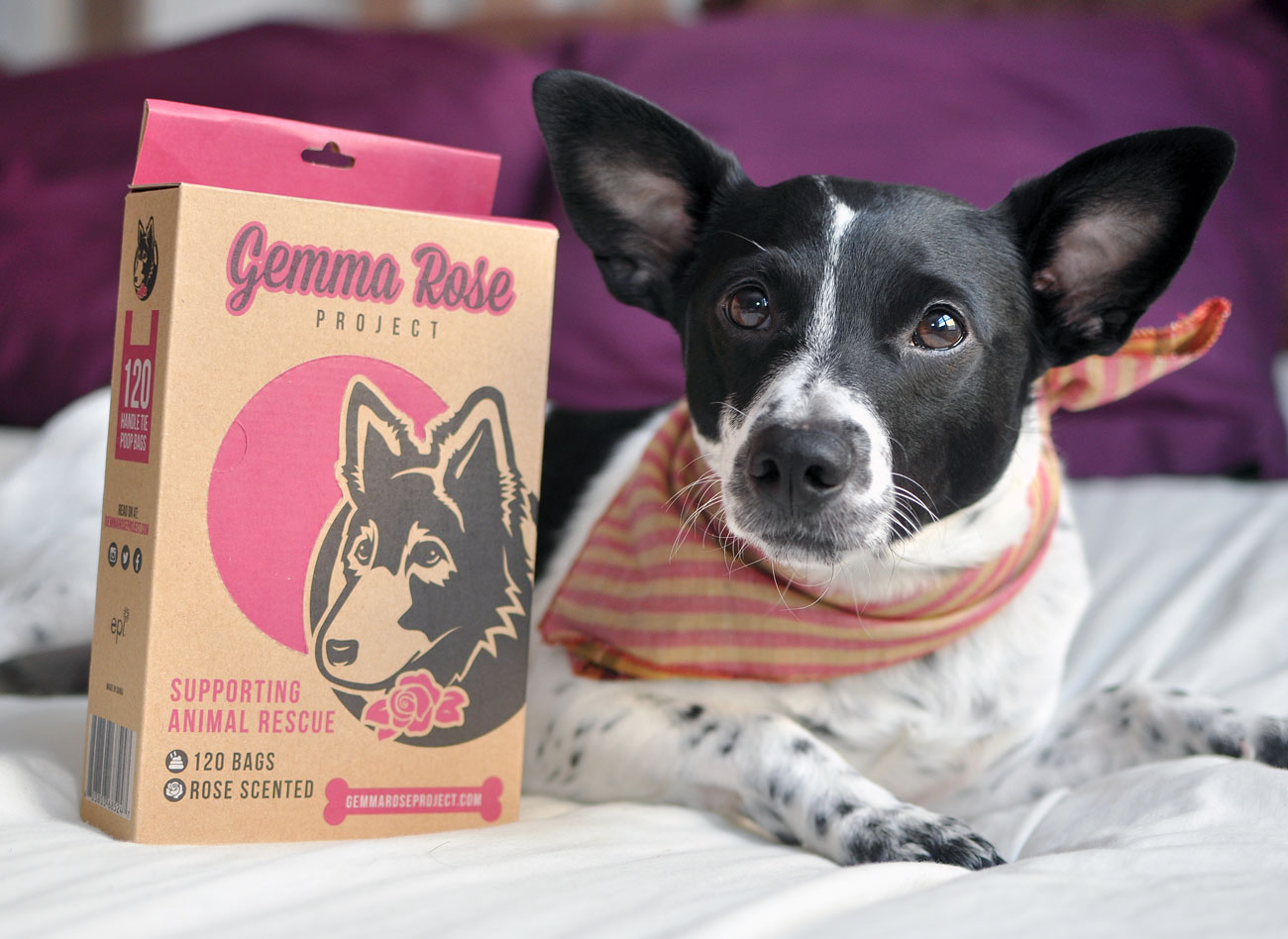 Ok, your dog can only eat part of this gift, so please excuse our slight rule bend. The Dapper Dog Box is a  monthly subscription service that includes about five high-quality, full-sized dog products, including two kinds of treats! The Dapper Dog Box donates a portion of sales (thousands of dollars so far!) to a different rescue organization each month and has worked with over 12 rescues including The Sato Project, Animal Hope & Wellness, Chews Life Dog Rescue, and Queen's Best Corgi Rescue. I don't know about you, but I would love knowing that I won't need to remember to buy treats each month — they'll just show up at my door!  Learn more about The Dapper Dog Box and see what was in last year's December box!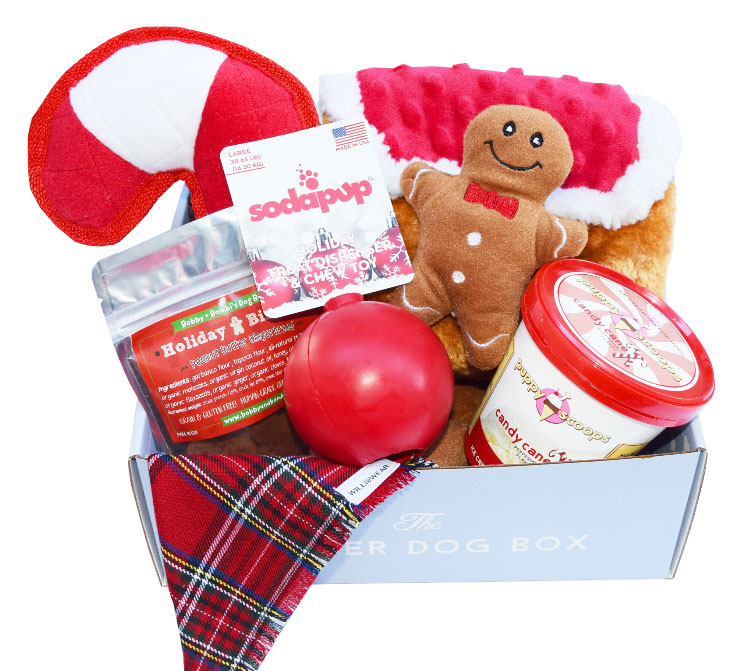 Prizes
Now that you've done some shopping, it's time to learn what you can win!
Grand Prize: 1 CleverPet Hub
Secondary Prizes
Winners choice of Amazon, PetSmart or Etsy Gift Card:
1 x $200
1 x $100
1 x $50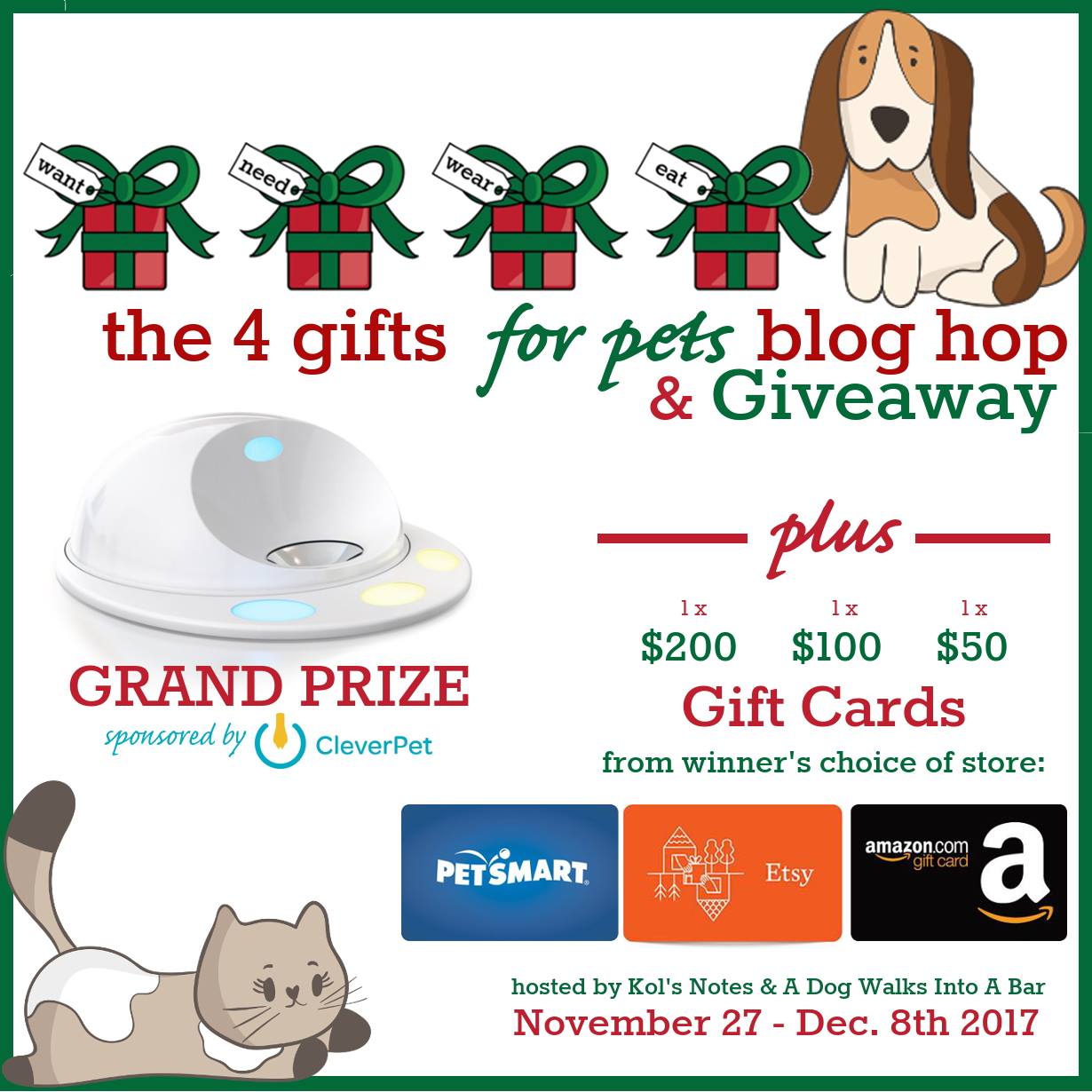 Enter!
Use the widget below to enter on our blog before December 8th, then enter on every participating blog to increase your chance of winning! Good luck!
Daily Bonus Entries!
Enter using the widget below — but if you want more chances to win, follow us on Instagram, Twitter, and Facebook! Each day, I'll be posting a DAILY BONUS WORD that you can use for a bonus entry! Check for it on our Twitter, on our Facebook Page, and in our Instagram stories and give us a follow if you want to stay up to date.
Participating Blogs
Entry Widget