Right after high school, Mary Esposito became physically disabled and legally blind. Unsure what the future held, she started working with Riley, her service dog. To celebrate his graduation, she made him a leather collar — and KoKoLati Leather was born! Mary now makes gorgeous custom leather collars with fun painted designs ranging from waffles to pizza to flowers and more. We asked Mary about her creations, her business, and, of course, the adorable Riley! PLUS: Your chance to win a 100% custom leather pet tag!
Collars by KoKoLati Leather

Where are you located?
We are located in sunny San Diego California.
How long have you been in business?

KoKoLati Leather was started in 2012 after making my service dog a collar to celebrate his graduation. I worked as the sole artist and leather crafter until earlier this year. We now have a select few artists working with us, allowing us to grow to meet the demand.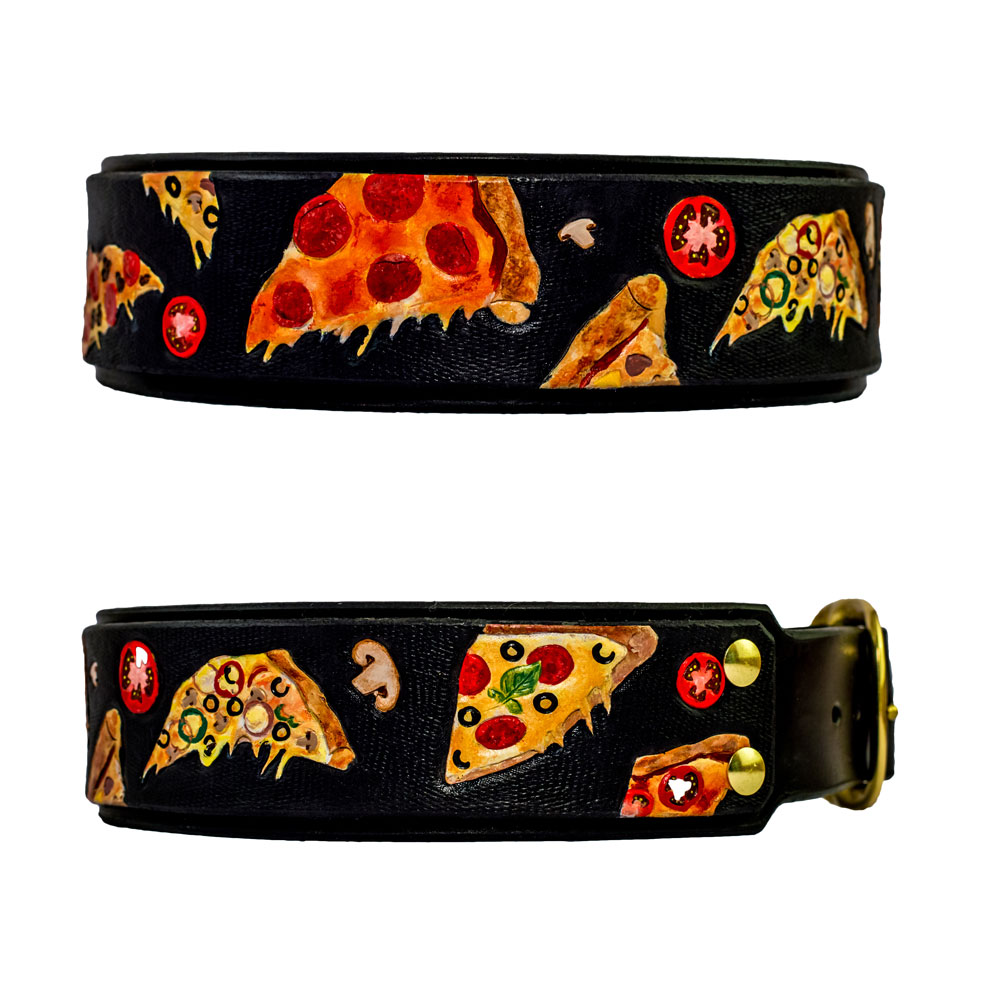 How would you describe your business?
KoKoLati Leather is dedicated to celebrating the bond between people and their pets. I know first hand how special that relationship is. They are our protectors, nurses when we are sick, lap warmers, partners in crime and best friends! Each one is unique with their own set of habits and quirks just like us and you can see how their personalities match with that of their owners.
Our products allow you to express yourself and your pet's personality, passions and interests through the artwork while maintaining the durability and comfort of leather.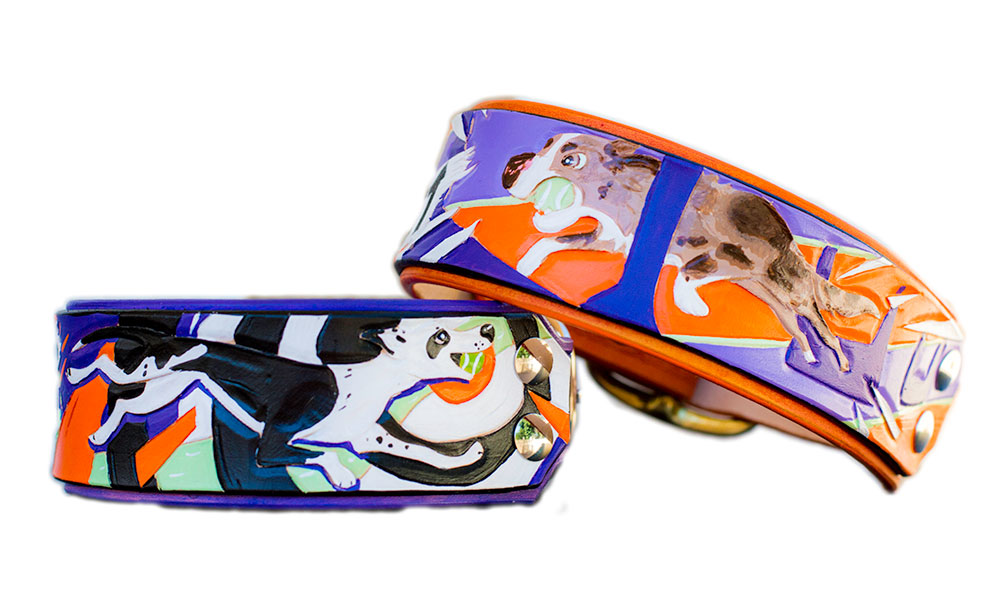 What kind of items do you sell?
Here at KoKoLati we craft hand carved, tooled and painted leather goods. These are works of art on leather and not just any leather! We use leather tanned to meet the specifications of the finest bag manufacturers in Europe. The quality of all materials used is just as important to us as the beauty of the artwork applied.
We currently sell pet collars, matching Kuffs, pet tags, and leashes. We have a number of available designs and also create fully custom designs tailored and 100% unique to the individual we are working with. We can work with anything from your favorite movie, favorite location, sport, put your dog's portrait on the collar! Just about anything you can dream up!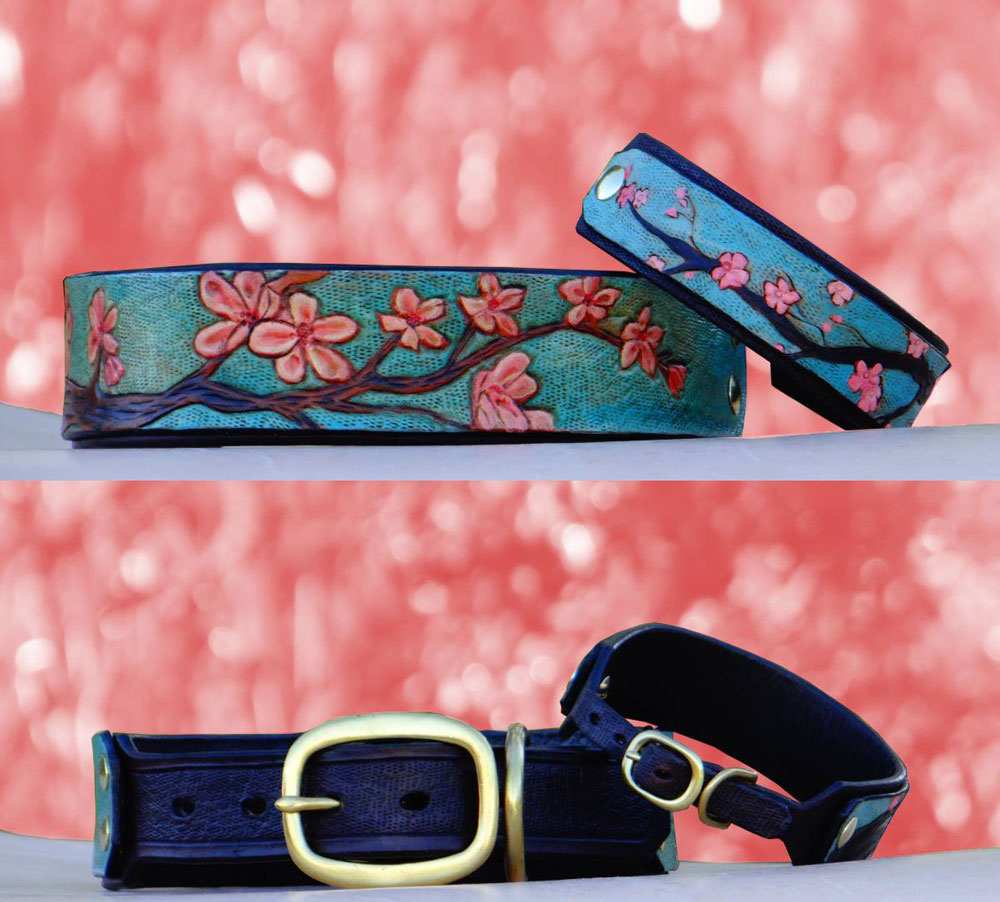 Do you have any new or exciting items that you would like to highlight?
Well, our new website should be launching next month (September)!  Be sure to keep an eye on social media for the official launch date. We will be having a giveaway contest and will be featuring a number of new and exciting designs!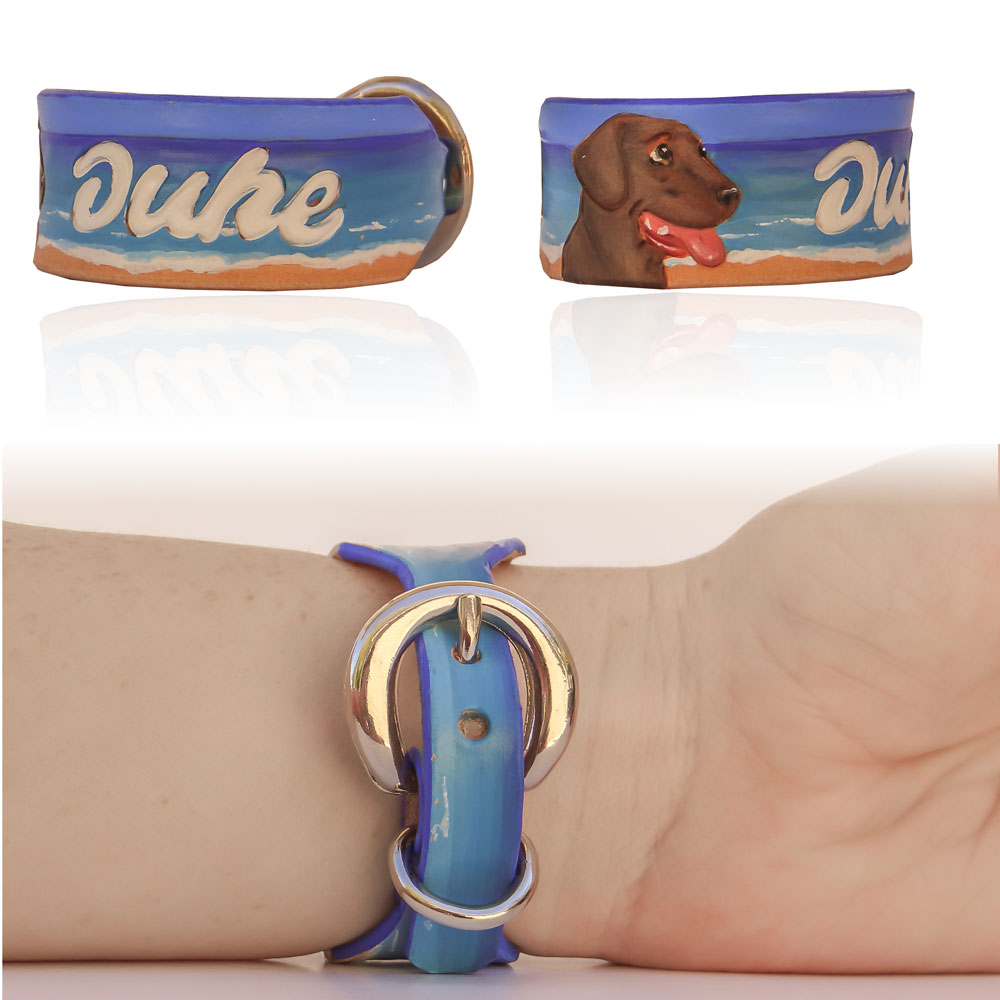 Do you have any pets?
Oh boy do I! I have a wonderful service dog Riley who is a Golden Retriever. He is my constant companion and best friend. I have a four-pound foster failure Chihuahua named Milo. He was everything I wasn't looking for in a dog but I fell in love with him the moment I saw him! I also have a pet turkey named Bloopers, a few chickens and two goats that think they are dogs, Buck and Cuddles.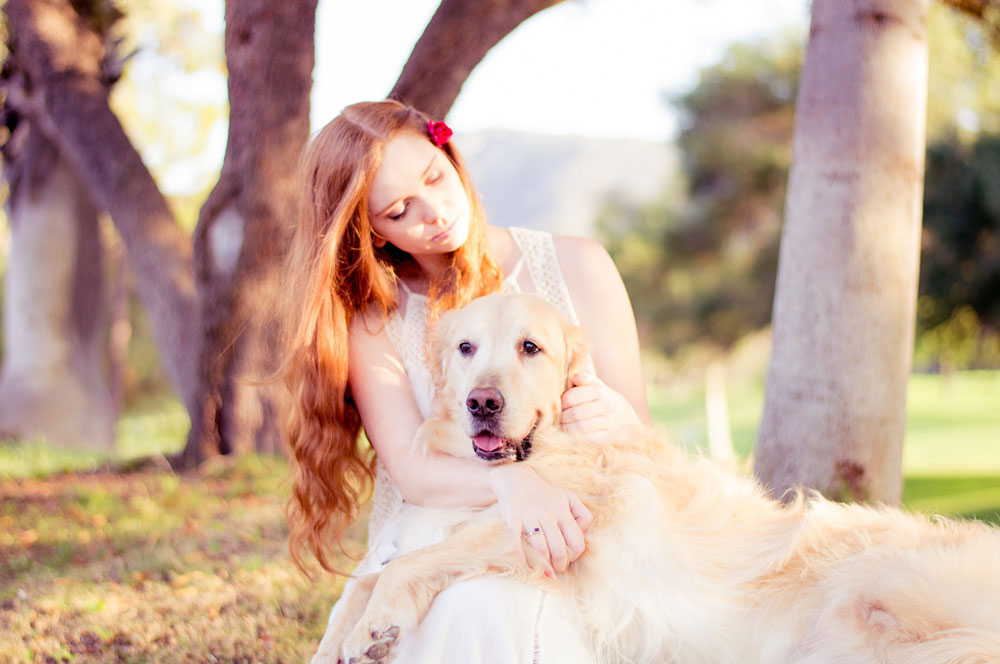 Tell us about the humans behind your business!
My name is Mary. I have always had a passion for animals, especially dogs. Shortly after high school I became physically disabled and legally blind. All of my plans had to change. Then Riley stepped in, a goofy Golden Retriever, and it was impossible not to smile and laugh with him around, I'll tell you that! For our graduation as a service dog team I wanted something really special to commemorate the day. I couldn't find what I was looking for so I decided to learn the art of leather craft and create it myself. KoKoLati Leather was born, a fusion of my passion for art and animals. Each time I receive a picture back from a happy customer, my day is made!
What else would you like readers to know?
I think just that when we work on a project with you, our main goal is to make you happy. We want to make sure that this is something really special to you and a piece that you keep and treasure forever. When you order a product, I will be working with you personally to achieve your vision for the piece. It's a really fun process and you can be as involved as you would like!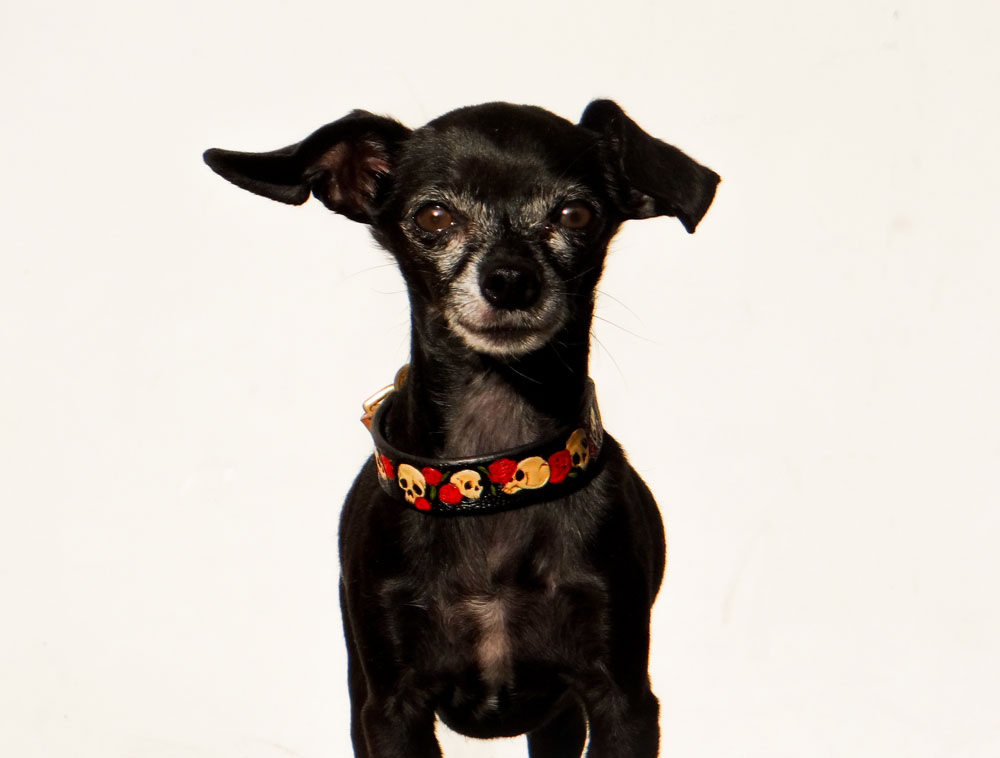 If you had one tip to share with a dog owner trying to care for and spoil his or her pet on a budget, what would it be?
We love to bake our own dog cookies! We usually use whole wheat flour, eggs, water and mix in dinner leftovers or peanut butter (making sure each ingredient is safe and unseasoned). You can find a lot of recipes online. It's a great way to make delicious, healthy and affordable treats using ingredients you have around the kitchen!
Watch Mary's process from start to finish in the following video from her YouTube channel!
Enter to Win!
You could win a fully custom-designed pet tag in any size with name and phone number on back (examples below). Use the Rafflecoptor widget after the examples to enter. Good luck!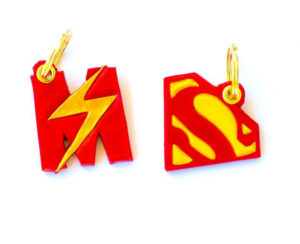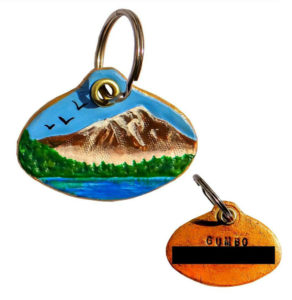 Visit KoKoLati Leather on Facebook and on Instagram and save 15% on your order if you tell Mary that The Broke Dog sent you!
Giveaway item provided by KoKoLati Leather.