Disclaimer: We received one Kahlua's Scented Scooper set to review and may earn a small commission off of affiliate links in this article. The giveaway prize has been graciously contributed by Kahlua's Kompany.
When Stacy Lu from Las Vegas walked her Shih Tzu, Kahlua, she noticed that many dog owners dealt with the same problem she did: running out of poop bags with no warning! To make life easier for pups and their humans everywhere, she designed Kahlua's Scented Scoopers, new poop bags with countdown warning stickers for the last three bags. Stacy and Kahlua sent me a set to try, and I have to say I'm very impressed!
PLUS: Enter to will your own set and save 20% with Amazon coupon code BROKEDOG! 
Kahlua's Scented Scoopers: Scented Poop Bags
Each Kahlua's Scented Scoopers set includes eight rolls with fifteen large bags on each one, for a total of 120 bags. In addition, each set comes with a plush squeaky toy and a reusable plastic zip case. After you purchase, you will receive a thank you email with dog care tips. Talk about a complete package!
What did Henry and I think?
We loved these scented poop bags! Our favorite features are:
1.) The Countdown Stickers
This the most brilliant idea for a poop bag that I have ever seen! I can't tell you how many times I've run out of bags and had to cross my fingers and hope Henry wouldn't need to go a second time before returning home. Plus: look at that adorable poop sticker!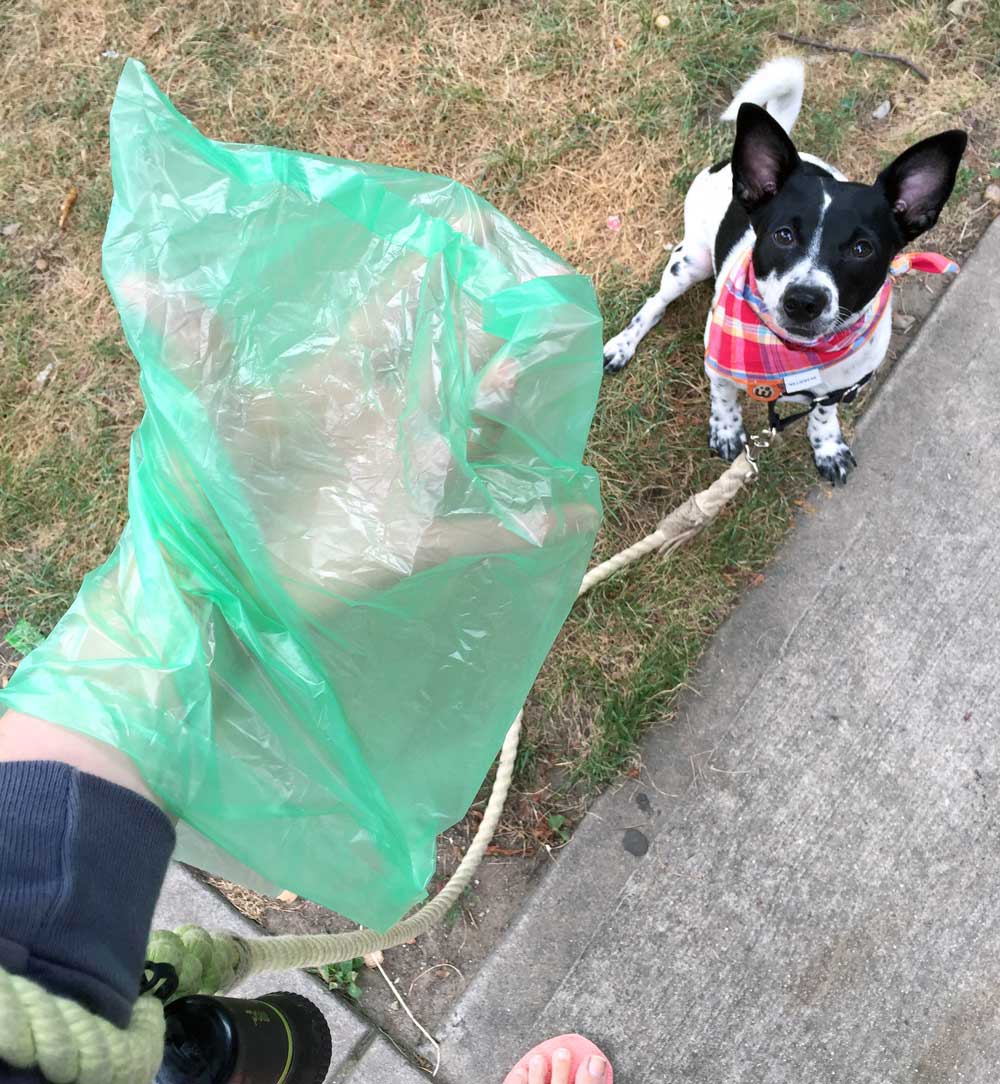 2.) The Bag Quality
These bags are STURDY! I've tried several poop bag types, and these rank near the top for sturdiness and thickness. Be forewarned that they are slightly transparent, so you will be able to see some poop through them. This doesn't bother me one bit, and I'm happy that I don't need to worry about leaks!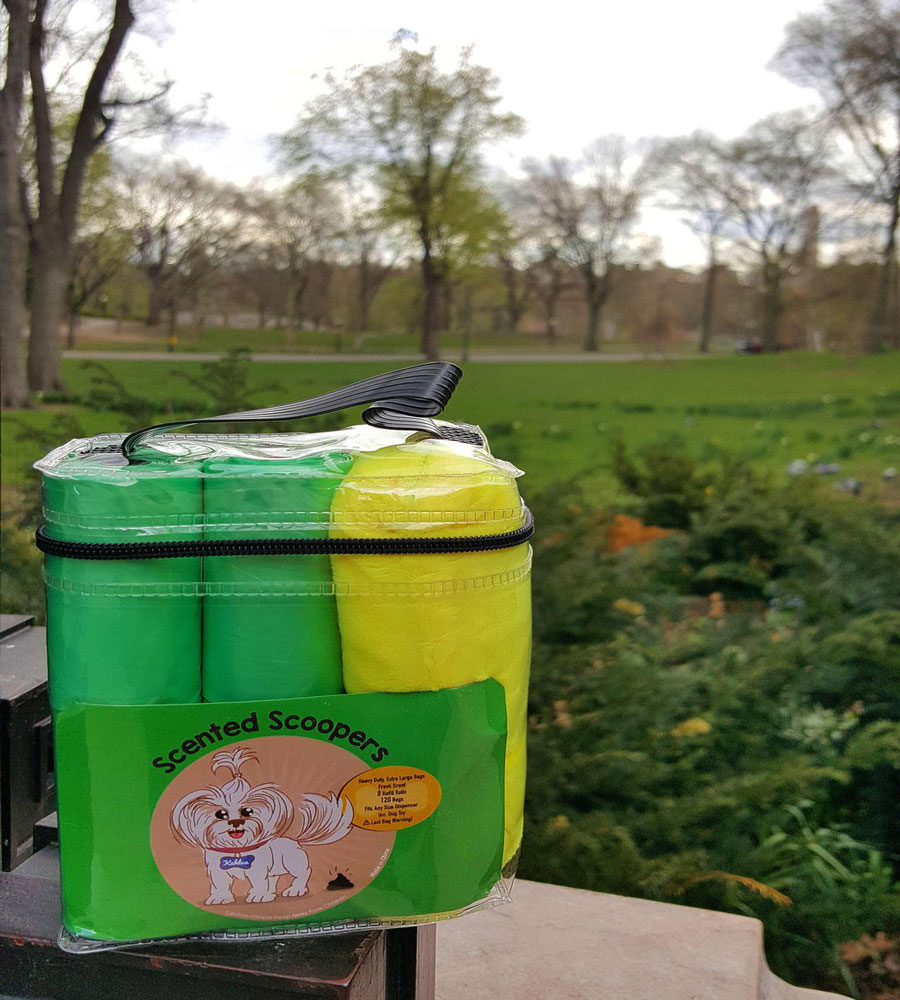 3.) The Light Scent
I've tried scented poop bags before, and the smell overpowered the walk and wrinkled my nose. Kahlua's Scented Scoopers, however, emit a pleasant, more subtle scent.
4.) They Come With a Toy!
What a cute touch! This is also a great perks for dogs who like to destroy their toys: each time you refill your bags, your dog gets a new toy! The toy might not survive the most destructive chewers, but it is certainly a fun touch.
5.) EPI Technology Makes Them Environmentally Conscious!
According to a Q&A on the product page, Amazon prohibits the use of the term "biodegradable" in their listings. However, also according to the Q&A, these bags are made using EPI technology that will allow them to break down in as little as 18 months if disposed of properly.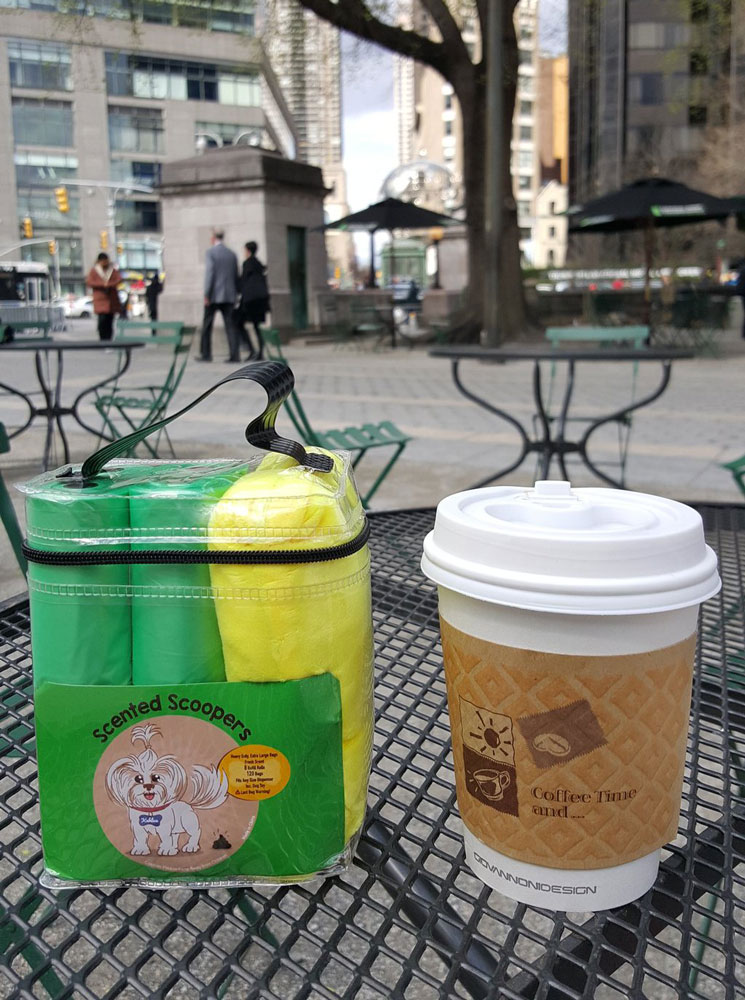 6.) Reasonable Price and Prime Shipping
As of this post's publication, these bags cost $11.99 and can ship for free if you use Amazon Prime. Not bad,  especially considering the bonus toy and storage bag!
The Takeaway
Although Kahlua's Scented Scoopers might cost a little more than some cheap poop bag brands, they are a great, high quality product! I absolutely love the countdown warning stickers and feel confident that these high-quality bags will never leak pup poop on me. Plus, with the bonus squeak toy and carrying case, this poop bag set is a fabulous buy and an adorable gift. They're our new favorite poop bags!
Buy Them at Amazon  (use code BROKEDOG for 20% off!) and check out Kahlua's Kompany on Instagram, Facebook, and Twitter!
Enter to Win
Enter to win your own set of Kahlua's Scented Scoopers using the Rafflecopter widget below! USA only, 18+ to enter. Ends September 15, 2016 at 12AM EST. Good luck!
a Rafflecopter giveaway