Disclaimer: This post may contain affiliate links.
Want to make an easy and timeless ornament that will celebrate the love you have for your dog? It's easier than you think! With only a few simple materials — many of which might already be in your house — you can make a fully-custom DIY pet ornament that you'll cherish for years to come. Keeping reading to learn how I made a Henry ornament for my tree and an Abby ornament for my sister's!
How to Make an Easy DIY Pet Ornament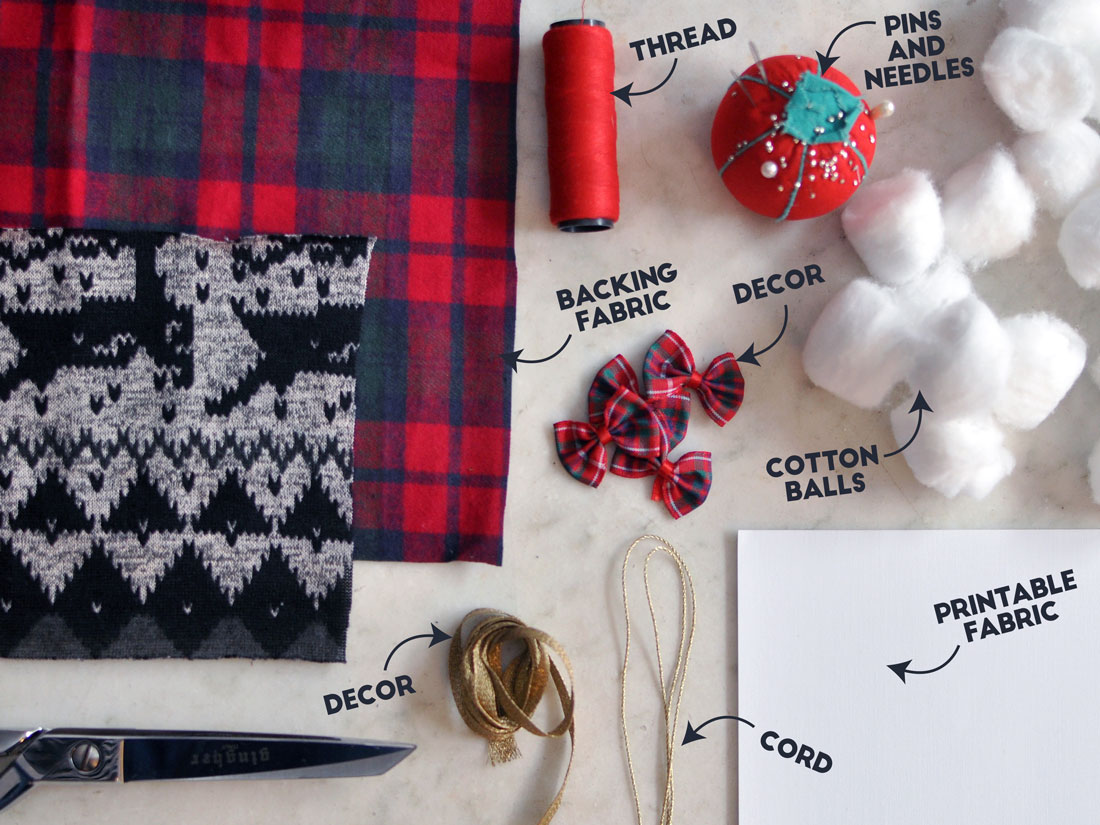 1.) Gather Your Materials
You'll need:
• A digital photo of your dog
• Printable Fabric (I used June Tailor Colorfast Sew-In Ink Jet Fabric Sheets)
• Fabric for back (I used a plaid cotton flannel and a knit jersey)
• Stuffing (I used cotton balls, but you can also use a polyester fiber filling)
• Needle and thread (including one with a large eye)
• Straight pins
• Cord of choice
• Decorative accents, such as ribbons or bows
Choose a photo that shows your dog clearly and size it so that it is about 4″ tall. If you are making more than one ornament, place multiple images on a single page, making sure there is at least an inch between the edge of each dog.
3.) Print Your Photo
Print at least one tester on regular printer paper first, so you know that the printed images will be the right size. Once you print on your fabric sheet, follow any directions on package to ensure that the ink will set. Once you have successfully printed and set the final image, cut it out leaving a quarter- to half-inch border.

4.) Cut Backing Fabric To Match
Place the cut piece on your backing fabric, making sure to have the right side of each facing the other. Carefully trace the top piece, then cut your backing fabric out on this line.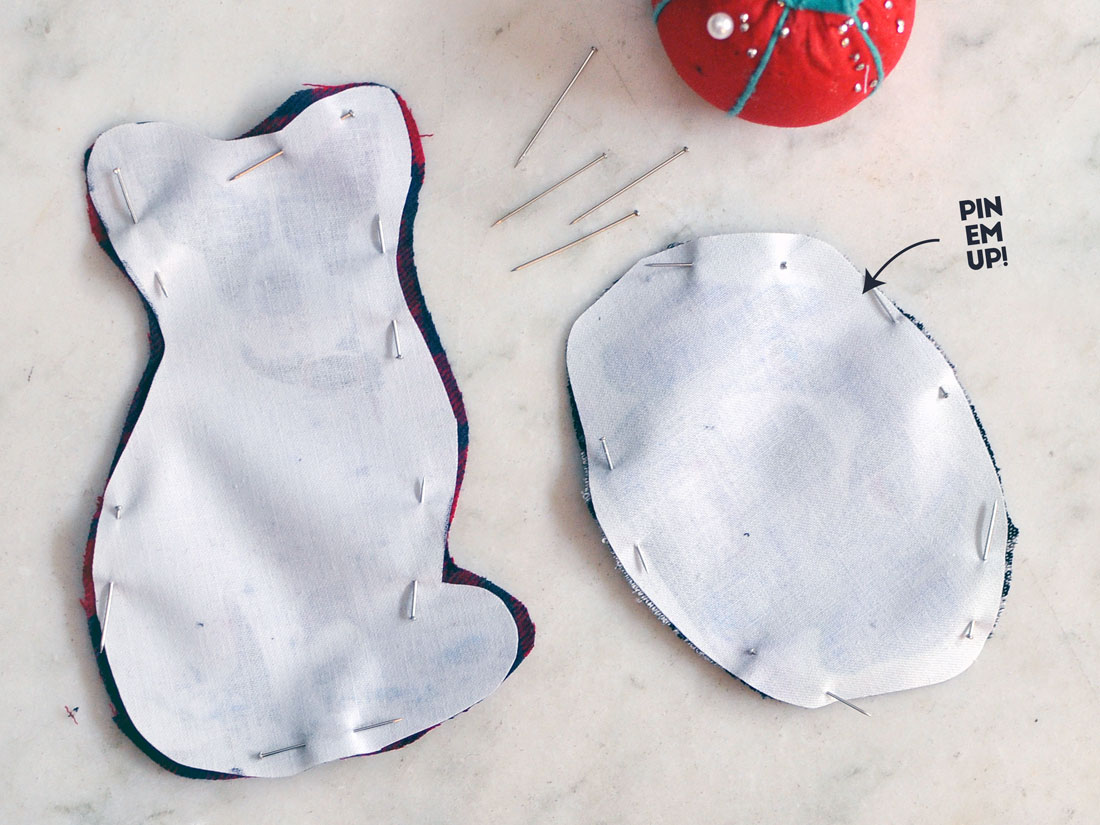 4.) Pin It Up
Align the two pieces again so that the good sides face each other. Pin the edges so that they will stay lined up while you sew.

5.) Sew!
Sew the two pieces together. Try to get as close to your dog's border as possible  — you might want to draw an outline to follow. Be sure to leave an opening that is about an inch long.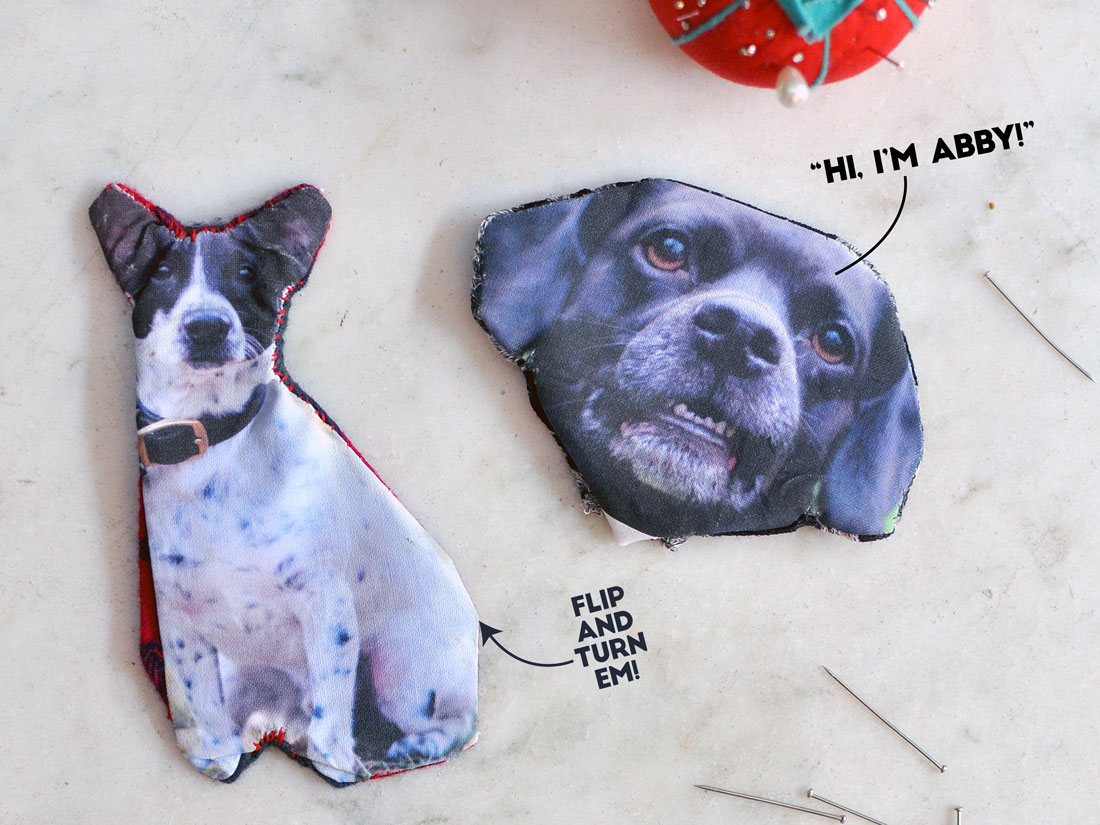 6.) Turn Your Ornament "Right Side Out"
Turn your ornament "right side out.". Use a chopstick or other dull stick to poke out the appendages.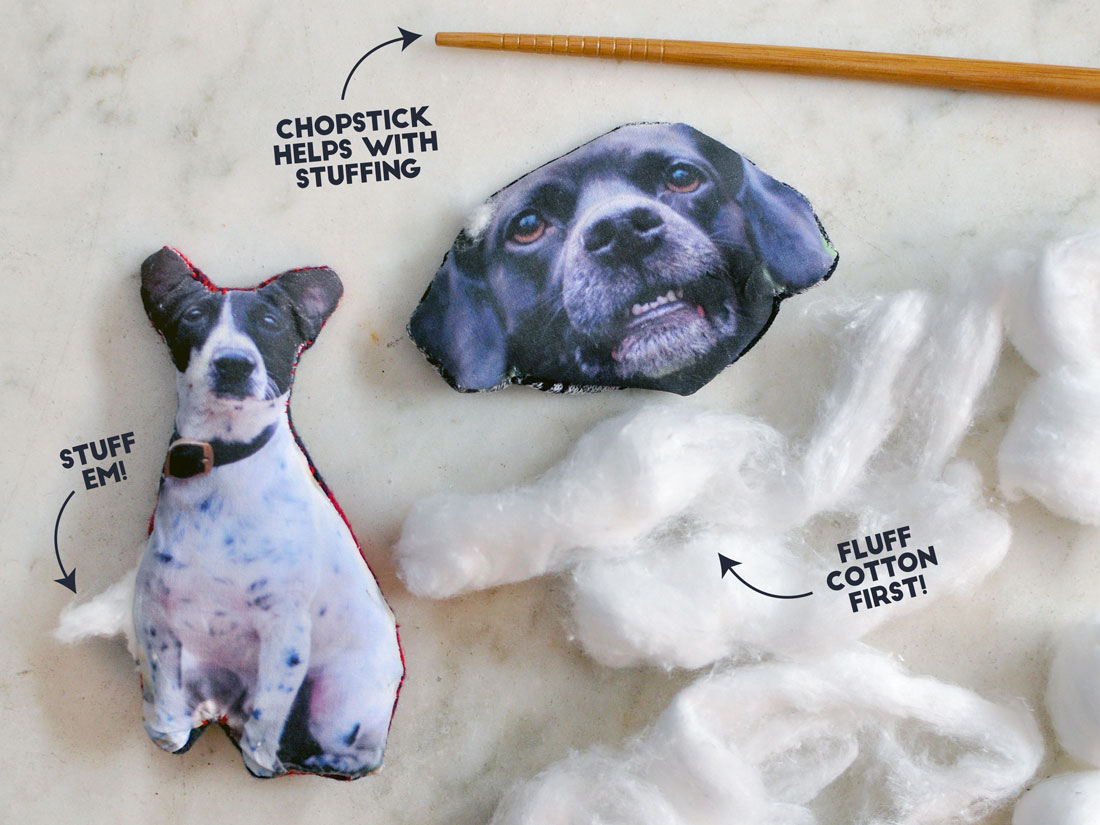 7.) Stuff It!
Using the chopstick as a tool, stuff the cotton or polyester fiber filling into every crevice. If using cotton balls, fluff each one before stuffing it.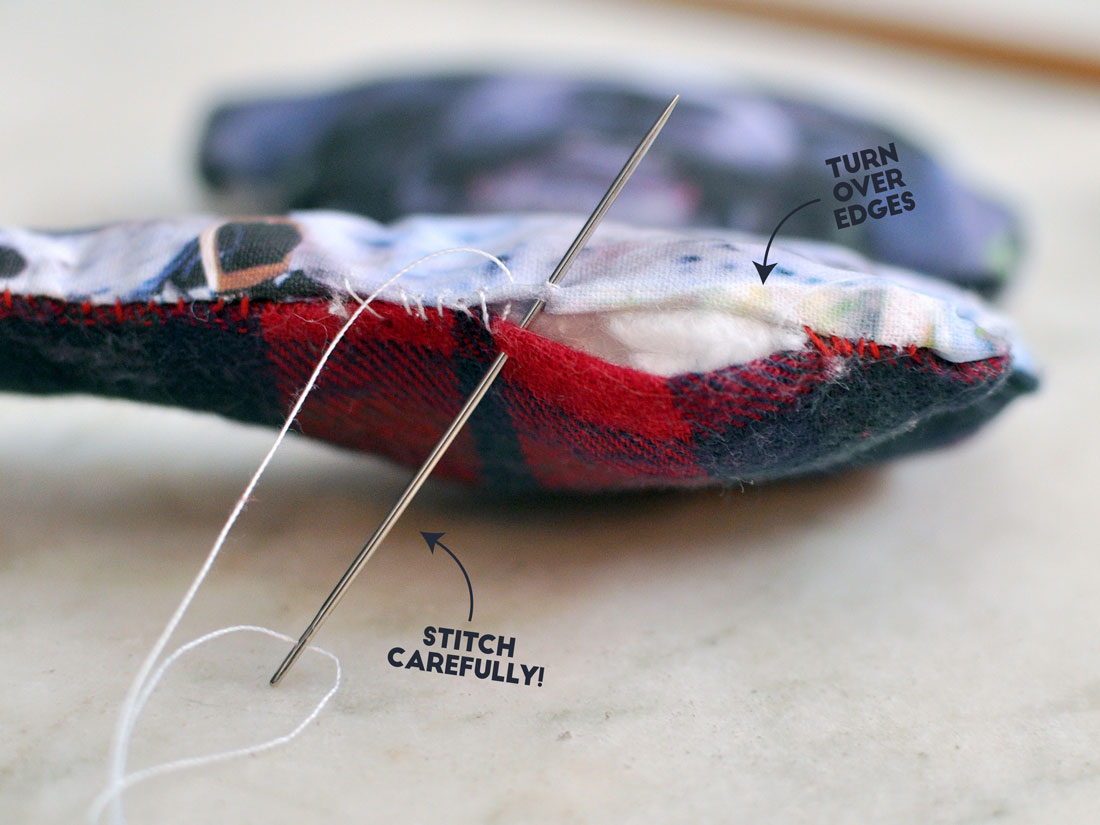 8.) Turn In Edges and Sew
Turn in the fabric edges at the opening and sew it up neatly!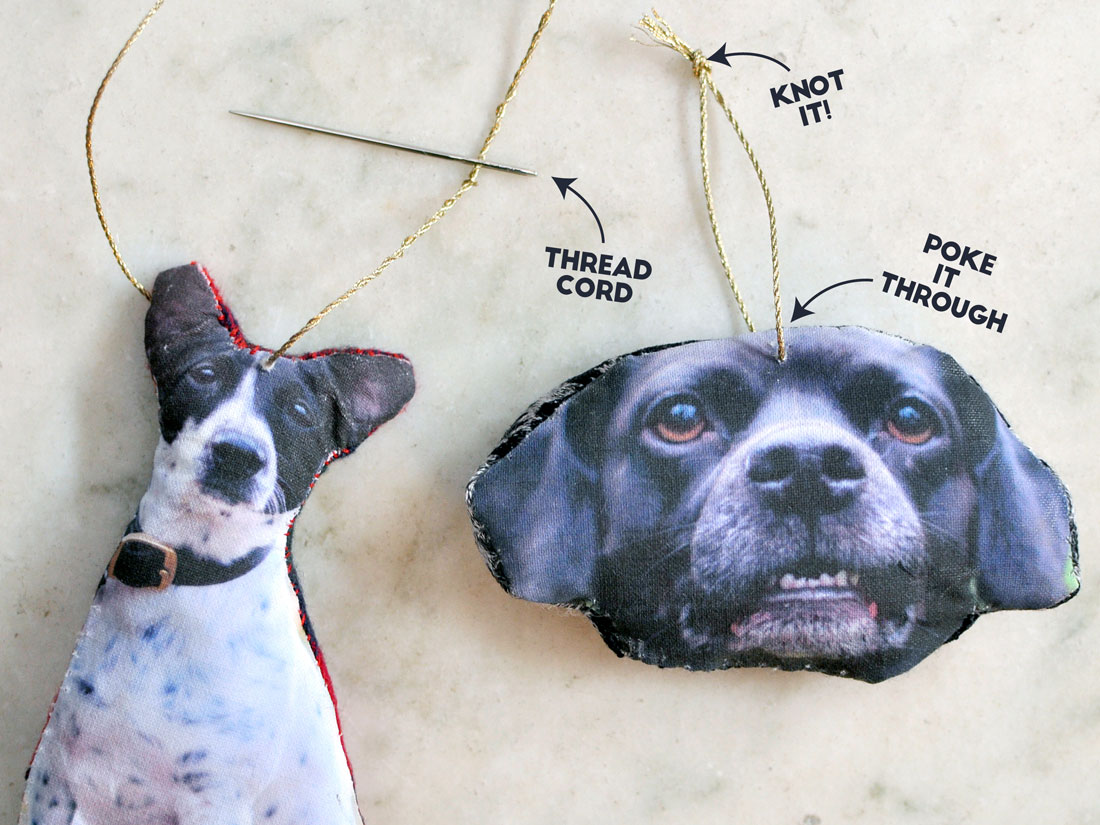 9.) Time For Your Loop!
Thread your cord into a needle with a large eye, then poke it through the stuffed ornament in the appropriate location. Once you have both ends free, tie a knot and trim!

8.) Decorate!
Using a hot glue gun or needle and thread, decorate your ornament using bows, ribbon "collars," or anything you can think of!
That's It!
Easy peasy! Keep the following tips in mind while making your ornament:
• Tiny legs and ears are HARD! I had a hard time with Henry's tiny feet, especially since the printable fabric is pretty stiff. Try to keep your shapes simple — like Abby's head — to ensure that your final product looks good.
• You can make these ornaments any size and shape you'd like!
• If you don't know how to sew, a quick Google search will reveal several great tutorials. You can also check out Pinterest and You Tube.
• These ornaments make affordable gifts for all of your dog-loving friends and family members!
Did you try this tutorial? Email us your photos or tag us on Instagram!