Disclaimer: We received two large boxes of Whimzees free of charge for review purposes and may receive small affiliate commissions from links in this post. The following post does not necessarily represent the views of Paragon Pet Products or Whimzees.
If I were to tell you that one of Henry's favorite snacks is completely vegetarian, would you believe me? It's true! Henry goes absolutely bonkers over Whimzees, dental chews made from natural ingredients that come in all sorts of colors, sizes, and shapes. I was approached to write a Whimzees chew review in exchange for a few packages, but the product was just a bonus because I've been planning to tell you about these great chews for some time! They're cost effective, safer and healthier than many other chews, and Henry LOVES them. 
Whimzees Chew Review
Whimzee chews are made in Holland from from only a few natural ingredients. According to their website, Whimzees takes saving energy, waste management, and recycling "very seriously" – a huge thumbs up from me for that!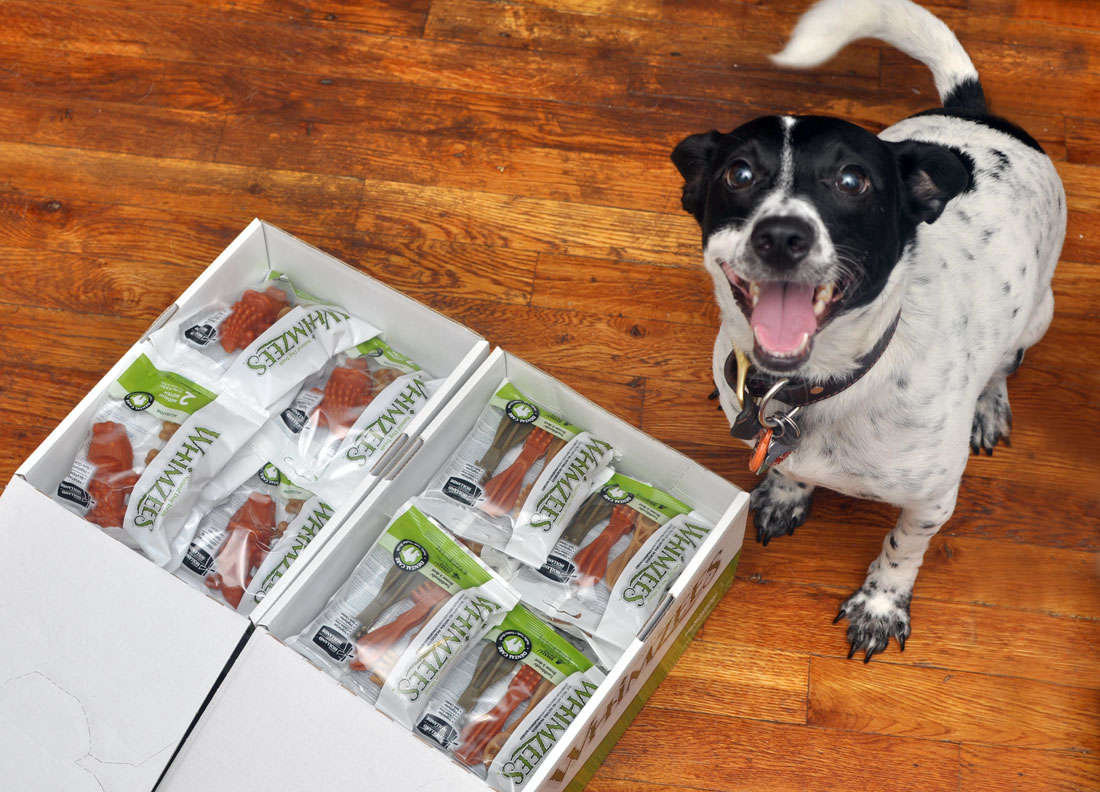 I first discovered Whimzees at a food co-op in Connecticut while visiting my boyfriend's family with Henry. I decided to grab a few adorable alligator chews for him as a special "vacation" treat. Like many other stores, this food co-op sells Whimzees in large bulk boxes, priced per piece. Because this particular food co-op values high-quality, healthy, ethical products, I knew I could trust these chews.
Since that day, I've found myself ordering large Whimzees packages every few weeks to avoid running out. If you read my post on living in a small apartment with a dog, you know that I keep a jar of them on the counter at all times. Here are a few of the reasons we love Whimzees so much:
Why We Love Whimzees
1.) Short Ingredient List With Quality Ingredients
Each Whimzee is made from only six ingredients, plus one natural ingredient for color. That's it. Nothing artificial. No preservatives, GMOs, gluten, or meat. Plus, they're high in fiber to keep keep your pup a-poopin'. What's not to love? Check out a detailed run-down of the ingredients and their benefits here!
2.) A Cheaper and Lower-Calorie Alternative to Bully Sticks
I had been using four-inch bully sticks as quick snacks or distractions for Henry, but the cost was adding up. The Small Stix Whimzees, with a comparable size, only cost $0.62 per piece if purchased in a 27-pack from Amazon for $16.61 (the price as of publication, but I've seen it lower). The four-inch bully sticks I buy start at $1.35 each. For a quick snack, I'll go with the one that costs half as much!
Bully sticks can also be high in calories, but Whimzees are low in both calories and sugar. I couldn't find the official calorie count on the Whimzees website, but with only vegetarian ingredients, it's bound to be much lower than the 9 to 22 calories per inch estimated for bully sticks.
3.) No Raw Meat Germs
Many dog chews are simply dried animal parts and come with the risk of contaminants. According to a study by the Cummings School of Veterinary Medicine at Tufts University and the University of Guelph, bully sticks can be tainted with bacteria like Clostridium difficile, MRSA, and E. coli. As someone who once suffered from E. coli for two months (that's another story!), I wouldn't mind avoiding contamination. I will continue to give Henry bully sticks, but as a bit of a germaphobe, I find it absolute delightful to give Henry a Whimzee and not suffer from paranoia if I can't get to soap and water. 
By the way, if you don't know what a bully stick is made of, I'm not going to be the one to tell you. You'll never look at one the same again!
4.) Safe and Easy To Chew
Whimzees are fully digestible and easy to chew. My childhood dog, Rory, required surgery to remove a piece of rawhide from her stomach, so I am extra "chewsy" about what I give Henry. Thanks to glycerin in the ingredient list, I've found that Whimzees maintain a slightly more moist and chewy texture, and Henry usually relishes each one with small, safe nibbles instead of large chunks. 
5.) A Variety of Sizes and Shapes!
I challenge you to find another dog chew on the market that you can purchase in so many fun shapes and sizes! My personal favorites are the alligator and hedgehog — check out all of the options here. Henry weighs 21 pounds and chews either the Small or Medium options, but Whimzees makes options for all sized pups. Be sure to choose the appropriate size for your dog and follow the manufacturer's instructions.
Other Points To Note:
1.) Not Long Lasting
If I give Henry a Whimzee, I don't anticipate that he'll be occupied for too long. They work perfectly as a quick snack or distraction when I'm on the subway or need to briefly put him in his crate, but won't keep him busy while I spend an hour editing photos like a bully stick might. 

2.) I'm Honestly Not Sure How They Work As Dental Chews 
Henry's teeth are pretty clean, but we use a combination of Whimzees, other chews like bully sticks, toothpaste, and raw food to maintain them. Whimzees touts that the ridges, nubs, and hollow spaces massage gums and work in between teeth, and I can certainly see why it would be effective! I just can't make promises based on Henry's personal experience, because we don't use them as his only plaque-fighting tool. Whimzees definitely don't make his mouth and sloppy kisses reek like other chews do!
3.) May Cause Stomach Upset At First
Like any new food or treat, Whimzees might affect your dog's digestion until he or she is used to them. Do note that I am NOT talking about the two weeks of crazy diarrhea that my sister's dog had after a single bully stick — I'm talking about a couple of somewhat softer stools. Henry had a few after his first Whimzees, but this problem stopped almost immediately. Don't worry! It may not happen to your pup and, as with any new food, you should introduce Whimzees gradually. Follow the manufacturer's instructions and keep it to one chew a day. It's totally normal!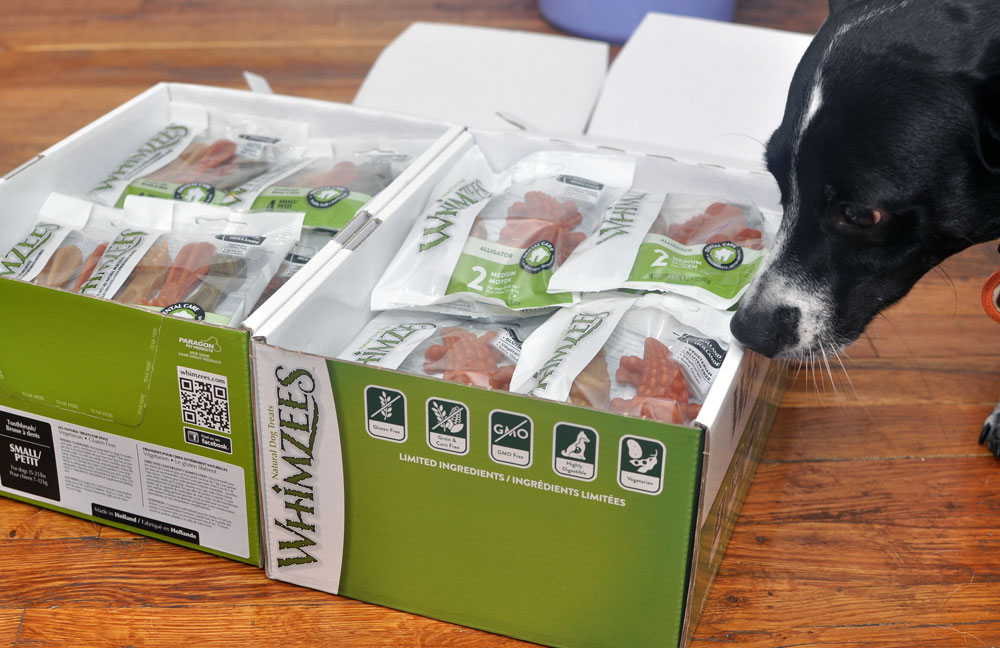 The Takeaway
I'm so excited to finally share Henry's love affair with Whimzees with the world! We both truly love them, and they are the only treat or chew that I keep stocked at all times. Give them a try and follow Whimzees on Facebook, Instagram, and Twitter!
Enter to Win!
Because Henry loves his Whimzees so much, we want to share some with a lucky reader! The winner will receive EITHER three packages of four small toothbrushes OR two medium alligators. I will determine the style using your dog's weight, so I will ask you to provide the weight if you win. USA only, 18+. Please only enter if your dog is the appropriate size for one of these options and choose the prize that matches their weight. Ends 9/22/16 at 12:00AM EST.