Disclaimer: We received the Hear Doggy!™ free of charge for review purposes and may receive small affiliate commissions from links in this post. The following post does not necessarily represent the views of Hear Doggy!™ or Quaker Pet Group.
Imagine this scene: it's Saturday morning, about six A.M. You're sleeping peacefully, dreaming of sunshine and puppy snuggles, when suddenly, there's a shrill SQUEEEEEERRRRRRRKKKK in your ear. That's right: your pup thinks it's playtime and has his favorite squeaky toy next to your cheek. 
Now picture the same scene without the loud squeak. If it sounds much more appealing, a Hear Doggy!™ toy might be for you. We had the chance to try this fun toy in exchange for a review, and we think it's a perfect fit for our friends in apartments or who simply value a little bit of quiet. 
The Hear Doggy! Ultrasonic Dog Toy
The Hear Doggy!™ toy that we were sent to try is a pink pig, about 11 inches x 9 inches. I opened the package and, curious, gave it a squeeze. All I heard was a barely-audible wheezing. Could Henry really hear this? Henry, who was busy chewing a prized trachea, immediately darted his head up and fixated on the toy. Not only could he hear it, it sounded tantalizing enough to distract him from one of his most special treats.
I love the idea of the Hear Doggy!™ Here's why:
1.) It's Good For Apartment Life
Henry and I live in an apartment with thin walls. As if the barking and toe nail tick-tack weren't enough, my neighbors have to deal with Henry's terrier love affair with anything that squeaks. With the Hear Doggy!™, I know that I can at least rest easy about one of those complaints: while humans can only hear sounds up to 20KHz, dogs can hear sounds up to 45KHz. The Hear Doggy!™ toys fall in the 24-28 KHz range, making them audible to dogs but not humans.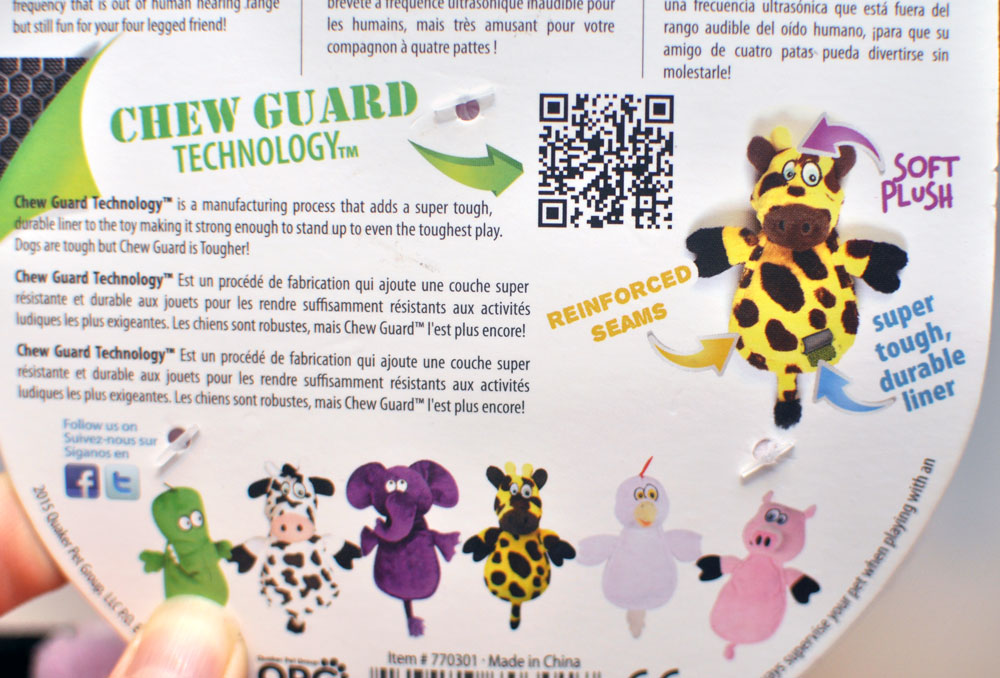 2.) It's Well-Made and OH SO SOFT
I've never felt such a soft dog toy in my life! In addition, it's made with Chew Guard Technology™, which is a manufacturing process that adds a durable, tough liner, and has reinforced seams. Henry isn't particularly destructive, but I know many dogs who are, so this is a great feature.
3.) It's Cute
Who doesn't love an adorable pig? It comes in many varieties, including a Cow, Alligator, Elephant, Giraffe, and Chicken. 
4.) It's Tossable, Shakeable, and Squeakable
Henry loves to toss, shake, and squeak his toys, and he can do all three with the Hear Doggy!™ It's a little bigger than many of his other toys, and he was a little hesitant to carry it around at first, but he now shakes it around with finesse!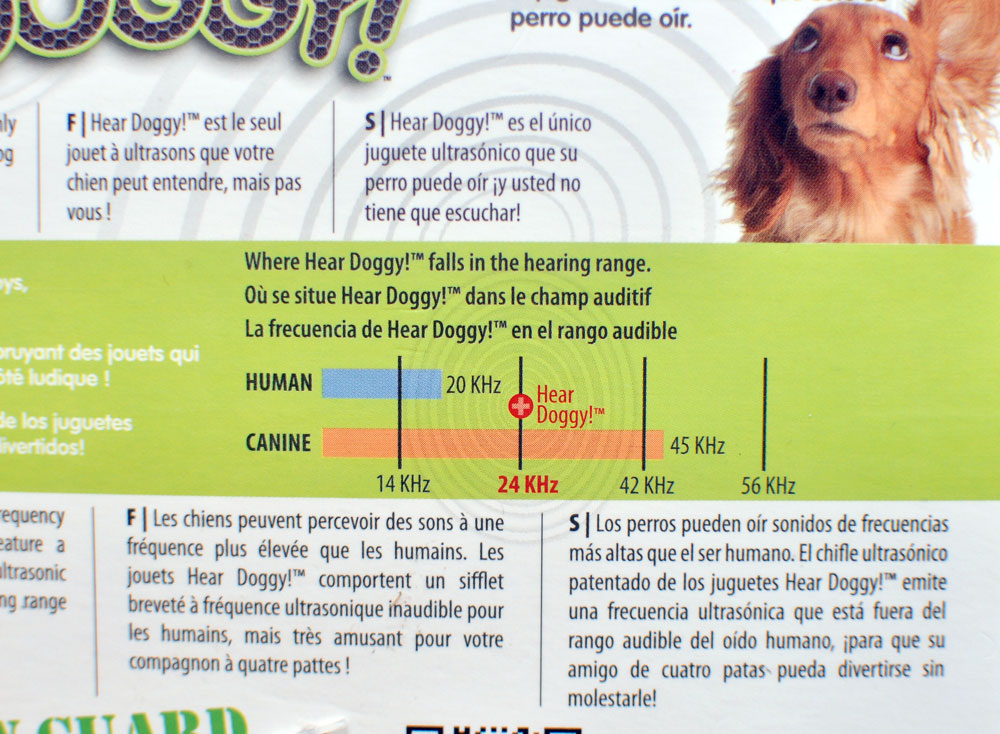 5.) You Can Sleep In!
No more squeaking in my ear on a Saturday morning? Sounds good to me. 
The Takeaway
Henry can definitely hear the Hear Doggy!™ squeak and was very intrigued by it. I love the concept behind it and that the toy is well-made and super soft. At first, Henry seemed hesitant to play with it because it is larger than his other toys, but always perks up when I squeeze it and will chase it when I throw it and shake it around from time to time. If your dog is a larger dog who loves a good squeak, consider giving the Hear Doggy™ a try!
Check out the Hear Doggy!™ toys on Amazon a try and follow them on Facebook and Twitter!