It's that time of year again: time for the HUGE Trick or Treat Giveaway Hop! This giveaway is a chance to discover new bloggers, learn new tricks, and win hundreds of dollars worth of prizes! Henry and I will be teaching you how to learn the "leg weave" trick — it looks a bit tough, but is relatively easy. Have fun and good luck!
Disclosure: This giveaway has been sponsored by all of the companies mentioned at the end of the post as well as by the participating bloggers. 
How to Teach Your Dog to Leg Weave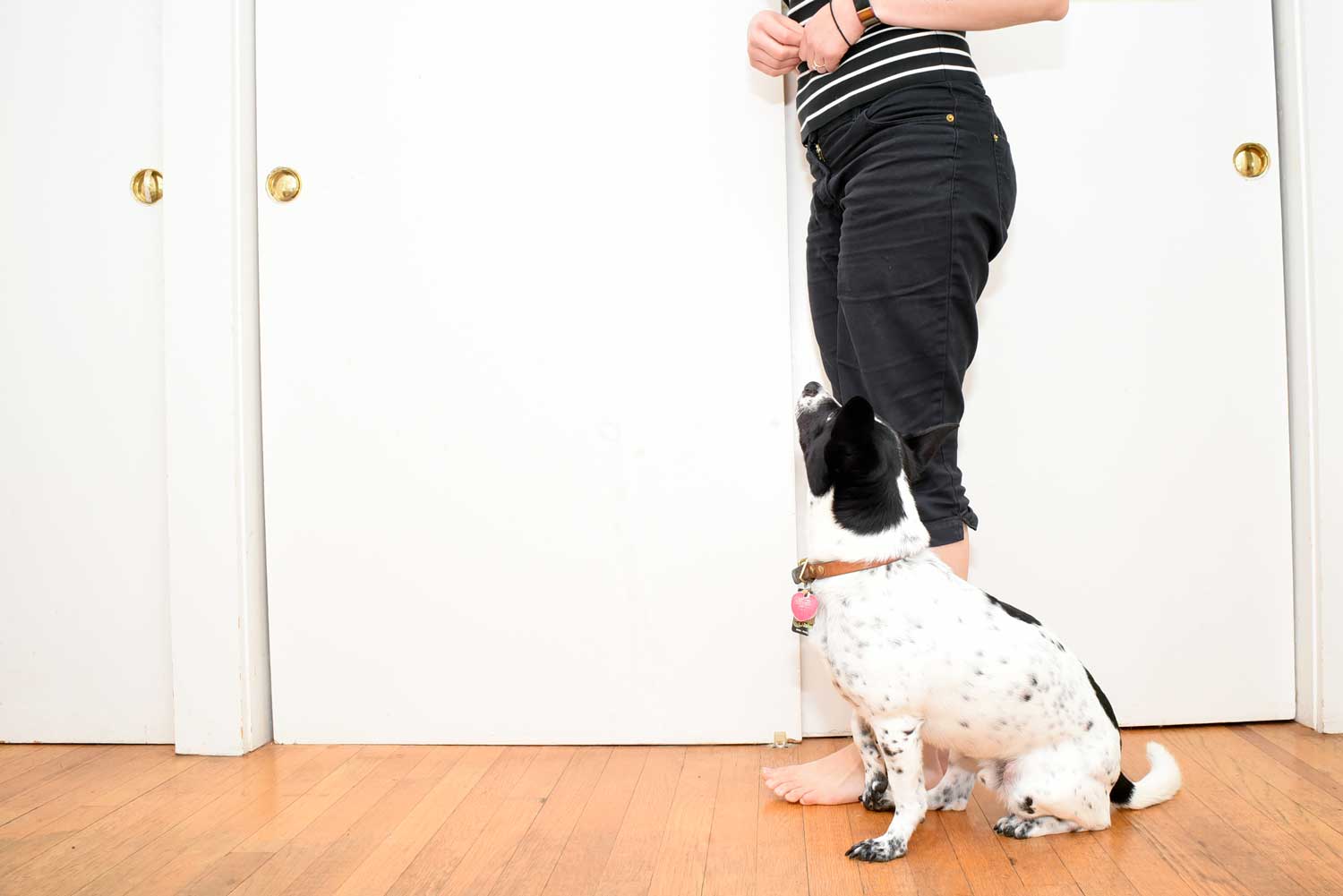 1.) Start with your dog at your side.
Make sure you have a few extra delicious treats!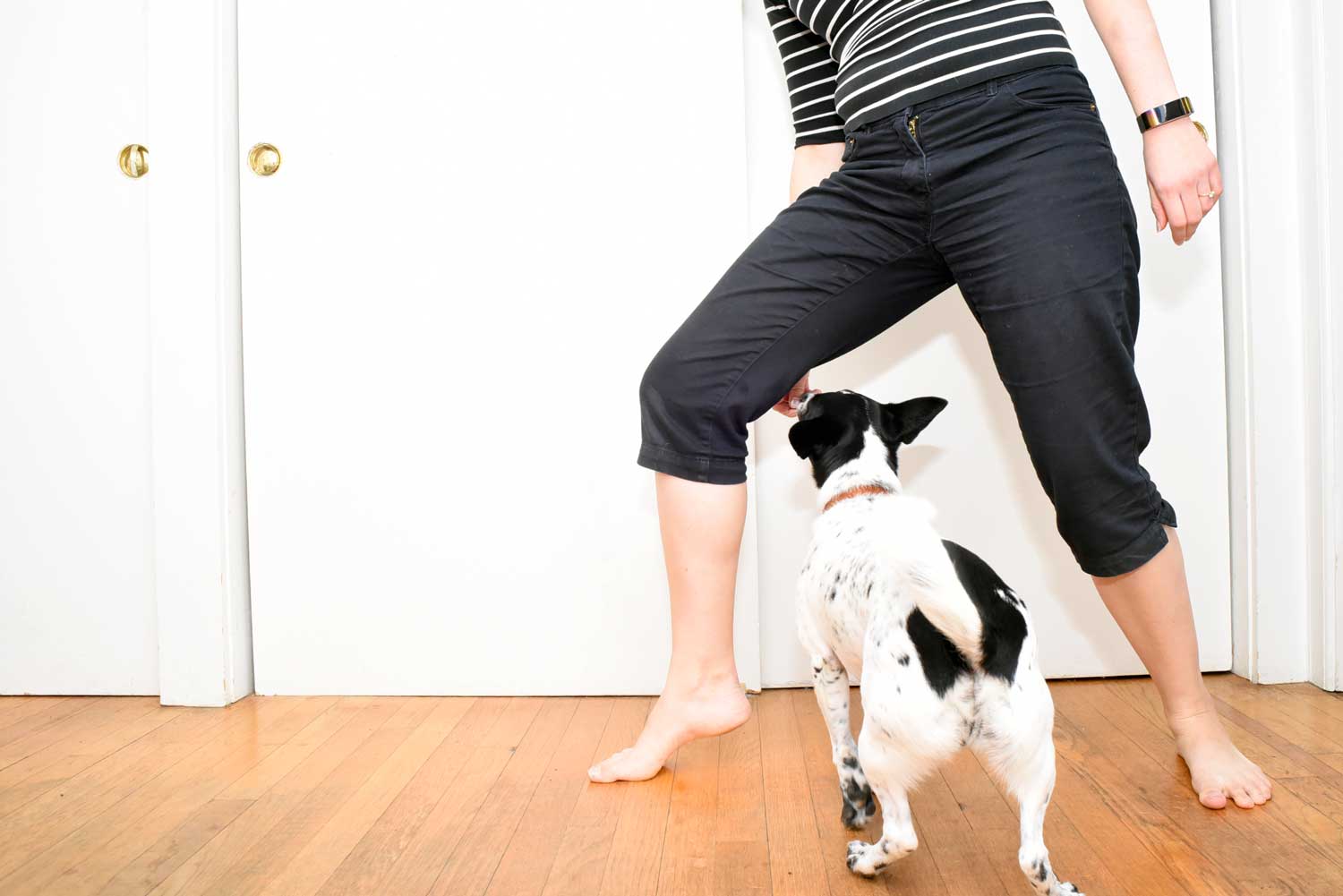 2.) Step Wide
Step as wide as you can with the leg farthest from your dog. Use a treat to lure your dog under your leg. Practice this a few times until your dog has the hang of it. You can use the command "weave" for this motion.
3.) Next Steps — Literally!
Once your dog has the hang of it, make a second wide step after the first and lure your dog through, using the command "weave" again. Try this two-step sequence a few times until your dog gets the hang of it.
4.) Repeat!
Repeat, gradually adding additional wide steps until your dog understands the sequence.
5.) Perfecting the Trick
Eventually, you will be able to only tell your dog to "weave" for the first step. As you perfect the command, you can make your steps less wide and praise only at the end of the total sequence. No matter your mastery level, always make sure you are praising your dog and keeping things fun and positive!
Henry In Action
Watch the following video to see how well Henry caught on!
But What Are the Giveaway Details?
DATES: October 18, 2018  to October 30, 2018.
Winner Announcement: October 31, 2018
Use the giveaway widget at the end of this post to enter! If you want more chances to win, visit each participating blogger's post and enter using their widget as well.
GRAND PRIZE:
$350 Gift Card to Petco
**PAID FOR BY ALL PARTICIPATING BLOGGERS**
This giveaway is NOT affiliated with Petco.
WINNER: KATE PELLETIER
SECOND PRIZE:
Assorted KONG Dog Toys$150 VALUE – SPONSORED BY KONG
WINNER: JOSELINE LOVETT
THIRD PRIZE:
$100 in Wellness Pet Food Dog Treats$100 VALUE – SPONSORED BY WELLNESS PET FOOD
WINNER: KATHERINE SPANGLER
FOURTH PRIZE:
2 Bags of Each Spike Dog Treat Recipe
(8 Bags Total)$98 VALUE – SPONSORED BY PETCUREAN
WINNER: LAURIE NYKAZA
FIFTH PRIZE:
All Meat Bites, Jerky Bites, Chicken Chips,
Jerky Strips, All Meat Crispies, and Jerky Wraps
(1 Bag Each)$78 VALUE – SPONSORED BY ONLY NATURAL PET
WINNER: TRISHA MCKEE
SIXTH PRIZE:
6 Month Subscription to DOGTV Online
I and Love and You Fresh All Rover Dental Chews$66 VALUE – SPONSORED BY DOGTV
WINNER: SUSAN PERTIERRA
SEVENTH PRIZE:
Four Flavors of Soft n' Tasty Baked Bites,
One Grass Fed Beef Bone Broth,
and One Free Range Chicken Bone Broth$60 VALUE – SPONSORED BY CARU PET FOOD
WINNER: ADRIANA P GONZALES
EIGHTH PRIZE:
1 Small Bag of 1mg Pumpkin Chews
and 1 Large Bag of 4mg Pumpkin Chews$56 VALUE – SPONSORED BY TREATIBLES
WINNER: SONYA ALLSTUN
NINTH PRIZE:
Cha Cha Chicken, Bodacious Beef, and Peanutty Perfection
(24 oz Bags – 3 Total)$56 VALUE – SPONSORED BY NOAH'S BARK DOG TREATS
WINNER: SARAK SKYLARK
TENTH PRIZE:
Qwizl Treat Toy and Rowdies Toy$56 VALUE – SPONSORED BY WEST PAW
WINNER: ELLEN BECK
ELEVENTH PRIZE:
Mutt Hatter Plush Toy Collection$48 VALUE – SPONSORED BY P.L.A.Y.
WINNER: HELGA ROMOSER
PLUS follow ALL bloggers on
Facebook & Instagram for a chance to win
one of 13 SPECIAL SOCIAL MEDIA PRIZES!
A new giveaway will be posted each day on either
Facebook or Instagram and will run for 24 hours.
Each giveaway will be posted on the co-hosts'
social media pages along with a select group of bloggers.
You can enter on each participating blog's account for MORE entries!
You have to enter each day for a chance to win that day's prize.
Co-Hosts:
Beagles & Bargains – Facebook | Instagram
Kol's Notes – Facebook | Instagram
Plus follow us too!
The Broke Dog – Facebook | Instagram
WHERE TO ENTER:
Learn to Jump Through a Hula Hoop
by Kol's Notes
Learn to Spin
by Beagles & Bargains
Learn to Come
by A Dog Walks into a Bar
Learn to Hug
by Boogie the Pug
Learn to Wear a Hat
by ChiPets
Learn to Hold a Long Down-Stay
by Dog Mom Days
Learn to Play Hide & Seek
by Fidose of Reality
Learn to Show Your Belly
by It's Dog or Nothing
Learn to Jump Through Hula Hoop Hands
by Maggie Loves Orbit
Learn to Back Up
by McSquare Doodles
Learn to Take a Bow
by My GBGV Life
Learn to Do An Obstacle Course
by My Rescued Life
Learn to Say Your Prayers
by Oh My Dog Blog
Learn to Clean Up Your Toys
by Tenacious Little Terrier
Learn to Leg Weave
by The Broke Dog
Learn to Balance Items on Your Dog's Head
by The Chesnut Mutts
Learn to Crawl
by Wag 'n Woof Pets
Learn to Wave
by Wear Wag Repeat
Visit each blog for more chances to win!
Follow #TrickorTreatDogs!
Enter Using the Giveaway Below!