Disclaimer: Henry and I reached out to Puppies Make Me Happy and received the items in this post in exchange for a review and spotlight. All opinions are our own and do not represent Puppies Make Me Happy's opinions (except for the interview questions).
With all of the politics in the news these days, you may be wishing for a candidate that shares your values. One that will stand by you through thick and thin. Do you value kisses, playtime, and naps? If so, California-based Puppies Make Me Happy has the solution: Puppies For President!
Puppies Make Me Happy
We're all sick of that Facebook friend who only posts articles about politics, right? For me, it's my boyfriend (sorry, darling). I only post about dogs, so I joked to him that he should post more about puppies. Why couldn't all politics be about puppies?
Then, when I discovered Puppies Make Me Happy's Campaign Line, I made the following face:

Puppies Make Me Happy sells a clothing and accessory line that is politically-minded in the best possible way. You may have seen me
on Instagram
or
at BlogPaws
in one of their shirts or donning one of their buttons on my purse. Thanks to Puppies Make Me Happy, I can finally shout my political beliefs to the rooftops!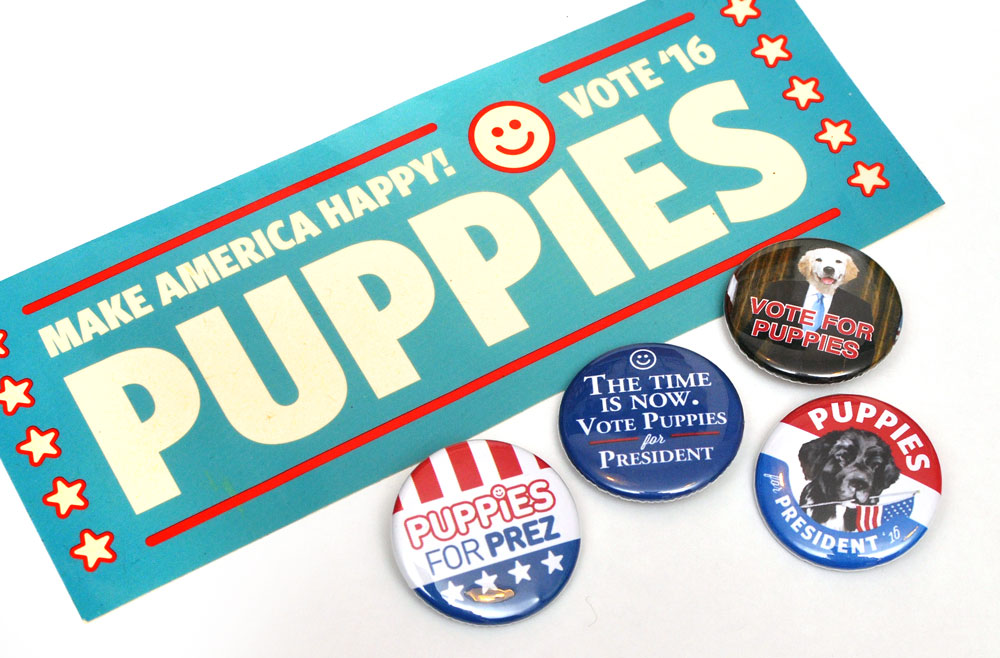 (Disclaimer: I don't actually think a puppy would be an adequate president in the real world, but isn't it a lovely thought?) 
Puppies Make Me Happy wonderfully sent me their Women's Sleeveless Campaign Tee and their add-on Campaign Kit, which comes with a cap, bumper stickers, and several buttons. A custom tennis ball also shipped in the box. I am terribly in love with each and every item. The shirt is a delight to wear and OH SO SOFT. Also, I generally don't wear hats, but this cap is converting me to a hat-wearer. The buttons now decorate my totes and my purse and I have a bumper sticker hanging loud and proud in my cubicle at work (Are my coworkers surprised? Absolutely not).
Behind the Scenes With Niels Skou of Puppies Make Me Happy
We spoke to Niels Skou of Puppies Make Me Happy about the company's positive effect on the world:
Where are you located?
We are located in Southern California.  All of our products are made and produced in Los Angeles.  Made in the USA is very important to us.
How long have you been in business?
We have been in business for just over three years, but we have only been doing this full time for the last year.
How would you describe your business?
We make "The Happiest Clothes On Earth."  Our goal is to make people Happy.  We want people to put on our clothng, and never want to take it off.  If you wear something that makes you happier, you will be in a happier state of mind throughout your day.  We call this the "Puppies Effect."
What kind of items do you sell?
We sell clothing for humans and dogs.
Do you have any new or exciting items that you would like to highlight?
We are really excited about our new Page Me shirt because we think nostalgic trends are awesome and we want to bring them back.  We are also trying to produce a Pucca Shell Necklace for dogs
Do you have any 

pets

?
Yes we have a few different breeds in the company.  Ian the designer is a beagle guy. He also dog sits for other dogs as often as possible.  I am an English Bulldog guy.
What else would you like readers to know?
We just like to do cool stuff with cool people.  Also, if someone if having a bad day or something bad happens to a celeb, we like to send them a "Cheer Package" to cheer them up.
If you had one tip to share with a dog owner trying to care for and spoil his or her pet on a budget, what would it be?
If you want to spoil your dog on a budget, get them a tennis ball.  They are cheap and they last for a while and tennis balls Make Puppies Happy.  Happy Puppy = Happy Human.  And we throw in a tennis ball with every order as long as we have them in stock.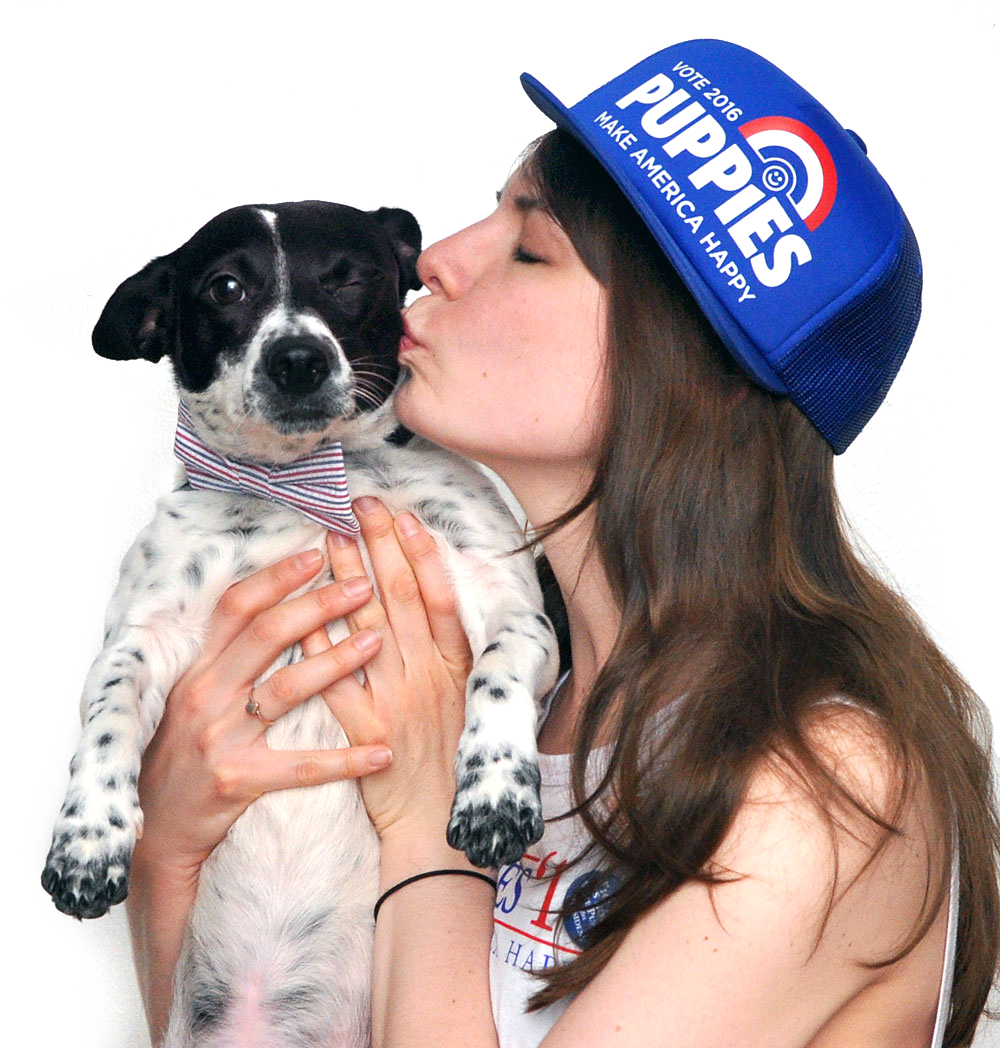 Check it Out!
Check out Puppies Make Me Happy online and on Instagram, Twitter, and Facebook!