Looking for a pet photographer in the Brooklyn area? Look no further! Petra Romano of Pets by Petra reached out to me to see if Henry and I would be interested in participating in one of her new "Expressions" photo shoots as well as a few portraits of the two of us together in exchange for featuring the experience on the blog. I was thrilled to accept and we had an incredible time. Keep reading to learn more about Petra, see the photos from the shoot, and even save some money on your own shoot!
Pets by Petra
Petra Romano is an experienced portrait photographer specializing in headshot, personal branding, boudoir, and family photos. Inspired by her pug, Pugo, she launched Pets By Petra, a photography company focused on our furry friends. She currently offers two types of packages: a lifestyle shoot, and her new Expressions package. 
An Expressions package includes:
• Wall art of your choice, starting at $285 for a 11×14 wood or metal print.
• A 15-20 minute shoot in the studio (included in the wall art cost).
We took the bus to Petra's Gowanus, Brooklyn studio and, heeding her advice, walked around the block a few times to burn off some of Henry's energy. Then we walked up the front stairs and gave Petra a call. Once she let us in the front door and led us upstairs to her studio, we had a GREAT time. 
What We Loved About Our Photoshoot!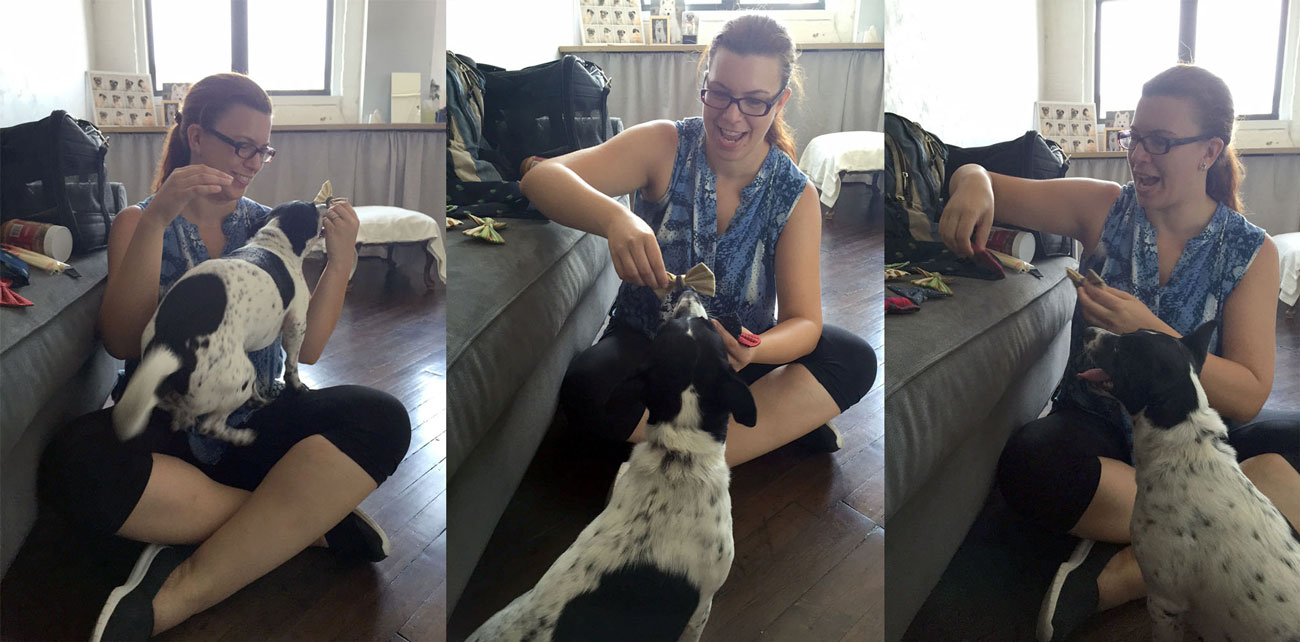 1.) Petra Has Total Dog Energy
First of all, I would like to point out that Henry took to Petra immediately. We were barely in the door before he leapt into her lap and showered her with kisses. While we later culled photos at the the computer, Henry insisted on sitting in her lap the entire time and licking her face. It's clear that Petra has what my family calls "dog energy:" the invisible power to attract and bond with dogs!
2.) A Gorgeous Studio!
What do you imagine when you picture a Brooklyn photography studio? That's what Petra's studio looks like. High ceilings, natural light pouring in the windows, and stylish furniture props. It was absolutely perfect. Petra poured a fresh water dish for Henry and told me to help myself to the sparkling water in the fridge. While this all may sound pretentious to some, I can guarantee you that there is absolutely nothing pretentious about Petra. She is so down to earth and nice, and had a beaming smile on her face the entire time.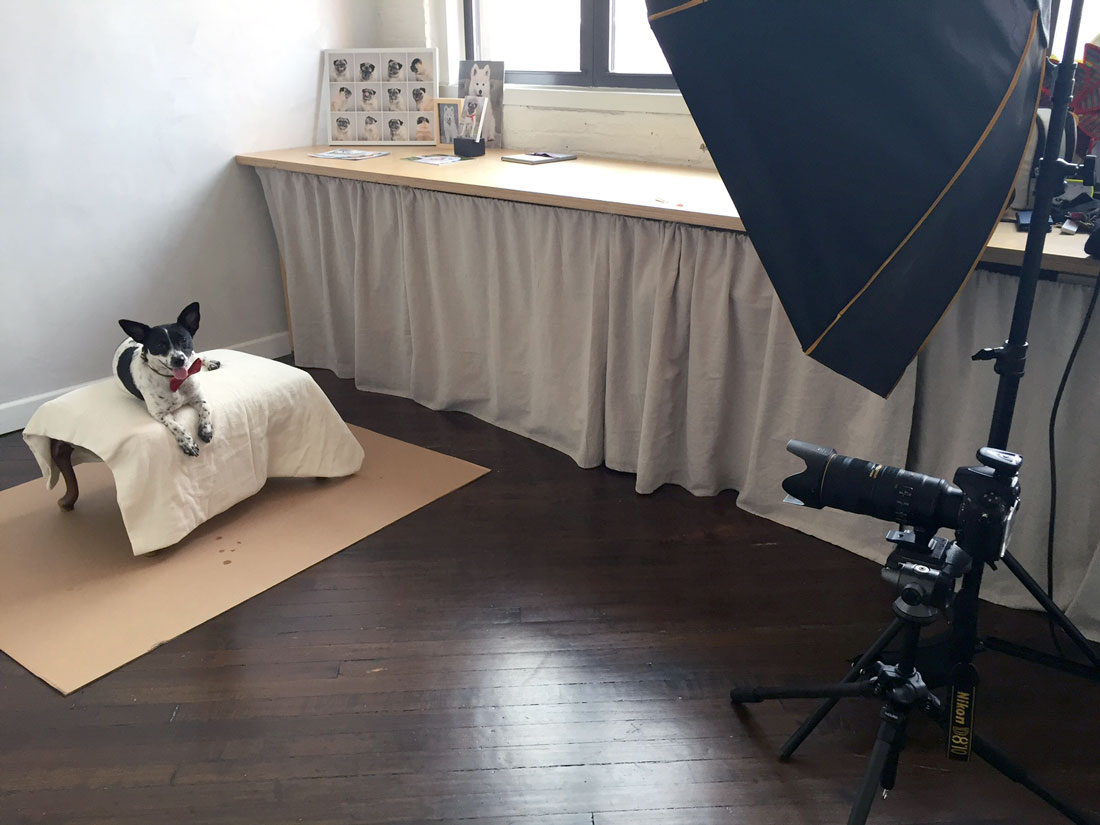 3.) Petra's Talent
Petra is just incredibly talented. As someone who has dabbled in portrait and wedding photography, I could tell that she has an impeccable sense of timing and wonderful lighting skills. She expertly captured Henry's attention with treats, squeaky toys, and silly noises. Stepping in front of the camera feels awkward and strange to me since I'm usually the one pressing the shutter, but Petra captured Henry and I together in such a way that we look natural and our bond is clear. I usually don't like photos of myself, but I can't help showing these to anyone who will see them.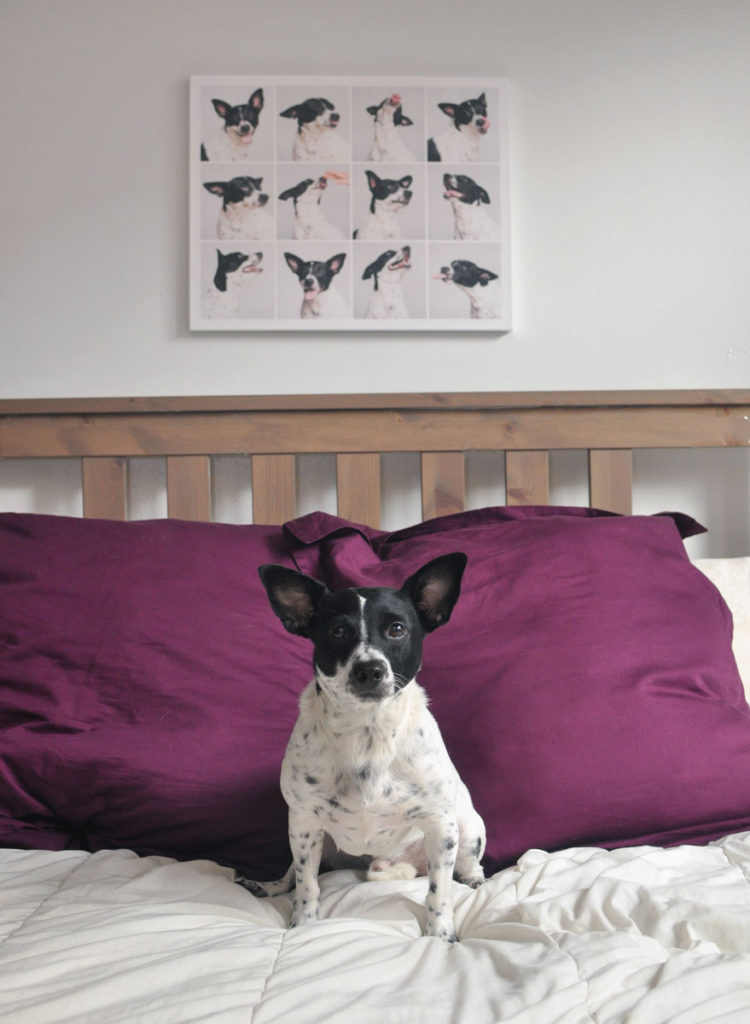 4.) We Love The Wall Art!
The wall art is so well-made and absolutely gorgeous. You'll need a drill to hang it on your wall, but it is well worth the effort.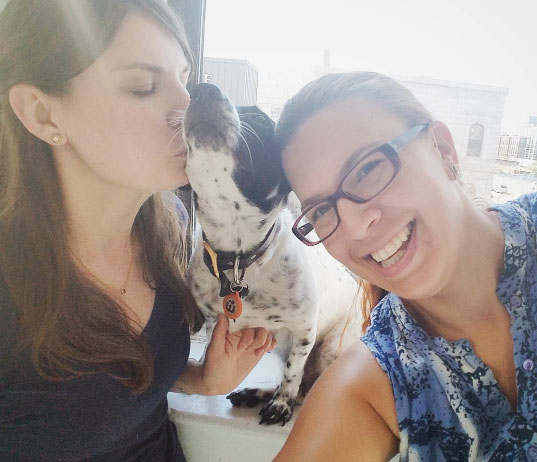 5.) She's Really Really Nice
Petra and I really hit it off and have stayed in touch. We've even discussed sharing a booth at future dog events! I couldn't believe my eyes when I checked my watch and realized we had been shooting for three hours – much longer than initially anticipated. We were just having so much fun together!
Petra even took a few photos for our Christmas card – you'll just have to wait a couple of months to see those! Here's a sneak peak: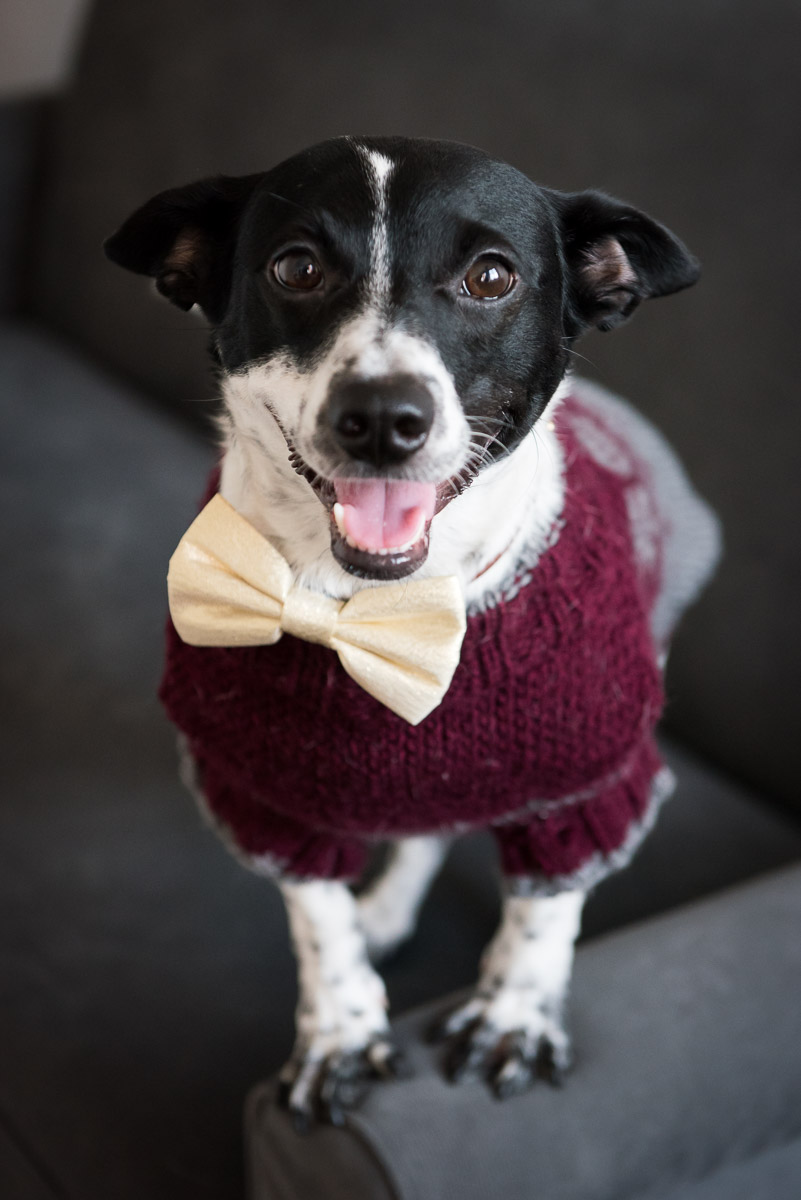 Save!
Want to book your own Expressions shoot with Petra? Take $50 if you call to schedule your shoot before October 25, 2016 if you tell her The Broke Dog sent you! (shoot can be later than this – you just need to call in that window). These shoots make great gifts, too, so start planning for the holidays!
The Photos!
Without further ado: a selection of our photos! The following photos are all courtesy of Pets by Petra.