This post is sponsored by OdorKlenz®, who compensated us, provided a giveaway prize, and provided product in exchange for an honest review. Opinions expressed in this post are solely my own, and do not represent those of OdorKlenz or any other individual or entity. 
Dealing with "dog stink"? OdorKlenz® has your back! Learn how we use this brand's chemical-free products to banish the trickiest dog odor of all: anal gland leakage. Gross to read? Maybe a little —but you won't regret it. Keep reading to learn how to fight pet stink with OdorKlenz!
How to Fight Pet Stink With Odorklenz
Like many dogs, Henry's butt sometimes leaks. No, not poop, but that icky, fishy guck stored in his anal glands (or sacs). I won't go into details, but you can learn more at PetMD. My childhood dogs never had this problem, but Henry sometimes runs into small issues despite best efforts with trips to the vet and dietary changes. Theses "issues" can result in occasional pungent, unpleasant spots on my furniture and blankets.
To put it bluntly, it's nasty.
The scent is also rather stubborn — a problem if, like us, you only use natural, chemical-free cleaners. When OdorKlenz approached us to review their natural, mineral-based products, I wondered if I had a winning combination on my hands.
(Psst: If your dog is having anal gland issues, see your vet! I'm not an expert.)
OdorKlenz: Chemical-Free Odor Removal
OdorKlenz manufactures a line of odor-elimination products made from earth-friendly metal oxides like Magnesium Oxide (MgO), Zinc Oxide (ZnO), and Titanium Dioxide (TiO2). Due to their unique production process, each material can neutralize odors while remaining safe for humans and pets. That's right: neutralize odors — not just mask them.
OdorKlenz products are:
Safe for people and pets
Non-toxic
Fragrance free
Environmentally friendly
Advanced technology broad spectrum odor eliminators
OdorKlenz products are NOT:
Masking agents
Perfumes
Carbon
Baking soda
Enzymes
Harsh chemicals
Chemicals are not allowed in my home, so I was eager to give the products a try!
How To Fight PEt Stink With OdorKlenz
Thanks to a particularly stinky "situation", we developed a three-step process to completely eliminate Henry's anal gland stink from both our bedding and from Henry himself!
1.) Use Absorbent Granules
Simply sprinkle the Absorbent Granules on the offending spot, wait 10-15 minutes, and brush off or vacuum. After doing this, the smell had definitely faded from my quilt. I was already impressed!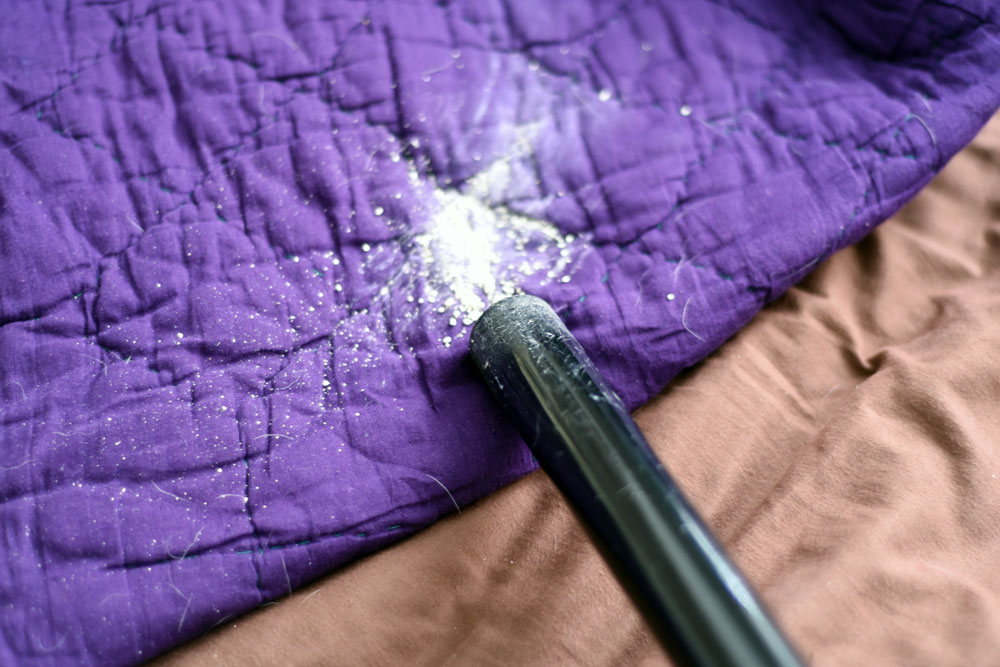 These Absorbent Granules are one of OdorKlenz's heavy hitters and are great for urine, vomit, diarrhea, and more. They're non-toxic and don't bleach, stain, or contain fragrances.
2.) Landry Additive
Next, if you can, toss the item in the laundry with the correct amount of Laundry Additive. I combined the additive and quilt with a normal laundry load (hey, if you have to walk down the block to do laundry and fight neighbors for the machines, every load counts!).
To my delight, the quilt emerged swelling positively fresh! I used safety pins to mark the exact "scene of the crime," and it emerged completely stink-free. I need to try this on my towels, next — OdorKlenz also suggests using it to remove mold, urine, mildew, some, tobacco, fragrance, and perfume odors.
3.) Deodorizing Mitt
If you pup stinks (anal gland leakage or not!), give them a wipe-down with the Deodorizing Mitt. It's also perfect for on-the-go disasters when a bath is just not possible.
The deodorizing mitt works by dispensing deodorizing powder that neutralizes the odor on contact and contains no masking agents or alcohol. Beyond yucky butt smells, these mitts are great for emergencies (like a skunk spray!) while out hiking, walking, or camping when there is nary a tub in sight.
Henry was skeptical at first, but soon realized it was just like being brushed.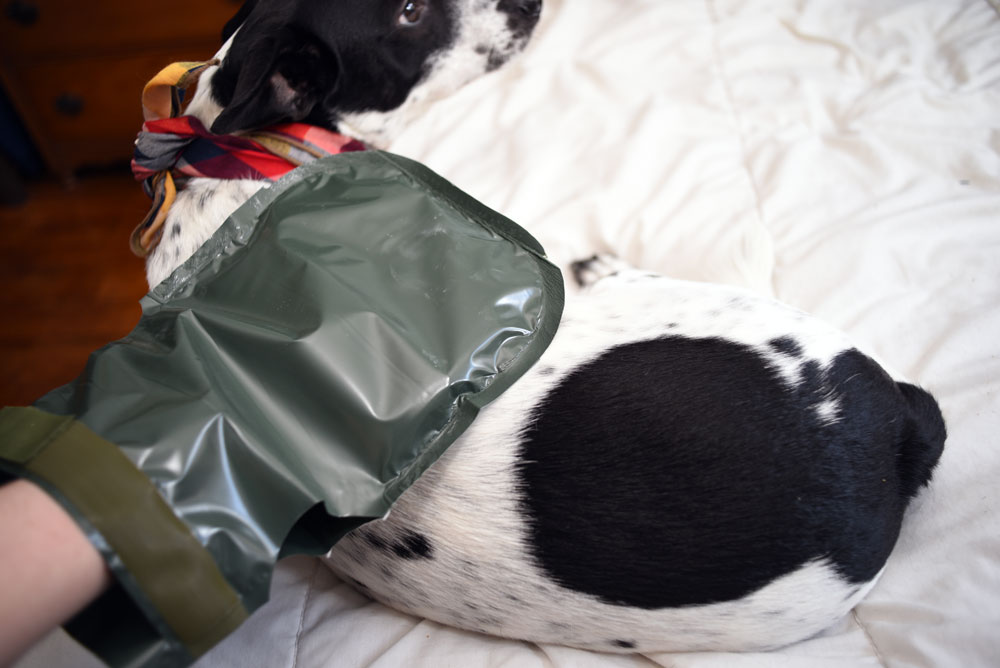 OdorKlenz's Other Pet Products
OdorKlenz also offers:
The Takeaway
Overall, I was very impressed with the OdorKlenz products. I couldn't believe how fresh my quilt smelled after it emerged from the laundry! Two points to note: the Absorbent Granules alone did help with the odor, but left a wee bit behind — paired with the Laundry Additive, of course, it did a phenomenal job. I would also love to try the Deodorizing Mitt when Henry is even stinkier to really experience its full potential! All in all, I am thrilled that such powerful chemical-free odor neutralizing products exist, and I am going to continue buying them when I run out of my samples. This is our new anal gland stink routine!
Buy or Win Your Own!
Check back this Friday, June 16, for your chance to win a $75 OdorKlenz shop credit! In the meantime, you can visit www.odorklenz.com to pick out what you would buy if you win — or, if you don't want to wait for the giveaway, to place your order! Plus, take 15% off your order with code BROKE15!
Nervous to give it a try? OdorKlenz offers a 100% money back guarantee within 30 days of purchase!
SaveSave
SaveSave