DISCLAIMER: HAPPY ARFDAY provided us with a package of cake mix when they learned that Henry's birthday was approaching, as well as the package that is being given away at the end of the post. We invited them to participate in a Small Business Spotlight.
Have a doggie birthday coming up? Don't know to start? HAPPY ARFDAY is the cake mix for you! When she learned that Henry's birthday was approaching, Kimberly Fritz of HAPPY ARFDAY offered to send Henry a packet to try. We had so much fun making and sampling the cake, and you can too if you win the giveaway at the end of this post!
Keep reading for an interview with Kimberly about HAPPY ARFDAY, her family, and her pup Ebby — plus, a step-by-step review!
Spotlight on: HAPPY ARFDAY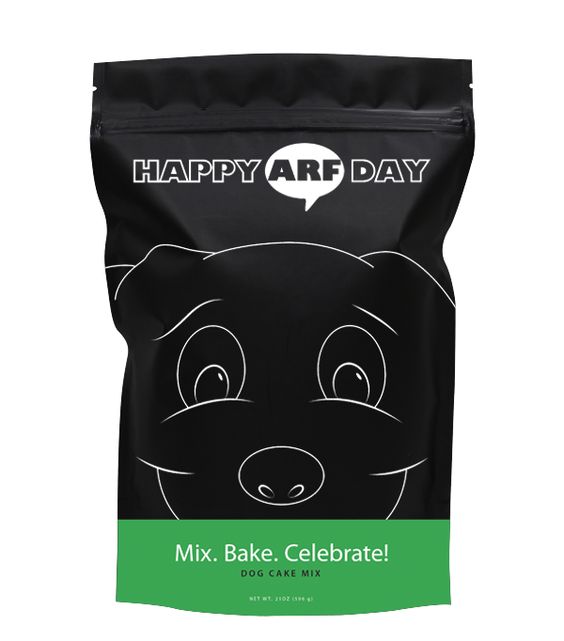 Where are you located? 
HAPPY ARFDAY is located in Gilroy, California. The Garlic Capital of the World! We are a small town on the outskirts of the San Francisco Bay Area.
How long have you been in business?
We officially launched on January 4, 2016.

How would you describe your business?
Our family created HAPPY ARFDAY because on our puppy's first birthday we found ourselves in a hairy situation. The kids begged Mom and Dad to celebrate with a cake for our Ebby but from my experience working at an animal hospital, I knew we were missing the dog-friendly ingredients we needed to bake one for her. After some trial and error, we came up with the best cake mix for our dog and quickly discovered that we were not the only dog lovers who want to celebrate their pups.
So one day, as we were walking home from school, as a family, we decided to start HAPPY ARFDAY!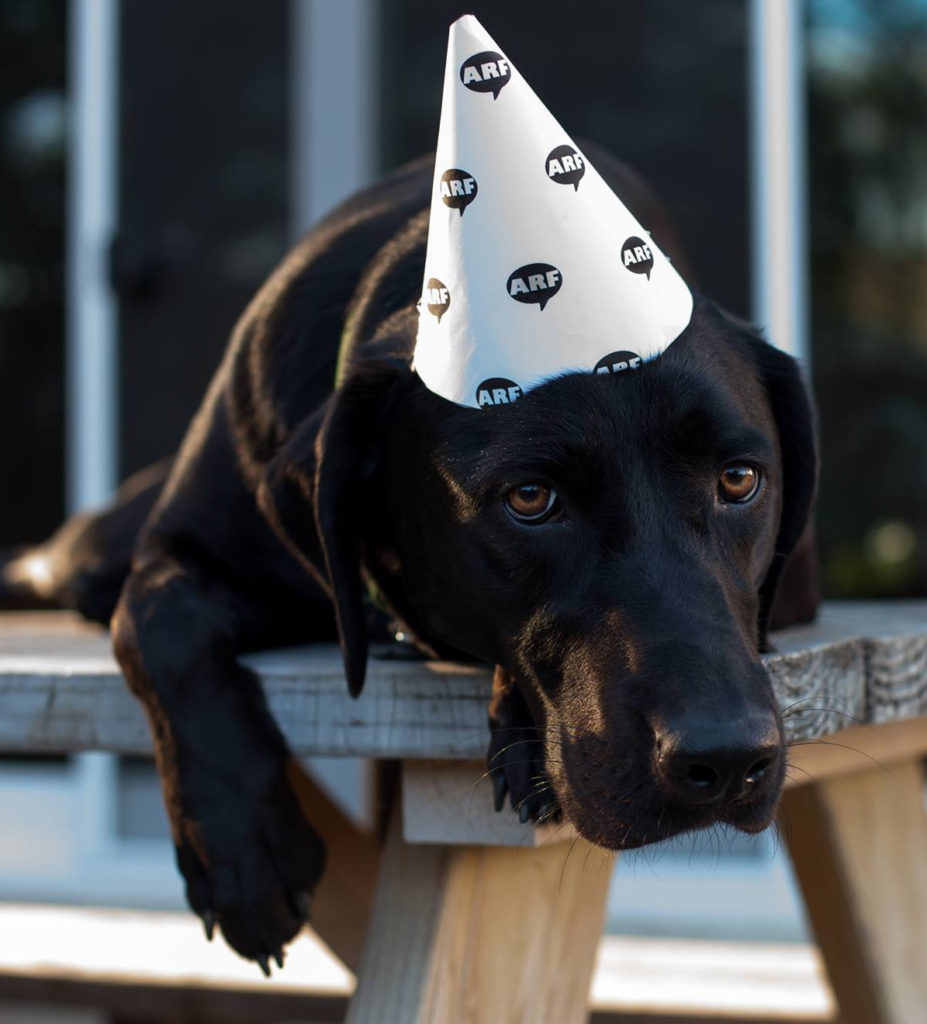 What kind of items do you sell?
We sell a single cake mix that anyone can customize. We designed our cake mix so that people and dog can celebrate together. YES! People love our cake too!
Anyone can make a great cake following our MIX. BAKE. CELEBRATE! steps or you can make substitutions to the eggs and oil. Ideas and recipes can be found on our website!
Do you have any new or exciting items that you would like to highlight? 
Not at this time.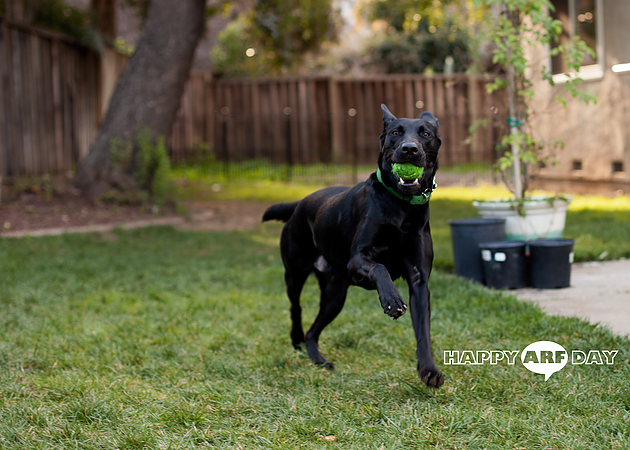 Do you have any pets?
Yes, we have two pets that we love dearly! Ebby, is our spunky two year old black lab with the biggest heart. We also have Jack, our four year old "Guard Cat" who we think secretly loves Ebby but just isn't ready to divulge his true feelings to her. The two of them have a classic dog/cat relationship. She is obsessed with him and he just wants to be left alone. Our family sometimes wonders if these two suffer from an identity crisis. Ebby naps on the table under a window. Meanwhile, Jack is the one chasing critters off of our property!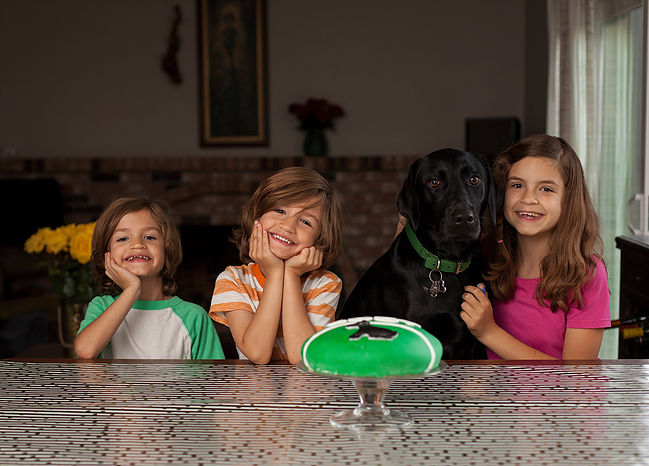 Tell us about the human(s) behind your business!
We call ourselves Fritz Party of 5! A good friend branded us as such after got the surprise news that we were expecting our twin boys back in 2010.
I, Kim primarily run the business. My professional background is in Marketing and Project Management but I have always maintained a side business or an intense hobby like baking and photography. I hand mix each bag; manage the shipments and accounts and all of the creative like the graphics, web design, etc.  Jason, my husband is our numbers guy; he helps me take care of the financials. Our three children love to help out at events and of course they are first in line when we are working on a new recipe. My daughter proclaims that she will be CEO of HAPPY ARFDAY when she grows up.
Starting HAPPY ARFDAY was a natural progression for our family. Even before we had our children, our dogs were always extremely loved and pampered. I have been baking treats for our pets for close to twenty years. I owned a small business early 2000's where I constructed hand sewn dog scarves and collar covers.We dream of having a farm with dog running all around us!
As a mom, after I saw the excitement our three kids had when they enjoyed a cake Ebby, I just knew that other families deserve to have that same experience. Children are a constant inspiration to parents; I really believe that if a child inspires an idea than it is definitely worth a shot. Kids generally have their finger on the pulse about what really matters in life.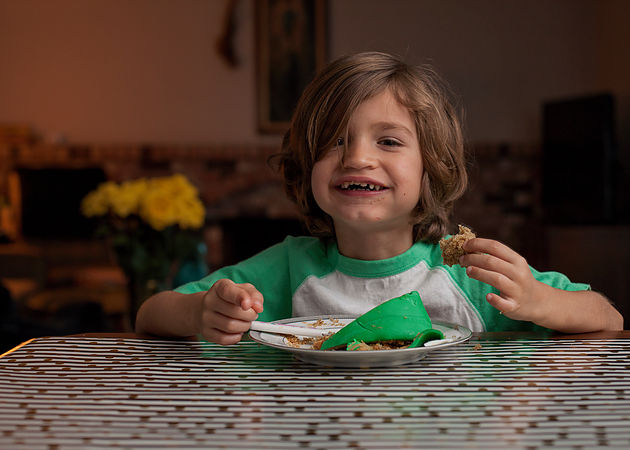 What else would you like readers to know?
Sometimes we get asked what flavor our cake mix is. When we started designing the mix, we experimented with a few traditional flavors seen in the cake mix world. One thing that did not settle well with me was that in order to achieve those flavors, we had to add "fake foods" to our recipes.
We made the decision to keep it free of artificial flavors and preservatives. We love the idea of leaving it to the owner to decide on if they want vanilla, pumpkin, apple or if they want to make their own tasty treat.
If you had one tip to share with a dog owner trying to care for and spoil his or her pet on a budget, what would it be?
Spoil your pet every day for a month by baking HAPPY ARFDAY cupcakes. Each bag makes 12-14 cupcakes or 30-35 miniature cupcakes! They freeze well in an airtight bag and only need about 15-30 minutes to defrost. It's a fun way to extend the party or split a celebration!
ALSO: In college, I worked at an animal hospital. So I know how expensive it can be to keep your pet healthy, especially as they get older. If for some reason your dog needs a procedure that requires anesthesia, ask your vet to clean their teeth too.  As a dog ages, they will require a teeth cleaning. They also tend to be the poor pups that need procedures too. A lot of people are surprised when they learn that a dog needs to be put under to thoroughly clean their teeth. So why not take care of it when they are already there? This saves you from paying the anesthesia fee twice and it is also safer for the dog since they are only going under once.
Before we move onto the review, check out HAPPY ARFDAY's video if you want to see a lot of adorable Ebby shots!
https://www.youtube.com/watch?v=GrdszAlAwJs&feature=youtu.be
Our Review of HAPPY ARFDAY
So, what did Henry and I think about the HAPPY ARFDAY cake mix? First, we'll show you how we made it!
Refer to the instructions on the back of the package for detailed instructions.
1.) Gather supplies!
You will need two eggs, half a cup of oil, one cup water, and the cake mix.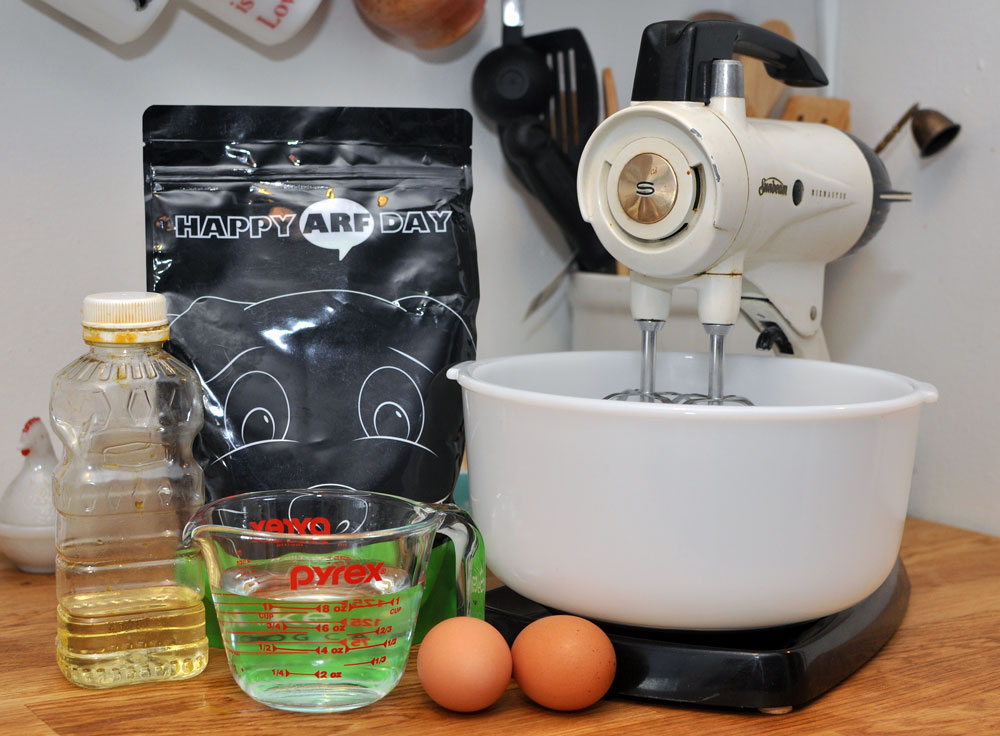 2.) Preheat!
350 degrees Fahrenheit.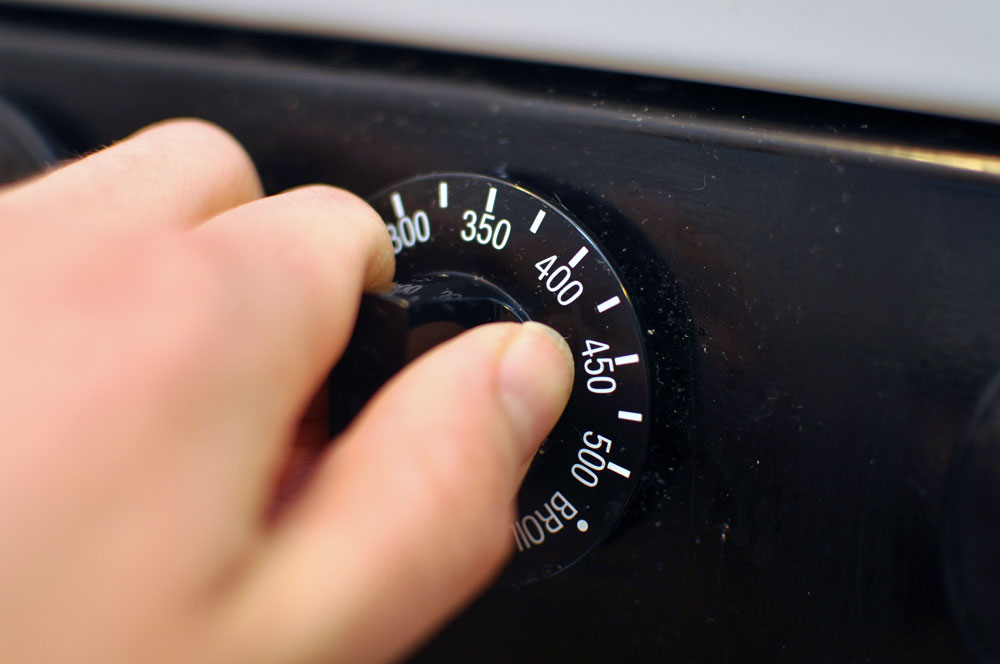 3.) Mix!
Just mix all of the ingredients together. One easy step!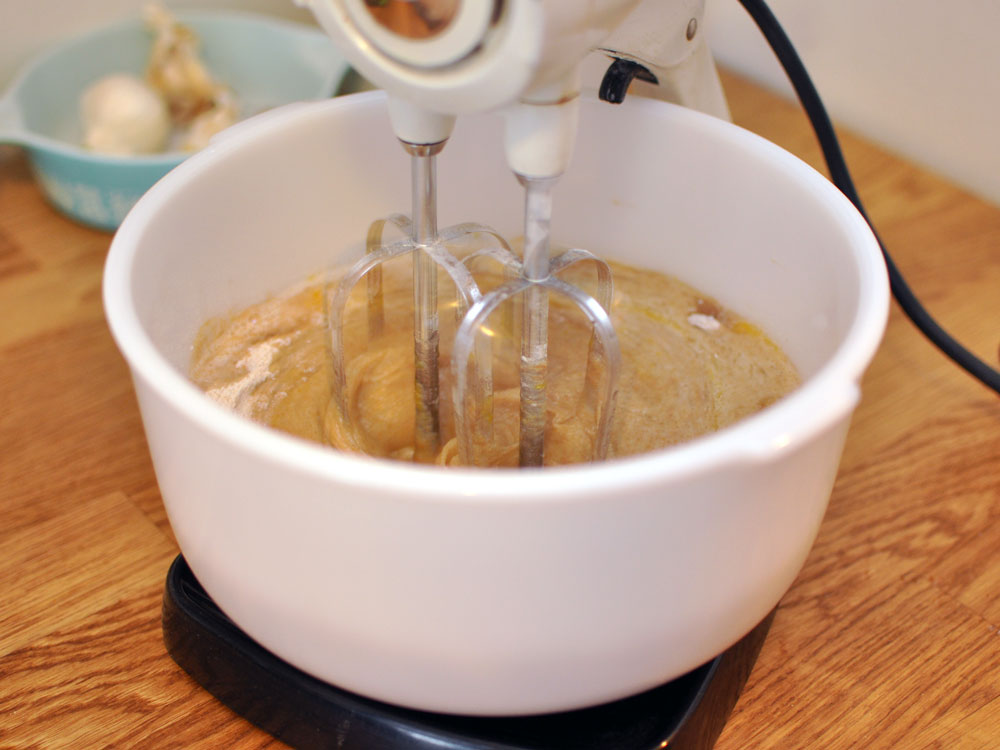 4.) Pour!
The package recommends using one 9-inch cake pan, but I used two small cake pans and several mini cupcake tins. Make sure they're well-greased! I probably could have greased mine a little more.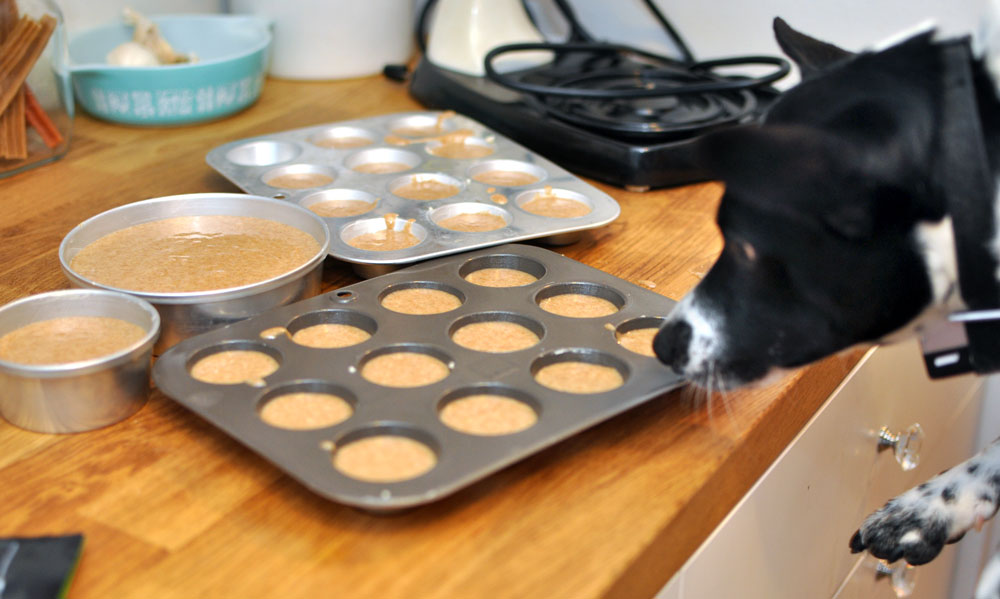 5.) Bake!
The package recommends 25-30 minutes, but you can vary this based on the pan size that you use. Make sure a toothpick or fork inserted into the center comes out clean before removing.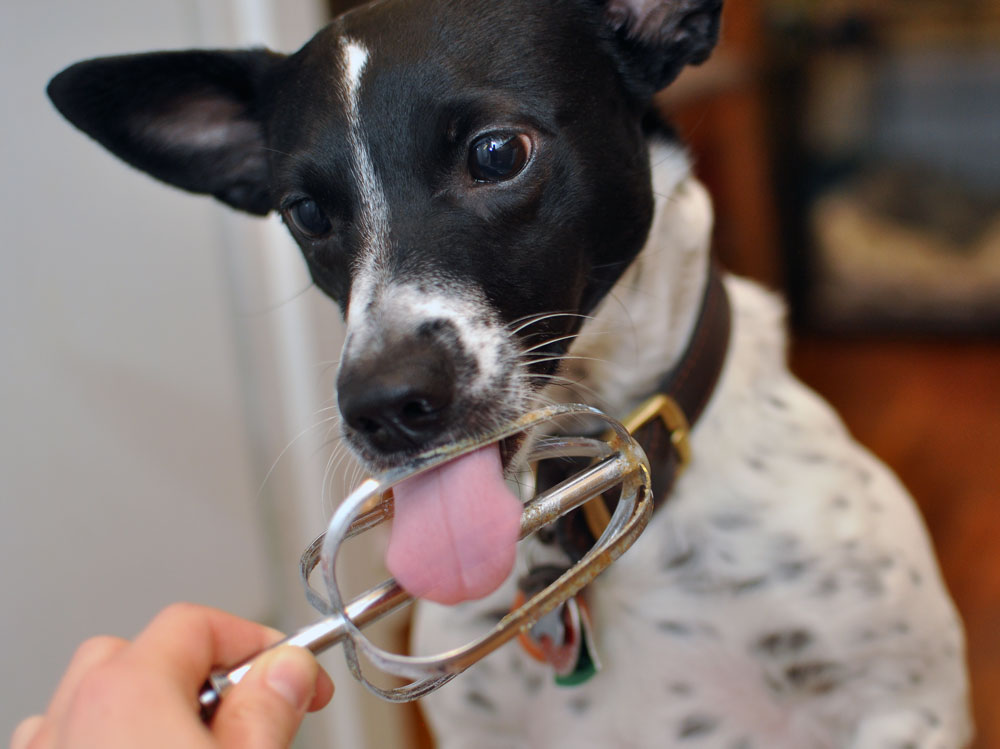 6.) Cool!
Definitely let your cake cool! I am notoriously impatient when it comes to taking cakes out of pans, but you definitely want to wait. I had a couple of cupcakes crumble or break in half, and I know it wouldn't have happened if I had just waited. (Henry and I weren't complaining — we got to taste test!)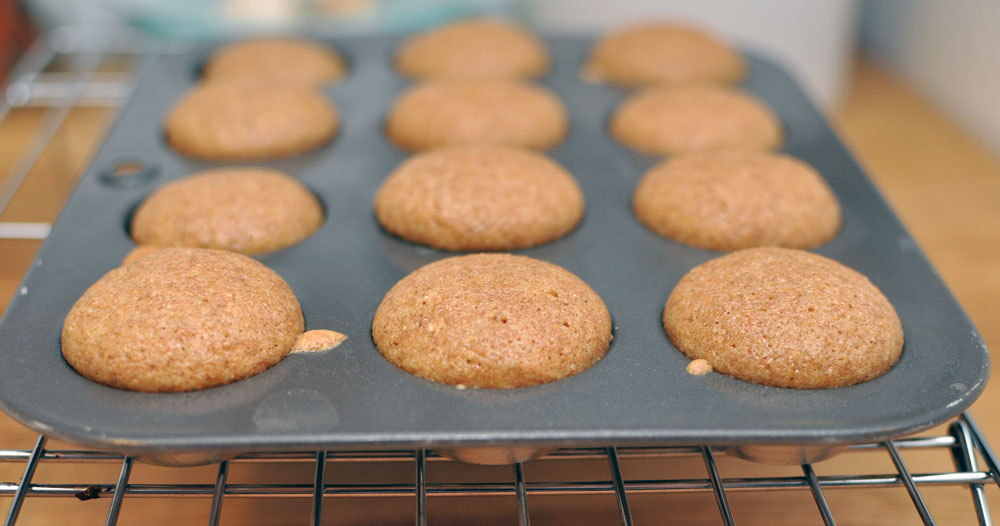 7.) Frost!
I mixed cream cheese, peanut butter, and milk for my frosting. Experiment with dog-friendly ingredients until you find something that works for you! I then spread it over the cake with a small spatula and used a frosting tip to pipe the decorations. Next, I added fresh blueberries and some bone-shaped biscuits to add decoration and to cover some of the more unsightly areas.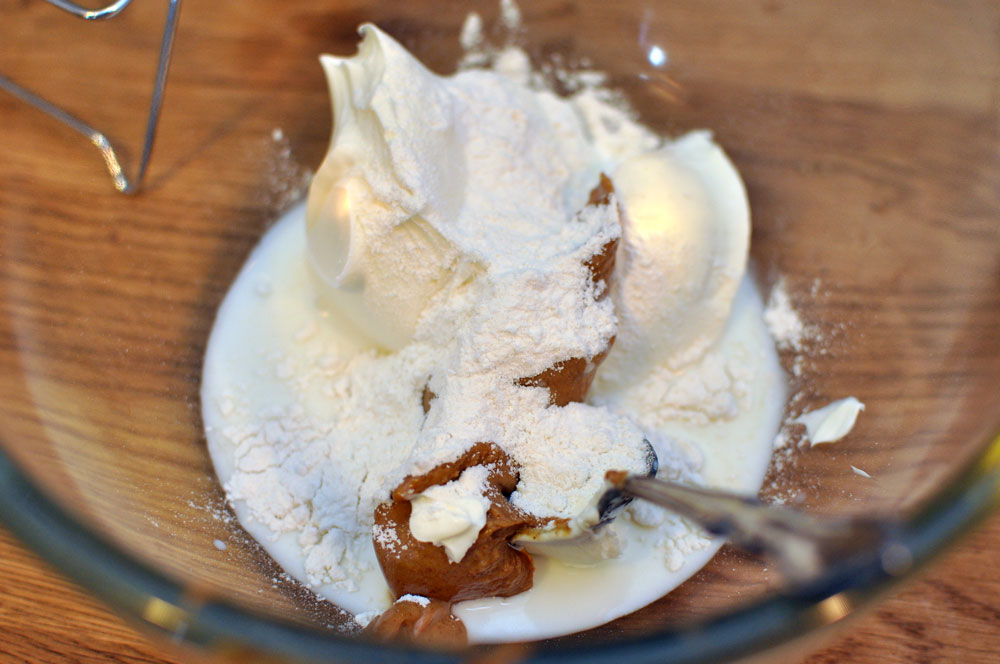 8.) Enjoy!
Yum! Easy peasy!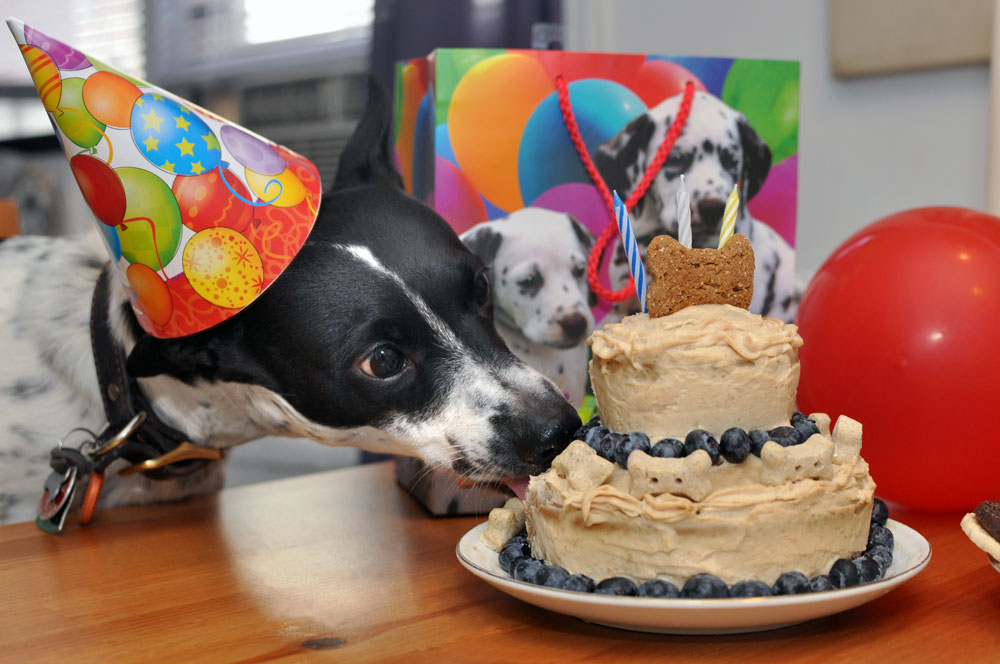 The Takeaway
Henry LOVED his cake and I had a lot of fun making it! I did take a taste and it was pretty good; it tasted more like a muffin than a cake because it wasn't as sweet as a standard human cake. That being said, I prefer less-sweet desserts and I kept sneaking tastes!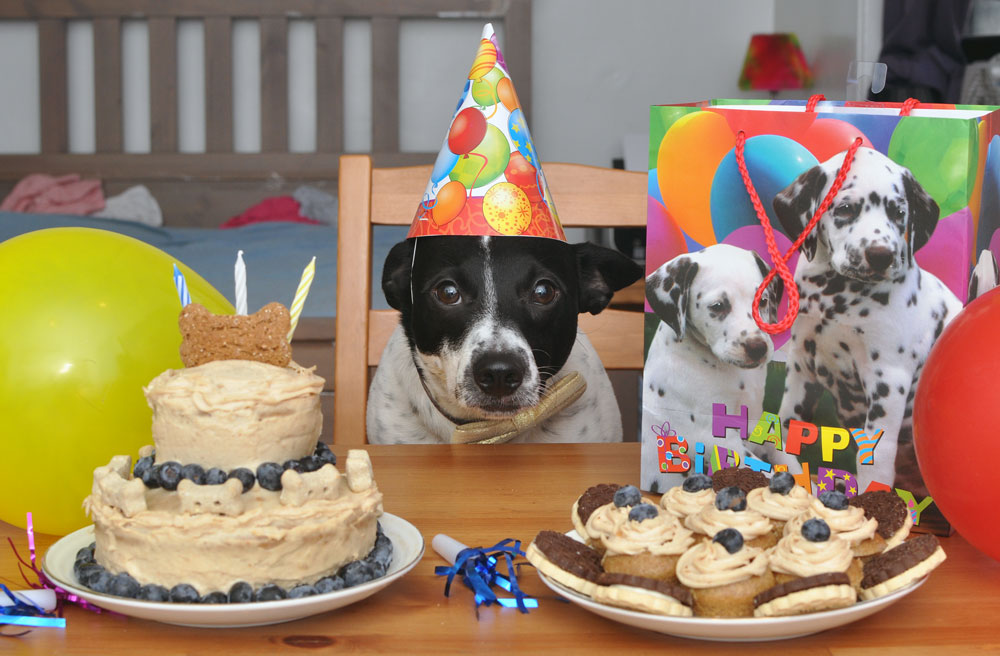 I liked it so much, that I couldn't help sampling the mini cupcakes  — until I put the frosting on. The two tastes didn't complement each other well for a human palette (which, of course, is completely my fault for creating such an unexciting frosting!), but Henry couldn't control himself. He even CLIMBED ONTO THE KITCHEN TABLE for a better taste. HENRY! If you want this cake to be equally attractive to humans and dogs, consider adding a little alcohol-free vanilla extract and/or minimal sugar to the frosting.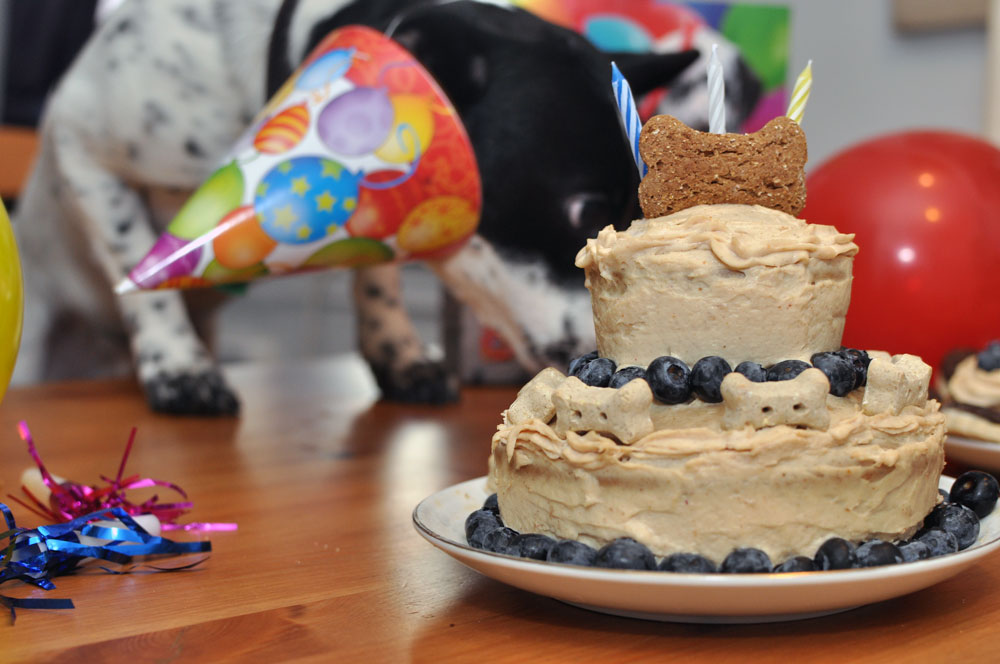 The Happy Arfday cake mix was easy to use, tasted delicious, and streamlined the cake-making process. If you love the ease and simplicity of boxed cake mix, this is a fabulous product for you! This would also be a great gift: it might cost more than standard cake ingredients, but comes in an attractive packet that any pup parent would be happy to receive. We loved it!
Check out HAPPY ARFDAY at their website, Facebook page, and Instagram!
Want to win your own packet of HAPPY ARFDAY cake mix? Enter below! The giveaway will run until 12:00AM on Tuesday, May 31! USA only, sorry!