It's getting COLD outside! I don't know about your pup, but my Henry loves to wear this cozy cowl. It's super quick and easy to knit — it only took me an afternoon. Grab your needles, some yarn, and your dog and cozy up!
Disclosure: This post contains affiliate links. If you make a purchase using one of these links, I'll earn a small commission. Thank you! Please supervise your dog at all times while he or she is wearing this cowl and remove it if there is a risk of injury. 
Easy Dog Knit Cowl Pattern
You Will Need
Super Bulky Yarn — Yardage will vary widely based on the size of your dog. I used about 40 yards of Lion Brand Wool-Ease Thick and Quick. 
Size 13 (9.00mm) Needles — either regular, double pointed, or circular (with an appropriate length for your finished cowl)
Tape Measure — for measuring your dog's neck.
Gauge
In a 4×4 inch square, there should be 9stitches (wide) and 12 rows (tall) with size 13/9mm needles.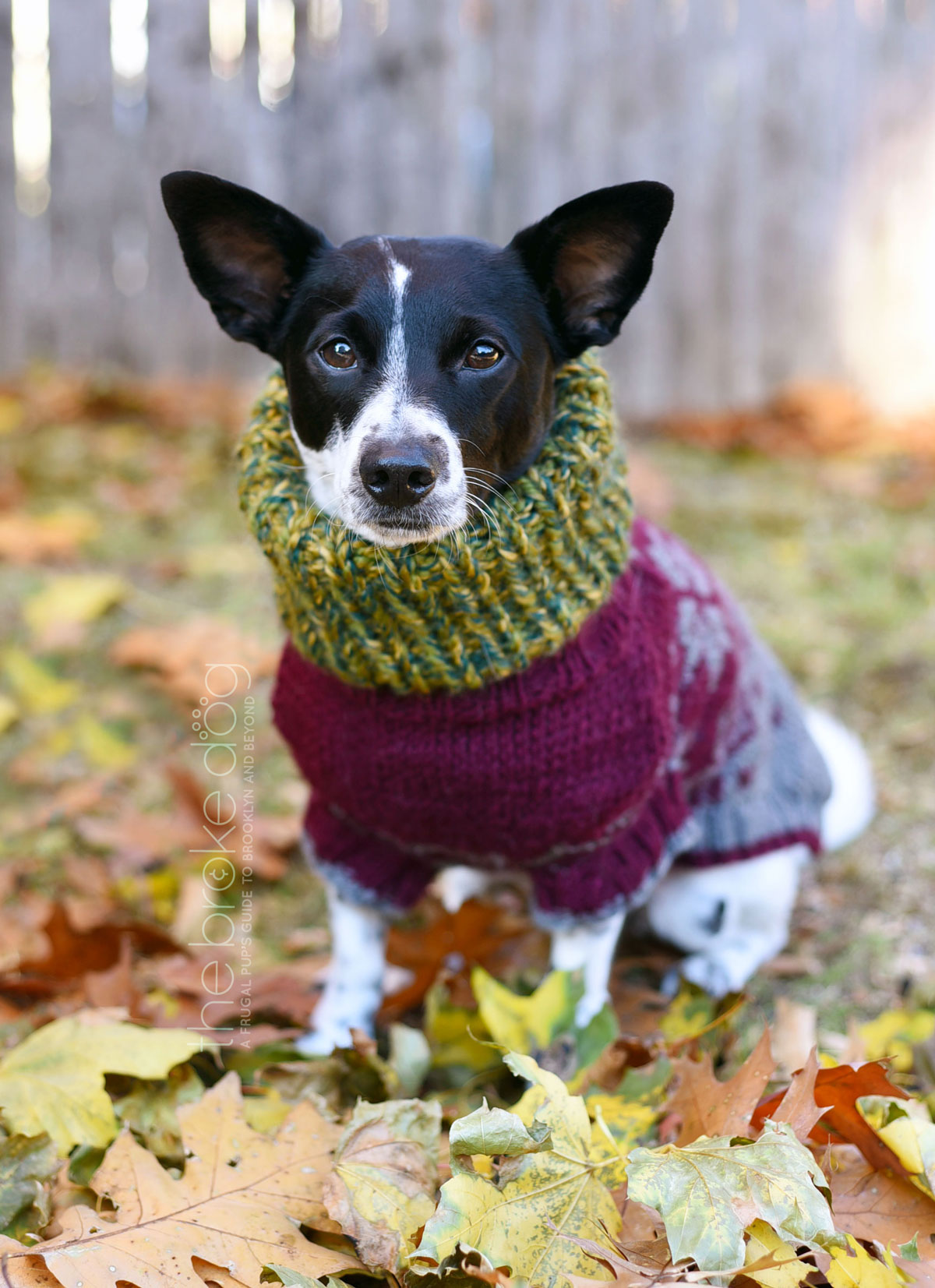 Let's Knit!
I'll warn you now: this pattern requires math. Sorry! This ensures that your finished cowl will fit your dog perfectly.
1.) Measure
Using a tape measure, measure your dog's neck. Don't measure too tightly — keep the tape measure as loose as you would his or her collar.
2.) Math
I warned you!
1.) Take the number of inches from your measurement and multiply it by 1.4. This will ensure a comfortable fit.
2.) Multiply this number by 2.25 (which is the number of stitches per inch). Round this to the nearest even number. This will be the number of stitches to cast on.
For example, Henry's neck is about 13 inches. 13 X 1.4 = 18.2. 18.2 x 2.25 = 40.95. Round up = 42 stitches.
You can also tweak this number depending on how loose or tight you would like the cowl to fit — but please be careful and do not choke your dog!
3.) Cast On
Cast on the number of stitches that you calculated in the last step. You can either knit in the round with double pointed needles or circular needles, or knit flat and sew up the seam.
4.) Knit!
Knit in a 1×1 rib until you reach the length of your dog's neck x 0.7.
For example, Henry's neck is 13 inches. 13 x 0.7 = 9.1 = 9″ long.
Feel free to adjust this length based on personal preference.
5.) That's It!
Cast off, and sew up your seam if you knitted flat. Weave in any loose ends.
Congrats! You made a super cute cowl for your dog!