DISCLAIMER: Kong Company provided The Broke Dog with several products for photographic purposes, and also contributed product and prizes to the Holidays, Hounds, and Hot Buys Gift Guide Giveaway.
You've probably heard of Kong and would almost definitely recognize the red, snowman-shaped Kong Classic. But did you know that Kong sells a huge variety of toys to satisfy every pup? We had the chance to review the new Squeezz Zoo toys: fun, adorable, and durable additions to the Kong roster. Plus, a cameo from another Brooklyn pup!
Kong Squeezz Zoo TOYS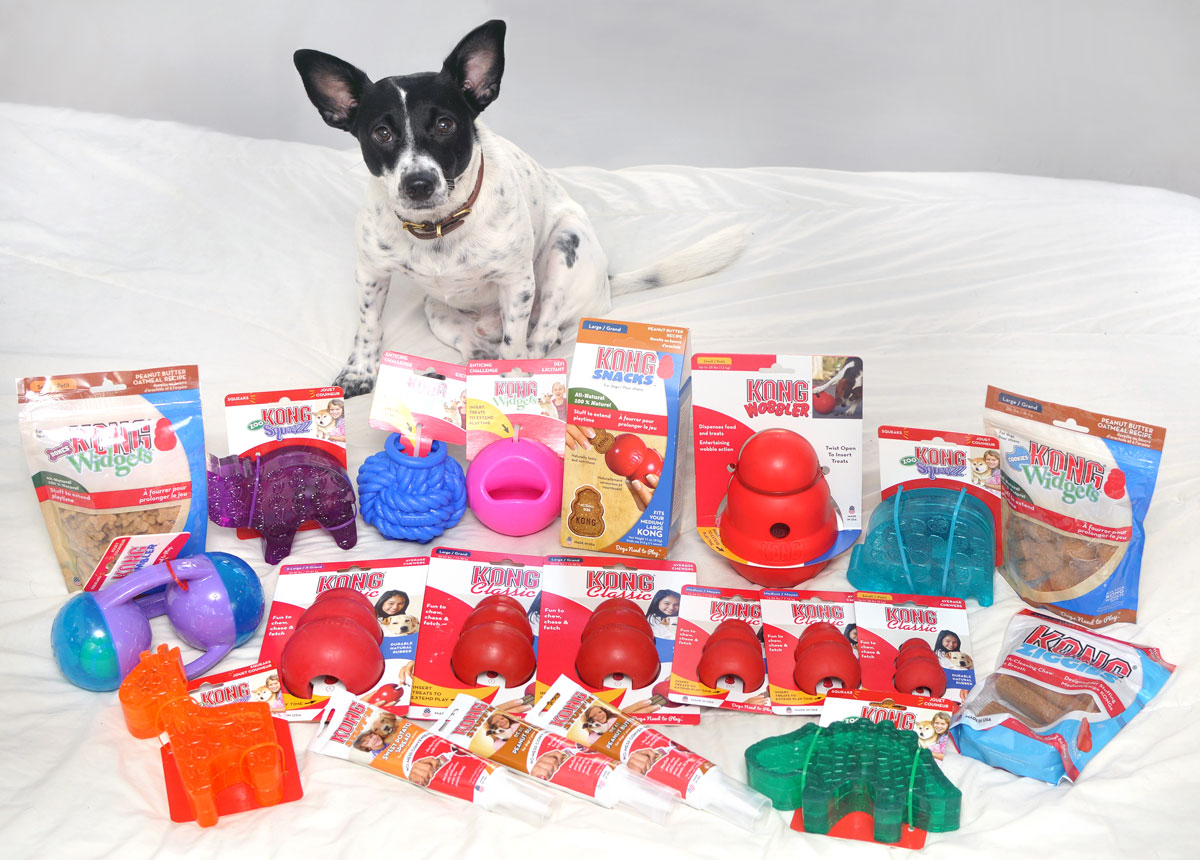 Kong's new Squeezz Zoo toys join ranks with their other Kong Squeezz toys, including their Squeezz Jels, Squeezz Crackle, and Squeezz With Rope lines. Each collection is colorful, durable, and employs a different method to entertain playful dogs.
What We Love
1.) Durable
Kong Squeezz Zoo toys are stinkin' CUTE! They're available in three sizes and four different animal shapes – alligator, giraffe, elephant, and hippo– and I challenge you to find one you don't like. The bright colors add to the fun and make them easy to spot from a distance if, say, your dog decides to bring one out into the yard.
2.) Cute Shapes and Bright Colors
All four Squeezz Zoo toys are made from Kong's special K90 material to assure durability and flexibility.  In addition, they will continue to squeak after being punctured. How amazing is that? Henry lacks both destructive tendencies and a strong jaw, so it's unlikely that I'll ever experience this, but I love knowing that Kong specifically designed their toys to be long-lasting.
3.) Chunky, Chewy, Bouncy, and Squeaky
In short, these toys are FUN! If your dog loves to chew, chase, and squeak, this could be his or her new favorite toy. The chunky, rubbery grip make Squeezz Zoo toys extra fun to chew, too!
4.) Afforable
These Squeezz Zoo toys seem like they will last forever, which makes their low price tag (recommend retail from $7.99 to $13.99) an even better value. How great would these be as a puppy-warming gift?
So, What Did The Pup Think?
Henry is usually a "soft and squeaky" kind of guy, so he wasn't entirely sure what to make of the Kong Squeezz Zoo toys. In addition, the size Medium seemed a wee bit too big, since it was a tad difficult for his little jaw to carry. I knew these toys were way more awesome than Henry let on, however, so we enlisted the help of Henry's friend Temo, a fifty-pound Boxer/Shar Pei mix.
Temo LOVED his Squeezz Zoo toy! He picked it up, carried it around, chased it, and squeaked it. A Medium seemed like the perfect size for him, which made me feel better about the fact that Henry (at half Temo's size) seemed to struggle a bit. (He's not just a little wimp!) I recently checked back with Temo's mom who reported that, months later, he is still OBSESSED with his purple hippo. Four paws up from Temo!
The Takeaway
The new Kong Squeezz Zoo line is an adorable and colorful addition to Kong's line of incredible toys. These toys would make a great gift for a big dog with a strong jaw that loves to chew, chase, and squeak. Their durable material and construction ensures that your pup will keep squeakin' for years to come. Give 'em a try!
Check out Kong's website and follow them on Facebook, Instagram, and Twitter!
Enter To Win!
You can win your own Kong Squeezz Zoo toys in our Holidays, Hounds, and Hot Buys Gift Guide Giveaway! It ends December 9, so ENTER NOW for your chance to win a prize pack worth at least $300!